Every now and then, it's fun to comb through the list of recently retired players (almost, but not quite exclusively, NBA ones), and track down their current post-playing career whereabouts. The
last such list was compiled two years ago
and is rather out of date now, so here's a fresh one.
---
Tariq Abdul-Wahad
- Abdul-Wahad is now the head coach at Lincoln high school in San Jose.
Shareef Abdur-Rahim
- Still the Kings assistant general manager. Last year returned to university to finish the degree he left unfinished 16 years earlier.
Maurice Ager
- Ager hasn't played since a four game stint with the Timberwolves at the very start of the 2010/11 season. Instead, he's turned to music, and is now a producer and occasional rapper. Ager's first album, "Moe Town," was released last month; here's a video clip of a bonus track, called "Pistons." You'll recognise one sample.
Briefly mentioned at the end is "Sports 'n' Music", a radio show Ager also hosts.
Here's an episode of that.
Cory Alexander
- Last time we checked in, Alexander had had some problems. He'd lost all his money, and was suing Bank of America to get it back, claiming it was their fault. It is unclear how successful this action was. But what is clear is that Alexander turned his occasional commentary role on Virginia games into a bigger media career, and is now an analyst and announcer on the ACC Network.
Courtney Alexander
- Now coaching high school basketball at Dominion Christian High School in Marietta, Georgia. Alexander also still runs his not-for-profit, Georgia Press, although the
website has changed location since last time.
It now points to a subdirectory of imsopure.com. Alrighty then.
Derek Anderson
- After initially going quiet in retirement, Anderson has made numerous waves in the last two years. Most of it is good - he's
released a book
, which is being
made into a film
, and released
a brand of bottled water
. Last month, he was seen campaigning for
anti-smoking legislation to be passed in Kentucky
, and returned once again to his alma mater to
dispense sage wisdom about ACL tears
to injured Wildcats star,
Nerlens Noel
. But it's not all good - in the summer of 2011, Anderson was named by a convicted felon named Francois Cunningham as being
the money man in a sophisticated cocaine ring.
No charges are known to have been brought, however.
Kenny Anderson
- Since the last update, Anderson's most newsworthy moment was a car wreck. In December 2011, his Cadillac was found wrapped around two roadside trees, but Anderson was nowhere to be seen. Uninjured, Anderson had left the scene and returned to his home. He later returned to the scene, clearly (and admitting to being) under the influence of alcohol, and was arrested for DUI. However, Anderson was ultimately acquitted, as it could not be proven that he was the one to drunkenly wreck. Anderson has since had
more driving issues
, and posted this
potentially awkward if kind of amusing
tweet about a trip to Hooters. He now coaches high school basketball at Posnack Jewish Day School in Florida, and is
writing a book.
Shandon Anderson
- At last update, Anderson had multiple business interests, including a salon and a spa. It is unknown how they are doing, but what is known is that
Anderson is now a trainee chef.
Rafael Araujo
- Araujo is not listed because he is retired, but because he was. The man now known as Babby Araujo, been back in Brazil ever since leaving the NBA, retired from the game in March of last year and
expressed his intent to write a book
. It is not known how the book thing has gone. But in October of this year, Araujo ended his retirement after only six months, signing with Moga das Cruzes and averaging 14.2 points and 9.1 rebounds per game thus far this season.
Robert Archibald
- After a lengthy and quality career, Archibald retired this summer after playing in his first and only Olympics. In his own words, he is
"taking a little time off in between careers"
.
Brandon Armstrong
- Former Nets guard Armstrong was out of basketball for three and a half years, and was assumed to have retired, but unexpectedly resurfaced this November when he made the Reno Bighorns training camp roster as a local tryout player. However, Armstrong was cut before the regular season started, and once again cannot be traced.
Darrell Armstrong
- Armstrong is now into his fifth season as a player development coach for the Dallas Mavericks. Since the last update, he was
arrested for unpaid Vegas debts.
Connor Atchley
- After college, Atchley enjoyed a two year professional career, most of which was in the D-League. Included in there was a brief stop in Turkey, a couple of trips to summer league, and even a training camp gig with the Sacramento Kings. He returned to Texas in September 2011 to work as a graduate manager; it's unclear if he is still there.
Chucky Atkins
- Atkins has taken up coaching. He first volunteered at USF, then worked with the NBA Player's Association at high school camps, before starting his first season this year at Evans High School in Orlando, his alma mater.
Stacey Augmon
- An assistant coach with the Nuggets at last count, Augmon left there two years ago to return to UNLV and be an assistant there.
Vin Baker
- At last look, Baker was dabbling in basketball coaching, but he seems to have mostly left the sport behind. He is now studying for a Masters degree in Divinity at Union Theological Seminary in Manhattan, training to be a pastor, as well as volunteering as an assistant at a nearby high school. Having had well known struggles financially, Baker is also
suing his former accountant
, claiming his fortune was mismanaged.
Sean Banks
- Banks has been in the news for all the wrong reasons. He was arrested in the summer of 2011 and accused of being part of the "James Bond gang", a sophisticated band of thieves in operation for decades, and then arrested again in January on various charges while still awaiting trial for the previous ones.
Steven Barber
and
Maurice Taylor
- The former Knick team mates, only one of whom you've heard of, started a personal training business together named "Premier Skills and Performance Training LLC," the website for which no longer exists. Taylor is also the CEO of Maurice Taylor Enterprises LLC, which, per his LinkedIn page, seems to involve investments of some sort.
Brent Barry
- As was the case previously, Barry works for NBA TV as an analyst and pundit.
Jon Barry
- As was the case previously, Barry works for ABC and ESPN as an analyst and pundit.
Maceo Baston
- Now owns and runs a cupcake shop in Michigan,
Taste Love Cupcakes.
Jonathan Bender
- Back in retirement after finally going on on his own terms,
Bender's website
states that Bender, ever the entrepreneur, has now started a coaching program, and also
invented fitness equipment.
Travis Best
- Best managed a few years in Europe after his NBA career ended, but they petered out in late 2009. He now hosts basketball camps in and around Atlanta.
Joseph Blair
- Blair runs the Blair Charity Group, which appears to be not so much a charity as a liaison for other ones in and around Tucson, Arizona. He is also a consultant and speaker.
Corie Blount
- Blount now runs
Gradu8 Inc
. Uncertain as to what that was, the following is quoted from the company's About page:
Gradu8 Incorporated- ​the first organization solely committed to representing the pride of academic achievement through the manufacturing and distribution of customized products.

The company is named for its' efforts to promote graduate awareness, stress the importance of graduating and increase graduation rates here in America. Gradu8 understands the commitment and sacrifice every student faces to attain academic success. Our goal is to acknowledge those who have achieved success educationally and inspire those who have not.

Gradu8's unique programs are currently showing up in schools and businesses across America. Administrators and teachers commend us for creating fresh concepts that promote the value of graduating to their students. No other company has the ability to promote the​ pride of education and graduation the way that Gradu8 does.
Mark Blount
- Cannot be traced, other than
this non-story
about Blount seeking to renegotiate his child support payments, the most notable aspect of which is the fact that both his sons seemed to also be named Mark. (Mark's a wonderful name and all, but that's surely confusing.) A man named Mark D. Blount founded a company in Florida last year called Blount Wellness, but it's not known if it's the same Mark D. Blount.
Dejan Bodiroga
- Currently the president of the Serbian Basketball Federation, it was announced in late January that Bodiroga was to be the next president of FIBA, but that seemed presumptuous. Bodiroga is at this point still merely a candidate, behind troubled incumbent Olafur Rafnsson.
Jason Bohannon
- The Wisconsin guard played professionally for one season, scoring 17 points in 51 D-League minutes for the Iowa Energy before leaving midseason and going to Germany, whereupon he averaged 12.6 points in 24.5 minutes for second division Heidelberg, with 42% three point shooting. He is now an Investment Adviser Representative.
Calvin Booth
- Booth now works as a scout for the Hornets.
Curtis Borchardt
- Borchardt's professional career was a long story of injures, both in his NBA time and his subsequent European stays. He missed most of the 2003-04, 2006-07, 2007-08 and 2009-10 seasons, as well as all of the 2002-03 and 2010-11 ones. He missed the start of the 2011-12 season, too, but returned in January to play five healthy and productive months for ACB team Valladolid, averaging 8.9 points and 7.1 rebounds in a desperate yet successful bid to stave off relegation. He then retired this offseason.
Ruben Boumtje Boumtje
- Boom Boom retired at the start of the 2011-12 season after a heart condition was discovered.
Bruce Bowen
- As was the case at the last checkup, Bowen is an analyst for ESPN. He recently became one of the worst players in history to have his NBA jersey number retired, which admittedly is a backhanded compliment, but a compliment nonetheless.
Ryan Bowen
- Bowen briefly returned to his alma mater of Iowa to work as a video coordinator, and now is back with the Nuggets as an assistant coach and advance scout.
Michael Bradley
- Bradley briefly became an agent, but it didn't work out. He is now a high school coach, and also owns two yoga studios.
Shawn Bradley
- In retirement, Bradley has made an unsuccessful foray into politics, and is the chairman of the board of a boarding school. He also owns a ranch.
P.J. Brown
- Brown is having a very low key retirement. His daughter Kalani is a
top two-sport prospect, however.
Keith Brumbaugh
- Brumbaugh has been arrested
at least 11 times in the last three years.
I'm willing to equate that to a retirement.
Rick Brunson
- A Bulls assistant coach at last update, Brunson now holds the same role with the Bobcats.
Greg Buckner
- At the time of the last update, Buckner was said to be wanting to make a comeback as a player. It didn't happen; instead, Buckner returned to Clemson to complete his degree, and has worked the last two years as an assistant coach for the Rockets.
Pat Burke
-
Now a personal trainer.
Antonio Burks
- Former Memphis guard Burks never recovered from his backyard shooting sufficiently to resume a playing career - indeed, he says he cannot even walk without a limp, and that's after 24 surgeries. He joined LeMoyne Owen College as an assistant coach in late 2010; it appears, however, that he is no longer there.
Da'Sean Butler
- Butler famously tore his ACL in his final college game, but it didn't heal too well. Indeed, Butler describes it as
"disintegrated"
. He has returned to WVU to work as a graduate assistant, and is done with playing, at least for now.
Jackie Butler
- Butler was thrown in to the Luis Scola trade of 2007, waived by the Rockets, and never played again. It appears he retired at the age of only 22. Then again, in that time, Butler managed to be a McDonald's All-American, the CBA rookie of the year, and an NBA champion. Perhaps he felt he'd achieved everything. Since his retirement, Butler cannot be traced.
Zarko Cabarkapa
- Save for a brief 25 minute comeback in January 2009 with his pre-NBA team, Buducnost, Cabarkapa has not played since 2006 due to multiple back surgeries. As late as December of that year,
Cabarkapa still refused to consider retirement
. But with another three years gone, he probably has by now. The only news about him since then is entirely NSFW, so Google it yourself.
Elden Campbell
- Still cannot be traced. In light of news, here's some trivia - unless the internet is lying to me, Elden Campbell is one of only two players in NBA history to increase his scoring average in each of his first seven seasons. The other one is Derek Harper, who managed it for eight seasons. [EDIT: The internet did indeed lie. Shawn Kemp also did it, as may have others. The lesson, as always - never trust anybody.]
Jason Capel
- Still the head coach at Appalachian State.
Geno Carlisle
- Carlisle last played in 2008-09, a part season outing for the Anaheim Arsenal of the D-League, before he was waived due to injury. He cannot be traced since that time.
Pat Carroll
- Pat Carroll retired this summer after
this game.
He now works as a
pharmaceutical sales rep
.
Maurice Carter
- Owns and runs a custom suit line called
Hideoki Bespoke
.
Sam Cassell
- Still an assistant coach with the Wizards.
Kelvin Cato
- It's unknown what, if anything, Kelvin Cato does for money nowadays. Rumours of a foray into the music industry cannot be corroborated. But Cato did recently appear in the public conscious when
Paul Shirley named a syndrome after him.
Calbert Cheaney
- At update an assistant with the Wizards, Cheaney has since left and returned to his alma mater, Indiana, where he has two jobs - Director of Basketball Operations, and Director of Internal and External Player Development.
Eric Chenowith
- When we last checked on Chenowith, he was working as a high school assistant coach, and part-owned a construction company. He left the assistant's job last summer, and it's not know about the status of the construction company. In the time since, Chenowith has worked as a substitute teacher, returned to KU to finish his degree, and is now an insurance producer.
Doug Christie
- Christie still runs Christie Sports Management, which trains athletes rather than represents them, and also home schools his son. It was announced last March that he and his wife
were going to produce some porn.
Ousmane Cisse
- Remember this name? Cisse last played in the 2009-10 season, finishing it with Brest in the French Second Division, averaging 11.9 points, 10.0 rebounds and 2.1 blocks per game. He cannot be traced since.
Keon Clark
- Clark's perennial legal troubles have been documented at length on this site, and his arrest total is somewhere in or near the fifties. At last check, he was serving 33 months in prison for parole violations and traffic offenses, and last July, while still imprisoned on those charges,
yet more were brought.
It is not possible for me to add any more to Keon Clark's sitrep as I am now unable to access the online court records due to repeatedly posting their results on Clark publicly.
Speedy Claxton
- Speedy Claxton, the former player, is a college scout for the Warriors. Speedy Claxton, the band, are
working on new material.
Mateen Cleaves
- Cleaves now works as an NBA analyst for Fox Sports Detroit and an NCAA analyst for CBS.
Jarron Collins
- Collins retired this summer and now works as a scout for the Clippers.
Chris Crawford
- Crawford founded Slam Dunk Stables in 2003, but their progress is unknown.
Austin Croshere
- Croshere is a Pacers analyst and occasional colour commentator.
Michael Curry
- Curry is lead assistant/associate head coach for the Sixers.
Antonio Davis
- Davis returned to basketball this year, joining ESPN as a studio analyst.
Dale Davis
- Here's an awkward if jauntily soundtracked video that explains Dale's current business.
Justin Davis
- As with Dale Davis, here's a video that describes what Justin Davis does better than I ever could.
He's certainly a good orator.
Andrew DeClercq
- DeClercq
runs basketball camps
, owns a property development company called New Creation Properties, and a property rental company called ATD Properties. He no longer teaches high school basketball.
Tony Delk
- In the summer of 2011, Delk moved from being the director of basketball operations at Kentucky to being an assistant coach at New Mexico State.
Derrick Dial
- Still cannot be traced.
Dan Dickau
- Dickau spent last year as a player development coach with the Blazers, but was not brought back this season. He also ceased operating his
basketball academy,
and, while in the running for the vacant Idaho Stampede head coaching job this summer, did not make it. He currently works as an analyst for locally televised Gonzaga games.
Michael Dickerson
- Dickerson's comeback, such that it was, hasn't seen him play in a game since January 2010. There's been reports of desire to play since then, but no actual play, and no other news.
Alain Digbeu
- Digbeu retired this summer and settled in Turkey, as he has a Turkish wife. He is doing some TV work and is working to gain his coaching license.
Vlade Divac
- Divac remains president of the Serbian Olympic Committee.
Michael Doleac
- Doleac will soon graduate from Utah with a masters in physics and
become a teacher.
Keyon Dooling
-
Telling what is now a well-known story
.
Christian Drejer
- Drejer retired five years ago, unable to get over the foot troubles that plagued his entire career, and a rumoured comeback in 2010 never saw him take the court in any meaningful game. He studied economics at Copenhagen Business School for two years, and is now a director for a commercial interiors company, of which his wife is chairman.
Predrag Drobnjak
- Drobnjak recently appeared as a guest analyst on Arena Sports, and I can't understand a word of it.
Roberto Duenas
- Duenas is now a youth team coach with Barcelona.
Howard Eisley
- Eisley is an assistant coach for player development with the Clippers.
Obinna Ekezie
- For the past five years, Ekezie has been running Wakanow.com, the first online travel portal for Nigeria outbound travel.
Tyrone Ellis
- Ellis finished his lengthy European career this summer and went to work as an assistant coach for the Tulsa 66ers of the D-League.
Evan Eschmeyer
- Eschmeyer returned to Northwestern to earn his JD/MBA, graduated in 2008, founded a now-defunct online recruiting service, worked with the Environmental Law & Policy Center on the proliferation and establishment of renewable energy resources, and runs a law office in Columbus.
Peter Fehse
- Fehse's oft-documented career decline as a player due to incessant injury troubles saw him eventually become a coach for his final team, the lower league BSW Sixers. However, his contract was not renewed for this season, and while he certainly made at least one preseason appearance for Oberliga (fifth tier) side Halle SC 96, the club is of such a lowly status in the grand scheme of things that no information abounds as to whether he stuck.
Andrei Fetisov
- Fetisov is now the Director of Sport at a school in St. Petersburg.
Michael Finley
- Finley works with the Mavericks in an unspecified role. As recently as November,
he spoke of plans to make a comeback
, but, having turned 40 last week, those plans look ambitious.
Alton Ford
- Ford's last career stop was as a bit-part player for the Erie BayHawks in the latter part of the 2010-11 season, and he cannot be traced since that time.
T.J. Ford
and
James Posey
- Ford retired one year ago this week with his persistent neck trouble, and now runs an AAU team. He has also returned to school to complete his degree. Posey helps out with Ford's AAU team, which is the only post-retirement news on him other than the sale of his house.
Danny Fortson
- Cannot be traced.
Jeff Foster
- Foster has not made the news since retiring last March.
Tremaine Fowlkes
- Tremaine Fowlkes was born in Los Angeles, California. A man named Tremaine Fowlkes founded a company called
TRE Holdings LLC
in Los Angeles in 2004. That company, according to
this
, lodged then redacted an appeal against a finding in the US Bankruptcy Court. Same guy? Hope not.
Adonal Foyle
- Was for a long time a rising star in the Magic front office, and was considered a candidate for the GM job. But when the new regime took over, there wasn't a place for Foyle in it, and he was fired. Foyle subsequently set up a personal coaching and consultancy firm.
Richie Frahm
- Runs the occasional skills camp, but is otherwise untraced.
Steve Francis
- Francis runs a small record label, Mazerati Music, and also occasionally takes a turn on the mic himself. Here's a song of his called "Finer Things," which is either an attempt to educate the youth of today of how the fragility and vapidity of material possessions is heightened in a time of great economic upheaval, or the complete opposite.
Shouldn't sing your own hook, Steve.
Chester Frazier
- Assistant coach at Kansas State. Left his playing contract with German team Wurzburg in order to take the role.
It got messy.
Lawrence Funderburke
- Funderburke works as a financial planner, and runs his foundation, the Lawrence Funderburke Youth Organization. On the face of it,
it's one of the most professional ones around.
Reece Gaines
- Retired this summer and became an assistant coach at Division 2 Bellarmine.
Mike Gansey
- Now a scout for the Cavaliers.
Jorge Garbajosa
- Now works for the Spanish Basketball Federation in an unspecified role.
Pat Garrity
- Now a hedge fund adviser at Bridgewater Associates.
Devean George
- Working on
building some community housing.
Kendall Gill
- Bulls analyst on Comcast Sportsnet.
Gordan Giricek
- Giricek is now the guitarist in a band called Blank.
Here's some video
, and
here's a still
.
Dion Glover
-
"A successful entrepreneur,"
Glover now runs the Glover Agency, which offers performance training and lifestyle management.
Anthony Goldwire
- An assistant coach with the Bucks.
Brian Grant
- Runs the
Brian Grant foundation
for fellow Parkinson's sufferers.
Adrian Griffin
- Assistant coach with the Bulls.
Rob Griffin
- Griffin claims to work four jobs. He says he is the CEO at the One Love multimedia company, the president of sales and marketing at Get Lucky Productions, a trainer at Hype Athletics, and a sales rep for the TV33 WHPR network.
Rashard Griffith
- A stay-at-home dad who occasionally volunteers as a coach.
Tom Gugliotta
- Aside from golfing appearances, and
being thrown out of NC State games
, Gugliotta cannot be traced.
Adam Haluska
- Haluska has not played since being waived by the Mavericks in training camp in late 2010. He had not played in the 18 months before that, either. He now works in medical sales for a company called Stryker Orthopaedics.
Darvin Ham
- Now an assistant coach for the Lakers.
Venson Hamilton
- Cannot be traced.
Ben Handlogten
- Owned a property development company for a while, and now works as a director of medical sales.
Travis Hansen
- Hansen is a partner in a private equity firm, Yapo Ventures, and runs a not-for-profit foundation called Little Heroes. He also
wrote a book.
Penny Hardaway
- Now a minority owner of the Grizzlies, and volunteer coaching at a local middle school, Lester Middle School, to replace a friend on sick leave due to cancer.
Matt Harpring
- Heavily biased Jazz analyst.
Adam Harrington
- Harrington owns and runs Aspire Basketball Training, and, like so many others on this list, works in medical sales as a representative. He also runs a memorial fund dedicated to his sister,
a former NBA employee who died of cancer.
Othella Harrington
- Assistant Director of Basketball Operations at Georgetown.
Lucious Harris
- Cannot be traced.
Jason Hart
- Assistant coach at Pepperdine.
Alan Henderson
- Henderson returned to Indiana to attend business school, though it's not now known what he does for an income. There is however this recent story about
some trouble he had getting planning permission for a new house
. So he clearly still has money.
Russell Hicks
- After a couple of years at Europe's lower levels, and an inexplicable stint with the Lakers, Hicks's playing career ended, and he now works in sales.
Kyle Hill
- Hill's LinkedIn page lists only
"construction"
.
Steven Hill
- Hill retired at the very end of 2010 due to lingering leg and back injuries, and now works as a pricing manager for a transport company.
Tyrone Hill
- After four years as an assistant there, the Hawks let Hill go this summer, and he does not seem to have caught on elsewhere.
Blake Hoffarber
- Hoffarber played professional basketball for two months, averaging 9.9 points and 4.5 rebounds per game for French second division team, Fos Ouest. He is now a sales representative in the cardiology department of Boston Sciences.
Fred Hoiberg
- Head coach at Iowa State. Big
Royce White
fan.
Randy Holcomb
- Owns a clothing company, Alfred's House, and is a real estate developer for The Woodmont Company.
J.R. Holden
- Runs a non-profit organisation, TEN Inc.
Jeff Horner
- Now a high school coach at West Des Moines Valley.
Robert Horry
- Started working this year as a Lakers analyst.
Allan Houston
- Assistant general manager for the Knicks. Suffered an awkward moment at the 2012 Las Vegas Summer League when a heavily jet-lagged idiot tripped over a step, stumbled a few places and landed in his lap. That person was not me. (It was really.)
DeeAndre Hulett
- At last count, Hulett had returned to university, and was working as an assistant coach at a local high school. There is no update since that time.
Lindsey Hunter
- Current Suns head coach.
Zydrunas Ilgauskas
- Works as a special assistant to the Cavaliers general manager.
Bobby Jackson
- Jackson has graduated from being a Kings community ambassador to an assistant coach.
Dante Jackson
- Jackson never undertook a professional career, even though he probably could have done, working one year as a graduate assistant at Ohio State before returning to Xavier this season to do the same again.
Jermaine Jackson
- Jackson
recently re-opened a closed community centre
in his home town.
Jim Jackson
- Jackson is an analyst for the Big Ten network, owns a logistics firm, owns a furniture company, and is a managing director of
this
.
Marc Jackson
- Works as an analyst for Sixers games.
Tory Jackson
- After a short two year professional career, Jackson retired and is now the head coach at his former high school.
Chris Jefferies
- Jefferies is the vice president of a Las Vegas hospitality company, and has been for several years after his really quite early retirement.
Horace Jenkins
- Jenkins runs an AAU team in Lehigh and also offers private coaching.
Britton Johnsen
- After retiring for the second and final time this summer, Johnsen returned to Utah to complete his degree, and is now developing a basketball academy. He has also done occasional commentary work for the Jazz.
Anthony Johnson
- Johnson is trying to get into coaching, and volunteered with the Hawks last year, but has yet to land a job.
Ervin Johnson
- Now a community ambassador for the Denver Nuggets.
Ken Johnson
- The last update on Johnson is from two years ago - he had returned to Ohio State to complete his art degree, and expressed a desire to become an art teacher. It is unclear if he's done this.
Alvin Jones
- Cannot be traced.
Eddie Jones
- Participates in many charity ventures, but it's unclear what he now does for an income.
Fred Jones
- Jones has established a social media venture purely for former NBA players,
Player Population.com
. It's fine in theory, but I'm not sure of what the advantage is to it over existing social media. Also, I suspect a majority of NBA players use social media like they do now largely for the female fans it brings, which an exclusive club would not offer. Nevertheless, good luck.
Mark Jones
- The one time Magic guard is now a
personal trainer.
Kerry Kittles
- Now an associate with Ledgemont Capital, a Wall Street investment firm.
Brevin Knight
- Now an analyst for Grizzlies games.
Joe Krabbenhoft
- Retired this summer and returned to Wisconsin to become a video co-ordinator.
Toni Kukoc
- Wants to
become a coach
. Instead became
the Croatian amateur golf champion
.
Ibrahim Kutluay
-
Runs a basketball academy in Turkey.
Christian Laettner
- Once rich enough to almost buy the Girzzlies, Laettner's fortune has been lost to real estate deals gone sour, and he resorted to making a playing comeback last season in the American Basketball Association. Laettner was then an assistant coach for the Fort Wayne Mad Ants for the remainder of the season, but was not retained for this year, and now runs the Christian Laettner Basketball Academy. On the academy's website, you can buy self-aggrandizing t-shirts featuring the slogan
"I still heart Laettner"
.
Raef LaFrentz
- In retirement, LaFrentz bought a great deal of farmland in Iowa.
Sean Lampley
- Lampley is now
a former NBA player.
James Lang
- Cannot be traced since his 2009 stroke. Hope he's all right.
Trajan Langdon
- Now a scout for the Spurs, specialising in the European game, at which he proved most adept.
Dan Langhi
- After many years of touring Asia and Latin America, Langhi is now
a volleyball coach.
Priest Lauderdale
- Lauderdale opened the 2011-12 season in the Lebanon with Chalab, but the team withdrew from the league because of financial difficulties very early on. He has not played since, nor can he be traced.
Charles Lee
- Lee has returned to his alma mater, Bucknell, to be an assistant coach.
Voshon Lenard
- Has done some promoting work for Captain Morgan, but that's all that is known.
Quincy Lewis
- Lewis does TV work for University of Minnesota games, and is an assistant high school coach.
Randy Livingston
- After two years as the head coach for the Idaho Stampede of the D-League, Livingston was not retained for a third season. He was mentioned as a candidate for an assistant coaching job with San Antonio, Utah and LSU, but none of them came to fruition. Livingston is
suing his former agents for unpaid fees
, and appears to be out of work at the moment.
Steve Logan
- With the rape charges behind him, the last news on Logan was that he was attempting to set up basketball camps in the Cleveland area.
Josh Lomers
- Lomers played one professional season, then gave up. According to his LinkedIn, he is now a
HR Generalist
.
Felipe Lopez
- Works for the NBA as an ambassador in their NBA Cares program.
Tyronn Lue
- Still an assistant with the Celtics. His teetotal life is
"awesome"
. Glad someone understands.
George Lynch
- At last count, Lynch was untraceable, since leaving Southern Methodist University at an undisclosed time where he had been working as a graduate manager. It transpires that he worked only one year at SMU, before becoming a personal trainer for three seasons, then working for two years as a strength and conditioning coach and a assistant athletics director for community relations at UC-Irvine. He left there this summer to return to SMU to work as an assistant coach under their new head coach, Larry Brown.
Arvydas Macijauskas
- Macijauskas studied for a masters in European Basketball Coaching Science at the University of Worcester here in England, graduating in December, and will look for coaching opportunities.
Tito Maddox
- After disappearing from the scene in 2003, then reappearing in a column relating to the now-forgotten-about O.J. Mayo scandal in 2008 (in which it was said that
Maddox had had a brain tumour
), Maddox cannot be traced at any time in the subsequent five years.
Mark Madsen
- Madsen is an assistant coach at Stanford.
Jamaal Magloire
- A month or so after waiving him as a player, the Raptors hired Magloire to be a Basketball Development Consultant and Community Ambassador.
Jackie Manuel
- After retiring in 2011, Manuel worked one season as an assistant strength and conditioning coach at North Carolina, then left this season to become an assistant coach at NC-Greensboro.
Sean Marks
- Marks now works for the Spurs, as both a director of basketball operations and as the general manager for their self-owned D-League affiliate, the Austin Toros.
Donyell Marshall
- Served for one year as an assistant with the D-League's Maine Red Claws, but did not return for this season. According to his Twitter bio, he is now a full time dad.
Darrick Martin
- Now an assistant coach at St. John's.
Jamal Mashburn
-
Owns a lot of stuff, and is forever buying more.
Desmond Mason
-
Now an artist.
Tony Massenburg
- Now an analyst for Wizards games on ESPN 980. Used to own a sports bar, but it's now closed, and
not pleasantly.
Walter McCarty
- Now a singer.
Antonio McDyess
- Whispers of a return in November time didn't come to anything.
Cornelius McFadgon
- According to
his Twitter
, McFadgon is chillin' and traveling.
Jeff McInnis
- Runs a skills academy. But
please bring your own lunch
.
Terrell McIntyre
- McIntyre retired on doctor's advice at the start of the 2011-12 season after suffering a hip injury. He wants to go into coaching, but has not yet done so, instead working on unspecificed investment opportunities.
Aaron McKie
- An assistant coach with the Sixers.
Gerry McNamara
- After the Bernie Fine pseudo-scandal, McNamara was promoted from Syracuse graduate assistant to assistant coach. He recently had
painful sounding spine surgery
.
Stanislav Medvedenko
- Runs an academy back in the Ukraine.
Ron Mercer
-
Ran a camp nine months ago.
Lives in Nashville, helps out at Kentucky on occasion.
Chris Mihm
- Mihm returned to Texas to complete his degree in psychology and liberal arts, and helps out with the Longhorns men's team, albeit not in any official capacity that I am aware of. He recently lost his Big 12 all-time shotblocking record to
Jeff Withey
.
Darius Miles
- Cannot be traced.
Brad Miller
-
Gone huntin'.
Oliver Miller
- On the very day that the previous post was made, Miller was arrested for pistol whipping his girlfriend's brother after an argument at a barbecue. It made the post as an edited addendum. Miller was sentenced to a year in jail for the incident, and served six months. It's not known what he's done since his release, but
this doesn't sound good.
Reggie Miller
- Continues to demonstrate a refined and impeccably timed sense of humour on TNT broadcasts.
Yao Ming
- Yao has returned to Jiao Tong university in Shanghai to study economics, and is
active in animal welfare
. He is also absolutely terrible at golf.
Cuttino Mobley
- Since the last update - in which Mobley was seen
investing in medicinal marijuana clinics
via his venture capital firm - Mobley has
sued the Knicks and lost
,
sold his house
, and
whispered of a comeback
. It didn't happen.
Terence Morris
- It's a bit disingenuous to list a non-retired player on a list of retired players, but it's fair in this case, as no doubt everyone will think Morris is retired. After all, he was - Morris retired after a 2011/12 season in which he helped Barcelona do the domestic double. But Morris unretired this year when he was drafted 1st overall in the 2012 UBA (Universal Basketball Association) Draft by the Houston Express. He's played seven games thus far and is destroying the league, ranking second in points (24.3ppg), first in rebounds (15.6 rpg), seventh in assists (6.0apg) and first in blocks (5.6bpg). Suffice to say, the standard of the UBA isn't great, but I suppose that's where the fun comes from.
Alonzo Mourning
- Vice President of Player Programs for the Heat.
Gabe Muoneke
- Followed through on his dream to work in the oil industry and is now an asset manager for Afren Resources.
Dikembe Mutombo
- Recently starred in an amusing and nonsensical Geico advert.
Mamadou N'Diaye
- Now an assistant coach at Coastal Carolina.
Eduardo Najera
- Retired after last season and immediately got a head coaching job with the Mavericks-owned D-League team, the Texas Legends.
Tyrone Nesby
- All of Nesby's previously discussed business ventures seem to have come to an end. He is now reporting himself as a trainer with a company called Nes-b Sports. The crude website for the company offers
plain black sandals for a mere $100.
Rasho Nesterovic
- Cannot be traced since retiring after the 2010/11 season.
Ira Newble
- An assistant coach with the Austin Toros after previously holding the same role with the Canton Charge.
Moochie Norris
-
"To be the best, train with the best"
.
Shaquille O'Neal
- Doing TV. Not very good at it. Has potential, but needs to try less hard. Basically the complete opposite of his playing career, then.
Fabricio Oberto
- Oberto has actually unretired. He's threatened to do this on a couple of occasions since retiring in 2010, but it's really happened this time, playing the last two months with Argentinian team Atenas. Oberto is averaging 9.9 points, 4.8 rebounds and 2.3 assists in 23 minutes per game, but hurt his hamstring 86 seconds into his last game and is out for at least two weeks.
Lukasz Obrzut
- Spreading
poignant messages on Twitter.
From his profile bio, it is perhaps safe to interpret that Obrzut is doing a PhD at Kentucky.
Mehmet Okur
- Okur retired in November and is back in Turkey rehabbing.
Kevin Ollie
- Now the head coach at UConn.
Michael Olowokandi
- No news, but
Kareem has some thoughts.
Greg Ostertag
- Ostertag unretired last year and joined the Texas Legends of the D-League, but was
badly out of shape.
He averaged 4.2 points and 5.0 rebounds in 10 games, before his knee - the reason he had retired in the first place - refused to go any further. Just as the aforementioned Chris Mihm has had to watch Jeff Withey overtake his Big 12 blocked shots record, Ostertag recently had to watch Withey passed his Kansas school record for them too.
Someone on Twitter
has pretended to be a racist version of Ostertag for nearly three years now.
Bo Outlaw
- Now an Orlando Magic community ambassador.
Robert Pack
- Now an assistant coach for the L.A. Clippers.
David Padgett
- Padgett served for one season as an assistant strength coach at Louisville, and has served the last two years as an assistant coach at IUPUI.
Scott Padgett
- Now an assistant coach at Samford.
Anthony Parker
- Parker ended his impressive career this past summer and became a scout for the Orlando Magic.
Cherokee Parks
- Inexplicably, Parks - who had not played since December 2003 - came out of retirement last season to sign with French fourth division team, Aubenas. There must be a reason why he travelled across the globe to play semi-professional basketball, but whatever it is, I don't know it. It did, however, definitely happen - here's some tape to prove it. It's only of a missed jumpshot, but, still.
Parks was
even due to re-sign there for another season
(see the link for an enthusiastic if crudely translated blurb on Parks's virtues), yet this contract was later cancelled after the death of a family member.
Ruben Patterson
- Got married.
Appeared in the crowd at the All-Star game.
Sold a car.
Gary Payton
- Hard to pinpoint exactly what he does, but appears at many charity events, and is really pushing for the NBA's return to Seattle in some untitleable capacity.
Anthony Peeler
- Into his fourth season as an assistant coach at Division 2 Virginia Union.
Ben Pepper
- Pepper essentially retired after the 2007/08 season, but has played the last three summers in Australia's Western Australia State Basketball League for the Geraldton Buccaneers. Last year, however, he averaged only 7/5 in five games before having season ending knee surgery. This year, Pepper has joined Hawks Basketball Club, who play in the Geraldton Amateur Basketball Association; he will play for the men's team, while simultaneously coaching the women's.
Wesley Person
- Person was coaching high school basketball at Enterprise State Community College, spending one year as an assistant with the women's team, then being head coach of the men's team for one season. After an 8-21 season, Person was fired. He then began to volunteer as an assistant for the women's team at Troy University, but made the headline for a different reason last January with
this arrest.
And then in November, he was
arrested again.
Eric Piatkowski
- After briefly working as an analyst for Nebraska games, Piatkowski has vanished from the public life.
Kevin Pittsnogle
- In 2010 and 2011, Pittsnogle was a player/coach for a semi-pro team, the
Winchester Storm
, though it's hard to tell who they play against. (It seems they used to be a member of the Eastern Basketball Alliance, but not sure about now.) Pittsnogle only played home games; here's a clip of him doing so. He's the overweight and extremely slow #50 in black.
Not afraid to shoot, not capable of anything else. Still, basketball isn't Pittsnogle's life any more. He continues to work as a substitute teacher in West Virginia, and is a youth case manager for the West Virginia Department of Commerce.
Scot Pollard
- Now broadcasts Kansas games, and recently made forays into acting, most prominently in a B-movie horror called Axeman at Cutler's Creek. Yes, the beardy guy who licks and kills women really is Scot Pollard.
For an amusing analysis of Pollard's chances of avoiding eternal punishment in the fiery depths of hell, read
this
.
Olden Polynice
- Runs a personal training service,
Next Star Basketball
, and is a DJ.
Mark Pope
- Now an assistant coach at BYU.
Vitaly Potapenko
- After leaving the Pacers, Potapenko moved to the Dakota Wizards of the D-League to be an assistant coach there; when the team moved to Santa Cruz for the 2012-13 season, Potapenko went with them.
Roger Powell
- Powell retired after the 2011 season. He is now an assistant coach at Valparaiso, and
also a minister.
Laron Profit
- Now an assistant coach for player development with the Orlando Magic.
Theo Ratliff
- Now finally healthy, apparently.
Zeljko Rebraca
- Hoping Partizan Belgrade will offer him a coaching job.
Luke Recker
- Now sells medical equipment for a living, for a company called Stryker Orthopaedics. If that sounds familiar, it's because it's the same company the aforementioned Adam Haluska works for. Someone at Stryker Orthopaedics has an Iowa connection, it seems.
Justin Reed
- Arrested for possessing quite a lot of weed in March 2011, and hasn't been heard from since.
Don Reid
- Reid has teamed up with former Pistons employee Mike Ford to open Increase Sports, a youth development program.
Jared Reiner
- Reiner works in medical sales for the same company as the aforementioned Recker and Haluska. You can guess where he went to college.
Chris Richard
- Richard retired from the game this summer to concentrate on his foundation for underprivileged children, the Rich Kids Project.
Jason Richards
- Into his third season as a graduate student manager at Pittsburgh.
Norm Richardson
- Richardson ended his playing career in Germany, and wound up staying there, coaching the TSV Bietigheim Under-18 team.
Cliff Robinson
- Robinson now helps run his wife's charity, The Robinson Network, and working with the NBA Alumni Association.
Glenn Robinson
- Cannot be traced, but his son's doing OK for himself.
Dennis Rodman
-
International peace envoy.
Rodney Rogers
- A New York Post piece about Rogers
ran last month
, detailing his efforts to run a foundation.
Jalen Rose
- Still working as an analyst for ESPN and ABC, and firing out more interesting stuff than most of his peers, if occasionally slightly slanderous.
Malik Rose
- Now a broadcaster for the Philadelphia 76ers.
Michael Ruffin
- Ruffin is a Director of Field Research of the athletics department of the American Society for Quality.
Bryon Russell
- Unknown. It doesn't appear as though he plays with the Los Angeles Lightning in the summer any more either.
Brian Scalabrine
- Declined an assistant coaching job with the Bulls to become a broadcaster for the Celtics.
Mladen Sekularac
- Cannot be traced.
Josip Sesar
- Currently the youth coach at Cibona Zagreb.
Ansu Sesay
- Retired in 2011 and cannot be traced since.
Doron Sheffer
- Sheffer has been coaching youth basketball since 2009, and the answer to what he's doing now can be found
here.
(Probably.)
Joe Shipp
- Cannot be traced.
Paul Shirley
-
Writes still,
but not for ESPN.
Wayne Simien
- Works as the director of youth sports and a campus minister at Kansas.
Ramunas Siskauskas
- Siskauskas retired after last season, but
still plays at the amateur level
. Notice how Google Translate interprets his surname as "Minogue" for some reason.
Charles Smith
- Cannot be traced.
Jabari Smith
- Cannot be traced.
Lanny Smith
- Never really recovering from his injuries, Smith now runs Active Faith Sports, a Christian sports apparel brand with
a strikingly slick web portal
.
Steve Smith
- Has a large real estate portfolio, and works as an analyst for NBA TV.
Eric Snow
- Named the Director of Player Development at Southern Methodist University last summer. As with George Lynch, the Larry Brown connection is in play.
Latrell Sprewell
-
Arrested for being too noisy on New Year's Eve.
It is not known what, if anything, he does for money. Allegedly, however,
he owes a lot of it.
Vladimir Stepania
- After many years of ultimately unsuccessful rehab, Vladimir Stepania embraced retirement and went to study at New York University. He subsequently settled in the state, and is now the CEO of
Silk Road Flavors
, a speciality food importer, which he runs with members of his family.
Blake Stepp
- Left basketball behind many years ago, and now
also seems to have left the poker behind too
. Claims to
now work in sales
.
Michael Stewart
- Stewart is the vice president of the Unison Group, a medical supply company.
Frans Steyn
- Like so many other retired players, it seems, Steyn now works in medical sales. Not for Stryker Orthopedics, however.
Jared Stohl
- Portland shooter Stohl played one beautifully one-dimensional season in Germany with second division team Crailsheim. He averaged 8.7 ppg in 14.1 mpg, shot 28% from two point range, and 42% from three point range. He then retired and now runs
homeless-art,
an enterprise designed to help homeless people help homeless people by creating sellable art.
Predrag Stojakovic
- Has done some ambassadorial work for the NBA, but in retirement, has mostly just chilled.
Shaun Stonerook
- Stonerook retired this past summer and is still in the taking-time-out stage that often accompanies retirements.
Awvee Storey
- Player Personnel Manager for the Washington Mystics of the WNBA.
Damon Stoudamire
- Assistant coach at the University of Memphis.
Erick Strickland
- Strickland either part-owns or part-owned
Luxury Boys Toys
, an eBay-like site for expensive stuff, and works at an Acura dealership. He recently petitioned for a job at Nebraska, but was unsuccessful.
Rod Strickland
- The last time we checked in on Strickland, he was working for Kentucky as a special assistant, and had just been arrested for yet another DUI. This time around, things are much the same, except this time, the arrest was for
driving on a suspended license
. Strickland disputed the charge as being an administrative error. Nevertheless, regardless of that, he still works at Kentucky.
Bob Sura
- Sura recently turned up on an episode of Pokerstars's The Big Game. Here's a clip.
Online, it seems he's
doing pretty good.
Also, his Twitter feed, if it's really him, is
hilarious.
Seems like he's having fun.
Robert Swift
-
Sad face.
Stromile Swift
-
Another sad face.
Wally Szczerbiak
- Works as an analyst for both CBS coverage and Knicks games.
Jamaal Tatum
- Now the head coach at Russellville high school in Missouri.
Billy Thomas
- Into his third year as head boys coach and associate athletics director at the Barston School in Kansas City, Missouri.
Etan Thomas
-
Has written a book about being a father.
Kenny Thomas
-
Runs this.
Tim Thomas
- Thomas is semi-retired, and
will come back if a ring is involved
. Outside of that, he is trying to make a documentary, and, um,
register some pistols.
Jake Tsakalidis
- Cannot be traced.
Mirsad Turkcan
- Turkcan retired this past summer after a 19 year professional career, and said he would probably go to work for his last club, Fenerbahce. It is unclear if this happened.
Ime Udoka
- Retired this past offseason and immediately went to work with the Spurs as an assistant coach.
Cory Underwood
- Seems to either deal in, or endorse, Rich Fly Gee$, which does sidelines in music and clothing.
Ramon Van de Hare
- Retired in 2010. His last stop was for a Spanish semi-professional team who
continue to commit one of the most egregious acts of logo theft in intellectual property history.
(Scroll down.)
Nick Van Exel
- Now into his third years as a Player Development Instructor for the Hawks. More newsworthy in recent times was his son, who was sentenced to 60 years in jail in February for murder.
Keith Van Horn
- Founded a fly-fishing club, then sold it, and founded a software company,
Accuworks Software
. He retains contact with basketball through
this
.
Jacque Vaughn
- Head coach of the Magic.
Fred Vinson
- Was an assistant coach with the Clippers for three years, and is now doing his third year as an assistant with the Hornets.
Jake Voskuhl
- Retired last season, and moved to Fairfield County, although nothing else is known. Here's a story about how
a woman and Jesus saved him from drink and drugs.
Milos Vujanic
- The future of the Knicks suffered a serious injury last season and decided to retire. He became an assistant coach at Partizan Belgrade, but left in January citing personal commitments.
Dajuan Wagner
- Seems to essentially keep himself to himself.
There's still stories about a possible comeback
. They still don't happen.
Antoine Walker
- After two years of being a decent but not stand-out D-League player, Antoine finally pulled the plug on his playing career. He now gives
financial adivce
, despite...well, you know. Those who can, do. Those who can't, or at least didn't, teach.
Samaki Walker
- Walker last played in Syria in 2011, then came home and
ate some weed
. He now works as a trainer and mentor for the Ohio Valley Basketball League, and also
ran a camp that provides you with dinner, but not a ball
.
Charlie Ward
- Ward has been the head football coach at Westbury Christian high school in Texas for several years, and is also a part of the school's development team.
Clarence Weatherspoon
- Weatherspoon runs a record label, 35*35 Entertainment.
Chris Webber
- Writing an autobiography, and developing a career as an analyst. Is really good at it, although
Mark Cuban disagrees
.
Frederic Weis
- Always unfairly disrespected in America, Weis retired at the end of the 2010-11 season after years of injuries that slowed him down considerably. He now owns a brewery in the French town of Limoges.
Bonzi Wells
- Still plays in exhibitions, but that doesn't really count.
David Wesley
- Wesley was an assistant coach for the Texas Legends D-League team for two seasons, then left this summer to become a colour analyst for the Hornets.
Robert Whaley
- Out of prison, out of basketball, out of shape.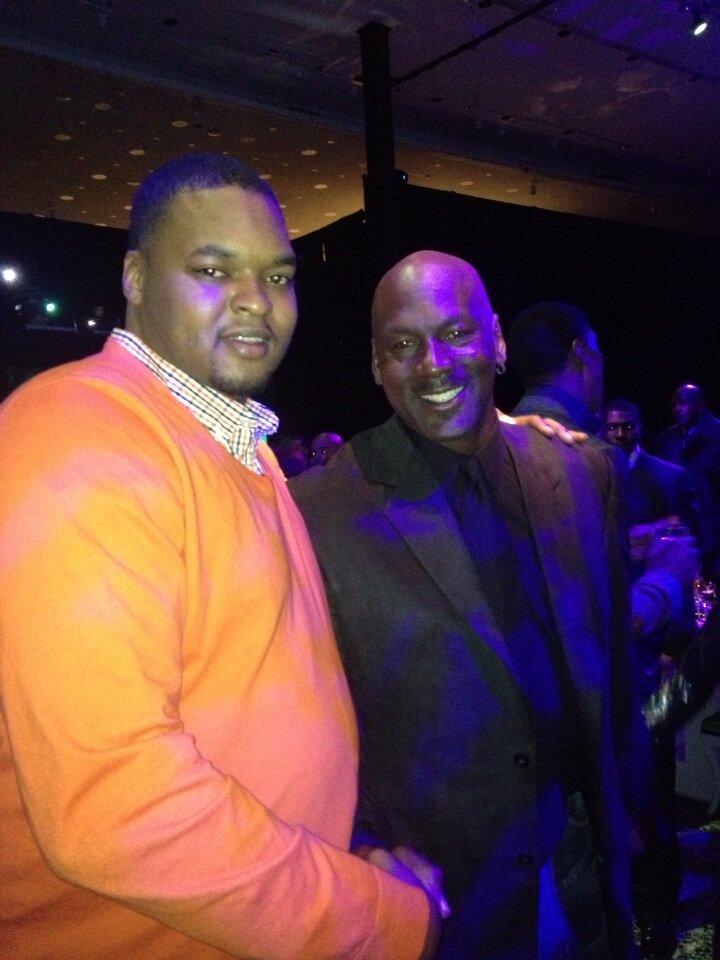 Jahidi White
- The only news of Jahidi in retirement was that of an acting role he had in a forgettable B movie, Showdown at Area 51.
He is one of the two aliens in this clip.
Not sure which, but I suspect it's the one in the junkyard.
Chris Whitney
- Director of Player Development with the Bobcats since 2010.
Mike Wilks
- After a few knee injuries, Wilks retired from the game this past offseason and joined the Thunder as a scout.
Aaron Williams
- Very quiet in retirement, Williams appeared briefly as a temporary assistant coach at Xavier, replacing Kareem Richardson, who was temporarily sidelined with health problems. Williams, however, left when Richardson returned roughly six weeks later. And when Richardson left Xavier at the end of the season to go to Florida International - along with Rasheen Davis to Manhattan - Xavier hired two replacements, neither of which were Williams.
Ajani Williams
- President of the Jamaica Basketball Association, and has been for several years.
Alvin Williams
- At one time the Director of Player Development for the Raptors, Williams is now a scout for them.
Donell Williams
- One time Clippers training camper Williams has been working as an assistant coach and trainer.
More specifically:
After college, Donell embarked on a professional basketball career that included 2 season - one with Los Angeles Clippers (NBA) and another Bakersfield Jam (NBDL). When his playing days were over, Donell became a assistant and associate head coach with stops at Fairfax High, Bell-Jeff High and St. Bernard High.

As a high school girls coach, Donell recruited and coached some of the top players in the country and coached in a number of girls and boys to top programs such as UCLA, USC, Arizona, Marshall, Texas, Boston College, San Jose State, North Carolina, NC State and Cal.

Donell saw a need in the marketplace for personal skill training and embarked on his next basketball venture by starting Elite Drills & Skills Basketball. Donell has taken all he has learned as a player and coach and has translated that into training some of the best basketball players and teams in the world. Donell's skills are highly respected in the training community's such as Los Angeles, Greensboro and beyond. Donell's playing and teaching experience make him one of the most qualified and experienced personal skills coaches in the country. For any player looking to significantly improve their game, an opportunity to train with Donell is not one to be missed.
Eric Williams
- Does real estate. Not prepared to touch the basketball wives thing here. We did all that before it was popular.
Frank Williams
- Williams was arrested for possessing quite a lot of marijuana in the summer of 2009, and last played in Argentina in 2010. His two newsworthy moments since then involved receiving probation in a plea deal for the arrest (2011) and being inducted into the Greater Peoria Sports Hall of Fame (2013). He is otherwise untraced.
Jason Williams
- Has played some exhibitions, but his new income is not known. Incidentally, yet not incidentally at all, the other Jayson Williams is out of prison.
Jay Williams
- Still an analyst, but
now burying some bodies on the way
.
Jerome Williams
- Now the director of basketball operations at powerhouse high school side Findlay Prep, and has
a terrible haircut.
Scott Williams
- Worked his first seven post-retirement years as a colour commentator, first for Cleveland then Phoenix, before leaving this season to become an assistant coach with the Idaho Stampede of the D-League.
Shammond Williams
- Now an assistant coach at Furman.
Walt Williams
- Now a sideline broadcaster for the Terrapin Sports Radio Network and a financial advisor for UBS Financial.
Corliss Williamson
- Head coach at Central Arkansas.
Kevin Willis
- Willis's company, Willis and Walker, which sells custom suits and jeans to taller men, is now into its 25th year of business. And even though Willis just turned 50,
he'd still bite on a comeback offer.
Ryan Wittman
- A good player, but not good enough to meet basketball's highest standards, Wittman shunned the third and fourth tiers after only one year to go turn his Cornell education into money. He is now an asset management analyst, a job which just
sounds
well paid.
Jitim Young
- Maintains one of
the most detailed athlete LinkedIn pages ever
, which does all the work I could ever do and more. There is only one issue - Young has not played for Hod Hasharon, or indeed anyone, since 2011.
Brian Zoubek
- As was fairly well know, Zoubek spurned what could have been a good professional career in order to open a pastry shop. Less well known is the fact that it
closed a month ago
to go do some real estate.
Eurelijus Zukauskas
- Zukauskas owns a construction and real estate company in his home town, and still plays
the amateur game
.