If your team drafts a player, and yet never signs him, the chances are that they'll still own his draft rights.
The presence of those draft rights means that that player can sign only with the right-holding NBA team, and not with any others. Such draft rights can also be traded, either to a recipient team who values the player and thus gives something of value for them, or as arbitrary filler obliging the NBA's rule that all partners in a trade must trade something outbound, however menial. In theory, there exists multiple uses for these draft rights.
In practice, however, they are often of no use whatsoever. They exist as technicalities, relevant only on a whimsical level, interesting only to the insanely boring. Luckily, I am such a person.
A longer breakdown of the usage of otherwise redundant rights in trades can be found if you scroll down
here
(a link also containing a much shorter-handed version of this list). An incredibly long breakdown of the whereabouts of the players concerned follows this amusing picture of
Ronnie Brewer
.
---
Atlanta
Alain Digbeu
(50th pick, 1997)
- Digbeu was drafted late in the second round in 1997 after spending his career to date in his home land of France, specifically with ASVEL Villeurbanne. The 6'4 shooting guard played there for two more years, then embarked on a tour of Spain and Italy (including stops with big teams such as Barcelona and Real Madrid), before returning to France a decade later to play for IG Strasbourg. Digbeu was once very athletic, but that has gone now, and he is now largely just a three point shooter and/or heady veteran. Digbeu is still playing for Strasbourg, averaging 6.5 points in 22.2 minutes per game, yet he just turned 35; his NBA candle obviously burned out a long time ago.
Chances of making the NBA expressed as an arbitrary percentage:
0%
Cenk Akyol
(59th pick, 2005)
- Akyol was drafted by the Hawks aged only 18, on the off-chance that he would flourish into an elite European big point guard in the mold of someone like
Milos Teodosic
. In the years hence, Akyol has developed as a player, but not so much as a point guard. Playing for the stacked Efes Pilsen, Cenk averages 5.2 points and 0.9 assists in 12.2 minutes per game in the TBL, used primarily as an three point specialising off-guard. Minutes in Efes Pilsen's backcourt are crazily difficult to come by; Akyol was joined in the backcourt by
Flip Murray
, Ender Aslan, Sinan Guler, Andrew Wisniewski,
Igor Rakocevic
, Bootsy Thornton and Kerem Tunceri, all established veterans of demonstrable talent, and all higher on the pecking order than Akyol. Because of the wealth of options available, Akyol is used only in TBL games, and did not play in the Euroleague between November and March. He was healthy, but he was surplus. Of those 8 guard options, Akyol was eighth choice. Wisniewski has left, but that still leaves Akyol seventh.
Akyol is still only 23 years old, and will be around for a long time yet, but the Hawks seem to have shown no interest in him for several years.
Chances of making the NBA expressed as an arbitrary percentage:
2%
Sergiy Gladyr
(49th pick, 2009)
- Gladyr was drafted as a shooter, but hasn't shot the ball especially well over the last two seasons. Playing rotation minutes for Manresa in Spain's ACB - which is no mean feat for one so young - Gladyr shot only 34% from three point range last season, not helped by missing time late in the season after breaking his shooting hand by punching an advertising hoarding. This season, the shooting numbers are not much better; Gladyr is shooting only 35% from three while taking five threes a game, and also shooting only 39% from two point range. He averages 8.9 points, 2.7 rebounds and 2.5 fouls per game on the season, playing 20.4 minutes per contest. Gladyr makes fewer mistakes now, and has made slight improvements as a player, but if he's going to make it as a shooter, then he's going to have to shoot better.
Chances of making the NBA expressed as an arbitrary percentage:
10%
---
Boston
Albert Miralles
(39th pick, 2004)
- Miralles was drafted after a 6.5 point, 4.7 rebound season in Serie A at the age of 22. He spent another year in Italy, then returned to Spain to spend 4 years with Valencia. However, Valencia outgrew him, becoming one of the best teams in Europe, as evidenced by their 2010 Eurocup win and subsequent strong Euroleague campaign. Miralles thus moved to the less prestigious ACB team of Lagun Aro, for whom he has averaged 8.3 points and 6.4 rebounds in 24.9 minutes per game this season. He hustles, and self-evidently rebounds, but his offensive game never developed much, and nor does he have great physical tools. His defense is all effort and fouls.
Miralles was initially drafted by the Raptors, before his rights were traded to Miami in exchange for the rights to
Pape Sow
and a future second round pick. He was then a filler part of the 13 player trade that landed
Antoine Walker
in Miami, as was the 2008 second pick later used on
Nikola Pekovic
, which Boston gave to Minnesota as a part of the deal for
Wally Szzerbiak
and a 2009 first round pick, which was later returned to Minnesota as a part of the trade for
Kevin Garnett
. Unless you believe that Miami could have won the 2006 title without making the Antoine trade - he didn't exactly help in optimum fashion - then it could be argued that Albert Miralles helped build title teams in both Miami and Boston. Not so much in Toronto, though.
The draft rights to
Ben Pepper
and
Josip Sesar
, held by the Celtics for the longest time, no longer exist due to the two player's respective retirements. As we'll see later, many players on this list have retired, yet their rights continue to be listed as held by their respective NBA teams. The reason for this is unclear. Maybe the Celtics do more diligent paperwork.
Chances of making the NBA expressed as an arbitrary percentage:
1%
---
Chicago
Vladimir Veremeenko
(48th pick, 2006)
- It's not possible to trade someone or something for nothing; each team must always send something out. This is true in every deal, even those designed to be complete dumps for one party. For this reason, Vladimir Veremeenko was an unimportant yet important cog in the summer time trade that saw
Kirk Hinrich
,
Kevin Seraphin
and cash go to the Wizards in exchange for nothing significant at all. In lieu of anything significant, Veremeenko's draft rights were the vehicle of dreams that allowed this morally neutral trade to go down. Had the Wizards sent something like a nominal amount of cash back to the Bulls in a trade in which they would have received cash, that would have been too weird.
Veremeenko is a 6'11 combo forward who was drafted by the Wizards with the 48th pick of the 2006 NBA draft. He's a face-up scorer that is too slow to defend the wing positions in the NBA, which is one of the reasons why he will never join it. (The other is that he's not good enough.) He's also not especially strong or physical, which means he can't defend power forwards particularly well, either. For a 6'11 guy, Veremeenko is a good ball handler and a legitimate face-up power forward; it is that combination that made him intriguing enough to be draft. Veremeenko is also a pretty good shooter, and capable of taking players similarly athletic to he off the dribble, where he has decent touch at the rim and a mid-range game. Unfortunately, such players are rare in the NBA, even more so now that
Austin Croshere
has retired. Veremeenko also takes an unnecessarily large number of bounces before every free throw; this isn't important, but it is kind of annoying.
Veremeenko is with Unics Kazan, who currently top the Russian league and have a very good chance of breaking CSKA Moscow's monopoly over the competition. They are also still going strong in the Eurocup, making it through to the quarter final stages. Veremeenko is a big part of both campaigns, averaging 8.8 points and 5.4 rebounds in Russian league play, alongside 8.1 points and 4.9 rebounds in the Eurocup. He's a good player. He's just not an NBA player.
Chances of making the NBA expressed as an arbitrary percentage:
2%
---
Cleveland
Ejike Ugboaja
(55th pick, 2006)
- Ugboaja was drafted at the end of the 2006 draft, at the backside of the Longshot Athletic Foreigners phase, straight out of the Nigerian league. He had been a multiple MVP award winner in his homeland, and had also previously averaged 5.3 points and 5.5 rebounds at the 2005 under-21 World Championships, a hotbed of scouting. The Cavaliers may have further noticed Ejike (pronounced Air-zhee-kay) in the 2006 Commonwealth Games, where he averaged 16/10; good numbers, sure, but Commonwealth Games basketball is not of a very good standard. It's the Australian B team, and then a big gap to the rest of the field. You can tell that it was a low standard because a little known country called England came in third place; indeed, it was Ugboaja's Nigeria that they beat by 23 points in the bronze medal game, despite missing their captain and best player, ex-Villanova forward
Drew Sullivan
.
Being drafted gave Ugboaja the leverage necessary to move up from the Nigerian basketball league, but he has not exactly made his way to the top. He started the 2006-07 season on an unsuccessful tryout in Poland, finished it up in Cyprus, and then spent the 2007-08 season with the Albuquerque Thunderbirds, making him one of the very select few players with outstanding draft rights to have played in the D-League (as well as, I'm pretty sure, the first and only non-American to do so). Worse still, a year after being drafted in the second round of the NBA draft, Ugboaja couldn't manage better than the 5th round of the 2007 D-League draft, the 59th overall pick. That season, he averaged 4.9 points, 5.0 rebounds and 2.4 fouls in 14.6 minutes per game between the Thunderbirds and the Anaheim Arsenal, numbers as-near-as-is-identical to what
Eric Boateng
is averaging this year. Except Ejike doesn't block shots, or have as much size as Boateng.
Since leaving America, Ugboaja has spent a year and a half in Iran, and half a season in the Ukraine. He began this season in the Spanish LEB Gold (second division) with Burgos, averaging 6.1 points, 5.0 rebounds and 3.0 fouls per game, then left and returned to the Ukraine, where he has averaged 7.9/5.2/3.0 for Odessa. Last month, he played probably the best game of his life, recording 19 points and 13 rebounds in a narrow win over
Derrick Zimmerman's
Hoverla. But this is all Ejike has managed since draft night. He's a raw athlete, with a centre's game in a small forward's body, who turns 26 in May. It's not going to happen.
Chances of making the NBA expressed as an arbitrary percentage:
0.1% (the .1 coming from the fact that he's at least still playing).
Sasha Kaun
(56th pick, 2008)
- Conversely, Kaun nearly joined the NBA in the summer, and is likely to do so one day. He has been playing for CSKA Moscow back in his native Russia since being drafted, and has improved year on year, rounding into one of the best players on one of Europe's best teams.
Unfortunately, things have imploded for both Kaun and CSKA this season. After an amazing eight straight Euroleague final fours, they didn't even make it out of the group stages this season, a completely unexpected implosion that resulted in newspaper ad apologies. They are also struggling in the Russian PBL; after eight consecutive titles, and winners of 17 out of the last 19, CSKA are currently second in the table this season behind Veremeenko's Unics Kazan. And a recent loss to third place Lokomotiv Kuban means the skid is far from over.
A large part of the reason for this comparative mare of a season has been injuries. After missing national team play in the summer due to an ankle injury,
Viktor Khryapa
- the team's best player and last year's Euroleague DPOY - played only 5 games in his return before reinjuring it in mid-December, not returning until mid-March. Matjaz Smodis is back after missing all of last season, but he's not been back to anywhere near his best, and has recently been diagnosed with a heart problem. Veteran Lithuanian guard
Ramuntas Siskauskas
missed some games due to a back injury, and he too has not played like he can do. The year began with news that point guard
J.R. Holden
had discovered a heart problem of his own during routine medicals; he has been playing, and playing fairly well, yet it set the tone early for how the season would pan out, and a later leg injury followed. And Kaun has missed more time than anyone; until his return in early February, he had missed the whole season to date, including the entire disaster of a Euroleague campaign.
When healthy, Kaun is a huge, fluid, talented scoring centre, a bigger and better one than
Samardo Samuels
. He averaged 10.4 points and 6.3 rebounds in 20 minutes per game at the summer World Championships, evidential of his talent level. Maybe it's best for him to stay at the highest echelons of European basketball, which lend themselves more kindly to the big slow centres more than the modern faster smaller NBA does. But if he wants to play in the NBA, he absolutely could. He probably will, too. Cleveland chased him hard last year.
Chances of making the NBA expressed as an arbitrary percentage:
60%
---
Dallas
Steve Logan
(30th pick, 2002)
- Logan had a chance to play in the NBA. After being drafted by the Warriors in 2002, he was offered the chance to sign right away, but held out for more money. A bigger contract was never forthcoming, and he ultimately never signed with them. Logan's rights were a throw-in part of the
Erick Dampier
trade, and he hasn't ever threatened the Mavericks roster.
By this time, he's never going to. If Steve Logan's career isn't over, it's on a hell of a hiatus. Logan has played amazingly little for a man who went professional nine seasons ago; an abortive one season in the NBDL (as was), some time in the volatile ABA, half a season in Turkey, a fortnight in Greece, a fortnight in Portugal, tryouts in Israel and Poland, and a week or two in Venezuela, are about all he has to show for it all. Since the summer of 2006, Logan has almost never played; the tryouts in Israel and Poland comprised his entire 2006-07 season, and he didn't play at all in 2007-08. He signed with Venezuelan team Marinos for the 2008 LPB season, but never played for the team due to injury, and has not played since.
That was two and a half years ago now, and in that time, Steve Logan has made the news only once. In the summer of 2009, Logan was arrested and charged with
strong-arm rape and gross sexual imposition
; after spending a night in a bar with two women, it was alleged that he took them back to his house, raped one, and fondled the other. Several months later, in March 2010, the case was dismissed due to inconsistent evidence by the alleged victims, including
false claims of physical harm
. That same day, in a separate case, Logan pleaded guilty to misdemeanour domestic abuse, and fined.
There was talk of a comeback plan, a recommencement of a career that had been effectively ended by these charges and injuries. However, as of the time of writing, this comeback does not appear to have come to fruition.
Chances of making the NBA expressed as an arbitrary percentage:
0%
Renaldas Seibutis
(50th pick, 2007)
- After being touted as an extremely hot prospect in his youth, Seibutis has not quite panned out, yet. But this season, he has made some progress.
Noted (and drafted) for his versatility, said versatility has had its drawbacks; even at this point in his career, Seibutis excels at no one thing. He is a capable ball handler and playmaker at 6'5, but is no point guard; he is a smooth athlete, but not especially quick, and physically caught between positions. Seibutis has played on good quality teams since he was drafted; another year with Olympiakos, followed by two years with Bilbao in Spain. However, he left Bilbao in the summer, and wound up going to Turkey to play for Turkish club Olin.
Turkish basketball is on a bit of a high at the moment; the national team's second place finish at the World Championships has been followed by an influx of money into the domestic league, as evidenced by the Akyol blurb above. The Turkish is strong, and can rightfully claim to have surpassed Serie A, ranking amongst the best non-NBA leagues in the world. With this in mind, Seibutis can proudly claim that he is currently 4th in the TBL in scoring (19.0 ppg), as well as 8th in assists (4.4). He has taken a low budgeted Olin team - that goes only eight deep and has only one other established talent in Macedonian big man Predrag Samardjiski - and dragged then to a 14-10 record, good enough for 7th place in the 16 team TBL. And he's done it pretty much single handedly.
What he now must do is turn this stat-heavy season into a smaller but more prestigious gig in the rotation at a bigger European club.
Chances of making the NBA expressed as an arbitrary percentage:
3%
Giorgis Printezis
(58th pick, 2007)
- Printezis only just joined the Mavs, a necessary yet unnecessary inclusion in the trade that sent
Alexis Ajinca
to Toronto. He was included as a throw-in in a minor deal for the simple reason that Toronto no longer considers him to be an NBA prospect. In the almost four years since being drafted, Printezis has played for Olympiakos and Unicaja Malaga, both quality places. But he hasn't shone through at either, despite being incredibly highly paid. Having turned 26 in February, Printezis's skills have never caught up to his athleticism, nor his production to his potential, nor his reputation to his salary. Printezis is athletic, aggressive, tough, fearless, rugged, and kind of dirty, an athletic small forward who can defend his position. But he has no mid range game, can't create, dribble or pass with any consistency. And his outside jumpshot, which wasn't bad when he was left open, seems to have left him.
Toronto traded a 2008 second round pick to San Antonio for the rights to Printezis, a pick that was later used on
Goran Dragic
. It is rarely the right move to trade anything other than cash for picks in the 50's.
Chances of making the NBA expressed as an arbitrary percentage:
1%
Shan Foster
(51st pick, 2008)
- Like Gladyr above, Foster was drafted as a shooter but is now having trouble shooting. After hitting 137 threes at a 47% clip in his senior season at Vanderbilt, Foster's European career has seem him continue to shoot the ball, but not exceptionally well, and he hasn't played at the highest European echelons either. This season for Dexia Mons-Hainaut in Belgium, Foster has averaged 10.7 points and 3.1 rebounds in 27 minutes per game in Belgian league play, shooting 55% from two point range and 39% from three. But in EuroChallenge play, Foster is shooting only 40% from two and 21% from three. He is an indisputably solid player, but unless he takes the jumpshot to another level - or gets lucky like
Matt Carroll
- then there's no way in.
Chances of making the NBA expressed as an arbitrary percentage:
0%
Nick Calathes
(45th pick, 2009)
- Calathes, seen here wearing an afro and touching up some young woman, is one of the best players on this list. Solid in a limited role at Panathinaikos last year, the team lost both
Sarunas Jasikevicius
and
Vassilis Spanoulis
over the summer; rather than bringing in another big name expensive point guard to replace them, the team instead just entrusted Calathes with a bigger role. Now the full time back-up to
Dimitris Diamantidis
, Calathes is averaging 7.3 points, 3.0 rebounds and 3.0 assists in 18 minutes per game in Greek league play, shooting 50% from the field. Those numbers dip to 3.9 points and 1.1 assists in 13 mpg in Euroleague play, and the standard of play between the Euroleague and the Greek league is pretty substantial. Calathes has also not yet developed the three point shot he so badly needs. Nevertheless, try and find three other 21 year old point guards playing rotation minutes for one of Europe's very best teams.
Because of that, he might not be inclined to come over. 6'5 point guards without great athleticism or jumpshooting are better suited to Europe, especially if they have a Greek passport. Calathes probably could make it onto an NBA bench for a bit, much like
Cedric Bozeman
briefly did, but he needn't.
Chances of making the NBA expressed as an arbitrary percentage:
10%
Ahmad Nivins
(56th pick, 2009)
- Nivins's professional career began in Spain's ACB, the only American rookie to begin the season there in 2009/10. He played pretty well to begin the year, averaging 7.8ppg and 4.2rpg in Manresa's first 13 games. However, he tore his knee in December of 2009, and missed a whole year. He returned this past January, joining on with Belgium team Dexia Mons-Hainaut, where he became Foster's team mate. Nivins started slowly, which was to be expected, but has ramped up over the last few weeks and is averaging 7.1 points and 3.4 rebounds in 17 minutes per game in Belgian league play. Those numbers in that league don't leap off the page, and the injury is an obvious obstacle he will have to overcome. Yet with a clean bill of health, he should show his fringe NBA talents again.
Chances of making the NBA expressed as an arbitrary percentage:
4%
---
Denver
Sani Becirovic
(46th pick, 2003)
- When Becirovic was drafted, much of the talk was about his knees. Becirovic had been an early entry candidate in 2000, then promptly averaged 21 points and 4 assists in the 2000/01 Euroleague system, an established star before his 20th birthday. His stock was cooking. Then came the knee trouble; Becirovic missed the whole 2002/03 season, and pretty much missed the whole 2003/04 season as well. Denver drafted him in the offseason between the two, taking a flyer on a guy with more resume than the majority of those picked ahead of him, knowing full well of the knee history but hoping it wouldn't be too big of a hinderance.
Becirovic's knees have actually held up rather well, considering. He has missed some time over the years with them - including, notably, the Eurobasket 2009 tournament - yet he has sustained a high level of play over the years. That said, still aged only 29, Becirovic's prime may have come and gone. He remains a talented offensive combo guard, and has been playing a good standard of basketball, averaging 13.6 points and 2.5 assists per game in the TBL for Turk Telekom before a late season move to CSKA Moscow. But relative to his peak years, that's a backwards step.
As recently as two years ago, Sani was one of the Euroleague's highest scorers, recording 14.8ppg for Lottomatica Roma. Now, though, he's only in the EuroChallenge, and in need of a second wind.
Chances of making the NBA expressed as an arbitrary percentage:
0%. Not now.
Xue Yuyang
(57th pick, 2003)
- Behind the Houston Rockets and
Yi Jianlian
, the third biggest benefactor from the Let's Totally All Draft Chinese Big Men phase was Xue, a 7 foot jumpshooter with nothing else to his game. Xue has stayed in his homeland since being drafted, and figures never to leave - he's having a hard enough time being a productive player in China. This season, Xue is averaging 4.7 points, 2.9 rebounds and 2.3 fouls in 17.5 minutes per game for the Zhejiang Lions, scoring 142 points on 140 shots, and turning it over once a game despite rarely taking a dribble.
Those numbers aren't good in any league. But if you know anything about
Chinese Basketball Association statistics
, you'll see a bigger problem.
Chances of making the NBA expressed as an arbitrary percentage:
-1,000,000%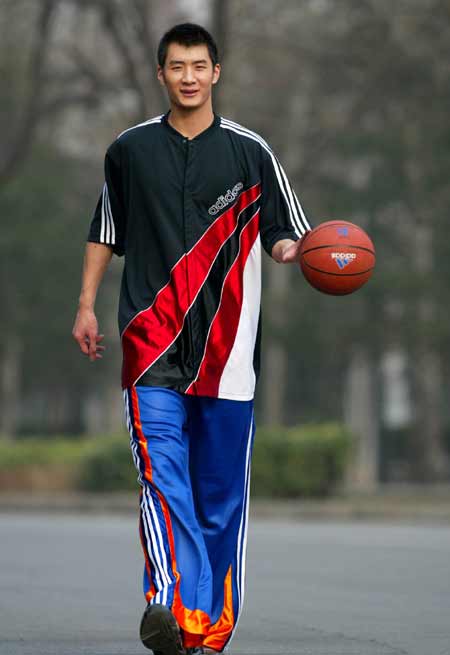 That dribble's a bit high.
---
Golden State
Mladen Sekularac
(55th pick, 2002)
- In April last year, I wrote
this Sekularac update
:
Sekularac was projected to be a sweet shooting 6'8 swingman, much like Bojan Bogdanovic projects to be (or is) in the upcoming draft. But M-Sek never panned out due to injuries. Injuries kept him out for all but one game of last season as well - the first game of the year - yet finally, after 18 months on the shelf, Sekularac returned to action when he signed with Bosnian team Igokea Aleksandrovac in March. (Not to be confused with the bigger Serbian team, Partizan Igokea.) Igokea Aleksandrovac are not an Adriatic League team, playing only in the Bosnian league, yet March saw them pull off a triple whammy of big signings when they landed Sekularac, LaVell Blanchard and Jamar Butler. Not sure how they did this, but they did this.

Statistics are not available for Rack, other than to say he totalled 8 points in 24 minutes in their last game.
True to form, injuries have been the story since then as well. Sekularac missed time down the stretch of the season due to injury, this time with his thumb. As of the time of writing, Sekularac does not appear to have played anywhere this season, and it's getting a bit late for him to do so. His rights, like those of Steve Logan above, were included as a token piece of the
Erick Dampier
to Dallas trade, but that was the last time they were relevant to anything in the NBA.
Mladen Sekularac fact - Mladen Sekularac is the son-in-law of Rajko Toromon, the Serbian head coach of the Philippines national team.
Chances of making the NBA expressed as an arbitrary percentage:
0%
---
Houston
Frederic Weis
(15th pick, 1999)
- Up until very recently, Weis was still playing, featuring with French side Limoges, the team with whom he spent the first five seasons of his professional career. He helped them win promotion to the Pro A last season, averaging 3.8 points and 5.2 rebounds per game. But this season, he had rarely featured, averaging only 10.7 minutes, 1.6 points and 2.7 rebounds per game. The four time French league all-star is a shell of his former self, and knew it - three weeks ago, Weis retired from the game, citing the ever-deteriorating condition of his knees.
Chances of making the NBA expressed as an arbitrary percentage:
0%
Venson Hamilton
(50th pick, 1999)
- Hamilton's career is pretty much over due to injuries. After many strong years in Spain's ACB, Hamilton began to break down in the 2007-08 season whilst a member of Spanish powerhouse Real Madrid, and could muster only 4 games of ACB play. His 2008-09 season was almost as bad, playing only 9 games and recording averages of not even 2 points and 2 rebounds. Hamilton further missed the whole 2009-10 season while rehabbing, and although he tried out for Greek club Ikaros back in January, he did not sign a contract. Last month, LEB Gold team Caceras passed on signing Hamilton, claiming his was too expensive, and while Hamilton later caught on with ACB team Gran Canaria, he has currently played all of two minutes with the team, recording a missed layup, an offensive rebound of said missed layup, and an offensive foul. Hamilton has thus gone effectively four years without playing; as an undersized post player, he had never had great odds of playing in the NBA anyway. He certainly hasn't now.
Chances of making the NBA expressed as an arbitrary percentage:
0%
Kyle Hill
(44th pick, 2001)
- Last season, Hill made the strange midseason leap from being a bit-part player on a LEB Gold team (averaging 5.9ppg for Alicante) to a starter on an Adriatic League team (Hemofarm). That can't have been easy to achieve. This season, however, he has not played.
Hill, a 31 year old 6'2 guard, was drafted on account of his 23.8ppg scoring average in his senior season for Eastern Illinois that ranked third in the nation, alongside 5 rebounds and 4 assists. His professional career started well with some good Euroleague showings, and a couple of strong years in France, with some good ULEB Cup and Serie A time in there too. However, things have started to slow down for Kyle now. He's had a solid career as a good European guard, but the NBA was always a long shot, even after being drafted. It's a long shot that is now long since shot.
Chances of making the NBA expressed as an arbitrary percentage:
0%
Axel Hervelle
(52nd pick, 2005)
- Hervelle became Rockets property after a uniquely trivial training camp-time trade in 2009, the returning piece in a deal that saw Houston salary dump
James White
, who they were going to cut anyway. Hervelle's draft rights were more palatable to Houston than those of the aforementioned Sani Becirovic and Xue Yuyang for the simple yet important reason that he's better - Axel is, and has always been, a decent player. His stock burned brighter a couple of years ago when he averaged roughly 10/6 for Real Madrid in Euroleague play, yet it's long burned brighter than those two. Hervelle plies his trade as a little-things forward; tall and long for a forward, if not especially strong or athletic, Hervelle rebounds, defends, scraps, passes, and occasionally hits some jumpers. However, he never developed beyond this role, never creating any reliable offensive options or means of scoring on his own, always remaining a role player at the ACB level. And in averaging 5.5 points, 4.8 rebounds, 1.5 assists and 0.6 steals in 19 minutes per game for Bilbao this summer, Hervelle is not doing anything to leap off the page.
Chances of making the NBA expressed as an arbitrary percentage:
2%
Lior Eliyahu
(44th pick, 2006)
- After being drafted, Eliyahu has been in a good year/bad year cycle. He was picked up from smaller Israeli team Hapoel Galil Elyon by the country's powerhouse Maccabi Tel-Aviv, and was a key producer in his first season. But then in 2007-08, his role was greatly reduced, and his production decimated. In 2008-09, after Maccabi's coaching situation had sorted itself out, Eliyahu was back to his best, averaging 14.0 points, 6.6 rebounds and 2.4 assists in Euroleague play, and a move to Caja Laboral in Spain followed. But in his first and only season there last season, Eliyahu somewhat disappointed, averaging only 5.3 points and 1.7 rebounds in ACB play.
Eliyahu has now returned to Maccabi, and is back on the upswing, averaging 11.3 points and 3.9 rebounds in 21 minutes per game in Euroleague play. He's a fairly unique player, capable of running both halves of the pick and roll, a capable passer and decent slasher, an athlete who can create for himself and others, and finish shots from the mid-range. But he's also the poster boy for tweenerism. Yahoo's handle is decent for a power forward, but not for a small forward, and the jumpshot doesn't stretch much beyond the 15 feet range. He's also weak and just not willing to take contact - Eliyahu plays little from the post, and if confronted by an obstacle on a drive to the basket via his face-up game, it invariably results in a floater. The same sort of tweenerism affects him defensively, as does the softness. There's still time to find a niche in the game, perhaps one akin to that of
Travis Outlaw
. He's certainly doing OK, even if he's leaving unfulfilled potential on the table. But it won't now be in the NBA. He's more
Steven Smith
than
Josh Smith
.
Chances of making the NBA expressed as an arbitrary percentage:
5%
Brad Newley
(54th pick, 2007)
- Australian off-guard Newley is a solid all-around player, with a great frame for the wing position and enough athleticism to go with it. He can be a right bugger to play against on ends, which is a term of endearment - his defensive effort is good, and his physical tools are sufficient for the task of defending anybody at the Euroleague level. Playing on a good and deep Lietuvos Rytas team, Newley's role has been more defensive than offensive - he still gets some points in transition and spot-up opportunities, moves without the ball, and can be seen on the occasional foray to the basket. The 7.5 points in 24.6 mpg that he averaged in Euroleague play doesn't do justice to his level of offensive talent, moreso to the depth of the Lietuvos team. Will Newley play in the NBA? More than likely not. But in a league where
Mario West
appears, Newley surely could.
Chances of making the NBA expressed as an arbitrary percentage:
8%
Maarty Leunen
(54th pick, 2008)
- Oregon product Leunen, who has developed his hair-based sartorial elegance as he's aged, has taken his somewhat limited skillset to exactly the right place - Italy. Specifically, Leunen is playing for Bennet Cantu, a team that's been little more of an also-ran in the past few seasons, but who have had a strong year and who are thus in second place in Serie A (behind perennial champions Montepaschi Siena). Cantu's style is predicated around depth (ten players score more than double figures) and outside shooting. Seven players shoot better than 37% from three point range, and Leunen's 41.7% ranks sixth on the team. The only players not to shoot are veteran rebounder Dennis Marconato and starting point guard
Mike Green
; however, Green has an excuse, because it's his penetration-and-kick game that's a large part of how this offensive scheme works. In addition to his shooting, Leunen averages 11.0 points per game, leads the team in rebounds with 6.3 rpg, and is second in assists with 2.7apg.
One important statistic not listed there, though, is the 33.0mpg that comes in. That tempers the production somewhat. In fact, it renders it underwhelming. Leunen is in a pretty ideal situation, and accepting his tender offer from the Rockets just to get cut doesn't avail him anything.
Chances of making the NBA expressed as an arbitrary percentage:
3%
Sergio Llull
(34th pick, 2009)
- Sergio Llull was mentioned briefly in the
recent Euroleague round-up
:
[Pablo Prigioni] has suffered a thigh injury and will miss a month, including the whole quarter finals series. That places a point guard burden on Sergio Llull. And while Llull is awesome - arguably the most athletic non-American guard outside of the USA, with plenty of flair, passing, transition finishes and threes - he is not a point guard, even if he is 6'3. With Rodriguez injured and Prigioni ageing, though, he's going to now have to be, so maybe the experience will help him grow at the position.

[..] Llull leads the team in Euroleague scoring at only 11.8 points per game.
But none of that, or any blurb about him, says as much as Youtube can. Either the analytical.....
....or the fun.
Chances of making the NBA expressed as an arbitrary percentage:
38%
---
Indiana
Andrew Betts
(50th pick, 1998)
- In a post about Budivelnyk Kyiv that has not run - and which, since it was about their Eurocup season which has now ended, will now never run - I wrote this:
Entirely reliant upon imports, Budivelnyk have once again become the best team in the Ukraine, just like they were through most of the 90's, after a few years in the doldrums.

Up front, they boast British centre Andy Betts, whose signing was something of a surprise. Betts retired from international basketball in the new year, and was on record in the summer as stating that he'd retire if he couldn't get a good gig in Spain, where he and his family live. It seems as though he changed his mind. And it was a good thing that he did; he has stayed healthy all year, and is a key contributor on the current Ukrainian Superleague leaders and Eurocup quarter finalist. Betts is starting to slow down, as is inevitable in any 33 year old, yet he still averages 10.5 points in only 17 minutes in Euroleague play, alongside a helpful 6.9ppg in 17 Eurocup minutes as well. And he does so on 76% shooting. Even at his advanced age, Betts can get position and finish.
Whether Betts was ever NBA calibre is a valid question. He might have been, just. Whether he was ever a good player is not. He absolutely was. But this is the very twilight of his career. If the NBA was going to happen for him, it probably should have happened 13 years ago. At the very least, 11 years ago.
Chances of making the NBA expressed as an arbitrary percentage:
0%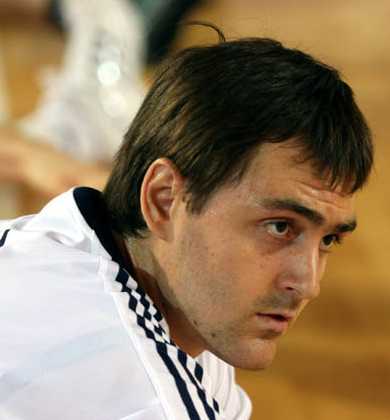 Erazem Lorbek
(46th pick, 2005)
- Lorbek is playing for Spanish team Barcelona, and thus was recently covered in the
recent Euroleague round-up
:
Between the four, Barcelona can offer every kind of look. Vazquez and N'Dong are the big and athletic interior defenders; Perovic is even bigger than them both, whose size alone can serve as a deterrent. On offense, N'Dong and Vazquez can run the court, as well as the pick and roll, and make their mid-range jumpshots. Perovic can create around the basket and has footwork and touch, if not much speed or strength. Lorbek can do both; he can create in the post, step out for the mid range jumpshot, and drive on slower opposing bigs, armed with the best mid-range game of the four.
Lorbek was drafted by Indiana out of Michigan State at a time when his lookalike, Rick Carlisle, was the Pacers's head coach. That may have been his best chance. He is a good quality player on an elite quality team, but he's stopped improving.
Chances of making the NBA expressed as an arbitrary percentage:
4%
Stanko Barac
(39th pick, 2007)
- Barac is playing for Spanish team Caja Laboral, and thus was also covered at length in the
recent Euroleague round-up
:
Former Pacers draft pick Barac has been entrusted with a bigger role, and charged with the task of replacing Splitter, a task to which he has responded fairly well. Barac is no Splitter, but he's nonetheless a good player in his own right; he can shoot from mid-range, has added occasional three point range, runs the pick-and-roll (which is mandatory in a Caja Laboral big man), rebounds, and is a defensive presence, if only through size alone. He can also take his man off the dribble, although it helps greatly if his man is slower than him, which is not often the case.
Since that time, Caja Laboral have been knocked out of the Euroleague, losing their quarter final series 3-1 to Maccabi Tel-Aviv. In the series, Barac averaged 11.0 points and 3.5 rebounds in 19 minutes per game, but rather screwed the pooch in the series finale, recording 7 points, 2 rebounds and 5 turnovers in a 22 point drubbing. For all his improvements, Barac's style of play still does not behoove the new fangled NBA.
Chances of making the NBA expressed as an arbitrary percentage:
7%
---
L.A. Clippers
Sofoklis Schortsanitis
(34th pick, 2003)
As did many players on this list, Sofo drew a mention in the
recent Euroleague round-up
:
Sofo, brought in from Olympiakos, is in the midst of the best season of his career. This isn't as powerful of a statement as it might have been, given some of the wasted years he had in an Olympiakos jersey, yet it's something. He is playing at what looks to be about 350lbs - which time has proven to be about as slim as you can ever expect from him - and is using it to be an unstoppable scorer in the paint. Sofo averages 12.3 points in only 19 minutes per game, shooting 57% from the field, getting to the line five times a game, and even hitting those free throws at a much improved 67% clip. The only thing that stops him is his own feet - a good number of his alarmingly high 2.4 turnovers per game can be attributed to travels.
Sofo is pictured above at his fattest, the biggest he ever got, circa two years ago. He is not that big now - in fact,
this is the size he's at now.
Certainly a lot better. But also certainly still big. A more pressing concern is that in Schortsanitis's five year heavy weight gain/heavy weight loss cycle, he hasn't developed his skills much. His skill level remains high, only because it was so high in the first place.
As recently as last summer, the NBA was interested in Sofo. He came over for summer league with the Clippers, and the Rockets tried to trade for him. Sofoklis's uniqueness and unstoppabilitiness are always going to be intriguing for as long as he's playing at the upper echelons of the European game. But his
disastrous summer league performances
also confirm that he should probably stay there.
Chances of making the NBA expressed as an arbitrary percentage:
10%
---
L.A. Lakers

Chinemelu Elonu
(59th pick, 2009)
- Elonu was an optimistic late pick in 2009, a senior with little upside and without NBA talent. He is making his money in Europe as a post anchor, and will do so for a while. Starting with Panionios in Greece, Elonu averaged 7.6 points, 6.6 rebounds, 1.7 blocks and 3.8 fouls in 21 minutes per game; now with Pau Orthez in France, Elonu averages a frighteningly similar 7.6/7.9/1.4/3.4, also in 21 minutes per game. Self-evidently, he can rebound and challenge around the basket. But there's not a lot of shot making talent, no ability to create, no passing game, no ability to defend the perimeter, no great athletic traits. And more importantly, there's no NBA centre size. Elonu will play for a while, but not in America.
Chances of making the NBA expressed as an arbitrary percentage:
1%
Sergei/Serhiy Lishouk/Lischuk/Lishchuk
(49th pick, 2004)
- Lishouk, obtained by the Lakers as a part of the
Sasha Vujacic
trade, drew a fleeting mention in the
recent Euroleague quarter finals round-up
. He has paired with Robert Javtokas to form quite the centre pairing for Valencia, and is recording 8.5 points and 5.4 rebounds in 24 minutes per game in the Euroleague. He has stepped up several levels in several years, and has not been overmatched. However, a leap to the NBA would change that. Lishouk is pretty decent, but there's a reason he's twice been NBA trade filler.
Chances of making the NBA expressed as an arbitrary percentage:
2%
---
Miami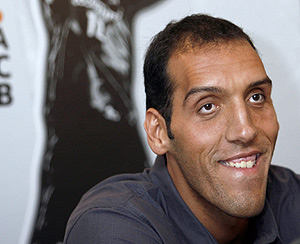 Roberto Duenas
(58th pick, 1997)
After a successful career, almost all of which was spent with Barcelona, Duenas retired three and a half years ago aged only 31 due to chronic back problems. He has had his jersey retired by Barca, and now works with the team as an ambassador/youth coach. His presence on this list is due only to the technicality that sees his draft rights still outstanding, not because his future presence in the NBA is in any way up for debate.
Chances of making the NBA expressed as an arbitrary percentage:
0%
Robert Dozier
(60th pick, 2009)
- Dozier was chosen for his athleticism. He never developed a great skill level at Memphis; save for a jumper, most of what he did was done with the physical tools. Of course, this is a big virtue to have, and certainly to his credit. But two years of playing in Greece hasn't done much for Dozier's on-court discipline. It's admittedly probably rather difficult to fully adhere to the message of a coaching staff of a team that isn't paying you, but Dozier has at times regressed to his freelancing ways, on his way to 9.3 points and 5.5 rebounds per game for PAOK Thessaloniki. Back to back 20+ point performances in his last two games - his only ones of the season - hint at the talent level. But a big man with physical tools of Dozier's calibre, in a league filled with no one comparable, should surely have done that more than twice.
Chances of making the NBA expressed as an arbitrary percentage:
1%.
Jarvis Varnado
(41st pick, 2010)
- Varnado's first professional season has been spent with Italian team Pistoia, now known due to sponsorship reasons as Tuscany Tissue. (Heh.) Playing in the second division, Varnado has averaged 15.3 points, 8.7 assists, 3.0 turnovers, 2.8 blocks and 1.9 steals per game, shooting 55% from the field and 61% from the line. In my worthless opinion, Varnado's best chance of sticking in the NBA comes if he beefs up, develops a consistent jumpshot with range, or both. He's not going to change his style of play at this stage, and nor should he. Has he done (or had the opportunity to do) either of those things in his first professional season? Not really.
Chances of making the NBA expressed as an arbitrary percentage:
10%. Will increase if he's not bound exclusively to Miami.
---
Milwaukee
Andrei Fetisov
(36th pick, 1994)
- Fetisov retired in 2007 at the age of 35. He never did make the NBA.
Could he have done if he'd tried harder? Perhaps. Fetisov had NBA calibre athleticism, and could block anything, as evidenced by the following video, in which he blocks anything.
He did enough of that sort of thing to inspire a fan to create
this website
, which features the longest and most fawning tribute to a player that has ever been written. Unfortunately for that fan, though, Fetisov's career is now over. According to the Russian version of Wikipedia, he is now a director for the Russian national basketball academy's rehabilitation centre. And if that's not right, check
this video
for further information.
Chances of making the NBA expressed as an arbitrary percentage:
0%
Eurelijus Zukauskas
(54th pick, 1995)
- E-Zooks, the man with the smallest eyes in the world, is also retired. He gave up the game in 2009 after returning for two final years at Zalgiris, and
now plays a lot of tennis.
But not before
briefly considering a return to basketball.
It didn't happen.
Chances of making the NBA expressed as an arbitrary percentage:
0%
Szymon Szewczyk
(35th pick, 2003)
- Shevcheck joined the Bucks for summer league as recently as 2009, six years after his selection, a time in which teams have normally given up waiting (and wanting). They did this because the Shevster continues to play a good calibre of basketball. In the Italian Serie A, playing for Air Avellino, Shev averages 29 minutes, 13.2 points, 6.8 rebounds, 1.8 steals, 0.9 blocks, 3.0 turnovers and 3.1 fouls per game, shooting 53% from the field, 31% from three, and 76% from the line.
Szewczyk was drafted high, picked over many players in the 2003 second round who have gone on to have lengthy NBA careers, and he's certainly no prospect any more. He turns 29 later this year, and all that beautiful bleached blonde hair has long since fallen out. He has proven himself to be a good quality all-around player, a miniature
Bostjan Nachbar
-type. But not an NBA one.
Chances of making the NBA expressed as an arbitrary percentage:
2%
---
Minnesota
Loukas Mavrokefalidis
(57th pick, 2006)
- A brief mention of Mavrokefalidis could be found in the
recent Euroleague round-up
. He plays quite a significant role for Olympiakos, and averaged 8.4 points and 4.0 rebounds in their Euroleague campaign. Mavro has a mid-range jumpshot, runs the court well for a guy of his size, is not unathletic (although I wouldn't go as far as to call him athletic), is a good passer, and defends physically, if not especially effectively. In the past couple of seasons, he has made some progress, after a couple of years of limited progress.
But then you see
Giannis Bourousis
play alongside him. And then you're reminded of what an NBA player looks like.
Chances of making the NBA expressed as an arbitrary percentage:
2%
Ricky Rubio
(5th pick, 2009)
- Rubio was covered quite emphatically in the
recent Euroleague round-up
:
Rubio [...] seems to be suffering from stagnated growth. The improvements shown last season in his feet-set jumpshooting have completely disappeared, and for the season he is shooting 19 of 92 from three point range across Euroleague and ACB play. He is, amazingly, still only 20 years of age, the most experienced 20 year old in the basketball world, the only 20 year old point guard to have been a key component on both a Eurobasket and Euroleague champion in the past 18 months. And he's still very good. The transition, the passing vision, the defense on point guards, and the pick-and-roll assault, are in as full of a force as always. But he's more Brevin Knight than Steve Nash at this point, and will be until such time that he can consistently make open shots. It looked as though his jumper was getting there, but he's regressed at what was already his biggest weakness, and it's a concern. Once he's fixed that leaky dam, he can begin working on creating his own shot and shooting off the dribble.
In the quarter finals series - which Barcelona lost 3-1 - Rubio totalled 29 points, 11 rebounds and 6 assists. In one game, he hit four three pointers, including one off the dribble; he had spent the early part of that game passing up threes, but as they started going in, he started looking for them. It was an eye-opener for the future of that aspect of his game - while his technique won't ever be brilliant barring a dramatic change in his technique, confidence is a big help. Rubio will almost certainly play in the NBA one day, although it's less clear where.
Chances of making the NBA expressed as an arbitrary percentage:
90%
Henk Norel
(47th pick, 2009)
- Norel's development had a pretty enormous bump in the road in January, when he tore his ACL. Up until that point, he was having quite a good year, averaging 6.4 points and 4.8 rebounds in 18 mpg in ACB play for DKV Joventut Badalona. By the time he gets healthy again, Norel will be 24, and still somewhat underdeveloped in his skill set. If the injury proves to have robbed him of any mobility or hustle, then that's the death knell.
Chances of making the NBA expressed as an arbitrary percentage:
8.425%
Nemanja Bjelica
(35th pick, 2010)
Like so many others, Bjelica was covered in the
recent Euroleague round-up
. It wasn't great news.
[Pape] Sow is likely out for the remainder of the season after suffering a pulmonary embolism of his own. This may mean an expanded role for Pneumonia Bjelica, the recent Timberwolves draft pick, but this is not necessarily a good thing. Bjelica is still all about hype and not about production; on the Euroleague season thus far, he is averaging 1.2 points, 1.7 rebounds and 2.1 fouls per game, shooting 25% from the floor. He remains overmatched at Europe's highest levels, and turns 23 in six weeks time. You'd think that if he really were that, the next Kukoc would be further along by now.
As it happens, Bjelica is injured as well, and missed the whole quarter final series, which Caja Laboral lost 3-1.
For all the talk of Bjelica's ball handling and passing abilities in a 6'10 point forward's frame, he sure spends a lot of his time committing cheap bump fouls and standing in the corner. His development is far short of his reputation at this moment; being at Caja Laboral gives him a great opportunity at a prestigious place in which to learn and develop, yet he's a long way from being learned and developed. Indeed, the progress has stagnated for a couple of years now. However, I can't help but feel that he'll make it to the NBA one day anyway.
Chances of making the NBA expressed as an arbitrary percentage:
40%

Paulao Prestes
(45th pick, 2010)
- After switching loan teams from Murcia to Granada, it's been a bit of a down year for Prestes. His minutes are down (24.0 to 21.0), his points are down (9.2 to 7.0), his rebounds are way down (7.3 to 5.2), and his fouls are up (2.3 to 2.5). The only solace is that he improved after a terrible start to the season. Prestes's productivity as a rebounder and occasional post option were the things on which his NBA case was made, moreso than any defensive impact. He was already disadvantaged by his slowness in an era of athletic NBA centres. If he's going to make it, the production has to go up, way up. And 2.9 defensive rebounds in 21 minutes per game is not even close to getting it done.
Chances of making the NBA expressed as an arbitrary percentage:
5%
---
New Jersey
Christian Drejer
(51st pick, 2004)
Drejer retired due to chronic foot injuries three years ago. Apparently he has had as many as twelve ankle surgeries in his time. If you can speak Danish, here is Drejer himself talking about that retirement, before breaking out into a spontaneous Glen Quagmire impression at the 37 second mark.
It was announced last year that Drejer was attempting a comeback with Danish team SISU, with whom he had began his career. However, he never played for them. He supposedly has gone to university, although this is not substantiated. Regardless of what the specifics of he's doing, however, it isn't professional basketball.
Chances of making the NBA expressed as an arbitrary percentage:
0%
---
New York
Jerome Jordan
(44th pick, 2010)
- Jordan's first professional season has been spent with Serbian team Hemofarm, and has been rather sporadic. He's battled some alarming inconsistency, and has fouled an awful lot (although in his defense, Hemofarm do instruct their players to do this. Excessively.) Jordan can nonetheless still make baskets, averaging 11.0 points in 19 minutes per game in Serbian league play, 7.8 in 15 in the Adriatic League, and 6.7 in 13 in the Eurocup. Yet his rebounding rates have not been good, recording 149 rebounds on the year compared to 116 fouls. For his interior and mid-range shotmaking talents to matter more, Jordan needs to play a bit tougher.
Chances of making the NBA expressed as an arbitrary percentage:
12%
---
Oklahoma City
Paccelis Morlende
(50th pick, 2003)
- Patch Morlende's career was stymied and damn near ended by injuries. He was a decent prospect at one time, a quick defensive combo guard who was moving to the point guard position, and doing so rather well. But he missed three years between 2007 and 2010 due to injury, and returned only this season to play for French ProA team Hyeres-Toulon. Morlende has averaged 5.1 points, 1.5 assists and 1.6 turnovers in 13 minutes per game, shooting 42% from the field. He turns 30 later this month, and no longer has it.
Morlende's draft rights were once traded for that of
Willie Green
. That trade didn't really work out. Green has never been a great NBA player, but at least he's been one.
Chances of making the NBA expressed as an arbitrary percentage:
0%
Yotam Halperin
(53rd pick, 2006)
- Halperin was briefly mentioned in the Euroleague round-up, for he has spent a few seasons now with Olympiakos. Now 27 years old, this should be the prime of his career. And in some ways, it is; he's playing good ball on a very good team, who are unbeaten in domestic play and who made it to the Euroleague quarters. However, Halperin is also often the man on the cusp at Olympiakos, and survives there today mainly because he's been too expensive to get rid of. Aris Thessaloniki enquired after him in the summer, but unsurprisingly, they couldn't compete with the 800,000 or so Euros that Halperin gets from Olympiakos. And so once again, he survived.
Halperin has always been a ballbreakingly efficient shooter from all areas, and still is - in Greek league play this season, he has shot 65% from two point range, 45% from three, and 96% from the line, alongside 64%/45%/75% in the Euroleague. He rarely turns the ball over (0.8 per game in 21 Euroleague minutes), plays decent enough defense, and (clearly) makes his open shots. He takes nothing off the table and does the little things well. But he also does few big things. Halperin doesn't look for his shot, can't create one when he wants or needs to, isn't big enough to really change anything defensively, and is not a ball handler or creator. He's a role player, which is fine, but hitting open shots is not a very big role if you're not looking for open shots.
When he was with Maccabi Tel-Aviv, Halperin did a lot more (and thus a lot better) than he did at Olympiakos. When the two are finally divorced and Halperin lands elsewhere, we'll see what he can produce.
Chances of making the NBA expressed as an arbitrary percentage:
2%
DeVon Hardin
(50th pick, 2008)
- Hardin is the unwanted Sonic. A late pick out of Cal, chosen on the basis of his size and athleticism, Hardin has not really developed and the Thunder are not waiting for him. They let him play on the Sixers' summer league team, rather than their own, and that was after spending a full season at the Thunder's self-owned D-League affiliate, the Tulsa 66ers. Hardin averaged only roughly 5/4 before being passed over on the summer league roster for fellow 66er
Marcus Lewis
. Hardin has continued to battle foot injuries that affected him at Cal, and little development has been forthcoming; the Thunder seem to have cut ties at all but this technical level.
However, Hardin hasn't needed to develop to earn money. This season, he has played in Israel and Turkey. But he's played in their second divisions. He started in Israel with Elitzur Yavne, averaging 26 minutes, 14.8, 8.9 rebounds, 3.1 fouls and 1.4 blocks per game, before moving to Turkey at the start of last month and joining Gazientepspor as a replacement for fellow Cal big man
Jamal Boykin
, whereupon he has been averaging 25 minutes, 13.2 points, 13.8 rebounds, 3.0 fouls and 0.8 blocks per game. Good stats, no matter the league. Yet your best (if not only) way into the league is always via the team that drafted you. And when the team that drafts you lets you go, that's a problem.
Chances of making the NBA expressed as an arbitrary percentage:
0%
Robert Vaden
(54th pick, 2009)
- Vaden was drafted as a shooter, and by my troth, he still is one. He returned from Italy to play for the Tulsa 66ers this year, and has hit 40% of his shots from three point range on route to 10.4 points in 27.9 minutes per game. The question about Vaden's game was always everything else; could he learn how to dribble, how to consistently get to the basket, how to finish, how to be an exceptional defender at a position he's slightly too small for, and how he could impact the game in ways other than via the mid-range and long-range jumpshots. Those questions remain.
Chances of making the NBA expressed as an arbitrary percentage:
3%
Tibor Pleiss
(31st pick, 2010)
- T-Bone is one of the best players on a Brose Baskets Bamberg team that is absolutely blowing away the rest of the German Bundesliga. Since the end of the ALBA Berlin dominance, there have been six champions in the past seven Bundesliga seasons, including Bamberg, who won it last season.
Casey Jacobsen
was a big part of why, as was Pleiss, and they've both been key cogs again this year as Bamberg have stormed to a 27-2 record. (They also put up a decent fight in their first Euroleague season for three years, winning 4 games and losing some very close ones.) On the season, Pleiss averages 9.3 points, 6.6 rebounds and 1.9 blocks in 21 minutes of Bundesliga games, shooting 52% from the field and 75% from the line.
Dirk Nowitzki
comparisons are both inevitable and terrible, but Pleiss has the talent to make it, and will inevitably outgrow the Bundesliga. He may have already done so.
Chances of making the NBA expressed as an arbitrary percentage:
50%

Latavious Williams
(48th pick, 2010)
- Williams is into his second season as a Tulsa 66er, and has improved upon the first. In 40 games with 22 starts, Williams has recorded 12.9 points, 8.5 rebounds and 1.0 blocks per game, shooting 63% from the field and 76% from the line. The percentages, foul rates, defensive rotations and discipline are all improved from last season, and he's also put some muscle on. Latavious turned 22 this week, and has a chance.
Chances of making the NBA expressed as an arbitrary percentage:
20%
Ryan Reid
(57th pick, 2010)
- After Reid's frankly shocking selection in last summer's draft - no offence - he signed in Poland with PLK team Intermache Zastal Zielona Gora. Google Translate informs that the move later broke down when Reid's agent asked for upfront payment on his salary - very much not an unprecedented thing to be doing in Europe - and Reid returned to to America, where he did the inevitable and joined the Tulsa 66ers. On the season, in 46 games with 31 starts, Reid has averaged 8.4 points, 5.7 rebounds, 1.0 assists, 1.5 turnovers, 2.9 fouls, 0.5 steals and 0.7 blocks per game, shooting 50% from the field and 75% from the line.
Nothing stands out there statistically. Such was the case at Florida State, too.
Chances of making the NBA expressed as an arbitrary percentage:
5%
---
Fran Vazquez's teeth.
Orlando
Rashard Griffith
(38th pick, 1995)
- After a 15 year professional career that never quite incorporated the NBA, Griffith retired this summer at the age of 35. The last three years of his career had been spent in the relatively obscure (but slowly improving) climbs of the Romanian league, playing for Ploiesti, for whom he averaged 8.6 points and 4.9 rebounds last season.
Unusually, Orlando traded for Griffith's rights on draft night 2002, seven years after he was first picked by Milwaukee. They didn't obtain these rights as a fill-in part of a deal; Griffith was the only returning piece in a trade that sent
Jamal Sampson's
draft rights to Milwaukee. Orlando traded away Sampson - who had a few good minutes in the NBA - because they figured Griffith would go on to make their roster and be a part of the team. Never happened, though. Milwaukee had similarly given up trying to make it happen. And now it never will.
Chances of making the NBA expressed as an arbitrary percentage:
0%
Ramon van der Hare
(52nd pick, 2003)
- A post from last year
went in Van Der Hare's story way more than you will ever need:
2003 Raptors draft pick Van De Hare played with the mighty Barcelona until 2005. (Note: the word "played" is generous there.) Upon leaving, he joined Slovenian giant Olimpija Ljubljana for a year, and even appeared in 7 Euroleague games with them. But since 2006, RVDH has no longer been able to land sweet gigs based on his supposed potential. He spent the 2006-07 season in Cyprus with AEL Limassol, which is quite the downgrade, and returned to Cyprus for the 2008-09 season after an unsuccessful trip to Ukraine with Azovmash in 2007-08 (who seem to still owe him some money, over a year later).

For this season, Van De Hare returned to Spain. But no longer is he on the deep benches of ACB teams. Far from it. Instead, Van De Hare plays for a team called Platges de Mataro. And not only have Mataro completely jacked the L.A. Lakers' logo for themselves; they also play so far down the Spanish basketball system that I had to Google it. For ages.

The pinnacle of Spanish basketball is the ACB, a top 5 league worldwide featuring all the good teams you've heard of such as Real Madrid, Barcelona, Caja Laboral, etc. There are 18 ACB teams. Then comes the LEB, which is split into two divisions; the LEB Oro (Gold) and the LEB Plata (Silver). There are 18 LEB Gold teams, and 21 Plata teams split into two divisions. After that comes the Liga Española de Baloncesto Amateur (EBA), which is divided into five groups; Group A, Group A-B, Group B, Group C and Group D.

Mataro play in Group C of the EBA.

Stats are unavailable for hopefully obvious reasons, other than to tell you that Van De Hare totalled 15 points and 13 rebounds in their last game. Nice numbers, I suppose. But this misses the point. This is a former NBA draft pick, Euroleague and ACB champion we're talking about here. Ramon almost never played for Barcelona, but they invested a heck of a lot of time and money in him over the years, trying to make something of him. He even got drafted in the NBA by a team that had never seen him (allegedly), based on the reputation of this potential. And yet this is where we are now. The word "Amateur" in the EBA's name is a clue as to how far backwards down the Spanish basketball ladder we've gone here. That's how far you have to go to find former NBA draft pick, Ramon Van De Hare.

Orlando still owns his rights, after having traded for them in 2005. But, truth be told, they might not ever sign him to an NBA contract.
It is hard to say whether van der Hare still plays for Mataro, an amateur team. It's impossible to garner such information from a team website that doesn't list its roster, statistics, or scores outside of
one arbitrary weekend in September.
I'm not sure it matters whether he does or not.
What is clear is that Van Der Hare, now a father, has quit professional basketball.
Chances of making the NBA:
Slightly less than yours.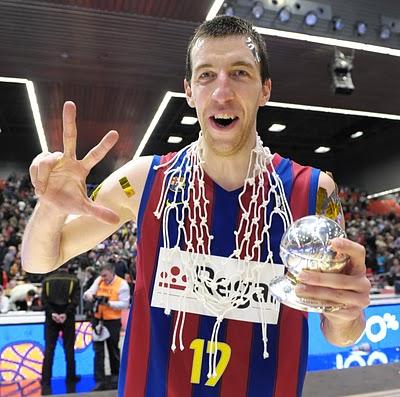 Fran Vazquez
(11th pick, 2005)
- There exists a great opportunity for Fran Vazquez to finally - FINALLY - play in the NBA. Talent was never the issue. He has enough there. The only issue was mutual desire.
The mutual desire is there now. Orlando need a backup big man, have as much money to spend as ever, and feel Vazquez is the logical candidate. (He is.) Conversely, Vazquez feels it's finally time to come, and presumably his wife is on board with it this time as well. This all coincides quite nicely with a gap in his contractual situation that facilitates a jump to a new continent, should Vazquez and Mrs Vazquez so desire it. Which apparently they do.
But now we're facing a new obstacle. The lockout. It's going to happen. What's the point of coming over just for that?
Chances of making the NBA expressed as an arbitrary percentage:
50%, annoyingly.
Milovan Rakovic
(60th pick, 2007)
- Since being drafted, Rakovic has undergone three distinct physical changes, all evident in that picture. His
hair
fell out, he grew a big beard, and he developed even more upper body strength than before. Rakovic was always big, but he's bloody enormous now, and when served in combination with the rest of the look, it makes him look pretty intimidating. Very intimidating, even.
There's skill to go with the beef. Rakovic was briefly touched upon in the
recent Euroleague round-up
:
Rakovic was always rugged, but he's put on even more muscle, and is now what can only be described as freaking enormous. He is agile for that size, too, and a versatile offensive player, hitting mid-range jumpshots, running the pick-and-roll, and creating in the post, all with a graceful fluidity of motion and imposingly scary size. He also defends the pick-and-roll better than most big men, particularly those that big.
In the context of
this
piece, though, things cannot always as favourable.
(Note that later on in that blurb, I wrote that Siena was a threat to win it all, then retracted that claim after Olympiakos annihilated them by 48 in the first game of the series. Since that time, Siena have won three straight, clinched the series, and moved onto the semis in a fashion almost as comprehensive as their game one loss. Please reinstate previously retracted claim.)
In that series, Rakovic totalled only 19 points, 9 rebounds and 14 fouls in 56 combined minutes of 4 games. As much as I like Rakovic, and as much as the talent level is obvious, the NBA is not suited to him. The Euroleague isn't especially suited to him, either. Moving from the EuroChallenge to the EuroCup to the Euroleague in three consecutive seasons is not easy to do, and it caught up to him when he was exposed in that series. Scoring the ball is seemingly easy enough to do, but Rakovic is doing so more with finesse than power, and he's not mixing it up on the glass. He's also caught wanting on the defensive end, as, despite all that size and relative agility, he is not doing a great job with the physical play on the interior.
Marcin Gortat
comparisons would be nice, but they're only valid if you ignore one end of the court. At the moment, he's a destitute man's
Drew Gooden
. A couple of years at Siena - a physical team built on defense - might be exactly what he needs to round off his game.
Chances of making the NBA expressed as an arbitrary percentage:
5%
---
Philadelphia
Ricky Sanchez
(35th pick, 2005)
- Sanchez was described at reasonable length in
a post last June
:
Sanchez is a Puerto Rican international, drafted initially by the Blazers on the Nuggets behalf, and whose rights were later traded to the Sixers. He has spent his career in Latin America, and plays in the BSN every season, although it hasn't always been without incident. Sanchez is a big athletic forward with a good jumpshot, who was drafted on the pretense that he might go on to develop his game outside of his athleticism and jumpshot combination. Unfortunately, he hasn't; Sanchez is shooting a very healthy 43% from three point range, but only 33% from two point range. Nevertheless, the Sixers could use a player of his type, so the slim chance remains. And even though he was drafted back in 2005, Sanchez is still only 22.
The slim chance is getting slimmer. He's now 23, which is still young, but he's not getting very far. It's pretty much all threes and fouls.
Chances of making the NBA expressed as an arbitrary percentage:
2.5%
Edin Bavcic
(56th pick, 2006)
- Picked directly after Ugboaja and directly before Mavrokefalidis, Bavcic was drafted at the tail end of the Draft Any Tall Euros You Can Find phase, after averaging 4/3 in the Adriatic League. And since that date - as was the case before that date - Bavcic has not done much.
The finesse big man, who looks a bit like Ronnie O'Sullivan's overtired Bulgarian cousin, was in the Euroleague last year with Olimpija Ljubljana, and put in a full season of work; this year, however, work has been harder to find. Bavcic signed with Serie A club Enel Brindisi in the offseason, but the contract was terminated by mutual consent after only four games, in which he'd averaged 4 points and 4.5 rebounds in 20 minutes. Bavcic then moved to the Ukraine to play for Khimik, where he averaged 9.3 points, 5.2 rebounds and 3.2 fouls in 25 minutes per game. And then last month, Bavcic moved again, picked up by Greek club Aris as a replacement for
Dejan Borovnjak
. Thus far he has totalled 33 points and 21 rebounds in 38 combined minutes across two games.
His Aris career is certainly off to a strong start. The rest of his career, however, has not gone so well. Bavcic is a jumpshooting big man who doesn't have consistent three point range, and whose defense is done via the foul. It's not a great combination, and the NBA door is closed.
No word on whether the unibrow remains. Even if it does, though, Bavcic no longer has basketball's best unibrow. Nor does
Quincy Douby
. No, that honour now goes to Kentucky commit, Anthony Davis.
You know how Amare Stoudemire calls himself Black Jesus?
Can we make Anthony Davis "Black Shiva?".
Chances of making the NBA expressed as an arbitrary percentage:
0%. (Bavcic's chances, that is. Davis's chances are 100%.)
---
Phoenix
Milos Vujanic
(36th pick, 2002)
- The future of the Knicks is now 30 years old, and past his best. After ranking third in scoring and first in turnovers in the ACB last season, Vujanic moved to Greece this summer to play for Panionios. He played in 10 games, averaging 12.9 points and 2.3 assists, but then broke his leg in the first quarter of the 11th game and has been out since. Vujanic's quality is still apparent, even now that he's firmly into the second half of his career. But the NBA window is shot. We'll leave his role as a big point/combo guard up to guys like
Jrue Holiday
and
Kirk Hinrich
instead.
Chances of making the NBA expressed as an arbitrary percentage:
0%
Dwayne Collins
(60th pick, 2010)
- Phoenix's other unsigned pick has also suffered from injuries. Collins signed with Italian team Varese early on in the summer transfer market, but has not played all season. He missed time in his senior season due to a back injury, then an ankle injury, and then a stress reaction in his leg, and then a week before the draft - at the most inopportune time - Collins had surgery to repair a torn meniscus that ruled him out of summer league. The reason cited for his absence this season has been a rather non-descript "knee injury," or so says my limited Italian. It is not clear whether it is the same injury. If it is, maybe the surgery wasn't as minor as first though. By being a senior drafted only 60th, the self proclaimed Mr Irrelevant only had a limited window in which to make it in the first place; if too many injuries prevent him from developing offensively, that window could shut quickly.
Chances of making the NBA expressed as an arbitrary percentage:
10%
---
Portland
Marcelo Nicola
(50th pick, 1993)
- Nicola was previously covered in the Where Are They Now of the
1993 NBA Draft:
Marcelo Nicola [...] became a star. After being drafted, Nicola spent three more years with Pau, then signed with Panathinaikos for a year, only to miss that whole season with injury. He then played with Barcelona for a year before spending the next six seasons at Benetton Treviso in Italy, where he did his best work, winning two league titles and making two All Star games. In 2004-05, Nicola moved to the Ukraine for a year, and then came back to Italy for the following year. He played only one more game in the 2006-07 season before retiring. Nicola is now back with Benetton as an assistant coach, and has been for three years. He also was an assistant coach on this year's [2009] Spurs summer league roster for some reason.
It appears that Nicola left the Benetton coaching staff this summer, and his current whereabouts are unknown. But we've seen enough here to be able to make the next question easy.
Chances of making the NBA expressed as an arbitrary percentage:
0%
Doron Sheffer
(36th pick, 1996)
- Sheffer has already retired from the professional game four times, including once due to cancer. Now aged 39, he is a youth basketball coach in Jerusalem, and also a part-time lecturer on the virtues of Judaism. There won't be a fourth comeback and a fifth retirement.
Chances of making the NBA expressed as an arbitrary percentage:
0%
Federico Kammerichs
(51st pick, 2002)
- After being drafted, Kammerichs spent five years in the ACB with various teams. He then packed his bags and went home to Argentina, where he has played the last three years with Regatas, where he has been the nation's best rebounder, and one of it's very best shotblockers. All NBA teams need shotblocking and rebounding. But do they need it from a 30 year old 6'8 Argentinian forward?
Throughout that time, Kammerichs has had huge amounts of facial hair. But the approximated date at which he shaved it down into that fantastic 80's Tom Tucker tribute is unknown.
Chances of making the NBA expressed as an arbitrary percentage:
0%
Nedzad Sinanovic
(54th pick, 2003)
- At the age of 28, Sinanovic continues to shuffle between ACB and LEB Gold teams. He has spent the past two seasons with Unicaja Malaga, being funnelled back and forth between them and their LEB Gold feeder team, Rincon. For Rincon, Sinanovic has averaged 13.0 points, 8.6 rebounds, 3.6 fouls and 1.2 blocks per game in 25 minutes of 23 contests; for Malaga, he's appeared in 11 games. After one of them - a Euroleague game against Caja Laboral - Sinanovic played 23 minutes, and recoreded 18 points and 5 rebounds, and was then immediately demoted back to Rincon. Sinanovic's ferrying-about is apparently due at least in part due to his passport situation; it was expected that the Bosnian would get a Spanish passport, but he did not, making it harder to incorporate him in the regular first team due to regulations on the amount of non-Spaniards a team can play. But it is also due in no small part due to his lack of development. For all his size, Sinanovic still just plays damn soft.
Chances of making the NBA expressed as an arbitrary percentage:
0%
Joel Freeland
(30th pick, 2006)
- There's bias here on my part, and inevitably so. Nonetheless, no amount of bias on my part can cloud the reality - Joel Freeland has matured into a damn fine player. The boy that was drafted in 2006 has become a man, averaging 13.9 points and 6.9 rebounds in the Euroleague this season for Unicaja Malaga, one of the best players in it. Freeland ticks every NBA box; he has size, great athleticism, tries hard, has plenty of skill, polish and finesse, runs the court, can shoot and post, and does OK defensively, particularly on opposing perimeter orientated big men. He has grown as a player by not joining the NBA, and has thus grown into an NBA player. It's high time the two united. In both the long and short terms, Portland needs a backup power forward that is actually a power forward, and Joel Freeland is better than
Jeff Pendergraph
. Freeland should be that player.
Chances of making the NBA expressed as an arbitrary percentage:
Couldn't tell you, but I know what it should be.
Petteri Koponen
(30th pick, 2007)
- Similar to Freeland, the drafted-and-stashed Koponen has developed as a player, but not as much. Playing for Bologna, Koponen has averaged 12.4 points and 2.3 assists in 29 minutes a game, on percentages of 42%/36%/87%. He's your classic combo guard, in both size and skillset, with no gaping flaws to his game but also no obvious strengths. Were he to join Portland tomorrow, his impact might not be any greater than that of
Patty Mills
. The stylistic differences would be many, but the overall impact about the same. This isn't necessarily a bad thing, since Patty Mills is a decent NBA player, but you'd like a bit more from your first rounder.
Chances of making the NBA expressed as an arbitrary percentage:
20%
Victor Claver
(22nd pick, 2009)
- As mentioned in the Euroleague round-up, Claver is currently injured after breaking his foot in practice in late February. His absence is painfully obvious, as his replacements just don't have his talent. Like Freeland, Claver ticks every NBA box - size, athleticism, shot, passing, defense, high IQ productivity. There's a lot to like. Portland doesn't need Claver right now, but surely a team like Washington does.
Chances of making the NBA expressed as an arbitrary percentage:
75%
---
Sacramento
Dejan Bodiroga
(51st pick, 1995)
- Bodiroga retired a long long time ago. June 2007, to be exact. He then became the general manager at Lottomatica Roma for two seasons, and is now the vice president of the Serbian Basketball Association. His percentage would have been far higher 10 years ago.
Chances of making the NBA expressed as an arbitrary percentage:
0%
---
San Antonio
Robertas Javtokas
(56th pick, 2001)
- With his great frame for the centre position, and more than enough talent, Javtokas could certainly have joined the NBA. He's not a go-to offensive player, but he's not incapable, sticking some hook shots and finishing fairly well around the basket, big enough to merit touches. He shines defensively, a once elite and still decent athlete with size, strength, aggression, rebounding and shotblocking, everything you look for in an NBA centre. However, by this point in his career, it's not going to happen.
Chances of making the NBA expressed as an arbitrary percentage:
1%
Viktor Sanikidze
(42nd pick, 2004)
- Sanikidze is Koponen's team mate at Bologna. He is averaging 8.4 points and 6.2 rebounds per game in only 20 minutes a night, on percentages of 59%/42%/76%. Sanikidze was drafted many years ago, but he was 18 at the time, and turned 25 only yesterday. Save for ball handling, shot creating, and not fouling, he does a little bit of everything - defending, rebounding, hitting shots, protecting the paint and the perimeter, tough and aggressive. He's a good player. But he's not quite good enough.
Chances of making the NBA expressed as an arbitrary percentage:
3%
Sergei Karaulov
(57th pick, 2004)
- Karaulov is the one that didn't work out. He is having more than a little difficulty sticking in the Russian PBL (the top division), and has been loaned this season to Superleague (second division) club Spartak Primorie. Turning 29 in a fortnight, this has been the case for Karaulov's whole career. He is not, and has not ever been, close to NBA calibre.
Chances of making the NBA expressed as an arbitrary percentage:
0%
Nando De Colo
(53rd pick, 2009)
- De Colo was briefly mentioned in the
recent Euroleague round-up
:
[Omar] Cook's presence has moved De Colo into more of a combo guard role, and less of a pure point guard one. It's not working out optimally - De Colo needs the ball in his hands in order to be successful with his isolation scoring, which is harder to do with Cook around, and De Colo's impact without the ball is limited by his sub 30% three point shooting. Nevertheless, it's still an incredibly talented duo capable of carving up defense. And there are no such cohesion problems with Martinez, a highly capable all-around player, noted most for tough defense and outside shooting, but also able to make some plays, and get to the rim and finish, despite his relatively small size.
On the season, De Colo has averaged 10.3 points, 2.7 rebounds and 1.7 assists in Euroleague play, alongside 10.8/2.3/2.3 in the ACB.
The chances of him playing in the NBA aren't great, mainly because there's no point in him doing so. Euroleague play is better suited to his style of play, and because of his calibre, the salary he can get there will be competitive too.
Chances of making the NBA expressed as an arbitrary percentage:
5%
Ryan Richards
(49th pick, 2010)
- Richards has not played this season, as he is recovering from two shoulder surgeries. He is also not attached to any particular club at the moment, yet has been with the Spurs, working out at their facilities. Richards is considerably short of experience, but not talent - a tall and very athletic lefty, he has a jumpshot to go with that, a more than sound combination to build around. It's going to take a while, but the Spurs own their own D-League affiliate for a reason.
The picture is of a different Ryan Richards.
Chances of making the NBA expressed as an arbitrary percentage:
100% that he signs in it, slightly less than that that he ever actually plays in it, lesser still that he sticks in it.
---
Toronto
DeAndre Hulett
(46th pick, 2000)
- The curious case of DeeAndre Hulett has been covered on these pages before. From February 2009:
DeeAndre Hulett was a second round draft pick of the Raptors back in 2000. He played one year of college ball, for the [junior college] "College Of The Sequoias". (Yeah, that powerhouse.) Hulett left after one season and went to the IBL in a bid to raise his draft stock. (Yeah, that powerhouse.) After a season of averaging roughly 8/2, he declared for the draft, and was picked 46th, basically on account of his 48 inch vertical leap. Since then, Hulett has done the rounds, playing for at least 4 Domincan Republic teams, as well as stops in the CBA, USBL, NDBL [as it was], Italy, France, Germany, Finland and Iceland (yeah, that powerhouse), performing reasonably well against low standards of opposition.
And from March 2010:
Raptors draft pick DeeAndre Hulett is a veteran of the Central American leagues, yet he had disappeared from the scene in December 2008 when he left his Mexican team, Potros. Over a year passed, but he eventually reappeared last month when he signed with the Domincan Republic team, Cupes De Los Pepines (which I think translates as "Cucumber Coupés"). Statistics are unavailable.
Hulett has not played since then. He worked out with the Pistons last summer, but that doesn't really mean anything - lots of players work out with teams during the summer, and they don't need to be on the team's radar to do it. (See also: Damien Lolar, the player
J.R. Smith
choked.) Hulett is currently studying for a criminal justice degree at Davenport University in Michigan, doubling as an assistant coach at Caro high school.
Chances of making the NBA expressed as an arbitrary percentage:
0%
---
Utah
Peter Fehse
(49th pick, 2002)
- Peter Fehse news and notes are so scarce that this website is one of the first hits returned for his name. A lengthy breakdown on the subject of Peter Fehse was
written in December 2009
, upon his trade to Utah:
Peter Fehse [...] was drafted in the second round in 2002 as an absolute longshot based on his combination of height and athleticism. He never amounted to anything NBA calibre, partly because he never had NBA calibre to begin with, but also because of constant injuries.

It has been over seven years since Peter Fehse was last heard of in NBA circles; indeed, he's barely even heard in German basketball circles either. Fehse has not played this season, played in only two games last season, and did not play in 2007/08, all of which is due to injury. As long shot projects go, he was about as long shotty as a 49th pick can be, and is even more of a throw-in than Andy Betts was when he was traded for Peja Stojakovic in July 2006.
A follow-up in February of 2010 added this:
Fehse's season last year was, inevitably, cut short by injury. Fehse has battled injuries since the day he was drafted, and they are the reason he never developed as a prospect. In fact, he's been set so far back in recent years that he's now with a club in the German third division; the BSW Sixers. BSW, coached by recently retired former Mississippi State guard Chuck Evans, are 7-7 in the Regionaliga North, which ranks two rungs below the Bundesliga. Stats are unavailable, but he scored 13 points in their last game.
Hopefully this communicates the general idea.
The BSW Sixers are a semi-pro team, and Fehse doubles as a player and assistant coach. The one time German national team member is, essentially, done with professional basketball before the age of 28. Furthermore, Seattle admitted they never scouted him before drafting him. It's been said before, and yet it will be said again - the copycat tendency for drafting tall reasonably mobile foreigners with second round draft picks in the early part of this century was bloody insane. Players such as Fehse weren't subject to the same level of scrutiny of their NCAA counterparts, and this was not a good thing.
Chances of making the NBA expressed as an arbitrary percentage:
0%
Mario Austin
(36th pick, 2003)
- Utah obtained Austin's draft rights as a silent part of the
Carlos Boozer
trade. As was the case with the Vladimir Veremeenko description above, such rights were arbitrary and mean nothing. They were traded only because something had to be. Chicago had long given up hope of either signing Austin or obtaining anything of value for him - although I guess getting Carlos Boozer in return counts as value - and thus the inclusion of Austin's rights was meaningless.
Austin is actually having a decent season. In recent years, he has trend towards becoming little else but a three point shooter, yet this season, he has taken only one of those per game. For the year, playing with Ukrainian team Dnipro, Austin is averaging 25.3 minutes, 12.1 points and 7.3 rebounds per game, shooting 49% from the field. However, with regards to his NBA prospects, this changes nothing.
Chances of making the NBA expressed as an arbitrary percentage:
0%
Ante Tomic
(44th pick, 2008)
- Tomic has made the step up to Real Madrid, and is a productive scorer. Using his touch, footwork and IQ, A-Tomic is dropping bombs, averaging 9.7 points in 18.9 minutes in ACB play, alongside 9.7 in 19.7 in Euroleague play, with decent rebounding and shotblocking to boot. He has also improved throughout the season, and is shining in Real's series against Valencia; in the four games played thus far, Tomic has totalled 55 points in 81 minutes, shooting 22-40 from the field. Consider for a minute that Valencia's centre duo are the aforementioned Sergei Lishchuk and Robertas Javtokas, two premier defenders, and that achievement looks even better. Put more concisely, Tomic can play.
As for whether he could play in the NBA.....well, he's probably better than
Kyrylo Fesenko
. And Stanko Barac. And
Kosta Perovic
. Offensively capable 7 footers to whom you can regularly turn are not easy to find. But Tomic struggles to defend anybody at the Euroleague level, and would find it no easier at the NBA. Maybe he could, but maybe he shouldn't.
Chances of making the NBA expressed as an arbitrary percentage:
20%
Tadija Dragicevic
(53rd pick, 2008)
- After leaving Red Star towards the end of last season, due to the team's financial difficulties, Dragicevic saw out the season and then signed this summer with ALBA Berlin. He has been a decent contributor on a rather underwhelming ALBA team, averaging 8.8 points, 4.5 rebounds and 2.1 assists in 22 minutes per game in Bundesliga play. Offensively, Dragicevic offers a little bit of everything; jumpshooting, straight line driving, post-up play, size, touch and passing vision. Defensively, he offers absolutely nothing. He'll make money in Europe for a good while yet, but not in America.
(Red Star somehow found a load of money over the summer, paid their way back into the Adriatic League, put together a new cast of players to replace the hordes of talent that they lost......and then ran out of money again. And this time, they're last in the Adriatic League. They've truly imploded. However, Tadija's younger brother Strahinja remains with them. Strahinja is not as good as Tadija.)
Chances of making the NBA expressed as an arbitrary percentage:
5%
---
Washington
Emir Preldzic
(57th pick, 2009)
- Preldzic's draft rights have already moved twice. Cleveland bought him from Phoenix on draft night 2009, and subsequently included him as a throw-in part of the
Antawn Jamison
trade. Preldzic has not yet joined the NBA, and probably never will. He is a talented player, but he's also in a place (Fenerbahce) aptly suited for his skills, a place in which he's now been for four seasons, and a place to which he's signed for three more seasons. Preldzic averages 10.0 points, 4.3 rebounds and 2.8 assists in 22.5 minutes of Turkish TBL games for Fenerbahce, one of the better players on the 11 deep TBL leader's roster. At 6'9, he dribble-drives smoothly, handling and passing at 6'9 like a young
Turkoglu
, and has improved his jumpshot, his strength and his defense since being drafted. He's rounded into a very nice player. But probably not an NBA one.
Chances of making the NBA expressed as an arbitrary percentage:
5%