The NBA playoffs are basically upon us, and with the
brackets
now determined, it's high time to
get some betting done
. If you don't pick a Bulls/Spurs finals, you're a brave man.
However, the onset of these playoffs is far from the only thing happening in basketball right now. After all, this is the crescendo of may league's seasons, not just the NBA's. This is particularly true in the cases of the intercontinental European leagues; the Euroleague, which
has already been covered
, and the Eurocup, which is about to be.
Continuing a series of posts that take fleeting glances at every worthwhile current player in the world today - the loose theme of which is 'Why spend all that time watching it all just to never write about any of it?' - there follows a look at the compelling protagonists of the final four teams in this Eurocup season. Teams list in no order other than alphabetical.
---
Look at the camera, Brian.
Benetton Treviso
After a thoroughly disappointing season last year, including being knocked out of the Euroleague in only the qualifying round and being unable to make it out of the Eurocup top 16, Treviso jettisoned most of their roster. The biggest addition came in the form of
Devin Smith
, who joined from Greek side Panellinios. Smith is both the team's leading scorer and its best defender, averaging 16.1 points in 28 minutes per game in Eurocup play, alongside 5.0 rebounds, 2.1 steals and 0.6 blocks. Smith started out life at a post player, has slowly worked his way outwards, and is now a pretty reliable ball handler and three point shooter as well. He probably takes too many threes now, and he's certainly not explosive, but his offensive and defensive versatility make him the best player on the Benetton team.
Alongside him in the frontcourt is well documented veteran
Brian Skinner
, who was signed a replacement for the injured Sandro Nicevic. This is the first time in Skinner's life that he has played outside of America; his entire career to date has taken place in either the NBA or at Baylor. After 34 years, he has finally cracked his European virginity. And it's going rather well for him, too; in 19 minutes per game in the Eurocup, Skinner is averaging 6.7 points, 6.4 rebounds and 1.4 blocks per game, while only fouling an acceptable 2.3 times per game. Skinner was in the NBA with Milwaukee as recently as three months ago, yet looked worryingly done last season, averaging less than 2/2 for the Clippers and recording almost as many fouls (20) as rebounds (27). But he's now in the midst of quite a nice second wind. (Admittedly, the standard of competition got considerably easier.)
Outside of those, Nicevic joins Massimo Bulleri in forming the aging domestic duo (albeit via some naturalisation in Nicevic's case), both of whom figure to play key rotation roles for the team now that Nicevic is healthy again. The aging Bulleri is not what he was, now aged 33 and playing less than 20 minutes per game. The decline is most evident in his defense, which is still effective but now rather foul prone. Nevertheless, Bulleri is a competent, wisened, savvy scorer, who can still get to the basket and finish, and who can get on a hot streak from outside. Nicevic, meanwhile, turns 35 in two months and is similarly slowing down, yet he can still make shots, and his passing vision expands the playbook. Joining them is Greg Brunner, the former Iowa forward now in possession of a Swiss passport, highly beneficial to his European career. Brunner turns 28 this summer and is tied for the Eurocup team high in rebounding with Skinner, besting him in Serie A play with 6.6rpg in only 23.0 mpg, picking up the toughness void left by Nicevic. He also records 2.1 steals per game in those few minutes, which is quite hard to fathom. Brunner and Skinner combine to form an undersized but strong front court that is aggressive and fearless, combining just enough finishing ability with prolific rebounding and tenacious defense. Skinner brings the blocks, Brunner the steals. If only one of them brought the height.
Everyone else is considerably younger. Serbian prospect
Stefan Markovic
starts at point guard, and has recorded quite an interesting stat line thus far on the Eurocup season; 27.8 mpg, 5.7 ppg, 4.0 rpg, 4.9 apg, 1.8 spg. Pass first indeed. In classic Serbian fashion, Markovic is big for a point guard (6'5) and does the vast majority of what he does through pick and roll sets, unable to regularly create or hit his own shot but very capable of doing so for others, while doing enough defensively. Another draft prospect, and one of the best young Italians alive today, is swingman Alessandro Gentile, who is getting 18.8 minutes per game in the Eurocup despite not even being 18.8 years old. Gentile shoots 36.7 % from three point range, and takes three per game, a hint as to his intent. Standing at 6'6 tall, he can always get the shot off, too. But the shot is streaky, and Gentile is worryingly disinterested in doing anything else but shoot and score. Gentile can't dribble, doesn't pass, and puts forth scant little defensive effort, too slow to have any impact when he does. He complains a lot and doesn't have encouraging body language. Bit of a diva, it appears. But at that ages, he can still grow out of it. He's certainly being given every opportunity to do so.
The offensive compliment to the Brunner/Skinner combination is
Donatas Motiejunas
, who is in the midst of his career best season. That is not to say it's a particularly good season - Motty still floats around at times, looks only to score, commits lazy fouls on defense, and thinks he's
Troy Murphy
. But it's better - on the Eurocup season thus far, Motiejunas averages 10.6 points and 5.2 rebounds in 26 minutes per game. [Note: Foul rates, turnover numbers and shooting percentages not listed in transparent attempt to be favourable.] 25 year old Serbian power forward Hrvoje Peric was brought in on loan from Unicaja Malaga, and provides the playmaking jumpshooting perimeter-big man type so frequently found coming out of that country. And behind them 6'11 21 year old Polish centre Jakub Wojciechowski also occasionally gets minutes, but he's too slender and passive to handle the physical play, and can only shoot and foul at this point.
Benetton are fourth in Serie A, albeit way off the pace of the top three. They continue to churn out good prospects, and the good mix of youth and experience has gotten them to this point. But given that at least one of the good youngsters is leaving this summer, this might be their only shot at anything for a while.
---
Txemi Urtasun pulling a creepy face.
Cajasol Sevilla
Cajasol were dealt an early blow this season when point guard
Earl Calloway
went down with a badly broken toe. The Bulgarian international had averaged 9.4ppg, 2.3rpg, 4.2apg and 1.4spg the previous season for Cajasol, functioning as their best ball handler, playmaker, speedster and guard defender, as well as an occasional shooter and rebounder. Without him, the team had no real point guard, and thus had to bring journeyman
Bojan Popovic
on a short term contract. However, Popovic struggled, averaging only 3.5 points and 1.3 assists in Eurocup play, shooting terribly from outside but continuing to try anyway. (Upon Calloway's return, Popovic was allowed to leave, hooking up with fellow ACB team Meridiano Alicante, for whom he has averaged 6.7 points and 1,0 assists.)
With Popovic struggling, Calloway out for all of the regular season, and no real third stringer in place, Cajasol have made do with a two combo guard backcourt of Txemi Urtusan and
Louis Bullock
. Both are natural scorers and shooters (although Bullock has shot only 30% from downtown this season for whatever reason), yet they've been pressed into service as ball handlers and playmakers. Both have done so before, particularly Bullock, and it works to their advantage that both have the physical tools to defend the point guard position as well. It's had a
Mike James
/
Lindsey Hunter
-Pistons days feel to it, and as a duo, they've helped more than Popovic did. It's been both necessary and possible, though, due to the presence on the wing of draft prospect
Tomas Satoransky
, who has emerged as the primary playmaker. Satoransky has size, athleticism, a smooth handle, passing vision, a greatly improved jumpshot, and a remarkably high IQ for one who was only 18 years old when this season began. He's developing well, and he's developing quickly.
Up front, Sevilla lack for a true centre. Former NBA player
Paul Davis
plays most of the time there, and is one of the team's best players, scoring inside and out while grabbing offensive rebounds at a prolific rate. Iona graduate
Tariq Kirksay
- now a French citizen due to residency - starts at small forward and sometimes bumps down to power forward, capable of defending both positions like an undersized less athletic
Andrei Kirilenko
, bringing some occasional shooting and good passing vision (further enhancing the Kirilenko thing). Former Tennessee-Chattanooga big man
Mindaugas Katelynas
brings a good combination of size, athleticism, finesse and shooting, running the floor and dunking like
this
. And backup Bulgarian big Kaloyan Ivanov chips in with the rebounding. But none of these are, in the truest sense, big men, let alone centres. However, this is true of most Eurocup teams - as evidenced by
Kosta Perovic
last season, the day a true centre shows any real ability or potential at the Eurocup level is they day they are snapped up by a Euroleague team. Besides, de facto centre Juan Triguero does OK, chipping in yet more offensive rebounding help and defending the post well enough. And considering the respective level of opposition, Davis's weaknesses on the interior are less exposed.
Cajasol are only 13th in the ACB this season with a 13-16 record. The Eurocup Final Four represents the salvation of their entire season. They have gotten healthy at just the right time, and (theoretically) have drawn a favourable semi-final matchup with Benetton Treviso, the weakest of the three potential opponents. (At least, in one man's opinion.)
---
Whoops.
Cedevita Zagreb
Cedevita have made it here on the basis of some explosive shooting performances. Highlighted by performances such as a 36 point demolition of Dynamo Moscow, and a 114-110 overtime win over Hemofarm Vrsac, Cedevita have plenty of outside shooting talent, and a point guard (
Dontaye Draper
) more than capable of exploiting that.
Draper has had a hell of a season. He does a little bit of everything for the team, yet has thrived in penetrate and kick situations. Easily the best dribble-driver on the team, Cedevita have given Draper the green light to attack the basket at will, where he can either finish, make the drop-off pass, or find the open shooter. He's not a bad shooter himself, either, hitting 36% of his threes in Eurocup play. And his speed makes up for his size disadvantage on both ends of the court. Draper has led the team to this point, and everyone else is there to compliment him. (Or so it sometimes feels.)
Dotted around the perimeter are a bevy of shooters, the best of which is former Timberwolves guard
Bracey Wright
. Wright was brought over midseason from French team Paris-Levallois, and leads Cedevita in Eurocup scoring at 18.0 points per game. Wright scores inside and out, driving the ball without needing a whole lot of space to do it, shooting off of curls, spotting up, and occasionally isolating. He also chips in with 4.5 rebounds and 2.9 assists per game, playing solid defense as well. Another key shooting option is
Damjan Rudez
, a 6'9 forward whom the Suns once looked at, who has the capacity to win a game single handedly. He also has the ability to do absolutely nothing. To put that into some context, in 16 Eurocup games thus far, Rudez has scored more than 20 points five times, less than 10 points nine times, and in between the two only once. When he's playing well, Rudez is an unblockable jumpshooter with great touch and a pretty smooth handle, a good athlete who passes well, aggressively looks for his shot, and who can find it both inside and out. And when he's not playing well, he just stands there. The only thing consistent about Rudez is his lack of effort on defense and the glass.
Cedevita have been through a few import big man options this year. They started with Aaron Pettway, but he was soon replaced; they replaced him with
Trent Plaisted
, but he didn't last long either. Third time's a charm, though, and they eventually found veteran
Corsley Edwards
, who is 32 years old now but still effective. Edwards pretty much can't jump any more, but he's also an immovable load on the interior, and on the days when he feels like taking it up strong, he gets buckets around the basket; Edwards averages 13.8 points and 6.7 rebounds in only 25.7 minutes of Eurocup play. The trade-off is absolutely no perimeter defense, and lots of fouls through trying to do so anyway.
With the exception of Edwards and Franko Kastropil - the little used offensive rebounding specialist centre and one time Knicks summer leaguer who plays like
Michael Ruffin
with less mobility - the whole Cedevita roster can shoot. Veteran Croatian off guard Robert Troha does little but spot-up and defend, yet he hits 36% of his threes and is a useful floor spacing option. Alongside him on the bench, backup point guard Vedran Princ does much the same. Former Northwestern forward Vedran Vukusic plays an inside/outside game that includes threes (45%), drives off curls, some rebounds, and a hell of a lot of fouls. Tomislav Petrovic brings a decent jumpshot and terrific size for the wing position; he'd play more if he knew how to stop fouling. And former Croatian national team member Marino Bazdaric brings a lot of quality, dealing pretty much only in threes, free throws, and awesome. Cedevita run about 12 deep, and are incredibly deep in the wings. They will use that depth to their advantage.
Cedevita got here on account of the Draper + shooters combination, a combination that became good enough to make it once Wright was brought in. Could it be enough to take them the whole way? Maybe. Ask Damjan Rudez about that, for he may hold the key. But the prospect of either Corsley Edwards or Vedran Vukusic trying to check Maciej Lampe is a worrying one.
---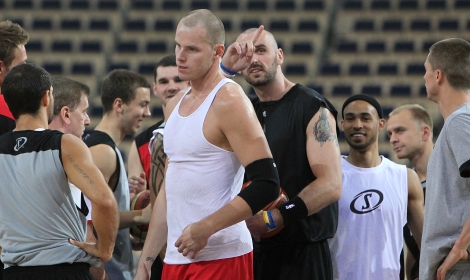 David Logan, trying to hide his hairline, alongside Maciej Lampe and Marcin Gortat, who gave up trying.
Unics Kazan
Kazan are probably the best team left in the tournament. This is partly due to their superior talent level - which I can't prove, but which just feels right - and partly due to the success they are currently experiencing in the new look Russian superleague. CSKA Moscow's eight year monopoly of the league is in serious jeopardy, as they are merely stuck in third place, chasing Kazan by three games in the loss column. And while there's various factors behind CSKA's struggles this year unrelated to Kazan's own performance, that does not cheapen what Kazan have done. They are, put more succinctly, quite good.
Kazan are led by ex-NBA player,
Maciej Lampe
. For all the failure that was his NBA career, Lampe has developed his game into one reminiscent of a pre-knee injuries
Marcus Fizer
. This isn't quite the new
Dirk Nowitzki
that the NBA was hoping for in Lampe, but it's something. Lampe has developed lots of upper body strength, can dribble drive far better than most guys his size, rebound, pass and shoot the mid range jumpshot. These attributes are coincident with little defensive effort and the occasional terrible decision, and probably always will do, but nonetheless, Lampe has rounded out nicely into a high quality player on a good quality European team, averaging 15/8 in only 26 minutes per game in Eurocup play. Alongside him in the Kazan frontcourt is another former Knicks project,
Slavko Vranes
, who has enjoyed a decent European career despite never having advanced (or ever having much chance of advancing) beyond "limited." Vranes averages 2.5 points, 2.4 rebounds, 0.8 blocks and 1.6 fouls per game; this, combined with his career apex as a starting centre for Euroleague final four team Partizan Belgrade last year, prove there is still a role in 21st century basketball for 7'5 behemoths with no ball skills or mobility, who can impact the game simply by being there. It's just not a very big role.
Whereas Lampe leads the frontcourt, ex-BYU guard
Terrell Lyday
leads the backcourt. Lyday, a combo guard, was entrusted with more of a point guard role when star point guard
Marko Popovic
went down with injury, and shone in the role. Without ever being a pure, pick-and-roll, penetrate-and-kick type of point guard, Lyday did enough of everything to both get his own and create looks for his teammates, without ever making too many mistakes. He has seamlessly flitted between the two positions for years, and this one is no different; also arguably the best shooter on the roster, and one of the best guard defenders, Lyday led the team in Popovic's absence, as evidenced by his team high numbers in Eurocup play of 14.8 points and 3.4 assists per game. (Popovic is now healthy again and will bump Lyday back to the two guard spot. As well as Lyday played as a point, Popovic is a better one.)
Backing up at guard are veteran Russian point guard Petr Samolyenko (a defensive specialist who is almost no threat to score, and
who has a mullet
) and even more veteran Russian shooting guard Zakhar Pashutin (a journeyman shooter). On the wings, naturalised Russian
Kelly McCarty
may have turned 35, but he's far from done yet. McCarty's three point stroke, normally a calling card of his in his later career, has decided to take the year off; nonetheless, there's enough athleticism, guile, finishing and mid-range shooting to see him record 12.4 points in 25 minutes per game, alongside 3.7 rebounds and his usual defense. And besides, it's not as though he's shooting Samolyenko-badly, as he's hitting 35% from three across all competitions, and hitting 40% in Eurocup play. Behind him, a third veteran Russian, Igor Zamanskiy, also gets a few nightly minutes, a combo forward noted for his streaky outside shooting but who has completely abandoned the three point shot this season for unknown reasons.
Kazan's strength lies in their depth. There would be enough talent in those aforementioned 8 for most Eurocup teams, yet Kazan have more quality to add to that. Former Wizards draft pick
Vladimir Veremeenko
plays good minutes at the forward spots, used largely for rebounding and interior finishing, but sometimes able to turn in good defensive performances, and occasionally effective as a floor spacing big man. He is also a good passer of the ball, particularly when it comes to finding Maciej Lampe. Former Kings draft pick
Ricky Minard
provides the big and athletic slashing option from the wing, along with good defense, solid playmaking, and a mild outside shooting threat. And Slovenian Hasan Rizvic, while unable to play big minutes due to his constant foul problems, plays the best interior defense on the team, hustling and energetic, while also providing some interior finishing and pick-and-roll play. There's an option here for every occasion.
The fact that Kazan are (or might be) the most talented team here is certainly no precursor to immediate success. But it does mean you can pencil them in for some.