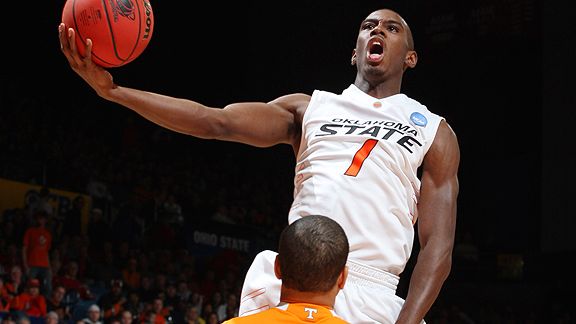 As mentioned in the
1997 NBA Draft Where Are They Now Round-up Recap Thing
, IG Strasbourg are a French team that's not doing very well. They're currently joint 15th in the 16 team French ProA league with a 2-7 record and a 3 game losing streak. They're currently in the EuroChallenge (the third tier continent-wide club tournament), and they lead this group, but that won't count for a whole lot unless they reverse their French league fortunes. So they've made some changes, signed Wen Mukubu (to replace the injured
Alain Digbeu
), and waived
Terrel Harris
.
Harris, pictured here receiving mid-game oral sex from an unnamed Texas Longhorn with different sized ears, was signed in the summer to try and provide some of that scoring help. He averaged 13.9ppg for the Oklahoma State Cowboys last season, doing little else except shoot impromptu threes and rebound a little bit. He's only been doing half to that for Strasbourg this season, though, averaging only 6.8 points, 1.9 rebounds and 2.6 fouls per game. He shot the three well, scoring over 48% from outside, but he offered nothing else outside of that.
Not a good week for
former Oklahoma State players.
EDIT:
Strasbourg have also signed former NBA guard and sexual tyrant
Anthony Roberson
, who replaces Harris. Mukubu replaces Digbeu.