June 24, 2011
Tai Wesley - After seven years at Utah State, the now middle aged Wesley begins a professional career. Indeed, he's already begun it, signing for EiffelTowers Den Bosch in Holland. Wesley won't ever crack upper echelon leagues because he's just too small. He's a 6'7 power forward without athleticism, so not even Kyle Hines's career arc is really doable. But he's perfect for Holland, a versatile and incredibly smart player who can run an offense and anchor a defense. In the unathletic Dutch league, Tai finds himself in essentially a professional version of the WAC.
March 17, 2011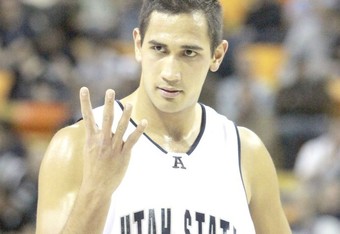 Tai Wesley is doubly impressive when you consider he doesn't have a thumb on his shooting hand.
The Aggies returned pretty much everyone else, most notably 6'7 senior big man
Tai Wesley
. Wesley is an unathletic but creative post player; he has footwork, moves, touch with both hands, hooks with both hands, and a good passing game from down there, a high IQ player with strength and finesse, and enough of a jumpshot to play away from the basket against much bigger opponents. He chips in with the rebounding, knows how to use his elbows and get away with it, can get open without the ball, generate offense with it, and anchors one of the league's best defenses.