June 17, 2014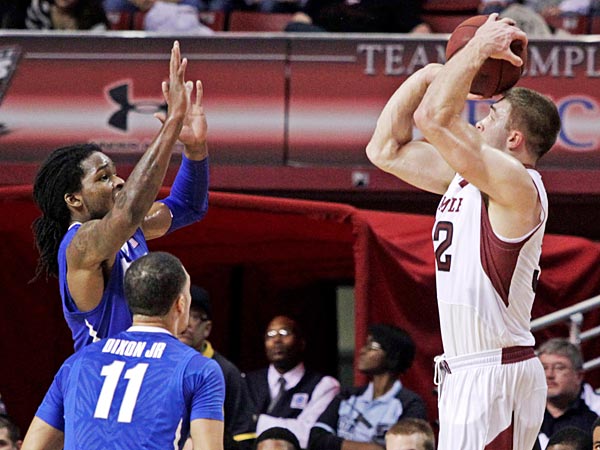 If the ball wasn't there, this would be quite the high ten.
Dalton Pepper
, Temple, Senior, 6'5 220lbs
2013/14 stats:
37.8 mpg, 17.5 ppg, 5.1 rpg, 2.4 apg, 1.0 spg, 0.2 bpg, 1.7 fpg, 1.7 TOpg, 43.3% FG, 37.5% 3PT, 87.1% FT
Pepper transferred from West Virginia after two years and went to Temple, where he played just as little as a junior. But when the Owls entered last year with a jarring lack of depth, Pepper suddenly had as minutes as he could handle, as the leading scorer and primary perimeter option on a team that struggled on both ends of the floor, but most notably defensively.
He was not an exception to this. Pepper struggles on defense, mostly because he is quite easy to drive past, but also due to a low intensity level, heightened by a lack of foot speed. Pepper is very strong in the upper body, but the muscle he carries around doesn't make him any faster, and it is very difficult for him to keep anyone in front of him. He demonstrates good anticipation at times, but also closes out slowly at others, and just does not look especially bothered on that end of the floor a lot of the time. Because of their severe lack of depth, Temple could not hold him especially accountable for this either.
Offensively, Pepper is a shooter. A good one, but not a great one. And he mostly limits himself to this facet of the game, creating very little off the dribble and rarely driving. For all that upper body strength, he rarely looks to drive the ball to the basket and take any contact, hardly ever getting to the line - limited to a few drives off of closeouts, Pepper can power his way through the lane in a strong if slow fashion, but hasn't the foot speed or handle to do so in isolation, and is a below-the-rim finisher when he does get anywhere. Further to this, Pepper is notably inconsistent - from season to season, from game to game, from half to half. This is not the best quality to find in someone best defined as a 'shooter'.
It might serve Pepper best to drop some of that muscle. It probably makes him look great at the beach, but considering how little he uses it as a player, it seems more of a hindrance. It likely slows him down, and he hasn't much speed to lose. A slightly more spry Pepper is a very nice complimentary off-guard with good offensive instincts, a quality stroke, and some size for the position. If he keeps the beach body, he needs to use it to bump players on defense more, refine his handle so as to be more able to get into the line, and change his mindset to that of someone who wants to be there on defense.
March 16, 2011
Jerry West's son Jonnie plays a bit part role on the team as a shooting specialist. He is, however, behind both Dalton Pepper and Casey Mitchell on the shooting guard depth chart. Pepper is a big strong guard with improved defense and a decent outside stroke that he doesn't use nearly enough, while Mitchell is comfortably the best shooter on the team with a decent outside stroke that he uses way too much. Mitchell has easily the worst shot selection on the team, far worse than is really acceptable in an upperclassman, and while his 14.1 points in only 24 minutes per game leads the team, it belies his crazily streaky and ultimately unreliable nature. At point guard, Joe Mazzulla is the oft-cited coach on the floor - a tough, defensive-minded ball mover with a good deal of offensive talent, but who knows what needs to be done, even if he hasn't the talent to make it happen. And Darryl 'Truck' Bryant has rather unproduced this season, given that it was anticipated he would step into a bigger role with Ebanks and Butler gone. As it is, Bryant has merely sustained his production and skill set from previous years; tough, under-every-screen defense, mediocre shooting, good transition play, and not really a point guard.