As ever, the list is about 35 players longer than it needs to be, because one of these days, the NBA draft will be forty six rounds long. Just like it used to be. On that day, we shall rejoice.
Also as ever, some position assignments are slightly arbitrary, yet, because they matter not on the court, they should matter not in their classifications within this series either.
And, as ever, players are listed in no particular order other than the order they were thought of.
Lazy links:
James Young
-
Maurice Creek
-
Sean Kilpatrick
-
Roberto Nelson
-
Jabari Brown
-
Markel Brown
-
Jordan Adams
-
Nick Johnson
-
Dalton Pepper
-
Lasan Kromah
-
Chris Crawford
-
Geron Johnson
-
Terone Johnson
-
Sean Armand
-
Leslie McDonald
-
Brady Heslip
-
Drew Crawford
-
Joe Harris
-
Gary Harris
-
Nik Stauskas
-
C.J. Wilcox
-
Zach LaVine
-
Roy Devyn Marble
-
Lamar Patterson
-
Jordan McRae
-
Andre Dawkins
-
Isaiah Sykes
-
Troy Huff
-
Chris Denson
-
Davion Berry
-
Jermaine Marshall
-
Marshall Henderson
-
Preston Medlin
-
Jason Calliste
-
George Beamon
-
Lenzelle Smith
-
Karvell Anderson
-
Jarmar Gulley
-
Stephen Madison
-
Ben Brust
-
J.T. Terrell
-
Luke Hancock
-
Earnest Ross
-
Davon Usher
-
Travis Bader
-
Austin Hollins
-
Spencer Butterfield
-
David Brown
-
Niels Giffey
-
Desmar Jackson
-
Duke Mondy
---
James Young, auditioning for a job in a pizzeria.
Young came into his freshman season with a great reputation, one partly born out of his supposed offensive instincts. But they weren't on show. Players with offensive instincts should not look as lost and motionless as he did when off the ball. They should move, cut, get open, and not just stand there. Players with offensive instincts should not jump to pass several times a game like Young did. Players with offensive instincts shouldn't drive into traffic relentlessly without knowing why they are doing it, without it being the percentage play, without there being any real chance of getting to the rim or drawing a foul because the defender got into position about half an hour before the drive even started. But Young did all these things all year young, showing only slight improvement by the year's end. His fundamentals were weak, his IQ low, his passing vision and decision making poor. He rarely used screens or fakes, threw it away so often, and his shot creating abilities involved either the aforementioned drives to nowhere or just raising up and shooting.
Mind you, if drafted low enough, he can get away with it. Because the potential is there. Young is a big wing with fluid mobility and an extra gear at times, who could be an excellent shooter and an excellent defender. The jump shot form is decent enough, and the results mostly good - if he hones it further, improves his consistency, improves his selection and learns how to create better looks with fakes, jab steps and the like, he could be one of the league's better shooters. And with his size and quick release, it will be tough to block. Young is confident, we'll give him that, and is no shrinking violet which will help his shooting prowess. His handle is sloppy and he ought never be expected to be a regular slasher to the rim, but if he can better recognise his strengths and develops what is already a decent pull-up jump shot, that will give him some effectiveness inside the arc too. He can run the court and finish at the rim, which would suffice as an offensive package were he never to develop much of a slashing game or learn how effective dive cuts can be. The same package is true of his defensive projection, where his size, long arms and mobility bode well, although he needs to plug in all the time and want to attack the glass.
He is of course young and in a situation where he can develop, so there's plenty of scope for improvement, and plenty of reason to expect it. But, meh. Long way to go. Long long way to go.
Must improve: undershirts.
Creek's good senior season redeemed what was a worryingly stagnated collegiate career. After serious injury as a freshman, Creek took a long, long time to rediscover the promise he had held before it, mostly because he kept getting injured. 12 very intriguing games as a freshman were followed by 18 hobbled ones as a sophomore, then a redshirt year, and 24 extremely ineffectual games as a 28.8% shooting junior. But as a senior, and after a transfer to George Washington, Creek finally got his health and his game back, playing more minutes in his final season than in the previous four combined.
The only shooter on the team besides 6'8 backup forward Nemanja Mikic, which means not much spacing and a lot of defensive attention, Creek is nonetheless a very good three point shooter and always has been. Nothing else about his game stands out - inefficient from two point range, rarely getting to the line, thin, not one to drive much or easily, not a good finisher at the rim, and beset with slightly high turnovers - and so Creek is all about the jumper and whatever else comes from it. He moves well and often off the ball, and despite being a tad undersized (and having lost some explosiveness due to the injuries), his quick release makes him always a threat to get a shot away. Creek will occasionally get into the lane and either kick out or shoot a running righty, but not often, and with limited defensive impact, he is fairly one dimensional as a shooter. It is thus very much of note that Creek can hit off the catch and the dribble (not that he dribbles much), can hit when both contested and open, can hit when set and when falling away, and can just rise up and shoot over defenders unabashedly. The injuries robbed him of none of this.
However, when an extremely young player suffers two season ending injuries in a row, then misses an entire third due to yet another injury, it is inevitable that his hardiness is the primary concern. Having fractured one kneecap, stress fractured the other, and torn an Achilles, Creek has a lot to prove. He's off to a good start in this respect, and needs to put at least one more healthy and productive year together in a decent European league before moving up any levels. There was clearly some rust still (dribbling off his leg, throwing the ball away, etc) that needs to be worked out. Undersized for the position and probably smaller than his measurements, Creek will find it tough to make the very highest levels of the game, but shooters always garner attention, so he needs to keep at it and stay lucky.
Sean Kilpatrick, pictured just after being told he was a "prompt & efficient payer, A+++++".
Kilpatrick was the only scorer on a Cincinnati team who prided themselves on defense, because they had to, because they did not have any scorers. Besides Kilpatrick, the only other player to score more than seven points per game was power forward
Justin Jackson
(11.1), a man who pretty much needed setting up all the time. And there was no one to do such setting up - paltry as they may seem, Kilpatrick's 2.5 assists per game were actually the team high. Kilpatrick, then, took a lot of shots because he had to. And while some of those shots were what we might otherwise consider 'bad', they had to be.
Mostly taking deep range jump shots - and sometimes VERY deep range jump shots - Kilpatrick always looks to score. With a quick release, he can single-handedly win games on the offensive end, and has all the hallmarks of a true microwave type. Diversifying his offensive game more as an upperclassman, Kilpatrick improved somewhat as a shooter off the dribble (although he is not especially good at this and is distinctly better off the catch still), and used this added threat to get to the rim and the foul line more driving off of screens. He doesn't finish especially well at the rim, small for the position and not an elite athlete, and has never been much of a ball handler, but the knowledge that he can and will get to the rim anyway benefits his jump shot, as he has to be played for it. Kilpatrick mostly plays in the half court and doesn't play much in transition, but this might change when he's on a team that can do it as a unit - in theory, with decent speed and his always hunting for a shot, Kilpatrick could thrive in this aspect.
Defensively, Kilpatrick has historically paid little attention to this end of the court, but did pick up his intensity in that aspect as a senior. His amazingly low foul rates speak to his tendency to hide on this end, but when he wants to move his feet and stay in front, he can, combined with good strength. Kilpatrick's talent and drive on the offensive end has never spilled over to defense, yet should it ever do so, there is a foundation to work with.
Having to go five on one isn't good for anybody, and Kilpatrick did an admirable job in the circumstances. It is perhaps telling that he always had to try and score in such situations and could not create for others, but it's not really the point. Kilpatrick is a shooter, and that's fine. And now that he's no longer chucking to meet quotas, he's a very good one.
Roberto Nelson, shortly after being told he was an "excellent eBayer, A++++, would use again."
Roberto Nelson has flourished into a very good scorer, and his offensive output is punctuated by an extremely high free throw rate. Taking 7.8 free throws per game as a senior, combined with the efficiency of his three point stroke, saw Nelson score 20.7 points per game on only 13.9 shots, a 59.5% true shooting percentage in a major conference. That makes people take notice. Nelson also led his team in assists, albeit alongside extremely high turnover numbers.
Nelson does all this without elite athleticism. He is not hugely quick, and not an explosive finisher. Rather, he is relentless and sneaky. Utilising a very strong mid-range pull-up, Nelson cuts, drives, and, although he doesn't utilise the three pointer all that often, has NBA range on his shot. Eternally confident, Nelson is a gifted scorer who runs at every opportunity, can spot up off the ball, and who doesn't seem to have much difficulty being contested by a bigger defender (of which there are many). He battles in amongst the trees, uses step-throughs and spins to get there, is unflinchingly confident, and has a swagger to his scoring game.
In addition to this, Nelson also spends some time on the ball, and demonstrates a willingness to pass on the move to cutters or big men around the basket. It should be said that Nelson tries to thread the needle in this way far too often and makes many a bad passing decision, but his willingness to pass is nonetheless admirable. Nelson is not a primary ball handler and can be pressured into mistakes and turnovers when charged with the task, but he is a capable enough secondary one.
What he must continue to work on is his defense. Quite strong but not laterally fast, Nelson isn't big either, and at times has let himself get out of shape. Because of all this, and because of seemingly conserving energy for the offensive end, he is little defensive presence at all. Given that he will never be big or fast, he needs to counteract this with a great defensive motor, footwork, charge taking and good hands, but there's little sign of this so far. He also needs to take a few less heat checks, especially as his competition level improves.
Nevertheless, Nelson has developed quietly (always missing the tourney will do that to you) but effectively into being a consistent nightly threat, and should pour in plenty of good professional years.
Only known instance of Jabari Brown smiling.
Brown plays and photographs with a permanent look of insouciance. He never ever smiles, save for one time after a game winner. It does not undermine his skill set, but it would have helped his draft credentials a bit better had he looked like he was enjoying himself.
Brown played alongside
Earnest Ross
on Missouri's wings last season, where his role was not to chuck as much as Ross did. He is aggressive as a scorer, hunting his shot and taking plenty of them, but not an undue chucker, who will take some quick shots at times but not too egregiously. An excellent shooter who merits such looks. Brown shoots off the catch and off the dribble from both two and from three, shoots a pull-back, and can make jumpers off a spin move. His drives to the rim are a bit unceremonious at times, but they result in many fouls calls, as Brown is fully prepared to take the contact, and finds plenty of ways to create scoring opportunities for himself.
The downside unfortunately is that Brown cannot create for others at all - he only looks to score, and it is the only thing he is good at. Brown will occasionally throw a nice pass, but he does not feed the post, has little handle, and, on his rather wild forays to the rim, it is to shoot or get to the line, not to pass off. Brown is also a concern defensively - as evidenced by his exceedingly low foul rates, Brown does not always compete defensively, and lapses at times. And despite having a decent frame for the shooting guard position, Brown is not tall, long or elitely athletic, and thus has not the physical tools to make up for this coasting. He seeks only to score and can only be relied upon for such. It is fortunate then that the jump shot is good enough to cure these ills.
In a high tempo game where he can push the ball (which he loves to do), shoot quick and shoot often, Brown thrives. He's going to love summer league, then. After that? There is a small NBA chance.
Unsuccessful attempt at the People's Eyebrow
Brown's athleticism is as good as anybody's. He is a cannon in transition, a seriously dynamic player who absolutely flies down the court and who isn't afraid of contact. Brown runs the court at every opportunity and has learnt how to use this athleticism - by leaking out, cutting off the ball and playing defense, rather than by trying to do everything with the ball.
This is important, because in terms of ball skills, Brown is lacking. Despite all the athleticism, he doesn't have the greatest first step when driving with the ball, in large part because his handle is not good enough to keep up with his feet. He lacks advanced ball handling skills in terms of hesitation dribbles, changes of direction and the like, and although he is developing in this area, Brown lacks the handle that a 6'3 guard would ideally have. At that size, one would expect a guard to be able to play some point, but Brown rarely does - forced into doing so in the absence of
Marcus Smart
, Brown was not especially reliable at getting the ball over half court, and showed little in the way of playmaking ability other than to start the endless series of perimeter passes.
Brown's abilities and upside lie elsewhere. As a defensive player, he has every physical tool required; recovery speed, strength, long wingspan and, pleasingly, a penchant for blocks. These tools also allow him at times to be able to get to the basket without using a pick, and he has developed over the years an understanding of the timing and angles involved in when to make such attacks. He also has some projectable ability as a shooter. Utilising a good shot fake and with an incredibly high leap on his shot, Brown has improved his catch-and-shoot jumper to being perfectly adequate, and is already a good mid-range shooter. He rarely shoots off of curls or screens (despite often using both for getting to the basket), which if developed would be a new string to his bow.
At times, Brown drifts and gets lazy on defense, undermining his physical prowess. And at times, despite his increased offensive IQ and skills, he forgets the fact that he's the kind of player who can split double teams, dive off the ball, attack the basket and finish through contact, and instead tries to shoot through everything. But on his game, Brown is an NBA player. And if he can develop the defense to an elite level, whilst also developing enough of a handle to fill in at point or enough of a shot to be a capable higher volume shooter - or both - he might stick around for a while. He hasn't the ideal size for
Tony Allen's
job, but then many of these same things were once said about Tony Allen, too. Allen learnt his role and embraced it. So must Brown.
Jordan Adams trying to divide 232 by 13.
Historically poor in his shot selection and defensive effort, Adams improved on both as a senior to get himself almost certainly in the first round. This past year, Adams took less mid-range jump shots and fewer quick long-range shots, instead getting to the line more often and welcoming contact. He also committed to his perimeter defense, as evidenced by the steals numbers, getting into better positions and working harder to stay in them, while using his good reach and timing to win possessions on that. With both of these things in mind, Adams laid forth the foundation of a strong three-and-D role player with the ability to do a little bit more off of the dribble than his peers in that role.
This is not to say that these concerns are fully alleviated, however. Adams is still prone to defensive lapses in particular, and when he makes them, he hasn't the physical tools to get away with it. His wingspan is good and compensates for his slightly smaller overall frame, but Adams is not especially fast, neither in a straight line nor laterally, and so he has to have a constant motor to keep up. And he doesn't, overly reaching and not always fighting to recover. He also still likes his jump shot that bit too much.
Nevertheless, Adams contributes on both ends and in multiple ways. Defensively, he anticipates well, has good hands, and does his turn on the glass, while offensively, he exhibits a bit of everything. An improved spot-up three point shooter always in motion off the ball, Adams also is an effective straight line driver and occasional post-up option, and although he shied away from the mid-range game so much last season, he has both a pull-up and a floater to go to when getting inside the arc off of curls.
Without being a creator, playmaker, ball-handler, knock-down shooting or lock-down defender, then, Adams contributes in many ways. But he will need to continue the progress he made last year. This means better jump shooting, better jump shot selection, better ball pressure on defense, and keeping the weight off. Being slightly undersized, slightly under-athletic and not an especially effective creator, the margins are not that big.
".....-klahoma."
Johnson put up ridiculous numbers at the combine, which cemented his already fairly well cemented draft prospects. Yet for all those measurements, he doesn't play in the overly athletic style of, say, Geron Johnson. Instead, Johnson picks his spots and uses more skill than physical tools, knowing they are in the back should he need them.
Johnson is a fairly complete player on both ends. Defensively, he plays tenaciously, using his foot speed to stay in front of opposing guards and blessed with the ability to clean strip it from them. He moves quickly to recover and rotate, and plays strong help from the guard spot, going down to double cleanly and quickly and yet being adept enough to recover back should he need to. Better than the help is the man to man defense, where Johnson shone as one of the better man to man perimeter defenders in the country at either guard spot.
Offensively, Johnson was also the Wildcats' highest scorer, doing so in a variety of ways. He is best as a slasher, attacking the rim with craft and guile, and, should he need it, that extra level of explosiveness. Given a clear lane to drive, he can get up and finish - given an unclear lane to drive, he can contort through the defense, use fakes and find seams. Johnson also does a good job on drive and kick action, and racks up decent assists totals despite only very occasional point guard turns. Johnson can also be run off the ball to spot up for jump shots, and drive off of curls all the way to the rim, utilising a floater in the lane and finishing well for a smaller guy. He does not prioritise the jump shot, but can still create ones for himself on occasion with step-back and crossover moves. Not isolating much, not the best three point shooter and not big enough to shoot over anyone on the perimeter, Johnson nevertheless maximises his offensive talents with judicious shot selection and high IQ, low mistake play.
There are no big weaknesses to Johnson's game, unless we were to nitpick and say his height. It is the ideal point guard's body he plays in, but slightly too small for an NBA two. But let us not overevaluate that. Without ever really hitting dominant scoring stretches, and while not projecting quite so favourably on the defensive end at the NBA level due to said height, Johnson nonetheless just gets it done. And by "it" I mean a bit of everything. He's just good.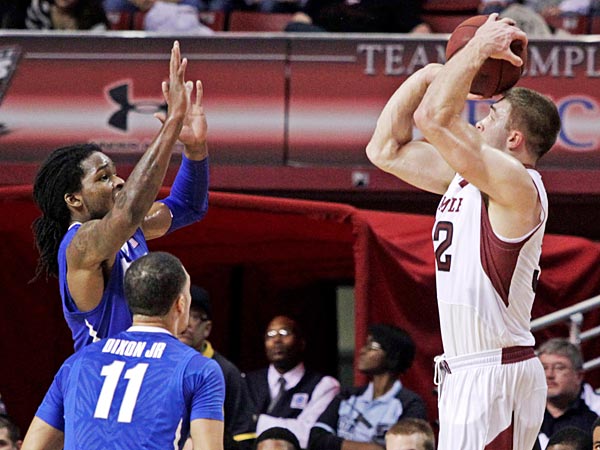 If the ball wasn't there, this would be quite the high ten.
Pepper transferred from West Virginia after two years and went to Temple, where he played just as little as a junior. But when the Owls entered last year with a jarring lack of depth, Pepper suddenly had as minutes as he could handle, as the leading scorer and primary perimeter option on a team that struggled on both ends of the floor, but most notably defensively.
He was not an exception to this. Pepper struggles on defense, mostly because he is quite easy to drive past, but also due to a low intensity level, heightened by a lack of foot speed. Pepper is very strong in the upper body, but the muscle he carries around doesn't make him any faster, and it is very difficult for him to keep anyone in front of him. He demonstrates good anticipation at times, but also closes out slowly at others, and just does not look especially bothered on that end of the floor a lot of the time. Because of their severe lack of depth, Temple could not hold him especially accountable for this either.
Offensively, Pepper is a shooter. A good one, but not a great one. And he mostly limits himself to this facet of the game, creating very little off the dribble and rarely driving. For all that upper body strength, he rarely looks to drive the ball to the basket and take any contact, hardly ever getting to the line - limited to a few drives off of closeouts, Pepper can power his way through the lane in a strong if slow fashion, but hasn't the foot speed or handle to do so in isolation, and is a below-the-rim finisher when he does get anywhere. Further to this, Pepper is notably inconsistent - from season to season, from game to game, from half to half. This is not the best quality to find in someone best defined as a 'shooter'.
It might serve Pepper best to drop some of that muscle. It probably makes him look great at the beach, but considering how little he uses it as a player, it seems more of a hindrance. It likely slows him down, and he hasn't much speed to lose. A slightly more spry Pepper is a very nice complimentary off-guard with good offensive instincts, a quality stroke, and some size for the position. If he keeps the beach body, he needs to use it to bump players on defense more, refine his handle so as to be more able to get into the line, and change his mindset to that of someone who wants to be there on defense.
You're never going to get a taxi there, Lasan.
A good but overlooked player at George Washington, Kromah transferred to Connecticut for his senior season to be the defensive specialist for a team already plenty stacked with scoring guards in
Ryan Boatright
and
Shabazz Napier
. This decision ultimately won him a national title, as he provided a very effective accompaniment to the dynamic duo.
Kromah really is an excellent defensive player, a good size wing with decent athleticism and length to go with relentless determination and motor. He denies, traps, helps, strips and hustles, an excellent defender and leader with strong intangibles on that end, and with the physical profile to defend multiple positions. With good hands, mobility and instincts, Kromah projects as a capable defender at every level if he keeps this up.
Offensively, Kromah is far less developed, but not useless. While he is a poor three point and free throw shooter, Kromah can hit a mid-range jump shot, and does some work off screens to create both these looks and some drives to the basket. A smart extra passer, Kromah moves the ball and himself to good effect, not an invisible player on the offensive end by any means. His handle is very limited and easily stripped, and his offensive game is pretty much solely running the court, curling a bit, flailing wildly at the rim on straight line drives and hitting open shots (it's not going in if it's contested). There is some value to all that, however.
There's always said to be something more noble about being a strong defender with underdeveloped offense than a strong scorer with poor defense, and Lord knows coaches love it. To that end, Kromah should do all right for himself in his inevitable European career.
SCOUTING REPORT: Stands weird.
Crawford was the fourth guard in Memphis's four guard line-up last season, and did a little bit of everything for the team. Best known as a shooting specialist, Crawford is a very good catch-and-shoot player who struggles much more when shooting off the bounce, but who can fill it up with the feet set. He also masquerades as an occasional point guard - Memphis were catered for in his position by
Joe Jackson
and
Michael Dixon
last season, but Crawford can fill in for possessions at a time, and was similarly relied upon for versatility defensively. Too often forced to guard bigger forwards and defend the paint, Crawford was never all that effective, given how easy his 6'4 frame was to shoot over, but he used his strength to body up as best he could, and win some occasional possessions with his anticipation.
However, all language used above to indicate intermittent effectiveness is deliberate, because there is nothing profoundly secure about Crawford's production. His defense seems to be tied to his scoring output - when he's shooting well, he defends well, attacking the boards and competing on D. But when he's not, he will lazily reach, overplay the passing lanes, forgo the glass and close out slowly. Even when plugged in defensively, he is quite slow laterally, undersized and easily gotten around by opposing guards, so he needs maximum effort to compensate and it is not always there. This is not something that he phased out as an upperclassman, either - indeed, Crawford was arguably more liable to switch off and play soft as a senior than in any previous year. And he also seemed to get slightly stockier. On offense, Crawford's mid-range jump shot is nice, but he won't use it, and despite his decent athleticism and solid enough handle, it is a wonder why he so often refuses to use them on the drive. It is not an especially nuanced handle, and Crawford rarely gets beyond the first line of the defense, instead racking up his assets from a willingness to pass and moving it around the perimeter. He never gets to the foul line, is not a speedster, heat checks too often, and does not even work as much off the ball as you would want a shooter to do.
Crawford never improved a great deal in his time at Memphis. It is true that he didn't have to improve much to be a contributor, but it is a big hindrance at this level. Crawford is an occasional shooter, occasional point, occasional ball handler and occasional defender who will be advertised as having defensive versatility, but he is also streaky, undersized, not hugely athletic and unassertive who never made himself all that reliable. It is not too late to start, but these ills will not be cured in or before summer league.
Wayne Ellington
has a similar physical profile and skill set, but Ellington competes and moves off the ball.
Fully prepared to meet the dress code requirements, at least.
Johnson was Crawford's team mate at Memphis for the last two years, and played off the ball just as much as he did in an entirely different way. The hallmarks of his game are playing hard and playing athletically, and he thrives on all the things those things avail. He runs the court, is always pushing the ball, and can drive to the rim and finish explosively. He really is a dynamic full court player, a tremendous rebounder for a 6'3 guard, and, at times, a quality defensive presence. Johnson's speed and hands make him a very capable defensive player of both guard positions when the tenacity is there - it normally is, but there are lulls. Strong with a long wingspan and a great leap, Johnson's physical profile belies his lack of height for the two guard position, and yet he can also masquerade as a point, bringing the ball up when needed and a good extra passer, if not a defense collapser.
All good so far. Sounds like
Chris Kramer
if Kramer could do something with the ball, if he had longer arms, and if he was even more athletic. Indeed, Johnson shares Kramer's poor shooting ability, struggling with any form of jump shot and yet not letting that stop him from trying them. The comparison goes further - Johnson struggles to create his jump shots or any offense of his own, cannot shoot off the dribble at all and struggles with poor touch around the rim, but is a good extra passer and has good hands and drives open lanes. Johnson can split a double team and drive baseline in ways Kramer can't, but there are many similarities nonetheless. Yet what really separates them is Johnson's knack for turnovers, stemming from forcing the issue, not being able to dribble at the same speed as he can run, throwing the ball away and making too many poor decisions. Johnson makes much happen when he is on the court, but when he's on the ball, those things are all too often not good things.
This all lends itself terrifically to a workout setting, and Johnson might play himself into fringe NBA range in that period. But it may be as close as he gets.
"Wiiiiiiiise men saaaaay, only fooooools ruuuuuuuush iiiiiiiin........."
In light of Purdue's struggles, as the upperclassman and one time four star recruit, Johnson by default had to shoulder a much larger offensive load than befits his talent. Playing alongside his younger brother Ronnie - who struggled with consistency and reliability himself - Johnson had to take the toughest defensive assignments AND be a focal point on the offense for all game every game, because no one else could do it.
Johnson, however, couldn't either. His offensive game is too limited for the load he was asked to shoulder, and his poor efficiency is a testament to how it went. Never a particularly good shooter, Johnson catches and shoots fairly well but struggles to create jumpers or shoot off the dribble, and his free throw stroke is extremely poor for a wing. Inconsistency defined his offense, and inconsistency is not a good thing from the most relied-upon offensive player. And Johnson should never have been that because he just hasn't the shot creation skills, not for himself or for his team mates, to be so. The lack of a consistent jump shot nullifies his driving game; Johnson is effective in the paint with a floater-y, hook-y thing, but it is hard to get there without dominant athleticism, a particularly tight handle, a jump shot to open up driving lanes and with so much defensive pressure against him. Set up to fail, Johnson pretty much did, taking some bad shots and missing plenty, and making too many passing errors.
What Johnson does do is defend and play hard. He hustles, moves his feet and plays with some determination, and he also rebounds very well for a guard. Johnson takes the toughest defensive assignments and is a savvy, solid defender, whose defensive consistency is far greater than that of his offensive consistency.
Given the right role, as a tertiary-at-best offensive option and defensive pest, Johnson should have a pro career somewhere. But to progress, he will need to develop the jump shot that hasn't developed for four years.
Sean Armand, three point shooter.
Armand is an excellent role playing two guard. That role is mostly shooting, though not exclusively. Armand is a very good catch-and-shoot player, a player who moves well and often without the ball, and who plays a controlled, disciplined game. Indeed, if anything, he should shoot a bit more. Armand tries not to over-rely on his jump shot, and succeeds in doing so, but he's such a good shooter that he could stand to shoot more.
Working off of curls and flare screens, as well as the occasional isolation, Armand is always a threat to catch and shoot, from any part of the court, with any amount of time left, at any time of the game. He is also much improved at taking advantage of the space and opportunities that this shot opens up for him. Armand can collapse a defense coming around a pick, cut into the lane and shoot a fallaway two pointer, and occasionally get to the basket. He also creates for team mates, a heady passer and part-time point guard who can run some pick-and-roll action, drive and dish to a shooter or drive and dump-off to a big man. Armand is better than his core numbers simply in how much better the offense is when he is a part of it. He can pass, he can shoot, and he is versatile, disciplined and smart.
It should be noted that Armand is not hugely athletic, and is historically not an especially good defender. He improved his footwork and motor as an upper classman, but still does not stand out on that end of the court and can be blown past. He is also not especially big for a wing and has no advantages in his physical profile - he doesn't even jump very high to shoot. But without being a star, Armand was a key player on a good quality Iona team. And wherever he goes, I should imagine he will be this again.
Leslie McDonald, two point shooter.
McDonald has always been a scorer, and yet he's always been an inefficient one. A mediocre shooter with occasional hot streaks, McDonald doesn't have poor shot selection necessarily - he's just not the best shot maker. McDonald turns it over very rarely and knows his role, yet this is in part because he does not play on the ball much. Not creative, dynamic, nor good at creating looks for himself or others, McDonald's role is mainly a defensive one. Not overly quick or athletic, McDonald nevertheless stays after his man, stays in front, and competes on defense. He does not have great hands but he also does not gamble much, using his strength and guile rather than any great physical tools.
However, offensively, while his unselfishness and understanding of his limitations is a virtue, his limitations themselves are a problem. McDonald is a shooter and was the only shooter really on this year's incarnation of the Tar Heels, but he just isn't that good of one, both inside or outside the arc (and especially from the foul line, where he rarely gets anyway). A poor finisher at the rim on the rare occasions that he gets there, McDonald cannot create his own, cannot create for others, plays off the ball but without being a particularly good shooter off the catch or the curl, and generally had to assume a bigger offensive role as an upperclassman that he was fit for. Considering this offensive role was not that big, this is something of a concern.
With a better jump shot and a higher volume, McDonald's prognosis is different. But the time for that is now.
Brady Heslip, six point shooter.
Like a few on this list, Heslip is a shooting specialist. This is self-evident from the stat line, and the 46.5% three point percentage is lovely. He gets open off the ball and shoots off of curls with ease. He spots up, throws subtle head fakes, and has been one of the best shooters in the nation. He succeeds in these things even when he is entirely gameplanned for. There's always a look in the halfcourt when Heslip is around, be it a back screen and baseline cut, or a pull-up in transition. The release is quick, and most importantly, the release is accurate.
However, there really is nothing else to report. Heslip never turns it over because he never handles the ball inside the arc, and barely outside of it. He is very small for a shooting guard, is weak, is not tough, is not fast, and is not athletic. He is not even pesky. He is extremely one dimensional offensively, too small to do much inside the arc and having no intent to get there, not even handling the ball in any screen action. He's an option or a decoy, depending on how well he is defended. And speaking of defense, Heslip's is poor. He is better than he was, but he was always going to be overmatched with those physical attributes, driven past and shot over as if he is not there. He also does not always compete, misses spots, keeps his hands down, has no knack for deflecting the ball, and generally provides no obstacle whatsoever. Heslip, then, is a shooter and only a shooter.
Mind you, it worked to the tune of 46.5% last year, so it works at the right level.
Drew Crawford immediately before being sent to bed with no dinner.
Northwestern being who they are, Crawford had to be a primary perimeter creator for them over the last few years. And it is just not who he is. At least, it is not who he should be - Crawford embraced the role of go-to guy and was more than happy to try, but he hasn't the shot creation abilities befitting the role. Much as Crawford took on the challenge of trying to score in isolation, his ball handling abilities are far too limited to do so regularly, short of raising up or driving on overplays.
Nevertheless, Crawford assumed the role as he has some tools for it. A good athlete and dunker, Crawford doesn't have to be a primary creator to have some offensive presence - a willing slasher with a nice bank shot, Crawford uses a floater, a banker and a turnaround jump shot to get shots away inside the arc. His three point stroke is merely decent, yet Crawford is a fairly good shooter off the dribble, and is best in transition, hard to keep up with when given the freedom to run (which isn't often). With long arms and a good leap, Crawford can finish above a defense. However, Crawford's slender frame make it tough for him to bump off any defender or take contact, and he lacks the nuanced handle, the changes of pace, the step-back jumper
et cetera
that would facilitate his driving game. He also takes some bad shots, especially jump shots, and for all those physical advantages, he has never been an especially disciplined defender. His best defensive attribute is his work on the defensive glass, but without applying much ball pressure at any point, Crawford's defensive presence is a concern rather than a strength.
Perhaps when freed from Northwestern's slightly inhibiting style, Crawford could flourish. From an NBA perspective, Crawford's length, athleticism, transition and rebounding make for an intriguing combination. But the NBA looks for three-and-D role players, and although Crawford could develop those factors of his game, he is currently neither of those things.
Hey!
Aside from his free throw stroke, which disappeared last year for no apparent reason and which will probably come straight back, Harris is almost as good of a shooter as there can be. Be it off of screens or the catch and shoot, Harris is always a threat to shoot, especially in light of his very good size for the wing position. Combining very high IQ (that means he knows where to be on the floor) with a good motor off the ball (that gets him there) and a quick release (that makes it all worthwhile), Harris is a threat in the half court whether or not he ever touches it.
At times, Virginia asked Harris to be a primary creator, and the results were mixed. Harris has always been more of a shot maker than a creator, and he hasn't the handle to be a primary offensive focus or a man who plays a good amount on the ball. Not explosive nor effective in the paint, Harris is something of a straight line driver, not a good thing to say of a primary creator. Harris's shot creation, such that it is, comes from his effective use of shot fakes, pull-ups and step-back jumpers, not from getting into the paint and making plays. Not being especially athletic also affects his projection on the defensive end - despite good footwork and being just as smart on this end as the offensive one, Harris's sub-par foot speed could be exposable at the NBA level.
Nonetheless, with a good shooting stroke, a good basketball brain and the size to do something with it, Harris should get at least a couple of years tryout in the NBA. To stick, he will need to prove he can hold his own defensively, and be a little more selfish.
Gary Harris distracted by thoughts of his own mortality at the wrong moment.
In accordance with what GMs want from their mid-first round pick wing players, Harris oozes three-and-D potential. He is yet to hone the three point shot on high volume, but it surely won't be long; already a good mid-range shooter and a decent long range one, Harris shoots off the catch and off the dribble, and also makes decent use of screen and curl plays. He projects as a plus shooter at the NBA level, a probable slow start notwithstanding. It's not really in doubt, either.
Also not in doubt is Harris's defensive intensity. Harris was always to be found hounding opponents defensively as a Spartan with an energy level that only some have. He is a smart defender who pressures those on the ball and willingly chases those off of it, both very translatable skills.
What is in doubt is Harris's size. On the small side for a shooting guard, Harris will never be able to effortlessly shoot over NBA defenders, and is only a decent athlete to compensate for it. It's not automatically going to undermine the above two facets of his game, but it will make them harder, and while Harris does not have to be an entirely two dimensional player, he has not done an awful lot other than this, even at the college level. Without much handle, strength or willingless to take contact, Harris is a poor finisher at the rim and lacks the handle to create. He is solid and dependable with the ball, but mostly only because he does little with it; aside from the occasional floater, a willingness to run and smart unselfish passing instincts, Harris hasn't shown much beyond the three-and-D role.
It is to Harris's great credit that he plays effectively without the ball, plays within his role, and plays both ends. He is a high IQ, high effort player with some skill. He does however need to progress beyond here, adding a bit of a slashing game outside of transition and improving both his jump shooting efficiency and ability to get looks. The one dribble pull-up two pont jumpers he currently employs need to be drives to the rim or two dribble quick passes to move the defense. And all of this is very doable.
Sunken dugouts might be a pretty good remedy to players leaving the bench during altercations, actually.
Stauskas will be a first round pick. The only question is how high.
Probably the best shooter on this long list of good shooters, Stauskas combines an extremely good mid- and long-range jump shot with great shot selection and a tremendous shot off of screens. Many players can catch and shoot well, but few shoot as well all around as Stauskas does, an excellent shooter off the dribble and off of curls, as well as being someone who must be contested when spotting up in both transition and the half court. To boot, there is also a step-back jumper, and a strong understanding of what the defense is giving and when. It is these skills that separate him as a shooter from someone such as the otherwise comparable
Jon Diebler
.
Outside of the shot, Stauskas has developed considerably as an overall playmaker. Utilising hesitations, changes of pace, dipsy-dos and the like, Stauskas can take advantage of the defensive shifts created by his lovely shot off the dribble by getting to the rim, giving himself multiple options in all pick-and-roll action, including hitting the roll man. Stauskas separates himself from other shooters by being a scorer rather than a shooter, very smart, efficient and smooth, building on what his jump shot opens up. He is fluid, he has body control, and he knows where to get to. He doesn't isolate well and nor will he likely ever, but nor should he.
Unfortunately, the defensive concerns are loud and valid. Without being an athlete, without being strong, without having a particularly good wingspan, there are not really any defensive matchups favourable for Stauskas. Quicker guys can get by him, longer guys aren't troubled by him, and stronger guys can push through him. Even opponents with roughly the same physical profile on him are not too bothered by his defensive presence, as Stauskas does not work to overcome these deficiencies with a high motor or great defensive reads.
Stauskas is extremely effective above the break and loves a high ball screen. Adding a corner three to that shouldn't be too hard, and he should be an excellent floor spacer in the NBA from the minute he enters it. But he'll also be a defensive liability from that moment on, too. So he's going to have to be good enough of an offensive player to produce more points than he's giving away. This is possible.
Neither of them seems to be particularly enjoying this.
Wilcox is best as a shooter. The majority of his offense comes from the three point line, and although he's an excellent shooter from the foul line, he rarely gets there. This is in spite of having a tempting combination of good size and great length. Wilcox absolutely has the frame and body type of an NBA wing, and he has the game to fit the oft-coveted three-and-D role.
Be it off the catch or off of screens, Wilcox is a good jump shooter, aided further by a decent pull-up shot when asked to create. He is not a primary or secondary offensive creator, lacking much in the way of a handle and distinctly better playing off the ball, and with the quick-release jump shot being his main tool. That said, Wilcox has developed slightly during his career as a Husky at driving to the basket, and finishing once he gets there. He still does not excel at either and still avoids contact at the rim, yet his finishing, which was once a distinct weakness, really improved as an upperclassman. Wilcox exhibits a decent left hand despite being right handed, preferring to both drive and finish that way, and has improved his ability to change direction and find gaps.
Questions lie around Wilcox's ability to defend his position at the NBA level, and whether he can gain any separation for his shot. Despite the blocked shots numbers born out of his tremendous wingspan and decent motor, Wilcox has already had trouble keeping players in front on the perimeter, and for all his length, he is not especially quick nor athletic. That also affects his ability to get separation - outside of catches off of kick-outs and transition play, Wilcox does not consistently get himself open looks, hence the rather low scoring output in rather large minutes.
Wilcox shone as a role player through efficiency, discipline, playing within his limitations, contributing in multiple facets and excelling at one. This is precisely what the NBA needs him to do too. But it's not an automatic transition. Jumps like a young Mark Deeks in his prime.
LaVine is the best athlete on this list, and the best athlete on most lists. He is dynamic and spectacular, drizzled with potential. The production isn't there yet, but the upside is real.
While his skills aren't at the level of his athleticism, they are there. Notwithstanding a mediocre free throw percentage in his only collegiate season, LaVine is a decent shooter already, from both mid-range and long. He jab steps, shoots a pull-up and already has NBA range, showcasing plenty of shot making talent with more than a dollop of flair. He jumps high to shoot and also drives a bit in the half court, often using (perhaps overusing) a spin move and able to make tough, acrobatic finishes of all kinds. LaVine is right side dominant and needs to pass more rather than force the action, especially on the break, where he often goes for the hero play rather than the percentage one, but the scoring profile is a good one.
Some project LaVine as a point guard, but this is ambitious, and perhaps born out of his lack of true shooting guard size. LaVine has never demonstrated much in the way of time and score management in the time he has had at point, nor a good floor game. He does not make plays out of the pick-and-roll much, still drives mostly to score, and makes too many errors, both in passing and handling. There is scope there in the sense that LaVine could be a top point guard defender, an unstoppable ball handler in transition and a solid-enough handler in the half court, but it's not optimum. LaVine should be let loose as a scorer, and while any point guard can be a scorer, it doesn't fit all to be so.
At his best, LaVine is running the lane all day, cutting off the ball, spotting up and committing himself to a pesky defensive game. That is all more befitting of a two guard. Defensively, LaVine's athleticism makes him projectable - his fundamentals, stance, footwork and effort all need work and consistency, but there is again something to work with. If he can defend the quickest opposing point guards, that's an ancillary benefit.
Ultimately, LaVine needs some work in all facets of the game. He needs to be much more effective off of the ball as he does not currently do much without it, and if he is to play with it, he has a lot to work on. There are instincts there, but they are those of a two guard.
LaVine is not raw, just unfinished, and moreso than most. His career can go many different ways, and that is mostly a good thing. Whoever picks him will have something to develop, to sculpt, to hone. And even if he doesn't develop as much as he might, he will have an impact on the court for as long as he has those physical gifts. It's not a can't-miss pick, but with the increased pace and space at the highest level, LaVine will be more NBA ready than he was college ready.
College coaches - this needs to stop. Immediately.
Marble is an unconventional guard, a 6'6 off guard with point guard tendencies who relies on IQ and versatility rather than any explosiveness. Save for a mediocre free throw stroke and a tendency to drift at times, he contributes a bit of everything and has no glaring weaknesses. A much improved long range shooter and defender, Marble is much more efficient than his 42% field goal shooting suggests due to the high volume of threes he takes (albeit at only 34%) and the high number of times he gets to the foul line. He has added range to his mid range jump shot and the ability to create spacing for the jumper with a step-back, jab steps and a pull-up, as well as shooting off curls.
Without the speed to collapse a defense on the regular, Marble finds seams using his body control and will take contact at the basket. He is not an especially good finisher at the rim, but he will get to the line as much as he can. Marble spends more of his time playing more away from the rim and using screens, either as the curler around them or when calling for ball screens when serving as the primary ballhandler, as he can occasionally do. When running the offense, Marble plays the pick and roll well and demonstrates solid vision and decision making - he will never be a lead guard at this level, but it helps. And defensively, while Marble is still prone to reaching in and gambling for steals rather than moving his feet, caught looking in help defense situations all too readily, he is improved in man to man defense and uses his size to deny passes.
This all sounds a bit like
Matt Bouldin
, admittedly. But he's slightly bigger, slightly faster and slightly better. Which suffices.
Packed stadium.
As opposed to all the shooting specialists on this list, Patterson is instead a primary playmaking guard. With the body of a two guard and the game of a point forward, Patterson differs from pretty much the entire rest of the crop in this list by being a pass-first player. Or at least, he used to be. After a big scoring uptick as a senior, that distinction is now much harder to make.
Patterson's offensive development has come mostly from a much improved jump shot, as well as much more willingness to use it. His decision making has always been a strength, but would never hunt his shot all that much. Now, though, Patterson has struck the balance between being a primary scoring option and a great playmaker.
A very high IQ player with vision, decision making and unselfishness, Patterson has also become a fine spot-up shooter from both mid and long range. Although he still somewhat lacks a pull-up jumper, Patterson can also be run off screens for jump shot looks, yet also uses these screens to sneak attack his way to the basket. Lacking explosiveness to get to the basket, Patterson gets there anyway through craftiness and hesitations, and finishes well considering he is a below-the-rim player.
Patterson can play on or off the ball, his versatility being a main virtue. While not a primary ball handler in getting the ball over half court - there's no need for him to be, really - Patterson does a good amoount of ball handling once in the front court and makes plenty of plays out of the pick-and-roll. He doesn't play in the full court much, his lack of elite athleticism somewhat hindering here, but his all-around game also translates to the defensive end, where his average athleticism is offset by a decent wingspan, toughness, good reads, a high effort level and quick hands. Patterson also crashes the glass well for a perimeter player, his guile and tenacity once again overcoming a lack of elite explosiveness.
From an NBA perspective, adding an efficient high volume jump shot has given Patterson a chance. His lack of elite athleticism might keep him on the fringes, but his high skill level and knowledge of what to do with it gets him to them.
"Arf!"
Aside from playmaking and ballhandling, at which he does little, McRae does a bit of everything on the court. He plays off the ball, has NBA size for the wing positions, long arms and is a decent if not elite athlete. He was drawn up to play the two guard spot almost, and having improved year on year, he now plays it very well.
Primarily, McRae is a high scorer, and an efficient one. Not an especially efficient shooter from outside despite a large number of attempts, Fells nevertheless finds his overall efficiency through a high number of free throw attempts - a timely slasher, attacking seams, using fakes and accepting contact, McRae does a good job of taking contact when it is there, and creating it when it isn't. His efficiency would be even higher with slightly better jump shot selection; nevertheless, with an ability to hit tough ones, step-backs, turnarounds and shots off of curls from both mid range and three point land, McRae is a very projectable if not elite shooter. McRae's all-around game is also evidenced in his assist totals (where, despite not being a playmaker or ball handler often, he demonstrates an awareness and willingness to make extra passes and find the open man), and also on the defensive end. Without top tier physical tools, strength or length, he is a good perimeter who stays with it and plays hard defensively, utilising instinct and timing rather than physical dominance. This aspect of his game projects less well at the next level, as he lacks the size to provide much ball pressure against NBA wings, but a consistent focus combined with his instincts could make him a productive player here (as evidenced by his stocks numbers).
A 6'5-6'6 wing player and decent athlete who often if not always plays hard defensively, hunts his shot aggressively, and who can fill it up from outside? Sounds a bit like
Courtney Fells
. And he is. And look how close Courtney Fells has come to the NBA over the years. So McRae has a chance.
"Hey Andre, what's your opinion on the controlled addition of fluoride to a public water supply?"
Dawkins is a shooting specialist, a very good shooting specialist, and little else. And it took until he was a senior to even be consistently aggressive in taking shots.
Off the ball, Dawkins puts in the work to get open. On the ball, he....well, he's never on it, so it's tough to say. Dawkins is very much a specialist - it's all jumpshots, and they're all off of other people's work. There is a floater in the lane every now and then, but it is rare, as are any two point field goals. And foul shots are rarer still. Dawkins passes little, and struggles to create his own shot, let alone for anyone else. On the defensive end, Dawkins has good size and has developed some strength (aided by having some extra pounds of fat that he shouldn't), and chases around off the ball, but is ineffective at keeping anyone in front of him. He is, then, pretty much as one dimensional as can be. It is his mercy then that he is big enough and good enough of a shooter to compete at any level. And at least he plays within the confines of his role.
To be blunt, Dawkins benefits greatly from the name of the program from which he graduated. This is not to say his shot is not NBA calibre - it is. And he is just about big enough, if not overly athletic. But the NBA can afford to be picky, and must be considered highly likely to prioritise slightly lesser shooters with better defensive profiles to become their next three-and-D role players. The door is just about still open for Dawkins, but he might have to go through it the
Troy Daniels
way.
Sykes keeps his dribble low, so low that is is routinely out of shot.
Sykes is a quirky player who left UCF in pretty much every category, with one big drawback. A ball dominant lefty shooting guard, Sykes's game is hindered by a lack of jumpshot. He hits a few mid range shots, but takes much more than a few, and lacks three point range. Given his established lack of jumpshot and proven driving game, he is always given the jumpshot if he wants it, and he almost always takes it, with a long and slow release that doesn't even disguise it. This does not work out. And it follows logically that he is also a poor foul shooter.
Sykes makes up for it elsewhere on offense by doing it all. He is always looking for the drive, and gets there with craft rather than explosion. He has a very solid handle of the ball for an off guard, can drive both ways (albeit always finishing left), shoots bankers, and makes enough contested ones from midrange. Sykes was asked to be UCF's option every trip down, and while this slowed the game up and he was guilty of stopping the ball at times, he was also their best option in the halfcourt, demonstrating good vision whilst carrying much of the scoring load. He will make mistakes at times, and is not efficient because of the lack of shot, but he will push the ball and rebound the glass, going coast to coast at times. He consistently makes tough ones and he consistently had to. Defensively, he needs to improve his rotations and help defense, but with his size and decent athleticism he can keep an opponent out of the paint, as well as crash the glass.
Ultimately, the profile and projection is all hindered by the lack of a shot. With it, his inefficient game would be a lot more efficient. But even with it, Sykes is sufficiently ball dominant that it's a mystery how he would fit alongside a point guard of some calibre. He can't be the primary playmaker if the team is to be any good, for he is too inefficient and mistake prone. So it is tough to project a fit for Sykes.
Troy Huff dunked so viciously that a man in the background put on his coat and left.
Huff is always attacking, and as can be seen from his basic stats, does so all over the offensive end of the court. A very good rebounder for a two guard, Huff has a high motor and is always willing to use it.
This motor, though, is a bit hindered by his physical profile. Much as Huff likes to crash the glass and get out and run, his slender frame and lack of overall size makes him a limited finisher at the rim. Huff likes to go into the trees anyway, works off the ball a lot, cuts and runs, but despite being a good athlete when given room to get up, his small stature limits his effectiveness on both ends of the floor.
Nonetheless, Huff is snaky, in a good way. When he can't drive in transition or semi-transition, he plays in the half court like he can anyway. Huff gets to the free throw line a lot on account of his relentless desire to drive. His drives come not because he is a particularly good isolation player or ball handler - he isn't - but because he always looks to drive off of closeouts, screens and the like. Playing off the ball, Huff nonetheless uses up a large number of possessions with his high motor and tenacity, running at every opportunity and always prepared to try and make things happen if you need him to.
The limitations in his offensive game are, however, quite apparent. Huff almost always uses his right hand, and shows little passing awareness or interest. His shot is inconsistent and sporadic - quite a good pull-up two point shooter, Huff struggles more from three point range, and usually shoots in the low 60%s from the foul line save for this past year. And as much as Huff likes to get to the rim, he struggles somewhat to finish there, capable of incredibly difficult acrobatic finishes but also prone to making things much harder than they need to be, partly due to always seeming to want to shoot from behind his head for some reason. Huff can rip down a rebound, go coast to coast, catch lobs and barrel in given any slither of room, but he is little threat handling up top and never seems to want to go to the corner. He can make highlight plays, but he alwas wants to make them so
On defense, Huff was somewhat hidden due to his importance to his team on the offensive end. That said, he also did not compete nearly as much as he did on offense, and, as mentioned above, he hasn't the size or length to get away with this. Huff gambles in the passing lanes and does so effectively, but when he gambles unsuccessfully, he does not show the fight to recover. This, then, is the frustration with Huff's game. There's quite a lot to like there, but Huff is only effective in a certain way, and needs freedom to do as he pleases. It will be seen how he copes when he goes to a professional team on which he is not the main man, which will inevitably happen.
This gesture works better on good three point shooters.
Despite the tattoo, Denson is not a creator for others on his team. He will occasionally handle the ball in a lead guard role, but he does so to score. And while he defends on the ball with the same heart as he scores, he tends to lapses off of it. He is instead a scorer, and an effective one, if highly limited.
Denson is actually very one dimensional. That one dimension is left handed layups. That one dimension is coming almost every trip down. And yet it works so very well for him. Denson is all about the runners and the bankers, and tries to drive into the basket to take them whenever he can. When he does drive, he always always always drives left. And when he drives left, he finishes left. He's going left, and everyone knows it. And yet it works.
Small but quick, Denson is able to pull this off with good body control, agility, and great touch. He has runners, up-and-unders and a very high giant killer of a floater. His size should be a big problem around the rim, but Denson will go as high off the glass as he needs to. He has a mostly good handle in traffic, with step-overs and the splitting of double teams and the like, and although he can lose the handle at times, his turnover numbers are very acceptable for a 6'2 scorer and offensive focal point. The aggression is relentless, the heart big, the skills big.
Unfortunately, Denson really lacks for a jumpshot. He really needs a pull-up in his driving game, but he hasn't got one. He hasn't a catch and shoot jumpshot, a shot off the dribble, three point range, or two point range. It's just not there, and while it doesn't stop him scoring, it does stop him reaching his potential. As good as Denson is at what he does, he is still a scoring guard in a point guard's body who can't shoot.
Denson plays big, plays hard, plays tough, plays like he cares. Denson is very likeable. But he needs that shot.
LavaBall never did catch on as a variant, did it?
Berry did it all for Weber State, and got them to last year's NCAA tournament. It certainly wasn't a single handed effort, and no self-respecting
Kyle Tresnak
fan could ever let that be said, yet when it came to half-court offense and end-game situations, Berry was the Wildcats's primary if not only option.
One of the downsides to doing this much is a tendency to trying to do too much. Berry is guilty of this, getting out of control at times and taking some shots he shouldn't, specifically being prone to forcing jump shots, especially fallaways. Berry can of course hit these shots - indeed, he can hit pretty much any shot, and hits tough ones enough to bail the team out when they needed it. Not all of the poor attempts can be excused in this way, however.
Nonetheless, he is the main scorer for a reason. Berry's 19.2 points per game come remarkably efficiently on only 11.3 shots per game, with more than eight free throw attempts per contest mixed in alongside. He does this while being slightly undersized and not hugely explosive, thereby reaffirming the quality of his offensive game. Efficient from everywhere, Berry uses his decent but not great athleticism to run the court, and has decent strength to take contact and finish. He may be somewhat small and not hugely explosive, but he is always attacking, and can shoot well off the dribble. This is the positive part of his slightly dubious shot selection, and Berry routinely finds open lanes without needing too much of a herky-jerky gait to create them. Berry runs the pick-and-roll, albeit rarely hitting the role man and instead preferring to score, and is particularly effective in transition.
But the drawback in Berry's offensive game is the decision making, and not just in the shot selection. Berry jumps to pass far too often, and has a knack for finding trouble. Rather than the old adage 'taking what the defense gives him', Berry tries to finish what he was doing anyway, even if bumped off a drive, rather than reset or kick out. Berry is a decent passer off the dribble, especially to the bigs around the basket, but tends to premeditate the action rather than read and react, leading to high turnovers.
To his credit, Berry is a decent defensive player, albeit one between positions. Using timely hands and good effort level, Berry will chase around off the ball, and although he gets hung up on screens, he pursues the ball and continues to compete. In the right spot, he can be a
Courtney Lee
type of player, a flexible and multi-skilled piece to plug in from the bench and contribute a bit of everything. But Courtney Lee defined his game by becoming a much better shooter, especially from mid-range. Not one thing Berry does could be considered NBA calibre at this stage.
Could we convince players to wear Britney mics during game action? Could be an interesting experiment.
Marshall has a pretty ideal profile for a high quality European import off the ball player. Playing alongside
Jahii Carson
, Marshall was all the things Carson wasn't - efficient, low usage, fairly big, playing off the ball. He could actually stand to do this last thing a little better, as he is a very good catch and shoot player, yet he does not put in as much movement off the ball as he ought. Nevertheless, he affected the game through his scoring without doing so because of excessive touches.
Marshall will occasionally be called upon to run a pick-and-roll play, but is mostly a jump shooter. His shot selection is fairly good, save for the occasional bad one, yet that was partly due to the nature of the team's style. When slashing, he demonstrates a sneaky hesitation dribble and can finish with a floater, yet this is not a part of his game he favours. Rather than attack the basket or the shotblocker, Marshall prefers to shoot, and the jump shot is the biggest part of his arsenal. Its efficiency is also currently a one year outlier, which is mildly uneasy. Nevertheless, Marshall showed last year that he can score, he will score, and he can be an effective and efficient weapon on medium usage. Defensively, Marshall plays hard and contests even when beaten, with long arms and anticipation and a consistent defensive effort, all of which overcome a lack of ideal size. He is not standing out in this facet of the game, but he is not sitting down either. And he'll take a charge when he can.
At times, he gets wild, and there is no one amazingly strong facet of the game. But Marshall is versatile and efficient, doing a bit of everything. This is always marketable. NBA? Probably not. But certainly somewhere.
Where does this rank on the Norwood scale?
Henderson is famous for two things - the number of threes he takes and the stupid things he says. We'll concern ourselves with only the first one here.
Shooting is the only thing Henderson does. Apart from play hard on the defensive end, an end on which he is physically overmatched with a lack of size and a lack of speed, Henderson is in the game only to cast up threes. He cannot and does not drive the ball, he cannot and does not create much off the dribble or in the pick and roll, and he is no point. What he does do is run endlessly off the ball to get open, and then shoots it on every catch whether or not the efforts to get open were successful.
34.2% shooting suggests he does not even do it very well. In Henderson's defense, he has played on a team very starved of offense and outside shooting. Only point guard
Jarvis Summers
could otherwise make a shot, so Henderson becomes both the primary and tertiary offensive weapons by default. But if he had more judicious shot selection, he would have helped both himself and the team more. As it is, he took all the shots because he
wanted
to take all the shots.
Henderson's release is extremely fast. He is quick to go around screens, and certainly puts the work into trying to get open. He can snake through them with good body control and does a good job of going straight up, and although he is probably better off screens, he can also shoot off the dribble and from spotting up. Henderson already has NBA range and uses fakes well to dupe the defense, and honestly would be a pretty good and efficient shooter if he stopped trying to do so when he wasn't open.
A big part of the problem is that, being the size that he is, it is much more difficult for Henderson to shoot when contested. 6'2 at best with short arms and not much speed or leap, defenses can tower over Henderson, and he cannot shoot over them. He has to either contort, rush the release, fade away, fade sideways, or take an extra step back, all of which hamper the shot. These things also hinder him on defense, where he is overmatched regardless of how much he runs around. And with drives to the basket off of screens being very rare, as are plays out of pick and roll sets, Henderson only really plays for this overmatchedness. He doesn't even pass off screens that much.
Does that sound desirable? Probably not. But then there'll be the occasional 7-12 three point shooting performance that changes the outcome of a game, and it all makes a bit of sense.
Preston Medlin briefly interrupts game action to do The Sprinkler.
Despite the assists and the assist/turnover ratio, Medlin is not a 'classic' point guard. He initialised some offense for Utah State, but played more of his time off the ball, in a dynamic-shooting three guard lineup.
Shooting is the best part of Medlin's game. Very rarely does he get to the line, and nor does he look to get inside - rather, he is a shooter with excellent form, who can catch on the move and go straight up, and who is effective off of curls. Medlin gathers quickly and goes straight up, combining good balance with a consistent release point, a threat to pull up from three or run off the ball for a look from the wing. He is small for the two guard position, slender and with fairly short arms, and he struggles to finish at the rim, but none of this prevents the shot.
Outside of the jump shot, Medlin has some point guard awareness, a good understanding of time and score and a reliable hand in getting the ball into the front court. He also drives and kicks regularly to decent effect, and although he is a very limited finisher at the rim, he will drive open lanes and use crafty changes of pace to get there. Aside from jumping to pass too often, he makes very few mistakes, and benefits from (and is partly responsible for) Utah State's very disciplined offensive environment. Medlin is nevertheless better off the ball as a shooting threat, where his greatest value lies.
On the defensive end, Medlin's complete absence of stocks speaks to the difficulties he has here. He will step in and take a charge, but he provides little ball pressure and cannot keep anyone in front of him. With little lateral foot speed, little straight line speed, little core strength, no wingspan or strength, Medlin's main defensive attribute is the flop, and the impassioned yell after a successful one. This isn't much, though, and his physical profile rather condemns him to always being challenged defensively.
In a sense, Medlin reminds one of
Jaycee Carroll
. He plays like him, has a similar build, similar strengths and similar weaknesses. Carroll, though, is much better. It ought be remembered that
Kendall Gill
looked and played like Michael Jordan, even down to the way he ran. It didn't mean Kendall Gill was Michael Jordan. Medlin was tailor-made for college basketball, but his shot (and his ability to create a foot or two of space for it) will need to take a leap to reach Carroll's level. Moving the ball and hitting open shots is just the start.
Against Dwyane Wade, this would be a foul on number 20.
Calliste played three years at Detroit, then left when
Ray McCallum
did. In those three years, he was a good if temperamental scorer, but with the Ducks, Calliste was RIDICULOUS. So much so that I used capital letters to convey it when stats might be better.
His efficiency last season was simply staggering. The percentages are self-evidently impressive, but they become more so when the amount of each shot is taking into account. Calliste took only 6.4 shots per game, 3.8 of which were from three point range, alongside 4.8 foul shots a contest. His 12.7 points per game, then, is basically 2 points per shot, almost unheard or, especially from a tiny guard. It equates to a 74% true shooting percentage, which is just ridiculous.
It is, of course, an outlier until further notice. Calliste shot between 34% and 39% from three point range in the three previous seasons, which is good but not this. Nevertheless, it speaks to Calliste's effectiveness as an off-ball role player. A point guard's size, Calliste cannot play the position for anything more than spot possessions, yet he is not overly hindered by size. He does find it difficult to finish around the basket on forays to the rim, but he attacks the contact and will readily take the two foul shots instead (on which he unashamedly stole
Gilbert Arenas's
routine). Similarly, while size could be a hindrance defensively, he plays hard and competes on that end, and has decent hands. Calliste shoots with confidence at any halfway decent opportunity, is fast if not lightning, shoots a step-back and will attack the rim even if he's too small to do much at it.
There's a lot to like about Calliste. Size and age (he is already 24) count slightly against him, but he has improved consistently in his four collegiate seasons and is very effective in his role. He is an excellent catch-and-shoot player who can attack off the closeouts, who sells fakes well, runs off the ball, uses his body and speed well, and to a small degree can create for others with solid passing vision and discipline (especially with drop-off passes off the dribble). He scores in bursts, has good hands, and is generally pretty excellent at the few things he does. At the right level, it's a very effective package.
That level is probably Italy.
Probably should say "boss".
Beamon is a different type of shooting guard. He is not all that big, not all that athletic, and not all that good of a shooter. He handles the ball on the perimeter little, pretty much only creates for himself, and is not dynamic. But what he does do is move off the ball, looking to catch and drive or dive to open spots. Beamon is aggressive, always looking for the drive, and doing so more in motion and off screens than in isolation or calling for screens.
Slashing, then, is the focus of his game. Beamon is a steady and crafty driver using body control, spin moves, step-throughs, jump stops and the like. A fluid if not overly explosive athlete, Beamon is herky jerky and tough to keep in front, somewhat prone to losing his handle on the ball when under pressure but an unafraid, aggressive scorer who wants the shots down the stretch of a game. He finishes quite well around the rim, is not afraid to take the contact and get to the line (which he does a lot), will leak out in transition, and will occasionally will shoot a jumpshot off the curl.
The jumpshot is a weak part of his game, however - much improved as it is, it remains temperamental and Beamon is not adept at shooting off the dribble or at creating looks for himself. The shot needs to take another leap forward, and this will be tough to do until he improves his release. There is far too much going on with it right now. And there are other drawbacks with his offensive game. Beamon is not hugely big, and nor he is not the biggest athlete. Furthermore, for whatever reason, he rarely passes. If he drives, he drives to shoot, to get a look around the basket, and for himself. It is probably fortunate that he is good at this, but for the turnovers to come down and the efficiency to go up, Beamon needs to share the ball around more, and to know how collapsing the defense can create passing opportunities. If he could improve on kicking to the corner, shooting a pull-up and tightening up his handle, this would be a mighty fine offensive player.
Defensively, Beamon contests, and is a good on-the-ball defender. He can be a trifle slow to rotate, yet he is a net neutral on this end of the court, which suffices. Beamon also rebounds his position very well, as unafraid to mix up on the glass as he is when finishing around the basket. He is a tough player on both ends, and that's a good characteristic to be defined by. There is still more skill development to do, though.
Smith's original name was Lenzelle Buckeyes, so he chose the right (indeed, only) team to play for.
Smith is a streak shooter, capable of hot streaks but ultimately not as good of one as he would like to be. He is instead a better defender then perhaps he is known to be. Ths tenacity, plus his willingness to rebound, is the bulk of his game. But the hallmark of his game might be his inconsistency.
A lefty, Smith's inconsistency in his results should not be confused with an inconsistency in his effort. He boards and defends, plays intensely and with toughness, and is not afraid. Yet in being limited in his ability to create shots, Smith was often ineffective with the large offensive responsibility passed to him by his team's wider scoring struggles. Smith is a decent shot maker, not a decent shot creator; short of using a little up-fake to open up a drive, he does not create off the dribble, having little in the way of ball handling ability and not showing much movement off the ball. When presented with an open lane or an open jumpshot, he will take on either (and sometimes also without the luxury of being open) but results are mixed, because the shot making talent is limited. Smith will hit some jump shots and take on any challenge, but sometimes, he shouldn't.
Instead, his tenacity is what makes him. A good athlete and keen defender, Smith applies plenty of pressure and reads opponents well, and again takes on any challenge. Here, is more likely to succeed. Quick and feisty, Smith works to keep up with those both bigger and quicker than he, and attacks the defensive glass as well.
Lacking in a proven jump shot and with only average size and length, Smith's NBA prospects are slim. He is a reliable, high IQ, high energy role player who can help any team, but without the jump shot taking a couple of steps forward, he is destined instead for Europe or the D-League. Or both.
Karvel Anderson with the one man Haka.
Anderson is one of the best shooters in the class, but has been doing so under the radar. A much better shooter and player than someone like
Marshall Henderson
- who nonetheless gets all the attention because apparently he really wants it - Anderson has become an extremely capable off-the-ball role player, very efficient and with no great holes in his game.
The most obvious drawback for Anderson is his size. He is the size of a point guard without being a point guard. It counts against him in the obvious ways - he can easily be shot over, is not especially effective at the rim, and the like. Yet despite this, Anderson has developed as quite the off guard.
The best part of Anderson's game is of course the shot. He shoots 46.3% from three point range on more than seven of those attempts per game, and that cannot be faked. He uses fakes to get spacing for the jump shot, and can catch white hot to the point that he seemingly cannot miss. He shoots off the catch, off the dribble, off the curl and off the step back, making contested shots even when his 6'2 frame is towered over. His shot selection is judicious, and he shoots better than the
Travis Baders
of this world despite having to take many more contested looks and shots off the dribble than they do. He can't get open regularly off the ball like they do, admittedly, but he suffers not for this. Anderson gets his feet set quickly, gets good lift on the jumpshot, shoots it with a pretty quick release, is strong for his size and fairly fast, and can put on dynamic shooting performances.
It's the bulk of his game, admittedly. Although he will up-fake, use subtle hesitations and attack close-outs to get in there, Anderson can do little in the trees and often has to kick out (effectively, it should be added). His cuts aren't the sharpest and he can't overpower anyone. Nevertheless, Anderson will put in a lot of work off the ball, shoot when he has it, takes few passing risks and makes few passing mistakes without being a ball stopper. He uses his good quick hands to overcome the size disadvantage, pursues the ball, avoids fouling, and plays very smartly within physical limitations, certainly a better passer than his low assist totals suggest.
Anderson is efficient from the field, keeps the turnovers low, is versatile, high IQ, and even has the feel-good vibe going with his story of one-time homelessness. What's not to like?
Jarmar Gulley can't share toys.
Gulley did a bit of everything for Missouri State without having much in the way of physical tools to do it. He also did so without having good three point range, without being especially good at creating his own shots (especially jump shots), without being able to make many plays for others, with making many plays out of the pick-and-roll, without collapsing or probing a defense to any great degree, and without being particularly good defensively. You cannot give the ball to Gulley and have him go to work - he hasn't the speed, handle or shot to do that, and instead needs to catch the ball on the move or in some space. Yet despite it all, he led the team in points, rebounds and steals, and was the closest thing an offensively anaemic Bears team with a terrible playbook had to being a focal point.
Notwithstanding his offensive limitations, Gulley is an efficient scorer, mostly because he takes his shots from fairly close in. Thriving in the mid-range area and when driving the ball, Gulley has sufficient size to shoot his mid-range jump shots over the defense, as well as the wide shoulders, good frame and strength to get to the basket and finish. His range does not extend to three point range (yet), but Gulley has a knack for finding offense, even in a limited team offense that created very little in the way of efficient looks. He is a crafty slasher, with subtle use of fakes, good feet and body control, a floater and a spin move, and a will to always drive the ball. Rarely does he dump the ball off or kick it out - when he drives, he is normally driving to score. But he can do so.
It is a bit of a worry, though, that Gulley's defensive effort is distinctly inconsistent. Gulley applies little ball pressure, and for all his strength, he makes little effort to keep in front, preventing to reach in (although he is good at this). There is a lack of urgency to his defensive game (and also sometimes to his offensive game) Mitigating this somewhat is the fact that Gulley played everywhere from shooting guard through to power forward for the Bears, and he shows more interest in the way of help defense. This ability to play the forward spots has also helped him diversify his offensive game - Gulley can be seen to pick and pop at times, as well as be the pick part of a pick-and-roll.
That's all looking backward, though. Going forward, Gulley will need to find the right level at which his athleticism deficiency will not be a problem. A team with good spacing might be something to prioritise, too.
Don't see a shooting guard with a ginger beard very often.
Madison is an extremely unconventional player. Slow and unathletic, Madison only just about has shooting guard size and has no physical tools in his favour. He produces like he does through skill and will.
A standard Stephen Madison possession involves loafing over half court without handling the ball, then catching it 20 feet from the rim, driving slowly in a defender who absolutely knew he was coming, jumping a little bit, and banking home the shot. Rinse and repeat, repeat to fade. Madison is all about the leaners and the bankers - he is unafraid, tough and aggressive, attacking defenders and shotblockers, knowing full well that he can make the shot even when it is inevitably contested. The vast majority of these finishes are with the right hand, even when driving with the left, yet Madison can finish with both, an amazingly effective finisher around the basket for an entirely below-the-rim 6'5 off guard. He really is the lord of the righty banker and it seems to matter not how obvious it is that it is coming.
Using pump fakes, spin moves and the like, Madison is always finding ways to probe the lane. He has to do it in this way for he really is quite slow. These drives will almost always be with the right hand - when needing to go to the left, Madison will often pass the ball off and reset to have another go, unless the situation demands or is suitably easy for him to go that way. He has a controlled handle in traffic, even though he handles the ball very little on the perimeter, and willingly takes contact, taking a high number of foul shots per game. He doesn't really use a rangy jump shot to open up this aspect of his game, and doesn't really have one - the jump shot he does have has a quick but grounded release, and he rarely shoots off the dribble given that he rarely takes dribbles outside of the above catch-and-drives. But he will take mid-range jump shots quickly and confidently, use a floater, and also plays in the post on occasion, looking for yet more righty bankers.
Madison lead Idaho in every statistical category, even blocks and steals. It does not follow from here, however, that he is a quality all-around player. Indeed, on defense, Madison projects worryingly. Idaho often hid him on defense, feeling they had to considering how important he was for them on offense, and Madison as always assigned to whoever was the weakest link on the opposing offense. He doesn't apply much ball pressure, deflect the ball, demonstrates little hustle on that end and has poor lateral quickness. It won't have helped that Madison had to defend the post in college quite often, where he tried his best to front. But whereas he is slow yet poised on offense, he is merely slow on defense.
Unafraid and tough, Madison attacks defenders, and finishes well despite being a below the rim player. There are many leaners and bankers, putbacks and floaters, pump fakes and spins, and plenty of aggression without poor decision making. But his lack of athleticism will be a significant obstacle at higher levels than Idaho.
Ben Brust gets so angry that scared man in background blurs into surroundings just to hide from him.
Ben Brust is primarily a shooter, yet he has one of the weirdest jump shot release you'll see in a player who can actually shoot. He pretty much shoots the ball before he jumps, and then jumps anyway. Obviously it's not quite as egregious as that, but he does shoot the ball long before reaching the apex of his jump - in a player only standing 6'1, this makes for really quite a low release point.
When open and with his feet set, Brust is a knock down shooter. Most of his jump shots are open with the feet set and of the catch-and-shoot variety - always moving without the ball, Brust is particularly effective from the top of the arc and from above the break, rather than getting into the corners. He improved a bit in his time as a Badger at being able to create jump shot looks, both off the dribble and in moving off the ball, and uses shot fakes well to create that extra bit of space. He has also demonstrated NBA range, and can shoot off the dribble as well as off the catch.
What Brust is, though, is a 6'2 shooting guard without much athleticism. He is small with the aforementioned low release, thus needs a lot of space to get a shot away cleanly (which partly explains the NBA range). And at the professional level. Brust is tough, competes, an aggressive and energetic if physically underwhelming defender who never turns the ball over, who plays very astute and timely help defense, and who very rarely commits fouls. He is a smart and intense player who crashes the glass extremely well for one his size, fearlessly mixing it up when it looks as though he has no chance. But he's too limited in what he does - rarely able to get to the rim and a poor finisher when he does, never getting to the foul line and not a point guard, his intensity can only mask so much.
There is always a place for this at the right level, though.
Very forgiveable face.
So as to not bury the lede, let us let be known immediately that Terrell is a chucker. He was given an opportunity to be a chucker this season on a USC team bereft of offensive ability, yet he was a chucker before then, and if he was anything like the scorer and shooter he played like he was, he would not have shot those percentages.
Terrell can score, as evidenced by the points per minute, and he is unfailingly confident. When driving the ball, Terrell has a herky-jerky way of snaking to the basket, using athleticism and body control rather than a particularly refined handle. He changes direction very well, has a long wingspan, good athletic ability and can finish athletically around the basket, as and when he can get there. Always prepared to run in transition, and always attacking in the half court, Terrell can on a good day provide instant offense, and USC very much needed this from him. Terrell also uses this speed on defense, where he applies a decent amount of ball pressure, the occasional passing lane gamble notwithstanding.
The problems come with his understanding of his limitations. Terrell goes for the flair play far too often, overcomplicates things, and routinely either loses the ball or throws it wildly at the rim. He is a poor three point shooter who takes a lot of them anyway, and specifically, he thinks he is a much better shooter off the dribble than he actually is. Terrell turns it over a huge amount due to his poor handle, reckless attacking and tendency to drive into trouble, combined with far too many quick pull-up jump shots when they aren't necessary. USC struggled for offense, yes, but Terrell was part of the reason why, not the cure he sought to be.
Small, and not in the least bit a point guard, Terrell is thus in a bind. He is not as good as he thinks he is and as though he plays, with no obvious position or stand-out skill. If he was a bit more tempered, a bit more capable of playing point guard, and much better defensively, Terrell could perhaps be a microwave-type combo guard somewhere. But as it is, he is just unreliable.
Hancock is
determined to make the NBA
. He was an excellent collegiate role player who did multiple things on successful teams, who does a bit of everything.
Offensively, specifically as a scorer, Hancock mostly takes threes. He takes quite a lot of them, availed by the talent around him and Louisville's fast pace, casting up 5.5 per game in only 23 minutes. He also however only hit 34.5% of them, down from 39% as a junior, and much more in keeping with the numbers he shot on much lower usage with George Mason. The 39% is the outlier, not the 34.5% - Hancock, then, is a good but not great shooter. He however did pick up his percentages throughout the year, finishing the season well after being down to 24% on threes at one point while struggling with the adjustment to a new shooting technique, a technique that when honed will give him a quicker release with more arc, so there is potential for the uptick to sustain, even if the 34.5% suggests not.
Elsewhere on offense, Hancock is an excellent passer, a very willing and a good entry passer who betters any offense he is in with heady, high IQ play. He is a crafty occasional right-side-heavy driver with a solid handle, endlessly throwing fakes that always seem to get bites, an efficient offensive player despite his near-40% three point shooting because of his high numbers of threes and foul shots. Without being all that explosive, Hancock can occasionally get up and is deceptively quick, and attacks the contact, even if he cannot finish through it. And defensively he plays well within the team concept and plays with effort, committing far too many fouls but not giving away anything for free.
The NBA is still a big ask, as there is no one stand out skill. But
Garrett Temple
and
Antonio Anderson
made similar skill sets work. And they couldn't shoot at all.
Earnest Ross suddenly remembering how much he enjoyed the Lego movie.
Ross was one of the few genuine talents on a decimated Auburn team, but transferred last year to spend his senior season with a different kind of Tiger. In Missouri, however, he was symptomatic of the problems that led to a mere NIT season.
Very strong, with good height, a good frame, some muscle and some athleticism, Ross has all the physical tools to be a quality slashing two guard. And indeed, he can be. As long as he gets to take the first power dribble to his right hand side, Ross could get past any collegiate wing defender. And once he gets into the paint and around the basket, his strength becomes a virtue. It's not polished, more sort of bullish, and he can lose the handle on the ball, but Ross can barrel in and finish through contact, an effective and decently efficient finisher with his right hand. He utilises the occasional hesitation dribble, and, when so minded, can get to where he wants in the paint.
However, I am saying he 'can' do this, rather than he 'does' do this, because the simple most identifying feature of Ross's game is his excessive love for his jump shot. Ross takes way too many three point shots for a 31% three point shooter, to the point that it is predictable and highly frustrating, and yet no matter how predictable it is, he does not change. If he catches on the perimeter, his first and second intents are to shoot off of said catch, not even doing all that much to create space for the shot or use it as a decoy. Ross has physical tools and talent but just does not make the right decisions with it all.
It is easy for him to get into the paint when he wants to, but Ross just doesn't want to, and it is not a trend that shows any sign of ending. You cannot even say that the jumper is a necessary thing to take in order to set up the drives, because the jumper wildly outnumbers the drives, and as a defensive unit, you're pretty OK with him taking them that way around. Ross at least improved defensively during his career, improving his awareness and reads to an average level after playing with a similarly devil-may-style earlier in his career. He also rebounds well for a wing, using that same size and strength on the glass as he occasionally does on offense. The offense, however, suffers from the same flaw it always has done.
Some players need to learn to shoot. Ross needs to learn not to. At the very least, man, add a foul line pull-up.
"D'oh!"
Not handling the ball much alongside the potent dual ball-dominant offensive threats of
Devon Saddler
and
Jarvis Threatt
, Usher has nonetheless been quite the scorer for Delaware. The lefty is a very talented shotmaker, from both inside and out.
Usher is overly left hand dominant, and has a high dribble that makes it difficult to change direction. He is largely a straight line driver, does not create in isolation or drive with his feet set, does not look to pass much at all, does not shoot well off the dribble, and takes bad jump shots at times as if unaware of that. Nonetheless, Usher's ability to hit shots should not be understressed. He is a very good finisher with his left hand around the basket, and can hit contested jump shots fairly regularly. His limitations in his offensive game do not prevent him being a quality offensive player.
With good length and speed, and a long first step, Usher gets to the rim off of curls and motion plays, and uses screens well. A good athlete, Usher likes to run and always pushes the ball, able to crash the glass and go coast to coast for a layup. There are the few bad shots along the way, but for the most part, Usher floats around, picks spots, attacks hard, and gets buckets.
Defensively, Usher has had to defend the post often at Delaware, which is ill-suited to his thin frame, and also spends a lot of time chasing around opposing wing shooters. Given a variety of tough assignments, then, Usher does quite well, competing, boxing out, and slapping/deflecting the ball to good effect. He is hardy and competitive, although he does get lost at times.
Having never had a good platform to show off his abilities - Delaware was the best team the much-travelled Usher has played on, and he spent only one tourney-less season there - Usher might have to start at lower standard European leagues and work his way up. But there is talent to be found here.
Maybe so, but what's he done lately?
Famously, Bader set the record this year for the most made three pointers in NCAA history. He did this partly on account of taking about 336 of them every game, yet he also did so legitimately (as opposed to Marshall Hendersonly).
Bader is a very good shooter with a quick release, plenty of action off of screens, and the ability to go straight up, quickly. He is of course conscienceless from three, willing to take any look he is given, yet he does not take poor ones often, always willing until he has a little bit of space. And he only needs a little bit of space. Bader is a very hardy sole, playing almost every minutes of every game, and is in constant motion in that time, trying to get free. Should he not get entirely free, he can hit when contested, and can shoot off the move with a decent change of speed. Bader is not entirely limited to the three, either - he can step in for a two, step back for a tough two, and very occasionally barrel into the trees off a curl if the defense overplays for the jump shot.
Scoring, though, is all Bader does. He does not rebound, he rarely handles, and as much as he tries on defense, he is not big or fast and has no great gifts with his hands. He only gets to the line the decent amount that he does because he is the team's designated foul shooter, so even the ridiculously good free throw percentage does not add much value as he rarely takes then. He looks to have little passing vision, and is not . He is in only to score, and even that is almost always a jump shot. Said jump shots come around screens and off catches, not off the bounce, and he is only as good as the looks he is given. If they are not there, nor is he. Bader, then, is very very one dimensional. He's not
Ethan Wragge
out there, yet there's not as much in it as you might hope. And Wragge is at least bigger.
Is it enough to get to the next level anyway? Yes, possibly. But this is not a
Kyle Korver
level of shooter right here. Not yet, at least.
Probably a layup, but I would prefer it if this was instead the world's most casual rebounding technique.
Playing alongside his namesake
Andre
at Minnesota, Lionel's son had to shoulder more of an offensive burden as a senior than perhaps best suited him. The Golden Gophers were suitably short of offense that Hollins's 12.4 points per game actually led the team, yet being a leading scorer is not what Hollins is good at. Hollins does not create like a primary offensive creator, nor does he have the tools for being so. He has neither the explosive foot speed, nor the intricate handle, nor the jumpshot to be so. What he is is a solid combo guard and role player.
Hollins is a good athlete with a long wingspan who is fairly consistent in his production and effort, but who lacks stand-out offensive skill. He can hit a few three pointers, but without the greatest natural rhythm or a high volume of looks, Hollins's jumpshot is only an occasional weapon, one shot better off the catch than off the dribble. Despite his decent wingspan and athleticism, Hollins is not much of a slasher, favouring the jump shot and never proving consistently able to get to the rim when defended man to man.
However, the fact that Hollins was never a go-to player should not discredit the value he brought as a role player. With decent tools, timely scoring, good extra passing, unselfishness and enough of a shot to be a threat, Hollins had subtle but key benefits to the Golden Gopher's offense, and was also a decent and consistent defensive player, despite often having to defend wings much bigger than he. Hollins led the team to an NIT championship, the best all-around player on the team who always took on the challenge, even when he was ill-suited for it.
To make the higher levels of the European game, Hollins will have to improve some facet of his game so that it is a discernable strength, something on which he can hang his hat. That facet will likely be the shot. If he can up his percentages and also add more shooting outside of just catching and raising up, he could be a role player at a high standard of professional basketball.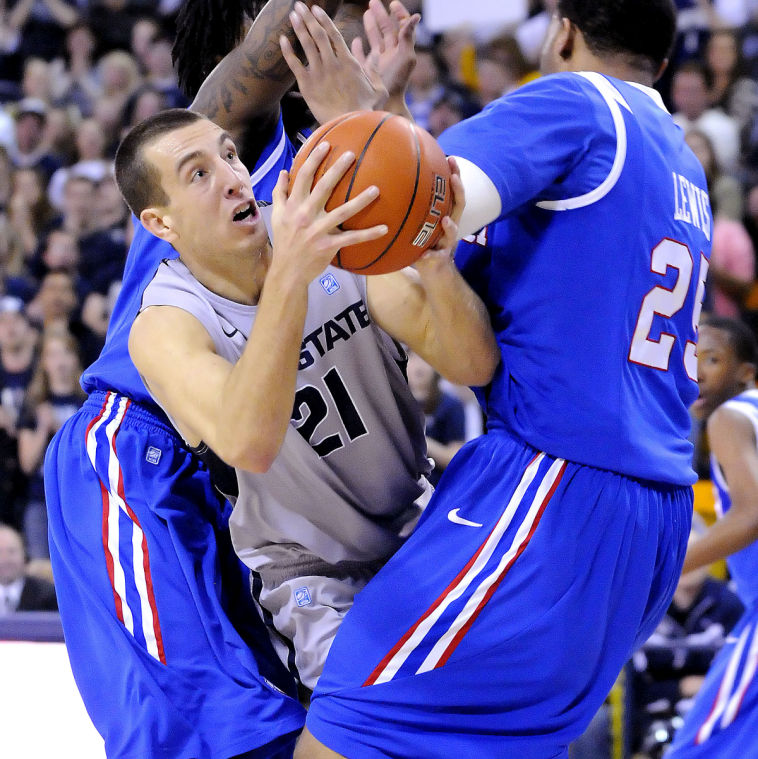 Finding the seams of the defense.
Playing alongside
Preston Medlin
in a backcourt shooting duo prone to occasional extreme bursts of points, Butterfield was an unconventional but highly effective role player.
Rarely called upon to create, Butterfield plays very hard and has an uncanny knack for being in the right place, as evidenced by his rebounding numbers, thoroughly remarkable from an unathletic 6'3 shooting guard. Without being much of a slasher or creator, Butterfield is a high IQ player who creates for his team through good passing vision and unselfishness, plus the occasional bit of pick and roll action. He moves the ball around, never stopping it, plus he feeds the interior well and cuts off the ball for looks, also using screens effectively when coming off them for jump shots. Dribble drives are very rare and he is not the best ball handler - he played at off-guard for a reason. Nevertheless, toughness and a jump shot can cure a lot of ills.
Small and grounded, in a point guard's body without having shown he is all that capable of playing the point, Butterfield's options for professional play are a bit limited by the physical tools alone. However, efficiency, toughness, IQ and coachability are highly marketable skills. May I recommend Holland? It worked for
Zack Novak
.
Closest David Brown comes to being Tim Duncan.
Brown teamed up with
Shayne Whittington
to be pretty much the entirety of the Western Michigan offense. Whittington took care of the post and mid range areas, while Brown took care of the three point and foul lines. Brown takes a huge amount of both of those, taking 7.5 threes per game (24th in the nation) and 7.8 free throws per game (27th), and because of these, his 41% field goal shooting belies his 57% true shooting percentage.
Essentially playing like a possibly smaller (the measurements seen generous) and definitely less athletic
Ben Gordon
, Brown wants to shoot every time down. The team's situation rather necessitated that he did, and his shot selection was not as egregious as the three point percentage might make it look - instead, Brown was the focal point of the offense, tough and aggressive, and the closest thing the team had to backcourt creativity. He is a bit streaky and turns the ball over a lot for a man who does not create for others, but he is also unafraid and can win games on the offensive end. In addition to the catch-and-shoot three, Brown can shoot pull-ups and jumpers off of curls, and also get to the rim off of said curls. He drives to the rim in isolation and off closeouts, and takes it into the shotblockers, despite his size disadvantage. He can also be seen to post up to a fallaway on occasion. On defense, Brown gives forth good effort and tries to use his strong upper body to bump cutters
Brown has a bit of an injury history which counts against him, and he is not the most all-around skilled player. If in the game, he is in to score, a philosophy with the aforementioned drawbacks and weaknesses. But being so aggressive and persistent counts for a lot, as does someone capable of getting points in bunches like this. He is applying for a sixth season of eligibility, which, if he gets it, makes all this irrelevant. Yet if he gets it, with no Whittington in the fold, Brown will return having to shoulder an even bigger offensive burden.
There's a lot going on here.
In the three years prior to this, Giffey was billed as a shooter, and played as a shooter, without being all that consistent of one. From game to game, from half to half, from minute to minute, he was highly inconsistent, and it affected his confidence to the point he became a chronic overpasser. A shooter who wouldn't shoot. An er.
This year, though, Giffey got all his confidence back and then some. His three point percentage that had oscillated from 32% as a freshman, 42% as a sophomore down to a mere 29% as a junior shot right up to 48.3%, amongst the nation's leaders, and on a much higher volume of attempts. Attempting only slightly over one three pointer every twenty minutes of action last season, Giffey's new found confidence more than doubled that ratio - suddenly a very awkward and frustrating player became a frighteningly efficient knock-down shooter.
That is about it for Giffey's offensive game. He almost never handles the ball, either catching to shoot or catching it to move it on. Very rarely he will turn in for a right handed floater in the lane, but it is very rare. For the most part, Giffey catches and shoots. He is a lot better at this than he was catching and not shooting. Giffey has also much improved at knowing how to get open for looks, his movement off the ball much improved to include baseline weaves, double backs, and the like. Defensively, Giffey has good size for the wing positions, and plays tough. He is not hugely fast, but he plays hard and anticipates well, somewhat exposable in isolation situations but not through a lack of trying.
If you want a three and D player, then, here is a three and D player. However, the NBA requires a higher standard of athleticism, and a higher volume of scoring, in its three and D specialists. So Europe it is. Giffey is a logical fit back in his homeland of Germany, and he is plenty good enough for the Bundesliga. It seems like a logical unison.
Very small ears.
Jackson bore a big responsibility on both ends for Southern Illinois, particularly offensively. On a team with little ability to create offense or make shots that averaged only 66.9 points per game, it was Jackson's responsibility, as the best athlete, best player, stand-out talent and only future pro on the team, to shoulder a lot of the burden.
This was not something well suited to his skillset. Jackson is not a primary offensive creator - or should not be, at least - and his turnovers are evident of his limitations in this regard. Firstly, and clearly, Jackson lacks for three point range. He can make just enough that it is not a complete anomaly, and is slightly better when shooting jumpshots from two point range, yet as a man who profiles otherwise quite well as a driver, he needs the jumpshot to open up this game, and it does not. He cannot create separation on his jumpshots, does not jump especially high on them, shoots them with quite a slow release, and yet takes them anyway.
Jackson does at least intersperse this with a slashing game, displaying good nuances of body control and fakes with little pivot moves, fakes, jinks and the like, alongside a nice floater. He is not the biggest or most athletic player that can just power through or rise over defense (which says a lot about the rest of the team if he was still the best athlete), and gets by more on aggressiveness than the tightness of his handle, but he can snake past opponents and get up to finish explosively when given a running start. Jackson further has a good change of speed, all of which is what sees him score and get to the line at a good rate, and occasionally demonstrates some passing vision. The knock on him often, however, is a tendency to be selfish offensively. Jackson tries to do too much, does not seem to trust his team mates, and goes for home run plays when he ought not, stops the ball around the perimeter and is all too reluctant to give it up when within or vaguely near the arc. He improved on this a tad as a senior, yet it is a question that still needs to be answered. So is his effort off the ball.
His effort and effectiveness on defense are more clear, as are his strengths and weaknesses. This is the better end of the court for Jackson. With long, skinny arms, Jackson is disruptive in the passing lanes with his reach and (normally) his energy, a combination of length, quickness and anticipation that sees him be a disruptive presence on the opponent's offense. The idea that steals do not automatically equate to defense has long been dealt with, yet it is now so automatically rejected that it has become absurd, and all steals numbers are ignored outright. Steals can still be a sign of good defense, and for Jackson, they are. He is a better off-the-ball defender than he is on it - skinny, and liable to give up if beaten, Jackson's instincts off the ball are better than his footwork fundamentals on it. Every now and then, he can also be caught coasting. Regardless of this, though, Jackson draws the toughest matchups, and will also fight to do his share on the defensive rebounding glass.
All of Jackson's offensive problems, much like those of the team, could have been alleviated somewhat by having a quality point guard on the team. Jackson was brought in to the The Man, but he has not a The Man's game, which rather set him up to fail on offense. A point guard who could get him the ball in better positions off of cuts and run the break more regularly (an area Jackson does well in), who could find him for open spot-ups, and who would give him the ball in good situations often enough that he would feel more likely to give it back, could have helped wonders. Nonetheless, he has at least proven his defensive effectiveness.
Modern era Morris dancing.
Mondy is known for achieving the unlikely and unique feat of leading three different conferences in steals. He led the Big East when with Providence as a sophomore, transferred to Oakland and led the Summit League in 2012-13 (leading the nation at the same time), and then led the Horizon League this year after the Golden Grizzlies moved there (ranking second in the nation behind only
Briante Weber
of VCU with 3.5). He is a deflections machine on defense with well timed gambles and pretty good discipline, as well as an uncanny knack for cleaning ripping the ball out of an opponent's hands in a way just not often seen. Steals can be a misleading stat, as is well known, but Mondy's defense at both guard positions is disciplined, timely, consistent and effective. He also boxes out on the glass and rebounds in traffic with a toughness not often seen in the guard positions.
None of those adjectives really fits his offense, though. In all facets of his offense, Mondy's main problem is his own decision making. He wants to be a versatile, dynamic offensive starlet, and plays accordingly, yet he is not. The lesson, though, has not yet been learnt.
There are quite a few things Mondy can do on offense, but not as many as he seeks. He scores and racks up assists, and is an occasional point guard, but for the most part he is a secondary ball handler who struggles to play off the ball. Mondy's scoring inefficiency is born out of two key problems - a mediocre jumpshot and an excessive reliance upon it. Mondy
can
make a pull-up two point jumpshot, but tries much too often to do so, much preferring this than taking the extra couple of dribbles and getting to the basket or the line. He can spot up to shoot, but with shooting form that seems to involve taking the ball quite a long way back behind his head, he sometimes struggles for consistency. He arguably should spot up more - he is fairly good at it, and it is still a more efficient to be doing than dribbling unnecessarily into a pull-up, but such is a part of the Duke Mondy experience. There are ill-advised threes with a hand in the face, quick shots, too much ball stopping, too many isolations, and too many isolations that end in jump shots.
When he does drive, Mondy utilises a spin move and good body control to find seams. He finishes around the basket well even when taking contact, with a good understanding of the angles of the backboard, and even posts up on occasion. But he just doesn't this sort of thing it enough. He wants to be a shooter. But specifically, he wants to be a shooter off the dribble. Mondy does not do the work off the ball and around screens that a shooter ought do, and while this is in part due to pairing alongside
Travis Bader
(who gets all that action instead), it does not mean Mondy need loaf about without the ball. The same Travis Bader is also responsible for Mondy's rather flattering assist numbers - Mondy has enough of a handle when playing point guard, but if it is not an option play for hitting Bader off a screen, Mondy will instead look to score, limited is he in pick-and-roll and penetrate-and-kick action. And then in any crunch time situation, Mondy will always back himself to make the home run play. He gets a point for being fearless and aggressive, and gets another point for occasionally making said home run plays, but loses three points for all the ones he doesn't. Work the total out there yourself.
Letting Mondy make these offensive mistakes seems to be the trade-off for his defense. But as much as Duke Mondy plays as though the team should live and die with him, is that really a good idea? Mondy needs to decommit himself from so much self-assigned offensive responsibility and play to his strengths. If he can accept not being a star, he could be one hell of a role player somewhere. If not, he'll be a less athletic and smaller
Larry Hughes
.