Jeff Brooks
Brooks has improved year on year and now finds himself playing a decent role for one of the best teams in a strong league. Playing for Cantu in Italy's SerieA, Brooks averaged 7.8 points and 4.8 rebounds per game as one of the few non-shooters on a perimeter oriented team. His tremendous athleticism is a mismatch, particularly against the slower European forwards. When plugged in, Brooks can defend interior and perimeter forwards, take the slower ones off the dribble with a decent handle, fly out in transition and hit open mid range jumpshots.
William Buford
Buford's first professional season was not a good one. He was able to land a spot in Spain's ACB, very rare for an American rookie, but in 31 games for Obradoiro, Buford averaged only 3.5 points and 1.5 rebounds per game. He scored 108 points on 136 shots, shooting 34% from two and 25% from three, in what was frankly a nothing year for him. Perhaps this summer league stint can be a springboard from which to restart his career.

Trey Burke
Utah have been searching very, very proactively for a point guard, a "proper" one of some calibre, since
Deron Williams
left. Figured that search would culminate with someone like
Jose Calderon
or
Andre Miller
. Trumped that and then some.
Alec Burks
Burks stagnated a bit as a sophomore, although the signs of improved range are positive. The arrival of Burke should facilitate his offense from now on and improve his efficiency, and the apparent commitment to the youth movement means he shouldn't lack for opportunity from here on out. You can't commit to a youth movement if you're DNP-CDing your lottery picks.
Dionte Christmas
After (and because of) his summer league performance last year, Christmas signed a contract with the Celtics that had a 50% guarantee in year one. Nevertheless, he was waived anyway. He then signed with the powerhouse CSKA Moscow, struggled somewhat (though did shoot 56% from three in Euroleague play), left partway through the season and joined fellow Italian powerhouse Montepaschi Siena for the final two months. Christmas played nine games with Siena and had chronological scoring outputs of 2, 7, 5, 30 (in 27 minutes on 13 shots), 2, 0, 0, 0 and 0. Make of that what you will.
Jeremy Evans
Evans, the model by which all springy thin 6'9 power forwards are compared and ought aspire to, needs minutes. The man with a career PER of 19.3 played only 38 games last year in Utah's stacked frontcourt. And while it's true that he's still very limited in terms of his skill set, thus perhaps destined only ever to be a limited minutes player unless he has an
Amir Johnson
-like development in his future, Evans is so effective at what he does that he simply has to be played anyway.
Tony Gaffney
Gaffney hasn't played in the NBA for three years, but continues to get these looks. He spent last year with Joventut Badalona in Spain, averaging 11.5 points, 5.9 rebounds, 1.6 steals and 1.3 blocks per game. Gaffney could play in the NBA in a role similar to Evans (though certainly not identical, given that very few do what Evans does), but it'd help his cause considerably to put away the jumpshot, or at least be more selective with it. In trying to prove he could hit the outside shot last season, Gaffney only proved that he couldn't, hitting 25% of his threes on more than three attempts per game.
Rudy Gobert
Much is made of Gobert's physical profile, as well it should be, because it's immense. Standing 7'2 with a 7'8 wingspan and a 9'7 standing reach, Gobert can almost dunk without jumping, and could indeed jump without dunking if the basket support was broken and sagged slightly to a height of about 9'5. Compare this to, say,
Malik Allen
, who has a standing reach of only 9'1, and it's readily apparent and indisputably true that Gobert is taller than Malik Allen. So, there's that. Of course, he is also too thin and frail, and seems as though he always will be. And skill wise, he's mostly limited to catching, finishing, and getting in the way (which is both a skill and a curse). Nevertheless, those things all translate. The upside might be that of
Andris Biedrins
. Or
Alexis Ajinca
. We'll know in three years.
Drew Gordon
Gordon played with the Mavericks in summer league last year, and did fairly well, later converting his performances into a contract with Partizan Belgrade. He played fairly well and fairly consistently, averaging 9 points and 7 rebounds in both Adriatic and Euroleague play, but left late in the season to join Italian side Sassari, averaging 11.6 points and 7.1 rebounds down the final 11 games of their season. Gordon will rebound at a fine rate for whoever he plays for, that much we know, and it's a very translatable skill. But as he's slightly undersized, without elite athleticism, without being a rim protector, without the offensive effiency or mobility of someone like
Greg Smith
, and without a jumpshot as good as he clearly intends to have, his odds are long.
Rodney Green
Green, a combo guard with shooting guard size, played mostly off the ball this past season for Italian LegaDue side Casale. He did so because the previously profiled Casper Ware
(here)
had the ball in his hands the vast majority of the time. Green, then, played often off the ball, and did so well for a man who still doesn't shoot particularly well. He averaged 18.2 points, 4.1 rebounds and 2.0 steals in 32 minutes per game, shooting 48% from the field and 34% from three. Three turnovers per game and mediocre range notwithstanding, Green is probably best in this off-ball role - as fun as his post-ups from 30 feet away are, they are born out of necessity from having an exposable handle. Green's athleticism and slashing game translate, but without a three point shot, they'll be overlooked.
Rick Jackson
Jackson came back from Europe to spend last year in the D-League, putting up 10.8 points and 9.9 rebounds per game in only 25 mpg for the Austin Toros. The per-minute rebounding accords with what we know - Jackson gets boards, and always has done. The offense is still limited, greatly hindered by the 44% free throw shooting that makes him a liability; however, this one big flaw excepted, Jackson is solid.
Delroy James
James spent last year in LegaDue with Ferentino, and averaged 16.2 points, 6.1 rebounds, 2.1 assists, 2.3 steals and 1.1 blocks per game. He was the MVP of the All-Star game and a dominating defensive presence. James has the size and athleticism to be a similarly effective defensive presence at a higher standard of the game; he's not demonstrated the discipline needed to be a lock-down defender, but, when truly plugged in, he can win possessions, both when freeroaming and on the glass. Offensively, James can get open without the ball, put the ball on the floor and utilise a spin move he probably shouldn't utilise as often as he does, although he is a sub-par shooter and rather unrefined ballhandler. As ever, to make the big league, he'd need to satisfy the "three" part of the three-and-D stereotype in a way that doesn't look feasible any time soon.
Rašid Mahalbašić
Mahalbasic went undrafted in 2012, partly due to having barely played outside of junior international tournaments. But last season, he finally got to play, and he played well. He averaged 9.1 points and 6.8 rebounds for Asseco Prokom in Euroleague play, very solid from a rookie, and shot 58% from the field. Mahalbasic is an inside player who only leaves the post area if he's running the pick and roll, screening, or taking an occasional midrange jumpshot, and he has footwork and touch on the interior. He's smart, skilled and poised, despite his relative lack of experience. But at a relatively unathletic and slender 6'9, he doesn't project to defend neither the interior nor the perimeter well at this level.
James Mays
Mays continues to want to join the NBA and turned away from his international career to take D-League paychecks last season. He started with the Springfield Armor (16.4ppg, 10.6rpg), went to the Maine Red Claws (12.4ppg, 9.6 rpg) and finished with the Sioux Falls Skyforce (14.4 ppg, 9.2 rpg). Mays is an athletic 6'9 and who impacts the game accordingly, but his shot-making and decision making skills have not progressed in his professional career, and his potential is burning out.
Amath M`Baye
M'Baye's incredibly ambitious declaration for the draft didn't really work out, in the sense that he wasn't drafted, although it does mean he can begin earning professional basketball paychecks sooner. And earn paychecks, he will. Last year for Oklahoma, M'Baye averaged 10.1 points, 5.3 rebounds and 0.8 blocks per game, hitting some jumpers, defending some forwards, grabbing boards, whilst hardly handling or playmaking. Yet there was no one determinable calling card. A solid college player whose lure is his physical profile, M'Baye will be in the pro game for several years, but this is likely the closest he'll get to the bigs.
To be fair, his career trajectory right now rathers mirrors that of the aforementioned Jeff Brooks. And yet it has worked out for Jeff. But not in the NBA.
Jerel McNeal
The Jazz actually used part of their MLE late last season to sign McNeal to a contract through 2015. They might as well - it was due to expire anyway, and none of that money is actually guaranteed. McNeal has sniffed the fringes and had a couple of tasters in the NBA on account of his strong all-around game. From three pointers to perimeter defense, and everythng in between, McNeal does a bit of everything, scoring with and without the ball, driving to both score and pass, and maintaining good energy. But undersized for a two, definitely not a full time one, and lacking any elite dynamicism, keeps him only on the outskirts.
Kevin Murphy
Murphy is surely not going to play for Utah here, given that he's due to be dealt to Golden State as a part of the
Andris Biedrins
/
Richard Jefferson
salary dump.
Chris Roberts
Roberts has developed nicely in this three D-League seasons, making the Defensive Third Team this season whilst also pouring in 14.4 points, 4.2 rebounds and 2.3 assists. Very athletic, he conceivably would have a chance of making it in the NBA under that oft-cited "three and D" banner if he could up the "three" part of that from his usual low 30's percentage. Unfortunately, dynamic though he be, it's not enough without this. He is in much the same situation - and, save for the pseudo-point guard skills, much the same player - as the aforementioned Rodney Green. Both likely fall short.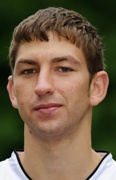 Michael Stockton
In unashamed nepotism, here's John's son. For the second year.
Michael's style of play is predictable and readily describable - it's like daddy's. He's the table setter, the point guard, the shooter and the pick-and-roller. Last year, for Karlsruhe in Germany's ProA, Stockton averaged 13.8 points, 3.9 rebounds and 3.5 assists - the last of these three can be timesed by 150%, in accordance with the usual Europe/NBA assist conversation ratio. Those are good numbers. But the ProA is the second tier of German basketball. The Bundesliga is a very different standard.