In lieu of having any NBA transactions to talk about, we'll look at the world at large instead.
Of all the players to have finished last season on an NBA roster, six have already signed abroad. One of the first to go was
Mustaka Shakur
, who started the year with the
New Orleans Hornets
and ended it with the
Washington Wizards
. For whatever reason, the Wizards did not offer him a qualifying offer, seemingly moving on from Shakur's prolonged tryout. He thus moved to France to sign with Pau Orthez, the fallen giant who continue to rebuild.
Also signing in France was
Hilton Armstrong
, a somewhat forgettable inclusion in the
Kirk Hinrich
trade whose NBA days might now be numbered. In five years of trying, Armstrong has never demonstrated much NBA talent outside of having a long neck; given that he spent much of those five years in the New Orleans Hornets rotation, he can't lament not being given an opportunity.
When he signed with the Wizards,
Armstrong said he wanted to be a starter
. He may now be one, but it'll be in France.
(ASVEL have a strong youth regime that often churns out good prospects. Bangaly Fofana, whose starting spot Armstrong looks likely to take, was
a draft-and-stash prospect
in the most recent draft, albeit a faint one, and Edwin Jackson is a solid candidate for next year's one. But if Jackson is a legitimate draft candidate, or if Fofana had been picked 59th this year instead of
Adam Hanga
, isn't it a conflict of interest for them to be taken by the Spurs? After all,
Tony Parker
is the Spurs's starting point guard, and also ASVEL's Vice President of Basketball Operations with a 20% shareholding. Even if it is done with the very best of intentions, isn't it an automatic violation if a player goes from one of his teams to the other? Someone must have an answer for this, but I see no precedent. Anyway, this does not apply to Hilton Armstrong.)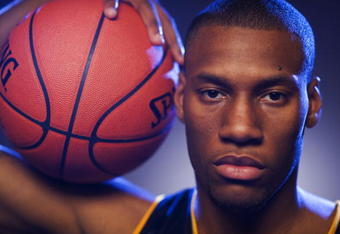 Sonny Weems. Or Joey Graham. Or Stephen Graham. It's definitely one of the three.
The oft-reported story is that
Sonny Weems
, currently a restricted free agent of the
Raptors
, will sign with a European team next season. However, nowhere has anyone actually reported which one it is yet. One transaction that has definitely been finalised, though, is
Dajuan Summers's
move to Montepaschi Siena. The death knell for Summers's
Pistons
career was the recent drafting of
Kyle Singler
; like Shakur, Summer did not receive a qualifying offer this summer, for doing so would have meant offering guaranteed money to a 14th man who had made no discernible progress in two seasons. [Qualifying offers are guaranteed for the same percentage as the previous season's salary, and Summers's 2010/11 contract was 65.6% guaranteed. Thus, his qualifying offer would have been, too.]
Summers is assumed to replace
Malik Hairston
, who is widely speculated to be leaving Montepaschi Siena and joining fellow Italian team AJ Milano. Whether Hairston wants to leave Siena, or Siena wants Hairston to leave, is unclear. Whichever it is, it does not make sense - Siena is one of Europe's very best, emphatically Italy's very best, and Hairston was a versatile and productive player for them. He won't get anything better, and they'll be bloody lucky to. Nevertheless, Summers's arrival rather predicates Malik's departure. Montepaschi are also reported to have agreed to terms with
David Andersen
, although no move has been finalised, for Andersen is - or was, pre-lockout - still under contract with New Orleans. His contract is largely unguaranteed and he will inevitably be cut, but it hasn't happened yet. [Siena were previously close to signing Boston College's Joe Trapani, but he will now instead sign with Casale Monferrato. They also re-signed
Bo McCalebb
to a three year contract, further increasing the likelihood that Bo will never play in the NBA. Which seems silly.]
In addition to Trapani, some of the other more high profile undrafted NCAA players are finding homes. Florida's
Alex Tyus
has done what many rookies do, and gone to Israel, signing with Maccabi Ashdod; furthermore, Jonathan Givony tweets that Tyus's transfer comes with the added bonus of
a conversion to Judaism
and a
subsequent Israeli passport.
(Shalom.) VCU's
Jamie Skeen
will join Hilton Armstrong at ASVEL Villerbanne, which, if their wild card bid is accepted, will mean Euroleague action in his rookie season.
Ben Hansbrough
joined German side Bayern Munich, a team with great ambition that threw money at quality players last season in a successful bid to win promotion to the Bundesliga. Pittsburgh's
Gilbert Brown
joined him there, joining the other recently promoted club, Wuerzburg. The oft-overlooked Macedonian league made some moves, as last year's runners-up MZK Skopje landed both Oklahoma's
Cade Davis
and
Wofford's Noah Dahlman
.
Dogus Balbay
did the inevitable and returned to Turkey, joining Anadolu Efes Istanbul, the team formerly known as Efes Pilsen (forced to rename due to new Turkish government legislation about alcohol sponsorship).
Antonio Pena
, formerly of Villanova, quickly hooked on in the Dominican Republic and signed with Metros de Santiago in the LNB, whose season begins next week.
Tai Wesley
of Utah State moved to EiffelTowers Den Bosch, who play in Holland, despite the name. And Virginia Tech's
Malcolm Delaney
moved to actual France, hooking on with Chalon.
Nothing from
David Lighty
yet, though.
David Lighty, airballing a nose pick.
Two Euroleague mainstays are undergoing great upheaval.
After eight consecutive final fours, CSKA Moscow's age caught up with them last season, and they underperformed wildly. They just about held on to win the inaugural season of the new Russian PBL, but an early Euroleague exit was, by their own standards, underwhelming. With that in mind, there's been much roster turnover, albeit not all of it intended.

The backcourt of Trajan Langdon and J.R. Holden and their combined 15 years with the team came to an end, as both announced their retirement - Holden also declined to play for the Russian national team this summer, leaving the team in a bind. CSKA replaced them by bringing back national team starting point guard Anton Ponkrashov, who spent last season with Spartak St. Petersburg averaging 11.4 points and 4.4 assists per game, and who exercised a buyout clause to return to the team who spent four years developing him in the first place. They also brought in former Pistons draft pick Sammy Mejia from Cholet in France - where he's been one of the best players these past two seasons, averaging 18.0ppg last year - and released midseason reinforcement Sani Becirovic (who ultimately played only six minutes for the team). In more backcourt makover action, CSKA also released the underwhelming Sergey Bykov (who doesn't help without the ball in his hands, and who wasn't good enough to have it), brought in national team defensive specialist Eugeny Voronov from cross-town rivals Dynamo Moscow (bankrupted and forcefully relegated this summer), and re-signed Ramuntas Siskausas for another two years, thereby giving CSKA the world's biggest backcourt since the days when LeBron James played point guard alongside Ricky Davis and Darius Miles. 6'7 Ponkrashov, 6'6 Siskauskas, 6'7 Mejia. Add some lashings of the 6'4 Voronov, some 6'5 Alexey Shved action, and possibly some 6'9 Viktor Khryapa at small forward, and you're looking at real size.

CSKA's retooling also extended into the frontcourt. The aging Matjaz Smodis, whose career has been undercut by injuries, was released after six years with the team; replacing him is Nenad Krstic, the sixth 2011 NBA player to have crossed the Atlantic thus far this offseason. [This number isn't any bigger than it is in any year. It's just foregrounded this time around, for obvious reasons. It's also all happening somewhat quicker, due to the lack of summer league.] They also brought in Darjus Lavrinovic, who joins from Fenerbahce and who moves onto his fifth team in five seasons, a veteran of Russian play after time with both Unics Kazan and Dynamo Moscow, and let one time prospect Boban Marjanovic - who had spent half of last season on loan to Zalgiris - move to Nizhny Novgorod. (Zalgiris wanted to keep him, but deemed him to be too expensive.) With Milos Teodosic supposedly on the way, and Sasha Kaun seemingly safe from signing with the Cavaliers considering the lockout situation, CSKA have rebuilt and improved their team, and it's not even the second week of July yet.
Giannis Bourousis, getting slightly closer than Lighty.
On the flip side, it's all going horribly wrong for Olympiakos. It's going wrong for Greek basketball in general, and indeed for the whole of Greece, but it's going particularly wrong for Olympiakos.
The wealthy Angelopoulos brothers, whose magnanimity and free-spending is what has built such a powerhouse team in the first place, have left the team. And they've let it with financial problems. The European business model for basketball teams is largely sponsorship-based - which is why teams are normally named after companies and/or their stuff, rather than animals, musical genres or weather phenomenon - and yet with the wider economic problems in Greece, no one has this sponsorship money to burn any more.
Pretty much every Greek team owes money
, and Olympiakos are no exception; they spend big, and always have, and have had many a contract dispute in recent years when they feel they're not getting sufficient return for their money. But now, they have no Angelopoulos brothers to foot the bill. They need a hugely rich benefactor to run the club as a play-thing. But Greece is fresh out of those. They now face the problems Manchester City will face when Sheikh Mansour gets bored - huge liabilities, and not nearly enough revenue to cover them.
As a result, it seems to be nobody in, everybody out. Teodosic is set to leave. Offers abound for
Vassilis Spanoulis
.
The Pelican
looks as though he's on his way to Montegranaro.
Jamon Gordon
has already gone, signing with an ambitious Galatasaray team that also brought in
Jaka Lakovic
from Barcelona. And one of the biggest scalps of all has been
Ioannis/Giannis Bourousis
, who has left the club under acrimonious circumstances. Bourousis has become entangled in an alleged doping scandal, itself an unintended but intriguing off-shoot of a wider investigation by Greek police into match-fixing. In a conversation with Kavala FC owner Makis Psomiades, a key figure of the investigation, Bourousis is heard to call the Angelopoulos brothers "idiots", while also asking Psomiades for "more medicine." The two are indelibly linked, since Bourousis is also dating Psomiades's daughter. (A translated transcript of the conversation, as well as a picture of the unique looking Psomiades, can be found
here
.)
Of course, Panathinaikos have not brought in anybody, either, and
Antonis Fotsis
was a noteworthy departure from that team when he joined AJ Milano. But at least they've still got an owner.
---
Olympiakos's implosion is testament to the fact that the NBA-to-Europe emigration, taken too lightly by many critics and players alike, will not be much more noticeable than usual. There simply is not a lot of money in basketball anywhere at the moment, except for perhaps Turkey and Asia, and there's no teams that can afford the rotation-calibre NBA players who believe (or believed) that they can waltz into top level European gigs. It's not worth it for a player who earns $8 million a year to go to a decent quality European club and earn $250,000, and the number of teams who can offer more than that have already pretty much plugged their caps. As was forewarned
here
, the two markets, both textually and contextually, are just too different. There will not be a mass exodus. There
cannot
be a mass exodus.
The main benefactor may be the D-League. The elite talents won't make it to Europe, but some decent ones will, and for every player that gets a good European gig, one more gets pushed down the ladder. There are more players than there are spots, and whenever somebody gets bumped down one, the sanctity of the D-League beckons, at least until something better comes along later. After all, it worked for
Alan Anderson
.
The other main benefactor may be China, who needn't chance the
Steve Francis
types any more.
Nailed it. Watch and learn, kids.