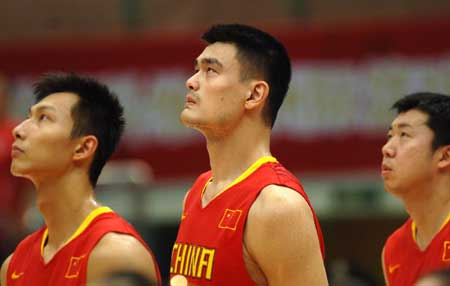 Yi Jianlian, Yao Ming, Wang Zhizhi. Not in picture: Sun Yue. Also not in picture: Benjamin Disraeli.
The Chinese Basketball Association and its compelling protagonists have a particular level of focus on this website, for reasons which, if you don't already know them, are about to become extremely obvious.
Fringe NBA players like playing in China; the exposure isn't huge and the standard isn't great, but the CBA pays very well, and it is unashamed in copying the NBA model of basketball not much imitated around the globe. They've changed their style to match up to the NBA game; games are 48 minutes long (like the NBA, and unlike basically every other league in the world), and there's about three of them a week (unlike most other domestic leagues, which have 1). This teams playing lots of games with less emphasis on practice is a lure to players; after all, as that great philosopher of our time Nate Dogg once said, "playas play on, play on, keep playing on." Words to live by.
(As an aside, did you know Nate Dogg has been
hospitalised for the best part of three years
after a series of strokes? Me neither.)
Each CBA team is allowed to have two import players at any one time, and these players are almost always American. Better still, these players are also almost always players that you've heard of, with a great deal of ex-NBA pedigree on there. Perhaps it is now obvious why the league is attractive.
There follows a selection of Chinese Basketball Association statistics. All statistics and standings taken from March 12th, 2011.
Doing shots with Quincy Douby.
1st place: Xinjiang Flying Tigers (31-1)
James Singleton
- 31 games, 34.2mpg, 21.6 ppg, 9.9 rpg, 1.2 apg, 1.5 spg, 1.4 bpg, 2.3 TOpg, 73% FG, 61% 3PT (19-31), 81% FT
Quincy Douby
- 31 games, 35.2 mpg, 30.8 ppg, 4.2 rpg, 4.8 apg, 3.2 spg, 0.4 bpg, 2.9 TOpg, 55% FG, 39% 3PT, 91% FT
Xinjiang have kept the same two imports all season; leading from the very start and being damn near unbeatable all season, there seemed no incentive for change. Both players could conceivably be in the NBA right now; mentioning no names, there are more than a few players currently in it that are worse than these duo. Douby is second in the league in points, third in steals, and scores his points very efficiently for a perimeter player (although he is cranking up eight three pointers a game). Meanwhile, Singleton is both anchoring the defense on the interior, and scoring at a truly ridiculous level of efficiency that not even
Garret Siler
can rival. Shooting 237-321 from two, 19-31 from three and 140-173 from the line, for a true shooting percentage of .778%, Singleton continues to play the inside/outside game on both ends of the court that got him repeated looks in the NBA. He should probably still be there.
Also featuring on the Xinjiang roster is
coconut wielding homicidal badass
and former NBA big man,
Mengke Bateer
. The now-35 year old is very much on the downside of his career, yet he still has something to give, putting up averages of 10.1 points, 7.8 rebounds and 3.9 assists in 30 minutes per game. The only other significant offensive contributor is 6'3 national team point guard Zhang QingPeng, who averages 12.7 points per game while taking seven and a half threes a contest; the imports, clearly, have driven the team on both ends.
Marcus Haislip leaning on Marcus Haislip's car. Gotta wear more summery colours, you know?
2nd: Guangdong Southern Tigers (25-7)
Fred Jones
- 14 games, 28.2 mpg, 12.5 ppg, 5.7 rpg, 4.6 apg, 1.5 spg, 0.8 bpg, 2.1 TOpg, 29% 3PT, 82% FT
Marcus Haislip
- 14 games, 33.4 mpg, 24.3 ppg, 7.1 rpg, 0.6 apg, 0.4 spg, 1.9 bpg, 1.5 TOpg, 68% FG, 73% 3PT (24-33), 91% FT
Lester Hudson
- 17 games, 30.6 mpg, 21.6 ppg, 9.1 rpg, 4.2 apg, 2.9 spg, 0.6 bpg, 2.4 TOpg, 44% FG, 33% 3PT, 82% FT
Trailing only the Flying Tigers - a much more dangerous animal than the grounded tiger - Guangdong are nonetheless having a pretty terrible season by their own incredible standards. Guangdong have won the last three CBA championships, and six of the last seven, as well as the last 4 regular season championships. So it's an upset to see them only in second place, six games back of the current leaders in the loss column.
Last year's imports were former NBA players,
David Harrison
and
Smush Parker
. The duo stayed for the whole season, providing the kind of stability that is always needed (and that, as seen above, bloody helps). To open this season, Guangdong were set to replace Parker with Harrison's former Pacers team mate, Fred Jones, whilst keeping Harrison as their centre. However, Harrison broke his leg in the preseason, and has not played all season. Guangdong therefore played the first 13 games with Jones as their only import.
Guangdong went 10-3 in those 13 games before bringing in ex-NBA and Euroleague forward Haislip, who has starred offensively both inside and outside with his James Singleton-like efficiency. They were initially going to sign
Ike Diogu
, but the L.A. Clippers beat them to it. Haislip and Jones played only game together before Jones was replaced by Hudson, from whom the Washington Wizards had finally moved on. [Jones has not signed elsewhere since, and, by all accounts, has lost his athleticism.]
As evidenced by the numbers above, Hudson has played well, even going so far as to outrebound Haislip, although this also has a lot to do with Haislip. Guangdong are on a ten game winning streak, most of them blowouts, and are seemingly back to their winning ways. But damage has already been done, and the monopoly is over. It hasn't helped that lifelong Tiger, national team member and regular CBA All-Star forward Zhu FangYu has suffered with a knee injury all season, leaving
Wang ShiPeng
(15.2ppg, 3.7rpg) as the most consistent productive domestic player.
A smiley Josh Akognon.
3rd: DongGuan New Century Leopards (25-7)
Josh Akognon
- 32 games, 31.2 mpg, 28.2 ppg, 3.6 rpg, 2.9 apg, 2.2 spg, 0.2 bpg, 2.6 TOpg, 47% FG, 40% 3PT, 88% FT
Jackson Vroman
- 27 games, 35.2 mpg, 22.6 ppg, 10.6 rpg, 4.9 apg, 2.8 spg, 1.6 bpg, 4.0 TOpg, 56% FG, 15% 3PT, 59% FT
Horace Wormley
- 3 games, 28.0 mpg, 12.7 ppg, 3.3 rpg, 3.3 apg, 1.0 spg, 0.0 bpg, 1.0 TOpg, 53% FG, 36% 3PT, 50% FT
Since falling out of the NBA after only two seasons, Vroman has played in Spain (Gran Canaria & Girona), Lithuania (Lietuvos Rytas) and Iran (Saba Mehr & Mahram), where he played for the best part of two years, winning pretty much everything there was to win. In May 2009, he obtained Lebanese citizenship (somehow), and has been a national team staple since then, despite the occasional threat of replacing him. Vroman, who turns 30 in June, is extremely effective in the paint, which makes his occasional flirtations with the perimeter hard to explain. He's not a centre, he turns it over a lot, and fouls just as much (4.4 fouls per game in this CBA season, although he's fouled out only twice). Yet despite these flaws, the talent and production is undeniable. He's 9th in the league in assists, and he's a power forward. No mean feat.
Akognon has never made it to the NBA, although he's been on the radar. He transferred from Washington State after his sophomore season, and landed at Cal State-Fullerton, where he enjoyed the higher tempo, higher scoring, less halfcourt defensive-mind game. Akognon is a fine shooting with a lightning quick release; that said, he's pretty much only a shooter. He's a 5'11 scorer without a point guard's mindset or abilities, and not much to contribute on defense. But he's also more than capable of exploding on any given night, as evidenced by his seven scoring outputs in the 30's this season, capped by his 44 point season high. He also once scored 37 points in a Big West Tournament game, a game in which the opposition (UC Riverside)
scored only 46 total
. And no matter which way you look at it, 26.3 is a hell of a lot of points to score in only 30 minutes a game.
Vroman got injured at the beginning of this month, and was replaced by Wormely, a 5'6 point guard. This curiously now makes Akognon the 5'11 shooting guard, and the duo combine to form arguably the shortest adult backcourt of all time. Wormley is a former Vanguard (NAIA) graduate and D-League veteran, who averaged 6.9ppg, 2.8rpg and 3.8apg last year in 43 games as a backup for the now-defunct L.A. D-Fenders. This gig in China represents the first gig anywhere in the world for him this season. He is a pass-first pure point guard who hadn't done anything of note before his D-League stint last season. So this gig is great exposure for him.
DongGuan had almost made it this far without any import turnover, a testament to both their production and the team's success. After a disappointing 11th place finish last year and some bad luck with imports, this season has been far better, while national forward and one time Sacramento King
Zhang Kai
has been a good third wheel (14.4 ppg, 9.0 rpg). The obvious question, however, is why DongGuan did not replace Vroman with another big man instead. In the five games Vroman has missed, the team are 3-2, the two losses coming to the two teams now ahead of them.
A slightly less smiley Antoine Wright.
4th: Jiangsu Dragons (19-13)
Ricky "Buckets" Davis
- 9 games, 30.3 mpg, 13.1 ppg, 3.8 rpg, 3.0 apg, 1.3 spg, 0.1 bpg, 1.6 TOpg, 41% FG, 32% 3PT, 86% FT
Antoine Wright
- 21 games, 34.5 mpg, 21.3 ppg, 6.2 rpg, 2.3 apg, 1.4 spg, 0.8 bpg, 2.6 TOpg, 45% FG, 39% 3PT, 73% FT
Jerome Moiso
- 32 games, 31.6 mpg, 15.3 ppg, 11.5 rpg, 1.2 apg, 0.9 spg, 1.8 bpg, 2.2 TOpg, 57% FG, 0% 3PT, 74% FT
Jiangsu opened the season with the two former Celtics, Davis and Moiso. Davis was playing in only the second non-NBA gig of his career; after being cut by the Clippers midway through last season, Davis saw out that season in Turkey with Turk Telekom, then made the rather predictable move to China this summer. Meanwhile, the enigmatic Moiso worked through a tumultuous season last year with Bilbao, being his usual inconsistent self and facing the axe on more than one occasion, before eventually seeing through the whole season. (Just.) His combination of height and athleticism, only ever found in China amongst the imports, sees him pull in the impressive return of more than 1 rebound every 3 minutes. As we'll see later, however, it's good for only 9th in the league.
Davis arrived in China stating his intentions to
win the championship, the MVP, and the scoring title.
He did none of the three, and was released after 9 underwhelming games. In his short time with the team, he also complained about his role on the team and his supposed lack of touches, and moaned about his team mates, as did they about him. The China Buckets Experience did not go well. [Davis has since joined French team Roanne, who were league leaders upon his arrival. He scored 11 points on debut, then went scoreless over 47 minutes in his next two games, followed by back to back 12 point performances. Roanne are now fifth.] He was replaced by Wright, the ex-Raptors and Nets wingman who started the season on a guaranteed contract with the Sacramento Kings, but who didn't make it out of November, due in no small part to
a DUI arrest earlier that month
. Neither Wright or Moiso are exactly noted for their consistent production; in particular, Wright has scored either above 18 or below 7 in every game. But they've been productive, and with one of the best domestic player cores in the CBA - including 6'1 guard Xue Huefeng, who leads the league in steals at 4.1 per game - Jiangsu are the best of the rest.
Mike James's book (obviously)
5th: Zhejiang Cyclones (19-13)
Mike James
- 8 games, 38.8 mpg, 27.9 ppg, 4.8 rpg, 3.5 apg, 2.6 spg, 0.0 bpg, 3.4 TOpg, 47% FG, 35% 3PT, 82% FT
Marcus Williams
(the Spurs/Arizona one) - 23 games, 41.5 mpg, 29.8 ppg, 8.3 rpg, 5.7 apg, 2.5 spg, 0.4 bpg, 3.7 TOpg, 45% FG, 44% 3PT, 84% FT
Josh Boone
- 32 games, 27.5 mpg, 17.0 ppg, 10.5 rpg, 1.1 apg, 1.1 spg, 1.8 bpg, 1.1 TOpg, 62% FG, 0% 3PT, 51% FT
Boone and James signed early, recipients of the new rules for this CBA season that removed salary restrictions on import players and allowed teams to spend as much as they liked on players with good name recognition. It worked rather well for Boone, who has been incredibly productive in his comparatively limited minutes, and who has even managed to reverse the decline in his free throw percentage that he had been on for the previous four seasons. It did not work out as well for James, however; while he was playing well and scoring heavily, the team felt he was not playing a sufficiently team-oriented game, and released him a few weeks into the season to bring back Williams, one of the best players in China last season, if not the very best.
James's scoring numbers, had they been good enough to qualify, would have ranked him seventh in the CBA. His replacement Williams has bested that by placing fourth, as well as tied for second in assists. Williams plays a lot of point guard on the incredibly young Cyclone team, and has been making the transition to that position for the last couple of years. The production outlined above, the best we've seen so far in this post, shows the kind of NBA calibre talent Williams has. He'd probably be there already had he not turned down the Indiana Pacers for no obvious reason.
Rafer Alston is giving you a thumbs up. Well done you.
6th: Zhejiang Lions (18-14)
Javaris Crittenton
- 5 games, 31.6 mpg, 25.8 ppg, 5.0 rpg, 4.6 apg, 3.6 spg, 0.2 bpg, 3.2 TOpg, 45% FG, 18% 3PT, 56% FT
Tre Kelley
- 13 games, 34.2 mpg, 23.8 ppg, 2.4 rpg, 3.5 apg, 1.5 spg, 0.3 bpg, 3.1 TOpg, 49% FG, 40% 3PT, 76% FT
Rafer Alston
- 8 games, 32.6 mpg, 19.3 ppg, 3.3 rpg, 3.4 apg, 2.3 spg, 0.0 bpg, 2.4 TOpg, 44% FG, 35% 3pt, 70% FT
Walker Russell
- 4 games, 30.0 mpg, 18.3ppg, 0.8 rpg, 5.0 apg, 2.0 spg, 0.3 bpg, 2.5 TOpg, 47% FG, 21% 3PT, 80% FT
Peter John Ramos
- 31 games, 37.5 mpg, 24.6 ppg, 14.2 rpg, 2.0 apg, 0.7 spg, 1.1 bpg, 3.9 TOpg, 64% FG, 0% 3PT, 73% FT
Ramos returned to the team for whom he put up 17/13 last season, and has put even better numbers this year. He hasn't developed a whole lot as a player in recent years, but he also hasn't had to. Ramos stands 7'3, is pretty fluid for that size, gobbles up rebounds (4th in the league), is a defensive presence if only through size alone, and is a capable finisher. His turnover numbers above are testament to his limitations, but the other numbers are true to his strengths. Only thrice has Ramos missed a double-double; a 7 point, 10 rebound performance on January 2nd, a 23 point 9 rebound performance in only 25 minutes on February 16th, and a 9 point, 8 rebound performance on March 6th.
Perhaps predictably,
all things considered
, Crittenton did not return to the NBA this summer. He did not last long in China, either; despite the gaudy numbers, Crittenton did not seem to like it much there, and the Lions weren't best pleased with his play; they criticised him for his defense, shooting, and inability (or unwillingness) to create for his team mates. They moved swiftly to replace him with Kelley, who was fresh from a stint at the Grizzlies training camp. Kelley provided a far more balanced contribution, but wasn't able to sustain the 54 point average that he had after one game.
Zhejiang then struggled through the Rafer Alston saga. They were in talks with Alston from as far back as October, but were initially unable to sign him to a contract. This is partly because, when they booked flights for Alston,
he never got on them.
They revisited him in the New Year when they needed a replacement for Crittenton, and this time they signed him to a deal. But there wasn't a whole lot of trust between the two parties; in Alston's eighth and final game with the team, he took himself out of the game due to injury, yet refused to go to the hospital after the game. He then returned to the States to attend the funeral of a close friend, at which point the team had had enough and told him not to come back. They then brought in Russell, a D-League veteran who had averaged 17.7 points and 7.9 assists per game for the Fort Wayne Mad Ants before his switch, who fits into the pass-first point guard mode that Alston never quite did.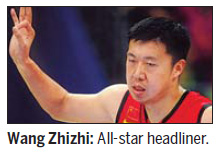 The above picture refers to a CBA All-Star game, not NBA.
7th - Bayi Fubang (17-15)
Bayi have no import players. They never do, for they are the team owned and operated by the Chinese army. But they do have
Wang ZhiZhi
, who remains one of the best players in his homeland. Thus far this season, Wang is averaging 22.3 points, 8.9 rebounds, 2.4 assists, 1.2 steals and 1.5 blocks per game, the leader amongst domestic players in both of the first two categories. Here's a video of Wang Zhizhi hitting a jumpshot over
Renaldo Balkman
, then doing the Q-Rich headpunch to an onlooking
Quentin Richardson
.
Steve Francis, giving a different kind of finger.
8th: Beijing Ducks (16-16)
Randolph Morris
- 31 games, 38.3 mpg, 30.8 ppg, 12.2 rpg, 2.3 apg, 1.9 spg, 1.5 bpg, 3.8 TOpg, 49% FG, 0% 3PT, 71% FT
Steve Francis
- 3 games, 3.7 mpg, 0.7 ppg, 1.0 rpg, 0.0 apg, 0.0 spg, 0.0 bpg, 1.3 TOpg, 25% FG, 0% 3PT, 0% FT
Joe Crawford
- 15 games, 25.8 mpg, 15.2 ppg, 2.7 rpg, 1.1 apg, 0.5 spg, 0.1 bpg, 1.7 TOpg, 41% FG 28% 3PT, 81% FT
Zaid Abbas
- 30 games, 37.5 mpg, 16.4 ppg, 11.3 rpg, 1.5 apg, 1.6 spg, 1.2 bpg, 2.2 TOpg, 58% FG, 13% 3PT, 65% FT
Despite all the shots and the turnovers, Morris is indisputably one of the best big man in China statistically. His aforementioned averages are good enough for 3rd in the league in scoring, and 8th in rebounds. In the last week alone, he has put up individual game statlines of 40 points 20 rebounds, and his most recent outing of 41 points, 19 rebounds, 7 assists. Morris shoots a hell of a lot, and commits huge numbers of turnovers and fouls (4.1 per game), yet however flawed the production is, it's still enormous.
In addition to the two conventional imports, CBA teams are also allowed to add an Asian, non-Chinese player. Several teams have done this; Abbas, a Jordanian national team mainstay, is one of the best players brought in. He has been an automatic double double this season, ranking 10th in the CBA in rebounds, making Beijing the only team with two players in the top 10. Abbas has also scored a lot more efficiently than Morris, if not nearly as much. (Beijing also have a Taiwanese guard called Hsueh-Lin Lee, who has never previously played in the CBA, yet who is averaging over 40 minutes per game as a rookie 5'9 point guard. He is doing this because he is the only good three point shooter on the team, hitting 55% from downtown. Which sounds more flattering than his 8.6 ppg average in those 40 minutes.)
Beijing's other imports have been guards, but they have not been successful. They started with Steve Francis, in a saga best explained
here.
As the numbers can attest to, it didn't end well. Francis was replaced by perennial NBA-cusper Joe Crawford, but he too struggled, and has been released, replaced by ex-NBA player
Orien Greene
. Greene has yet to make his debut.
The final round of regular season games has just been completed. The 8 teams listed above will form the 8 playoff teams. Any team listed below the upcoming picture of
Andris Biedrins
will not be going to the playoffs.
9th: Shanxi Zhongyu (15-17)
Jamal Sampson
- 2 games, 20.0 mpg, 3.5 ppg, 9/5 rpg, 0.5 apg, 0.0 spg, 1.0 bpg, 1.0 TOpg, 40% FG, 0% 3PT, 50% FT
Alexander Johnson
- 11 games, 23.2 mpg, 19.6 ppg, 9.4 rpg, 1.2 apg, 0.6 spg, 0.5 bpg, 3.0 TOpg, 61% FG, 0% 3PT, 60% FT
Shawn Taggart
- 8 games, 32.5 mpg, 27.5 ppg, 11.5 rpg, 0.9 apg, 1.1 spg, 1.4 bpg, 1.5 TOpg, 58% FG, 26% 3PT, 68% FT
Ernest Brown
- 5 games, 16.4 mpg, 4.6 ppg, 3.8 rpg, 0.6 apg, 0.0 spg, 0.6 bpg, 1.8 TOpg, 50% FG, 0% EPT, 50% FT
Leon Rodgers
- 31 games, 38.6 mpg, 27.4 ppg, 7.5 rpg, 2.6 apg, 1.1 spg, 0.3 bpg, 2.7 TOpg, 46% FG, 38% 3PT, 77% FT
Sam Daghlas
- 30 games, 39.0 mpg, 15.7 ppg, 5.1 rpg, 9.1 apg, 2.0 spg, 0.5 bpg, 4.1 TOpg, 64% FG, 69% 3PT, 81% FT
More than anyone above, Shanxi have struggled to find import consistency. Last year, they famously had
Stephon Marbury
playing for them, yet they released him a couple of weeks before this season began. [More on him later.] In his place, Shanxi began the season with Sampson and Rodgers, both CBA veterans. Sampson played in the first two games only before leaving the team over a contract dispute; it was initially announced that his replacement would be ex-NBA forward
Donnell Harvey
, but the reason for said announcement was not clear. Harvey was playing for Igokea in Bosnia at the time, and still is. A week after the pseudo-news, Shanxi brought in ex-NBA big Ernest Brown, another veteran of the Chinese dance. However, the disappointing Brown lasted only five games before he too was gone, replaced by ex-Memphis big man
Shawn Taggart
.
Taggart played extremely well for Shanxi, and the roster turnover started to settle down. But after only 8 games for the team, Taggart hurt his knee and was out for the rest of the season. So again Shanxi had to hit up the market, bringing in ex-NBA big man Alexander Johnson, who had managed only one CBA appearance in the previous season before suffering an injury of his own. As ever, Johnson put up terrific per-minute numbers; as ever, Johnson couldn't play huge minutes due to his constant foul problems. All the while, Rodgers, a Chinese league veteran and prolific scorer, seems to have survived the whole season. It was reported that he had been replaced by
A.D. Vassallo
in mid-January, yet Vassallo appears not to have ever taken the court.
Shanxi have had an Asian of their own in Daghlas (full name Osama), Jordanian national team point guard. Daghlas's 9.1 assist per game average led the league, and led the league by a long way; tied for second place were Marcus Williams and Stephon Marbury, trailing woefully in his wake at 5.7 per game. Daghlas also shot 69% from three, scoring a total of 470 points on only 281 shots, hugely efficient for a point guard, even one standing 6'6 tall. On the flip side, he led the league in turnovers at 4.1 per game, but it's a trade-off worth making.
Tim Jarmusz defending Myles McKay. This is what Tim Jarmusz is best at - putting his hand up.
10th: Liaoning Papan Hunters (14-18)
Chris Richard
- 18 games, 30.5 mpg, 12.8 ppg, 9.2 rpg, 1.0 apg, 1.3 spg, 1.1 bpg, 1.5 TOpg, 62% FG, 25% 3PT, 64% FT
Donta Smith
- 19 games, 28.4 mpg, 15.1 ppg, 4.2 rpg, 2.6 apg, 2.2 spg, 0.7 bpg, 1.9 TOpg, 52% FG, 41% 3PT, 84% FT
Anthony Myles
- 12 games, 25.4 mpg, 12.7 ppg, 6.9 rpg, 0.6 apg, 1.2 spg, 0.9 bpg, 1.4 TOpg, 42% FG, 32% 3PT, 70% FT
Myles McKay
- 7 games, 34.4 mpg, 20.1 ppg, 5.7 rpg, 2.7 apg, 1.4 spg, 0.1 bpg, 2.9 TOpg, 39% FG, 33% EPT, 90% FT
Liaoning began the season with the ex-NBA players, Richard and Smith. Smith has toured the Asian and South American leagues for a few years now, and had previously been playing in Venezuela, appearing in the Liga Sudeamericana with Espartanos de Margarita. For Richard, however, this was his first trip outside of America. Everything before now has been either the NBA or D-League for him. And he found it tough going in China, as evidenced by his averages. They're not bad by any stretch, yet they pale to most of the above.
The 25% three point shooting is a result of Richard's season total of 1-4, all four of which came in the same game. Liaoning lost in a blowout. Guess Richard decided to have some fun with it. He played only one more game before being replaced by Myles. Myles led the CBA in scoring in 2006-07 with 32 points per game, and was an all-star there for three years (2006 through 2008). In the two years hence, the ex-Xavier big man has played in France, Italy, and Romania of all places, and had spent time in Greece (Ilysiakos) and Serbia (Crvena Zvezda/Red Star). But in this, his fourth CBA turn, he couldn't get close to what he did before.
McKay has also played in three places this season, beginning with struggling Lega Due team San Severo, then moving to Czech Republic team and EuroCup staple Nymburk as a midseason replacement for Weyinmi Efejuku. His numbers here have been eerily similar to the 20.2ppg, 5.7rpg and 2.5apg he put up as a senior at Division 3 school Wisconsin-Whitewater, where he played for two years after transferring from Division 1 Milwaukee. McKay has been a professional for only two seasons, but has worked his way up the food chain remarkably quickly in that time. From not cracking a Horizon League rotation, to averaging 20 points per game in a league daubed with ex-NBA talent, via a stint in the rotation of a EuroCup team and leading the Czech league in scoring in the 2009/10 season. Pretty impressive.
Liaoning also have a young big man called Zhou Qi, who (apparently) was born in 1996. At an international under-15 tournament in Turkey last month, playing in the semi-final game against Germany, Zhou put up quite the statline; 41 points, 28 rebounds, 15 blocks. To put that into some context, that is 30 points, 20 rebounds and 13 blocks more than if he'd put up a 11/8/2 line instead. The business of projecting 15 year olds is a risky one, but, nonetheless.......wow.
From left to right - Eddie Basden, Rodney White, Rodney White's left nipple.
11th: Shandong Flaming Bulls (14-18)
Rodney White
- 29 games, 35.1 mpg, 22.5 ppg, 8.9 rpg, 3.2 apg, 1.4 spg, 0.6 bpg, 3.0 TOpg, 49% FG, 39% 3PT, 77% FT
Myron Allen
- 32 games, 34.8 mpg, 15.4 ppg, 6.4 rpg, 4.9 apg, 1.9 spg, 0.3 bpg, 3.0 TOpg, 43% FG, 23% 3PT, 72% FT
Allen has been covered here many times before, always because of his CBA exploits. He struggled early in the season, rallied during the middle, yet ended rather slowly, with 4 single figure scoring outputs in his final 6 games. Nevertheless, after three straight years in the NBA, he's a definite candidate for a fourth. The same is true of White; this is (or was) the ex-NBA lottery pick's fourth season in China. It's also his lowest scoring output here - from 30.5 ppg, to 36.2 ppg, to 27.5 ppg, to this year's 22.6 ppg. Is the CBA getting tougher, are the rule changes affecting the numbers league wide, or has the soon-to-be-31-year-old Rodney White hit the apex of his career? All three.
Despite the relative lack of roster turmoil, Shandong did not have a great season, mainly due to their lack of quality domestic players. Their only double figure Chinese scorer was shooting guard Sun Jie, who more than doubled his previous season's numbers with a sizzling 20.3 ppg average, alongside 2.9 assists per game. Unfortunately, no one else scored more than 8.6 points, grabbed more than 5.3 rebounds, or passed for more than 1.7 assists.
But they did have the domestic player with the best name - Wang Gang.
Devin Green and Mike Harris at Shanghai's media day.
12th: Shanghai Sharks (12-20)
Mike Harris
- 29 games, 34.1 mpg, 24.7 ppg, 14.7 rpg, 1.4 apg, 1.5 spg, 1.2 bpg, 2.0 TOpg, 57% FG, 44% 3PT, 81% FT
Devin Green
- 18 games, 34.1 mpg, 18.2 ppg, 7.8 rpg, 4.8 apg, 2.0 spg, 0.5 bpg, 3.1 TOpg, 44% FG, 32% 3PT, 79% FT
John Lucas
- 12 games, 35.9 mpg, 18.8 ppg, 4.9 rpg, 2.9 apg, 1.3 spg, 0.0 bpg, 1.6 TOpg, 42% FG, 33% 3PT, 91% FT
The team owned by
Yao Ming
has been employing two of his former Rockets team mates for much of the season. The Sharks started with Harris and Green, but replaced Green once Lucas became available after his release from the Chicago Bulls. Lucas has done this before; he had joined the Bulls after averaging 28/5/5 with Shanghai last year, but he didn't shoot the jumper well this season and his numbers took a hit. Harris has also done this for a while, playing a couple of years for DongGuan between 2007 and 2009 whilst waiting for an NBA comeback (which he eventually got). His rebounding average ranked second in the league, and he has already signed in Puerto Rico for some summer money.
Also on the Sharks is
Max Zhang
, former California centre, now better known by his actual name of Zhang ZhaoXu. Max has averaged 7.1 points, 6.1 rebounds and 1.8 blocks per game on 56% shooting, but has still
not plucked his eyebrows
. The team also has national team mainstay point guard
Liu Wei
, who averaged 19.4 points and 5.3 assists per game, ranking fifth in the league in the latter category. With all this talent, it's something of a disappointment that the Sharks only finished 12th.
13th: Jilin Tigers (12-20)
Jameel Watkins
- 30 games, 36.0 mpg, 20.5 ppg, 13.3 rpg, 1.7 apg, 0.7 spg, 1.9 bpg, 3.2 TOpg, 54% FG, 20% 3PT, 68% FT
David Young
- 13 games, 33.1 mpg, 22.2 ppg, 4.9 rpg, 1.6 apg, 0.8 spg, 0.0 bpg, 2.7 TOpg, 42% FG, 27% 3PT, 82% FT
Tim Pickett
- 17 games, 33.9 mpg, 27.1 ppg, 8.5 rpg, 2.5 apg, 2.3 spg, 0.2 bpg, 3.2 TOpg, 51% FG, 44% 3PT, 80% FT
Jilin opened the season with Young and Watkins, a seasoned veteran of the Chinese dance. The now-33 year old Watkins's 13.3 rebounds were good for 6th in the league, and an improvement on his 16/10 numbers from last season. Former Sonics pick Young was, as ever, getting to the basket, averaging 8 free throws a game. But his impression of an undersized
Corey Maggette
didn't sit well with the team, and they looked to replace him for a while, eventually settling on Tim Pickett. Pickett had started the season with Israeli team Ironi Ashkelon, averaging 10.4 points in 7 games, but was released after
being caught in possession of marijuana
. He later returned to China where, once again, he ended up winning games single-handedly for one of the league's lesser teams.
Jilin also featured a young player called Ang Lee, and Zaid Abbas's old brother, Islam. However, the pair barely played.
Good teeth.
14th: Foshan (formerly Shaanxi; 11-21)
Stephon Marbury
- 32 games, 36.4 mpg, 25.2 ppg, 4.5 rpg, 5.7 apg, 1.6 spg, 0.0 bpg, 3.2 TOpg, 55% FG, 51% 3PT, 82% FT
Olumide Oyedeji
- 32 games, 32.0 mpg, 14.7 ppg, 13.2 rpg, 0.8 apg, 1.5 spg, 1.0 bpg, 2.8 TOpg, 55% FG, 0% 3PT, 62% FT
After Marbury was released by Shanxi in preseason, Foshan quickly snapped him up. However, the man who led the CBA in assists last season by a long way returned only the 3rd best mark this season, 3.4 assists per game behind the leader (the aforementioned Sam Daghlas). Indeed, Marbury was more of a scorer this season, his hugely efficient 25.2 points per game good for tenth in the league. As for how well he's building his brand, I could not say.
Long time Chinese veteran Oyedeji doesn't put up the nightly 20/20's that he did a few years ago, but that is more to do with the changes within the league rather any fault of Oyedeji himself. Oyedeji still does what he does - boards, jumps, defends, hustles, finishes easy ones, fouls, drops passes, splits free throws. And he probably has a good few years left of doing this all around Asia.
A happy looking Dee Brown.
15th: Qingdao Double Star (10-22)
Charles Gaines
- 32 games, 37.4 mpg, 33.7 ppg, 13.5 rpg, 1.9 apg, 2.5 spg, 0.8 bpg, 2.9 TOpg, 61% FG, 0% EPT, 66% FT
Dee Brown
- 31 games, 31.7 mpg, 22.2 ppg, 3.8 rpg, 4.8 apg, 2.0 spg, 0.2 bpg, 2.4 TOpg, 44% FG, 32% 3PT, 79% FT
Gaines led the league in scoring, ranked 5th in rebounds, and 6th in steals. He was, frankly, rather dominant. He scored below 20 only twice (18 and 19), scored over 40 nine times, and scored over 50 once, recording 52 points and 10 rebounds in only 36 minutes in a February 18th game against Guangdong. However, that game was symptomatic of Qingdao's season - despite Gaines's numbers, alongside Brown's 18/7/8, Qingdao still lost 100-132. Fr all of the import's offense, Qingdao had little domestic help, couldn't stop anybody, and couldn't shoot. No one on the team shot better than 33% from three. In the Guandong came, they shot 6-34 from there. Gaines did his best to do it all, but no one can ever really do that.
Here's Dwayne Jones. Do not image search for Chris Porter. Ever. Trust me on that.
16th: Fujian (8-24)
Dwayne Jones
- 31 games, 36.4 mpg, 18.0 ppg, 15.8 rpg, 0.9 apg, 0.8 spg, 1.6 bpg, 2.3 TOpg, 60% FG, 43% 3PT (3-7), 61% FT
Andre Emmett
- 24 games, 35.4 mpg, 28.0 ppg, 8.0 rpg, 2.9 apg, 2.3 spg, 0.2 bpg, 2.8 TOpg, 52% FG, 26% 3PT, 76% FT
Chris Porter
- 2 games, 28.0 mpg, 7.0 ppg, 7.0 rpg, 1.5 apg, 2.0 spg, 0.5 bpg, 5.0 TOpg, 31% FG, 0% 3PT, 67% FT
Fujian signed
Patrick O'Bryant
incredibly early on, but were underwhelmed by him, his effort, his unwillingless to play under the basket and his preseason performances, and released him two days before the season began. They replaced him with Jones, who could not make him back into the NBA this offseason, and Jones promptly led the league in rebounding. This was somewhat predictable, for Jones is one of the best rebounders there is in any league. Jones also had arguably the single most incredible statline in the CBA season; in only the fourth game of the year, Jones put up a 36 point, 31 rebound 3 block performance in a game Fujian lost anyway.
Kevin Love
sympathises.
They had less luck with their second import, Chris Porter, who had played with the team since 2005, but who managed only two games before being released due to injury. He in turn was replaced by Emmett, the former Big 12 all-time points scorer (until he was overtaken this month by
LaceDarius Dunn
), as well as last season's CBA scoring leader (32.0ppg for Shandong). As is always the case, Emmett piled in the points, giving Fujian the league's most dominant rebounder and arguably it's most dominant perimeter scorer. But with absolutely nothing else, it didn't help them.
Finally.....
This Herve Lamizana Sixers jersey drew no bids at auction two years ago.
17th: Tianjin Rongcheng (5-27)
Herve Lamizana
- 27 games, 34.3 mpg, 24.4 ppg, 10.4 rpg, 3.2 apg, 1.9 spg, 3.6 bpg, 3.6 TOpg, 41% FG, 25% 3PT, 73% FT
Lee Benson
- 19 games, 31.9 mpg, 16.5 ppg, 14.6 rpg, 1.2 apg, 0.9 spg, 1.5 bpg, 2.3 TOpg, 49% FG, 25% 3PT, 62% FT
Vernon Hamilton
- 13 games, 36.8, mpg, 26.8 ppg, 8.5 rpg, 4.9 apg, 3.8 spg, 0.2 bpg, 3.2 TOpg, 45% FG, 26% 3PT, 59% FT
The always statistically dominant Benson - who averaged 34, 19 and 6 two years ago - can still fill up a statsheet. Now 37 years of age, the scoring numbers are on the way down, but even though he was released by the team for supposedly underperforming halfway through the season, the rebounding numbers were still good enough for third in the league. (Benson now plays in Argentina for Regatas Corrientes.)
Tianjin paired Benson with Lamizana, the former Rutgers forward who consistent puts up numbers better than a prime
Marcus Camby
. Lamizana was released towards the very end of the season for what the team believed to be an excessively nonchalant attitude, but not before Lamizana put up some of the best all-around numbers in the nation. He also once cracked the triple double mark, putting up 23 points, 13 rebounds and 10 blocks in a February 18th loss to Liaoning. As far as I could be arsed to look, the only other person who got one this season was Marcus E. Williams, who put up 4 consecutive triple doubles in the last four games of the season. Lamizana led the league in blocks by a huge distance; his 3.6 per game mark was almost double that of the guy in second place, Marcus Haislip.
After Lamizana left, Hamilton became the only import remaining - with nothing to play for by this time, there wasn't much point in getting another. had previously played for the Austin Toros and Dakota Wizards of the D-League, averaging over 13 points and 3 assists per game, and was statistically dominant in his short time in China. He seems like a good candidate for a redux next season.
Despite how inevitable it seemed,
Jerome James
did not play in China this season, and nor does it appear that he ever tried to. But you can go ahead and pencil in
Eddy Curry
for a spot there next season.
In fact, you can probably use a pen on that.