Jordan Crawford
had to deal with being traded in his rookie year, part of Washington's bountiful haul for an aging
Kirk Hinrich
, who then got injured anyway. Once he got to Washington, Crawford found the freedom amongst the rubble to play a lot of minutes and, essentially, to freelance on offense. And Crawford is good at freelancing on offense, so this suited him, as demonstrated in his 16.3 points per game. This would have second only to team mate
John Wall
(16.4) in true rookie (i.e. not
Blake Griffin
) points per game had his 4.2 ppg average in 16 games with Atlanta not dragged him down; as it is, his aggregate average of 11.4 ppg sees him settling for third. (Additionally, per
Hoopdata.com
, Crawford tied for fifth with
Andrea Bargnani
for the most shots taken per game from 10-15 feet away at 2.7. No one ever really shoots from 10 to 15 feet; a step further in and you're at the basket, while a step further back gets you a jumper without a help defender. But there are a few exceptions, and the top three of
Elton Brand
(4.0),
Dirk Nowitzki
(3.6) and
Kobe Bryant
(3.2) are ahead of the pack by quite a long way.)
The first season of
Pape Sy's
career is over, and it was not a good one. Sy was signed by the Hawks to a multi-year minimum salary contract with only the first year guaranteed, yet he played only three games for the team, scoring 7 points in 21 minutes. He actually appeared in more playoff games than regular season ones, getting garbage time minutes in all four of Atlanta's losses to Chicago. He spent 23 games on assignment with the Utah Flash, yet he averaged a seriously disappointing 8.0 points and 3.4 rebounds on 42% shooting, hitting only 15% from three. And while he was slightly better than this defensively, he didn't exactly wow there. Sy was a startling draft pick because no one except Rick Sund ever previously thought he had NBA talent. They still don't.
After waiting sufficiently long that any signing would not push them into the luxury tax, the Hawks filled their 15th and final spot a couple of days before the end of the season when they signed
Magnum Rolle
from the D-League. After being
de facto
drafted by the Pacers, Rolle lost out on a roster spot to the 15 incumbent guaranteed contracts, and then missed much of the year due to injury. Not playing between November and March with a knee injury, Rolle totalled only 15 games for the Maine Red Claws, averaging 14.1 points, 5.5 rebounds, 1.5 steals and 1.2 blocks per game, and he has yet to appear on the Hawks's inactive list. Nevertheless, Rolle both started and finished the season in the NBA. That's an achievement. Next year's aim is to stay in it throughout.
Avery Bradley
made only 27 field goals in the NBA last season, 10 of which came in one game. He received mere spot minutes in 29 of the first 81 games, but was given 27 minutes in the regular season finale, and recorded 20 points, 3 rebounds and 2 assists on 10-16 shooting. It was a good sign. The downside of that is that it means Bradley had shot 13-51 for the rest of the season, not hitting a three, going only 6-12 from the line, and recording more turnovers than assists. Surplus to the title ambitions of the big league club, Bradley spent some time on assignment with the Maine Red Claws, averaging 17.1 points, 5.8 rebounds, 5.2 assists and a hefty 3.0 steals in a nine game stint. He also hit 37% of his three pointers on three attempts per game. But he also turned it over 4.3 times per game, and is no half court point guard yet. Aged only 20, though, there's plenty of time for that.
In addition to Bradley were
Luke Harangody
and
Semih Erden
, whom were even more surplus to requirements than Avery, and neither of whom survived the season with the Celtics. Due to the incessant injuries of their other centers, Erden played quite a lot for Boston, averaging 14.4 minutes with 7 starts and playing in 37 of the team's first 56 games. He improved noticeably as he got more comfortable; the final totals of 4.1 points, 2.9 rebounds and 2.5 fouls per game are not especially flattering, but he has already achieved more than, say,
Kosta Koufos
. Erden needs to get tougher both defensively and on the glass, but he showed something as a third string centre. Harangody didn't play as much for Boston, but did get some run with the Cavaliers, for whom he had a couple of good nights as a shooter and rebounder. Unfortunately, he shot 38% and couldn't defend anybody. If he's going to make it as a shooter, he's going to have to get a lot better as a shooter.
Sherron Collins's
rookie season started badly when he was undrafted, then improved when he signed a contract with the Bobcats and made it beyond the contract guarantee date. The Bobcats had to waive him to incorporate the incoming players from their deadline deals, but two of them (
Mo Peterson
and
Sean Marks
), they had no intention of keeping, and they had planned to bring back Collins once the roster spot opened up. However, Collins missed not one but two flights to Charlotte, and the team, underwhelmed by this unprofessionalism, thereafter rescinded their offer. They had no incentive to wait for him; Collins was not in shape all season, is a fringe NBA talent at best, isn't as good as
Garrett Temple
(whom Charlotte subsequently signed instead), and played badly both in his limited NBA minutes and bigger D-League run. In the 66 mainly garbage minutes he managed in 20 Bobcat games, Collins put up a PER of only 3.6, and in a five game stint on assignment with the Maine Red Claws, he averaged 12.0 points, 3.2 assists and 2.2 turnovers per game. He improved with every game, but that's not necessarily a good thing. There's no reason why he shouldn't have been ready to play. There's no reason why he should have missed those flights. And there's no reason why he was
this size
. (Despite the overwhelming re-reporting of the story that Collins signed with Lietuvos Rytas in March, he did not.)
Omer Asik
is the next
Joel Przybilla
, if not better. They're the same size, and they play pretty much exactly the same way, even down to the aesthetics. This is a compliment to Omer, because even if our dependence on our short term basketball memories misleads us on this, Joel Przybilla has been a fine defensive centre for many years. Even back in his Milwaukee days, when he recorded more fouls than points and struggled to ever truly take advantage of the ridiculous number of starting opportunitis that the team gave him, he was still prone to occasionally having an impact. And when he subsequently broke out, Przybilla became one of the game's better one way players. The same will be true of Asik. Omer's only true offensive skill is the dunk, one that he performs in exactly the same way every time - two hands, outstretched arms,
arse out, knees up.
It's fun to watch, and even if he gets it blocked 69% of the team (and stripped on the way up the other 31%), it's a useful skill to have. Ask can't run the pick and roll offensively as well as Joel can, but he defends it better than Joel does; indeed, for one so big, he defends it incredibly well. (That's what growing up in Turkey can do for you.) And his interior defense is even better, providing an immovable wall to any driving guard, and becoming really rather good at doing so without fouling. Asik's broken leg in the playoffs is a worrying continuation of what has been a career trend - injuries. But if he stays healthy, he's going to be one of the league's best backup centres in fairly short order.
Christian Eyenga barely played in the first half of the season, not recording an NBA minute in the whole of 2010. He first played on January 2nd, and went on to average 24.4 mpg for the month, and 21.5 for the season. (Cleveland lost the first 17 games in which Christian played. Surely that's a record for most consecutive losses to begin a playing career.) Eyenga had earlier been in the D-League, where he recorded 12.3 points, 4.7 rebounds, 0.9 steals and 1.0 blocks in 26.6 minutes of 15 games for the Erie BayHawks. He was sent there with one mission - to play defense. And he did so fairly well. But when he was thrown into the NBA fire, he was rather exposed. Eyenga mostly defended small forwards, but at 6'5, this was not going to work. And offensively, Eyenga still offers little - a weak jumpshot, weaker handles, and rather ominous decision making. He finished the season with averages of 6.9 points, 2.8 rebounds and 1.1 turnovers per game, shooting 43% from the field, struggling with making any consistent offensive play that didn't involve just being athletic. That said, he had his defensive moments. And he also had this offensive moment.
If we're not doing so already, let's start calling him Flyenga.
Also given muchos opportunity in this, the Cavaliers' gap year, were undrafted rookies
Samardo Samuels
and
Manny Harris
. Like Eyenga, Samuels barely played to begin the year, then played heavily in January, got benched again in February, before being a 30mpg player in March. On the year he recorded averages of 7.8 points and 4.3 rebounds in 18.8 minutes per game, which on the surface are respectable numbers, even in the context of Cleveland's system. However, when Samardo entered the draft, his ability to score was never in doubt. Even when we allow for the Cavaliers's wider struggles to be a factor in why a centre shot only 45.6% from the field, Samardo still turned it over 1.4 times in his less than 20 minutes a game, and shot 61% from the foul line. More importantly, Samardo's interest in defensive rebounding needed to improve from his time at Louisville, and it didn't; recording only 2.2 of those things a game gave him a defensive rebounding percentage of 14.0, tying with such notably terrible rebounds as
Andrea Bargnani
and
Hedo Turkoglu
, and a mere fraction ahead of
Roger Mason
of all people. Samardo will surely be back next season, and there should well be more thereafter. Losing 20lbs and boxing out will guarantee that.
Harris, meanwhile, spent much of his rookie year catching and shooting three pointers, one thing he wasn't especially good at at Michigan. He got better at it quickly, though, hitting 37% of his three pointers on the year while playing almost a thousand minutes on the year (regular season and playoffs combined). He also chipped in a solid 2.6 rebounds in only 18 minutes per game - grabbing defensive rebounds at almost exactly the same rate as Samuels, which should make him feel bad - and was a solid defensive option and extra passer for the team. His overall 37% shooting can also be somewhat accredited to the rookie wall, which absolutely levelled Harris in the final two months of the season. That said, no one facet of his game stood out. But in theory, that's OK.
Greg Buckner
played in the NBA for many years, and made lots of money, with much the same skill set. And he didn't have Manny's athleticism. So even if Manny loses out in Cleveland's upcoming inevitable roster spot squeeze, he may land elsewhere.
Manny Harris fact - his full real name is Corperryale L'Adorable Harris. This is topped in prestige only by the fact that his nickname of Manny was bestowed upon by his father simply because he was a big fan of Stephen Bauer's character in Scarface.
In the midst of the Mavs' finals run,
Dominique Jones
barely played. He managed only garbage minutes in 18 games, recording totals of 123 minutes, 42 points and 17 rebounds, incredibly little of which was done during meaningful rotation minutes. But Jones did spend ten games on assignment at the Texas Legends, whereupon he showed the talent he possesses. Jones averaged 18.7 points, 5.2 rebounds and 5.0 assists per game for the Legends, doing everything for the team, including running the offense, handling the ball, collapsing the defense, hitting a few jumpshots of his own, and playing defense. Finding a spot in the NBA will be hard to do in Dallas's heaped backcourt - one which can't even find minutes for
Roddy Buckets
right now - but he'll find a niche somewhere someday.
Gary Forbes
was one of the training camp success stories, a man who has been on the NBA radar for a few years without sufficiently impressing enough to get a training camp chance, but who then took full advantage of it when it came. He played some defense, got to the rim, hit more jumpers than usual, and hustled. Forbes's numbers are solid if unspectacular across the board - per 36 minutes, he recorded 14.8 points, 5.3 rebounds, 2.2 assists, 2.1 turnovers and 1.0 steals per game, shooting 45% from the field, 33% from three, and 68% from the line. You would be hard pressed to find more average backup small forward numbers than that, and that's what Forbes showed himself to be - an average backup small forward. That is to his credit, and Denver surely now regrets only signing him to an unguaranteed one year minimum salary deal, rather than two. (Nothing wrong with being average. A good many players are below it.) Forbes's playing time suffered greatly after the
Carmelo Anthony
trade that put so much backcourt and wing depth in front of him, although there was another brief flourish at the end. With Denver unlikely to retain all that depth, opportunities will come again.
Greg Monroe
made the all-rookie team, and was a rare bright spot in an otherwise wasted, unpleasant, cringeworthy season. He put up stats across the board - 9.4 points, 7.5 rebounds, 1.3 assists, 1.2 steals and 0.6 blocks per game, shooting 55% from the field and 61% from the line. Monroe entered the season with a decision on which way he was going to take his career. The question was whether he wanted to be more like
Lamar Odom
or
Troy Murphy
. He chose to be more like Odom. Good choice, Greg. A nouveau version of 2011 Lamar Odom you shall be.
Meanwhile,
Terrico White
missed the entire season due to a broken foot. This was the only season in which he had any guaranteed money, and he missed it. Therefore, after a rather underwhelming final season at Ole Miss as well, White's realisation of his potential has rather stagnated. Working on the assumption that Detroit will finally do something about their backcourt logjam - what with the potential advent of an amnesty clause, with more financial wiggle room to work with after
Tayshaun Prince's
contract expired, with all the bad deals being one year shorter, and with the sale of the team finally being closed - White may get a reprieve if the constipated depth chart in front of him is worked out. But working on the other assumption - one in which
Rodney Stuckey
is re-signed, and both
Rip Hamilton
and
Ben Gordon
come back for yet another season of whatever the opposite of mutual backscratching is - then Terrico might be waived in the next three weeks. It does not help his case that, at the time of writing, Detroit will have three picks in the upcoming draft.
Ekpe Udoh
proved himself to be a true Warrior by requiring surgery before his first summer league even began. It cost him the first six weeks of the regular season, and when he made his debut in mid-December, he struggled. On the season, Udoh returned averages of 4.1 points, 3.1 rebounds and 2.5 fouls in 17.8 minutes per game, which is really rather a poor return from a top 6 pick. The upside to it all is that, down the stretch of the season, Udoh's shot blocking skills finally turned up. In 24 games between March and April, Udoh blocked 53 shots while averaging only 23 minutes per game, and altered yet more, albeit at the expense of several million fouls. It provided a comforting crescendo to a poor year. But it doesn't change the fact that Udoh never found a role on offense, shot 44% from the field, and also rebounded worryingly badly. Udoh has more talent than he showed this year, including a semblance of an inside-outside offense game, both halves of which decided to take the year off. But he's already 24. He can't be taking too long over showing it.
Jeff Adrien
proved himself to be the other kind of true warrior, the one without a capital letter. He forced his way into the NBA, despite being a 6'7 power forward who last played in the Spanish second division, and even though he was waived in midseason, he forced his way back in once more with his talent and will. Adrien's numbers of 2.5 points, 2.5 rebounds and 1.2 fouls in 9 minutes per game do little to impress, but the 18.3 points, 11.4 rebounds, 1.5 assists, 1.0 steals and 1.4 blocks that he averaged in 27 D-League games between two franchises do. And more important than the numbers is the way he gets them; strength, aggression, toughness, power, ruthlessness, and sheer intimidation. As long as you have enough skill to go with it, which Adrien does, here's always a role for that, even at 6'7.
Adrien got cut at the contract guarantee date largely because of the presence of
Jeremy Lin
, whose almost-guaranteed contract bought him a year in the NBA. In accordance with the early theme of this list, Lin barely played in the early going, struggling in early November opportunities and slowly working his way down the depth chart, eventually culminating in an assignment to the Reno Bighorns of the D-League. Once there, Lin righted the ship, recording impressive numbers of 18.0 points, 5.8 rebounds, 4.3 assists and 2.0 steals in only 32 minutes per game, shooting 48% from the field, flirting with a couple of triple doubles, and exchanging phone numbers with the elusive quadruple on one occasion. This got him back to the Warriors, whereupon he once again struggled to get his own shot. But what Lin did do was record a 2.5:1 assist to turnover ratio - not bad for a rookie point guard, and particularly impressive for one who isn't a point guard as much as he is a ball dominant undersized two. [Without a jumpshot.] And what he did even more impressively than that was record 1.1 steals per game, in an average of only 9.8 minutes. This wasn't over a span of four games, or something trivially small; it was over a span of 29, as Lin recorded 33 steals in 284 minutes. Using the admittedly rather arbitrary guideline of a minimum of 20 games played, Lin is only the 6th player ever to record
more than four steals per 36 minutes
, and the first this century. Conspiracy theories about how his ethnicity played a big role in his signing aside, there's certainly something there.
Patrick Patterson
did not play a great deal, stuck as he was behind
Luis Scola
. But when he did play, he played well. A nine game stint with the Rio Grande Valley Vipers saw him return averages of 18.3 points, 10.3 rebounds, 1.6 steals and 1.6 blocks per game, and on the NBA season, Patterson averaged a solid 6.3 points and 3.8 rebounds in 16.7 minutes per game. He kept the turnovers and fouls down, rebounded well enough, shot well from the field (56%), and did it mainly on jumpers. Per Hoopdata again, Patterson shot 67.8% at the rim, 50% from 3-9 feet, a whopping 56.1% from 10-16 feet, and an equally impressive 47.1% from 16-23 feet. For comparison's sake,
Dirk Nowitzki
shot 49.4% from 10-16 feet, and 52.0% from 16-23. Dirk's shots were admittedly much more contested than Patterson's, but the point stands. Inevitably - and quite correctly - Patterson will add some three point range to that over the years. When that happens, he truly will be the next
Donyell Marshall
.
At the tail end of the season, the Rockets picked up
Marcus Cousin
and
Marqus Blakely
, one of whom can't spell his first name, one of whom can't pronounce his surname. Both are rookies, but both managed short stints elsewhere this season; Blakely started the year with a brief run with the Clippers, and Cousin landed a ten day contract with the Utah Jazz in March. Both them spent their interim time in the D-League; Blakely averaged 15.0 points, 6.3 rebounds, 1.5 steals and 0.8 blocks in only 25 minutes per game split across two franchises, while Coozorn averaged 14.9 points, 8.6 rebounds and 1.1 blocks in 30 games for the Austin Toros. Both are on the fringes of the NBA because of their defense (Cousin defends the interior better than those blocked shot numbers indicate), and while Blakely offers better versatility, athleticism and a two year age advantage, Cousin has the size and the better offensive game. It is highly unlikely that both make the Rockets next season, and it's far from certain that even one stays. But this isn't likely to be the last either are heard from on the NBA level.
The two Pacers rookies had polar opposite seasons. Paul George struggled early on in the season, and had a hit-and-miss playoff series versus Chicago, being a huge hinderance to the Bulls (and specifically to
Derrick Rose
) on defense, but also being consistently a hinderance on offense. In between, however, lay a pretty good season. George's combination of size, athleticism, hands and effort have seen him become probably the best defensive player of the rookie class, able to defend all spots 1 through 3, often called upon to do all three. He is already better than
Brandon Rush
at the role Brandon Rush used to fill, and an improvement in the quality of his catch-and-shoot jumpshot will see him round out into a good quality two-way starter. He could become like younger
James Posey
, his current teammate, without having to go through the awkward go-to player phase that a younger Posey invited upon himself. This is a good thing. Leaps after that, however, will be tough to envision.
Meanwhile,
Lance Stephenson
had a mare. He got drafted, he tore up summer league, he signed a four year contract.....and then he imploded. Stephenson was arrested before the season began for pushing a woman down the stairs, and became a candidate to be released. Instead, he got nailed to the inactive list, and did not play in a game until February 27th. He then played a month of spot minutes for the team, recording 3.1 points and 1.8 assists in 10 minutes per game, but then earned himself a return visit to the inactive list, benched by new coach Frank Vogel for the remainder of the season in late March for repeatedly "violating team rules." Despite the guaranteed nature of next year's contract, it will be a result for Stephenson if he is with the Pacers next season. Indeed, making the NBA anywhere at all might be too big of a challenge. He has made his own talent secondary.
For a while, Al-Farouq Aminu led the NBA in three point percentage, not what you would expect from a man who shot 27% from three at Wake Forest the previous season. His shooting prowess eventually tapered off, rather badly in fact - Aminu didn't hit more than one three in any game in 2011, and hit only 17% in that stretch, finishing at 31.5% for the season. Outside of that, the obvious finishes availed by his athleticism, and a reasonable open court handle, Aminu is struggling to contribute offensively. This is fine given that he's been drafted for his defensive potential, which he continued to flash last year. Mistakes aside, his height, athleticism, and 14'6 wing span continue to intrigue. But it's only been flashes, and they have been interspersed with moments of great confusion. As of right now, he's a non-shooter who can't handle in traffic, post up, dribble without turning it over, or pass. As of right now, he's a bigger
Renaldo Balkman
, or a longer, thinner
James Johnson
. That's OK at 20, but there's a lot to do if he's going to instead be a bigger
Shawn Marion
. And whatever progress was made in the first half of the season seemingly got undone in the second.
Things went better for
Eric Bledsoe
, though. The young point guard who had more turnovers than assists at Kentucky last year is still turnover prone, recording 2.4 of them per game in only 22.7 minutes per game, but woefully inconsistent playing time did not help with that, and a good turnover-free four week stretch in January hinted at better days to come. Bledsoe's jumpshot also still lacks for consistency, and between the sloppy ball handling, the really quite alarming decision making/feel for the game, and the sub=par shotmaking and individual shot creating talents, Bledsoe's usage in half court offensive situations is rather limited right now. But that does not hinder his transition game, which is incredibly effective due to his speed. That same speed combines with his wingspan, strength and intensity to make him an effective defensive player, even in one so young. It is on that end where his potential seems to lie most. Bledsoe might not ever really be NBA starting calibre, particularly in this point guard-laden era where not even
Raymond Felton
can be a starter right now. But that's not necessarily a bad thing, as the potential to impact the game defensively remains.
In the few NBA minutes he managed,
Willie Warren
was called upon to serve as a point guard, which he didn't do too badly at. The sample size of 123 minutes is rather too small to be telling, although the 3:1 turnover ratio was certainly promising. So too was the 19.2 points, 4.0 rebounds and 5.7 assists in only 27 minutes per game that Willie recorded on assignment to the Bakersfield Jam, shooting 40% from three and turning it over an acceptable 2.9 times per game in what was largely a sixth man role. Warren compares rather strongly to
Trey Johnson
, a similarly sized combo guard type who's made the NBA a few times, whom Warren was playing alongside in Bakersfield, and who most recently hooked up with the Lakers just in time to get great seats for their sweep by the Hornets. But Trey Johnson has been in and out of the NBA without ever really being in it. The same may happen to Willie, unless he does something about his defense. No point being the D-League version of
Jamal Crawford
.
Devin Ebanks
played 12 rotation minutes for the Lakers all year. He spent some time on assignment in the D-League, and played well, averaging 16.5 points and 7.7 rebounds in addition to his usual defense for the Bakersfield Jam. But the lack of playing time rather nullified thus, and Ebanks's year was essentially spent practising. With
Matt Barnes
having already exercised his player option to return as the Lakers' backup small forward next season, PT for Ebanks doesn't look to be coming any time soon, and his rookie year was rather an empty one.
Still, having an empty rookie season is better than having a bad one.
Derrick Caracter's
rookie year went much the same as the aforementioned Lance Stephenson's - it started well, but ended terribly, due mainly to off-court incidents. Caracter turned around his college career, got drafted, played well in summer league, and was charged with the task of showing up to training camp at less than 275lbs. If he did that, his contract would become guaranteed. But Caracter did more than just squeak the deadline; he showed up so thin that, if you subtract the 10lbs that the camera puts on, he actually disappeared when you turned him sideways.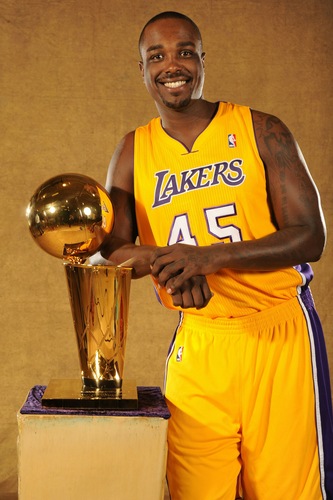 And then it went wrong. The competitive Lakers inevitably had no playing time for him, and while Caracter did somewhat feature in the rotation for the first six weeks of the season, this ceased when
Andrew Bynum
returned from injury. Reduced to Ebanks-like minutes, Caracter briefly went on assignment to the Jam, but he struggled mightily; in 5 games, he recorded 23 turnovers and 24 fouls in only 102 minutes played. He played only three games and eight minutes with the Lakers after February 25th, did not play in the playoffs, and then made the headlines for
assault and battery of a IHOP waitress
. A pregnant IHOP waitress, at that.
All the good work was undone. Now, Caracter might fall out of the NBA.
At one point in this season,
Xavier Henry
was a starter and heavy rotation player earlier in the year, but, by the end, he wasn't even active. Henry was felled by a knee injury that saw him play only three games in January, and not play a game after February 22nd. When he did play, he wasn't very good, averaging only 4.3 points and 1.0 rebounds in 13 minutes per game, shooting 40% from the field (numbers admittedly dragged down by his minimalist appearances later in the season). The Grizzlies started playing better when Henry was moved into the lineup, but they started playing even better still when he was moved out of it in favour of Tony Allen. Between his mediocre performance and injuries, it was a nothing year for Henry. And he also seemed to
completely lose his jumpshot.
Greivis Vasquez
fared better, serving as the full time backup point guard after the early end of the incredibly unsuccessful
Acie Law
experiment. On the season, Vasquez returned numbers of 12.3 minutes, 3.6 points and 2.2 assists in 70 games, numbers highlighted by a 2.2:1 assist/turnover ratio. That's not as impressive as it is at the college level, of course, but it's not bad. Much like the rest of the roster, Vasquez is not a shooter, and it's hard to run an offense that lacks for spacing. He is also drastically slow for a point guard, and craftiness only accounts for so much on either end. That said, Vasquez limited the mistakes, proved he could get his own, defended well enough, and stepped up big in the playoffs. It was a year more impressive than its numbers.
[That said, Memphis needs a guard who can get his. Here's my trade idea:
O.J. Mayo
and Xavier Henry to L.A. Clippers in exchange for
Mo Williams
. Clippers get two useable youngsters for a redundant veteran, even if they both have to try to fit with
Eric Gordon
. Near contractual wash. Grizzlies get the shooter and scorer they really need, for a man they were about to trade for
Josh McRoberts
and a late lottery pick. Retain
Marc Gasol
and
Shane Battier
, add one more big in the realm of
Jeff Foster
or
Nazr Mohammed
, and you have a potential five seed in the west. If either team says no, it's Memphis, but is there not at least some logic there? Just thinking out loud in square brackets. It needs work, I admit. But while Mayo would be better than Mo in an ideal world, and may still be in a few years, he really isn't right now.]
As covered at length on this website, most notably
here
, Xavier Henry and Greivis Vasquez were the protagonists of an ugly offseason contract dispute concerning the largely unprecedented inclusion of performance incentives in their rookie scale contracts. The controversial incentives, we later learnt, called for either:
a) an appearance in the Rookie/Sophomore game at All-Star weekend,
b) selection to an all-rookie team, or
c) an average of 15mpg played while appearing in at least 70 games.
Greivis came close to the last of these three things, and staked a loose claim to the second one. But Xavier didn't come close.
Memphis also picked up
Ish Smith
from Houston in the Battier deal, who provided Houston with some good spark plug minutes at times, even getting three starts. In only the second week of the season, Smith - admittedly pressed into service by injuries elsewhere - played 77 minutes in a back-to-back, recording 18 points, 8 rebounds, 13 assists and 4 steals in the process. He was overmatched as a starter and figures to be similarly overmatched as a full time backup. But as the third stringer, the role he was destined for, Smith might be back with some team somewhere. Warts and all, he is a truly dynamic presence, in a league that is moving away from the
Rick Brunson
/
Kevin Ollie
third string point guard types.
Miami's lone rookie,
Dexter Pittman
, achieved something by merely surviving. Completely unneeded in the short term by a team using a four man centre rotation with a combined age of 189, and armed with a 38 year old backup power forward to the All-Star in front of him, Pittman sat on the bench in a suit as the eighth big man on a team that rarely went beyond the fifth (and which went to four upon
Udonis Haslem's
return). His role as the eighth man in a five man rotation even came under threat when
Eddy Curry
- recently traded by the Knicks and waived by the Timberwolves - attracted some interest from the Heat, keen as they were to find a centre who could make a layup. For all of Dexter's hard work in losing huge amounts of weight and turning himself into a professional, he was about to lose his spot to a man who had done the complete opposite. Nevertheless, Dexter survived, and can still be seen on the Heat bench, in a suit, waiting for his ring. He appeared in all of two games and 11 minutes for the Heat, as well as 22 games for the Sioux Falls Skyforce, for whom he struggled with fouls and turnovers on route to 14.5 points and 8.2 rebounds per game. Next year, they might even play him.
At times in his rookie season, Wesley Johnson played incredibly effective perimeter defense. There's no such thing as a defensive stopper on the Timberwolves, but Wes came closer than anyone, and ended up taking Corey Brewer's role away from Corey Brewer. Offensively, he also had his uses with a 9 points per game average, too. But those 9 points came on less than 40% shooting, with solid but not standout jumpshooting, almost no free throw attempts, little ability to create, and no handle. Since we're currently in the midst of an NBA finals series in which DeShawn Stevenson is a starting two guard, whose role it is to defend and hit open jumpers, this bodes well for Wesley. The conference finalist teams also featured Thabo Sefolosha and Keith Bogans in much the same role, and there's no reason Wesley can't do that for a decade, even on teams better than his current one. Yet there's surely athletic potential for more there. When he's watching the Mavs in the Finals, he should be focusing on Shawn Marion, not Stevenson (or even Peja). At the very least, up the rebounding.
Lazar Hayward barely played this year. The Wolves went through many a forward this year, and on the depth chart, Hayward was last. When he did play - scraping out 10mpg in 42 games - Hayward struggled offensively,
Nikola Pekovic struggled this season, and while things brightened up a bit towards the end, the problems with fouls that saw him struggle so much were no better. There's plenty of talent in Pekovic; a monster of a man, a finisher, an average-enough rebounder, a passer, a pick-and-roller, a screener, and an all-around efficient offensive player. But defensively, he fouled. A lot. That, combined with a penchant for the offensive foul, resulted in a ton of turnovers and fouls, the unfortunate hallmark of Pecker's rookie season. The quicker nature of the NBA exposed him, and his defensive highlights were always other people's.
Quite a few posters for Peck last year
. As a rookie changing continents, there was always going to be am adjustment period, and the lowlights of Pekovic's rookie season were somewhat predictable. But he's also already 25, and can only afford one such adjustment year.
On the plus side, here's his fantastic tattoo.
http://www.ballineurope.com/us-basketball/nba/nikola-pekovic-tattoo-greatest-ever-7524/
Damion James
Derrick Favors
Ben Uzoh
Quincy Pondexter spent much of the year in the rotation, backing up Trevor Ariza, but did not live up to the hype [that I gave him]. Q-Pon played little early, struggled when he got into the rotation, got no noticeably better as the season went on, and, by the time the playoffs had rolled around, he had pretty much fallen out of the rotation again. On the year, Pondexter put up 2.8 points and 1.3 rebounds, with an 8.5 PER, with an uncountable number of moments of being in the wrong place at the wrong time. Nevertheless, Ariza, the man he backs up, is not a bad role model for Pondexter's career, and by hitting 36% of his threes in his rookie year, there's a hope there that he can be a better shooter than Ariza has ever been. That, plus some defense, could find him the niche he currently can't seem to find.