It's weird that Ben Wallace is the only one of these four with a contract.
This snappily titled post is, in essence, an update to
the earlier similarly titled one
that detailed the best remaining free agents in the world of basketball. The list was designed to be comprehensive - which is why Greg Buckner was in it - yet it wasn't perfect.
Some players should have been listed on it before, and are listed now. Some others who should have been listed before, but weren't, have now signed elsewhere and are once again not listed (as is the case with
Ishmael Smith
, who has signed a two year deal with the Rockets, and
Artsiom Parakhouski
, who signed with Latvian team VEF Riga.) And these players need removing from the list, as they have now signed contracts:
Jason Williams
re-signed with Orlando.
Acie Law
signed with Memphis.
Eddie House
signed with Miami.
Travis Diener
signed in Italy with Dinamo Sassari.
Marcus Williams
signed with BC Enisey Krasnoyarsk in Russia.
Sherron Collins
signed with Charlotte.
Lester Hudson
agreed to go to training camp with Washington.
Jerome Randle
signed with Aliaga Petkim in Turkey.
Shannon Brown
re-signed with the L.A. Lakers.
Roger Mason
signed with New York.
Jaycee Carroll
will stay with Gran Canaria in Spain.
Blake Ahearn
signed with Bancas Teramo in Italy.
Louis Bullock
signed with Cajasol Sevilla in Spain.
Donell Taylor
signed with Fastweb Casale Monferrato in Italy.
Ryan Thompson
agreed to go to training camp with Utah.
Tracy McGrady
signed with Detroit.
Linton Johnson
signed with Air Avellino in Italy.
Keith Bogans
signed with Chicago.
Taylor Griffin
was waived by the Suns and then immediately signed in Belgium with Belgacom Liege.
Raymar Morgan
signed in Israel with Maccabi Rishon.
Lee Nailon
also signed in Israel with Bnei Hasharon.
Alando Tucker
signed in Russia with Lokomotiv Kuban.
Pops Mensah-Bonsu
signed in Spain with Caja Laboral.
Sean May
signed with New Jersey.
Rob Kurz
signed in Spain with CB Granada.
Anthony Tolliver
signed with Minnesota.
Tim Thomas
re-signed with Dallas.
Mac Koshwal
signed in Spain's second division with Socas Canarias. (So did
Mike Gansey
.)
Shaquille O'Neal
signed with Boston.
Rasho Nesterovic
signed in Greece with Olympiakos. (Let's Euroleague!)
Jason Collins
re-signed with Atlanta.
Robert Swift
signed in Japan with Tokyo Apache, alongside
Byron Eaton
and
Jeremy Tyler
.
Adonal Foyle
retired.
Stewie Pecherov
signed in Italy with A.J. Milano.
Nathan Jawai
signed in Serbia with Partizan Belgrade.
Mario Kasun
signed in Croatia with KK Zagreb.
In place of those guys are some new ones. In place of the blurbs of the repeated players are updates on their progress since the last check-in, if any. To see the old blurbs for players on the previous list, click the asterisks next to their name.
Dan Dickau's Maserati
Point guards
-
Earl Watson
*
- News of where Earl Watson might play next year is not forthcoming. But he
has
been in the news, due to an
domestic assault in which he was the victim
. As shown in the link, though, Earl and the wife have decided to reconcile.
-
Anthony Johnson
*
-
Chucky Atkins
*
-
Cedric Jackson
*
- Washington rescinded Jackson's qualifying offer, making him an unrestricted free agent. He may still go to training camp with the team, however. And even if he doesn't make the roster, he's so close to the NBA that a return to the D-League looks both inevitable and correct.
-
Bobby Brown
*
- Maccabi Tel-Aviv were interested in Brown, as they are interested in everybody. But nothing came of the move due to Brown's salary demands. The same became of a possible move to Lithuania and Zalgiris Kaunas.
-
Chris Quinn
*
- The Magic were in talks with Quinn, but were able to get Whit Eboy to calm down instead, and so they no longer need a point guard. Diener's depature to Italy should benefit Quinn, since the two are quite similar; then again, Diener's departure to Italy was also quite a good idea and one that Quinn may also want to consider. Maccabi Tel-Aviv are now said to be interested in him as well.
-
Earl Boykins
*
- Stories about Boykins going to the Hawks
shot up
, and then
were shot down again
. Now,
it looks like he's going to the Bucks.
EDIT: Boykins's signing with the Bucks is now official.
-
Mustafa Shakur
*
-
Antonio Daniels
*
-
Jamaal Tinsley
*
-
Rafer Alston
*
- Wherever he goes,
it won't be the Heat or Knicks
.
-
Brevin Knight
*
-
Jason Hart
*
-
Lester Hudson
*
- Hudson has a training camp offer from the Wizards, and will presumably take it, unless something better comes along.
-
Tweety Carter
*
-
Patty Mills
*
- Mills remains a restricted free agent of the Blazers, and while both Lottomatica Roma and Virtus Bologna pursued him, Mills decided he didn't want to go to Europe. He may yet return to Portland, although Indiana, with their new found salary flexibility, might want to consider the idea.
-
Marko Jaric
*
- Jaric will not return to Real Madrid after all. Unless of course he does.
-
Sarunas Jasikevicius
*
- It's still possible that Cabbages returns to Panathinaikos, but it hasn't happened yet.
-
John Lucas III
*
-
Jon Scheyer
*
- Nothing has changed with Jon Scheyer.
This is why.
-
Dontell Jefferson
- Jefferson, a one time Bobcat, is a big point guard (6'5) who is best on defense. He was an absolutely dreadful scorer in college, scoring only 5 total points more than total rebounds grabbed in his senior season at Arkansas, but a few years of developing in the Developmental League have helped him improve. Jefferson can now drive to the basket and shoot to adequate standards, and looks to score rather than just swing the ball now. It's a good example of the D-League in action, and Jefferson earned a lengthy stay with Charlotte in the 2008-09 season. Jefferson was on the cusp of a call-up last season as well, averaging 18/6/4 for the Utah Flash, but went down with a season-ending knee injury in early March, just as all the call-ups had begun.
-
Dan Dickau
- So it's pretty obvious by now what Dan Dickau provides. Jumpshooting, no size, runs the break and the pick and roll, little defense, bouncy hair. Dickau turns 32 in September and can no longer dine out on that half-season he had with the Hornets in 2005. Nonetheless, I'm listing the newly Polish citizen anyway, partly because he averaged 15 points and 7 assists per game for the Fort Wayne Mad Ants last season.
-
Mike Wilks
- After playing four games for Oklahoma City last season - totalling 16 points and 4 assists in 59 minutes - Mike Wilks can now rightfully claim to have 9 years of NBA experience. Better still, he's played only 233 games in that time for nine different franchises (Atlanta, Houston, Minnesota, Denver, Washington, San Antonio, Seattle, Oklahoma City, Cleveland), and has been on the rosters of five more (Chicago, Milwaukee, Orlando, Memphis, Sacramento). So, apart from one season in the D-League (2001-02), and one fortnight with Montepaschi Siena (March 2008), Wilks has spent his entire career in the NBA....where he's barely played and signed about 46 different contracts. Is there one more left in the gun? You have to hope so.
-
Will Conroy
- Contrastly, Will Conroy has long been on the cusp of the NBA, without ever quite getting into it. Conroy appeared in 5 games and 36 minutes for the Rockets this season, taking his career totals to 12 games and 88 minutes; he also scored his first six NBA points. Yet that's all the NBA time Conroy has to show for a career constantly on the cusp. Conroy turns 28 later this year, and thus is in his prime; it seems inevitable that he will once again do a training camp dance somewhere. But will he stick? History suggests not.
-
Dominique Coleman
- Last year was an awkward one for Coleman. He played for two different D-League teams, started the year in Belgium, and had a reasonably successful but very short term stint with Angellico Biella in between. Coleman had made his way onto the scene the year before, averaging 15.1ppg, 7.6rpg, 4.8apg and 2.8spg for the now-defunct Colorado 14ers of the D-League, and even shooting an uncharacteristic 40% from three point range. He loves to rebound, gamble for steals, wins possessions as a defensive player, and isn't too bad offensively.
-
Andre Barrett
- Barrett signed with the Cavaliers for training camp last season, and was a late cut. He then spent a couple of months on the shelf, exploring various European trade routes, before winding up in the D-League with the Idaho Stampede. Once there, Barrett averaged 19.3 points and 6.7 assists per game, including a 42/11 outing. He remains a talented ball handler and willing passer, who would probably have no trouble making it in the league if he was 6'2. But he still isn't.
-
Tyronn Lue
- Lue retired last year aged only 32, and immediately went to work as an assistant for the Boston Celtics (who, until that time, had been a candidate to sign him as a player). He is now rethinking that career change while he still has time to rectify it, and can be considered back on the market.
-
Curtis Stinson
- Last year was Stinson's third in the D-League, and his second full season with the Iowa Energy. Just like in the first one, he played all 50 regular season games. He played 44.6 mpg in 2008/09, and 42.4 mpg in 2009/10; hardiness is definitely not one of his flaws. He also maintained his averages even with the slightly reduced minutes, going from 16.1 ppg, 8.4 apg, 7.0 rpg and 2.2 spg in 08/09 to 15.2 ppg, 10.9 apg, 5.4 rpg and 2.2 spg in 09/10, raising his scoring from 44% to 46%, and his free throw shooting from 74% to 81%. Stinson still can't shoot from outside, making only 11 three pointers all season on only 19% shooting. His PER of 15.7 was also pretty sedate. But the rest of the numbers were all there, again. Because of the fact that his numbers are so inflated by the minutes he plays, plus his lack of jumpshot, plus the fact that his strengths lie largely in the full court game, Stinson has not yet gotten in the NBA despite the stats. However, 10.7apg is significant in any league. Stinson went to summer league with both Orlando and Toronto, averaging 5.5ppg/5.0 for Orlando and 4/4 for Toronto. But neither seems to have any room for him.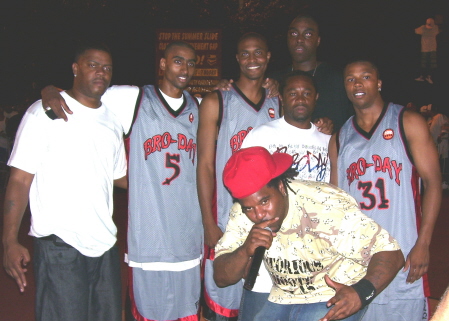 From right to left; Sebastian Telfair, Chris Taft, some short guy, Norm Richardson, Quincy Douby, and some angry guy making guns with his fingers
Shooting guards
-
Allen Iverson
*
-
The Hornets want him
, but
the Hornets don't want him
. That about sums that up. Iverson is publicly saying all the right things, but it's not making a difference. No one seems to want him, and because of what happened last year, he brought this upon himself. If he really has learnt humility, is it too late to make a difference? Not yet, but nearly.
-
Mario West
*
-
Delonte West
*
- As expected, Delonte was waived by the Timberwolves. Lots of teams could use a player of his talent and versatility, but no one wants to deal with the headaches. The NBA also just handed down a 10 game suspension for Delonte for his gun-toting violin case thing, which will make signing him even less desirable.
-
Larry Hughes
*
- Hughes wants to return to the Bobcats, but that's not the same thing as the Bobcats wanting him to return. The Celtics were said to be interested in him, but they may have saved their own bacon by running out of roster spots. There's no reason for any team to have both Larry Hughes and
Q6
.
-
Luther Head
*
- Since his physical with New Orleans was failed and the signing rescinded, nothing has been heard about Head's movements.
-
Ronald Murray
*
-
Mardy Collins
*
-
Javaris Crittenton
*
-
Devin Brown
*
-
J.R. Giddens
*
- They hadn't done it initially, but the Knicks have now renounced Giddens. It doesn't really change anything - he was an unrestricted free agent regardless. But there it is anyway.
-
Kyle Weaver
*
- As expected, Oklahoma City waived Weaver at the end of July to save on his contract. It was then announced by American media that Weaver had signed with Maccabi Tel-Aviv, only to be shot down by Israeli media, who said the signing had not gone down. (Normally, it's the other way around.) Weaver declined Maccabi's offer in favour of finding a good training camp gig, and he should get one.
-
Antonio Anderson
*
- Angellico Biella (Italy) were once interested in Anderson, and he also worked out with Cleveland, yet both teams seem to have gone elsewhere. He is now reportedly about to sign with the Rockets.
-
Greg Buckner
*
- Always a bit ambitious to have listed him here, really.
-
Mike Taylor
*
- All is quiet on the Mike Taylor front, which is unusual, because he's one of the better players on this part of the list.
-
Matt Bouldin
*
-
Joe Crawford
*
-
Rashad McCants
*
-
JamesOn Curry
*
-
Salim Stoudamire
*
-
Gordan Giricek
*
- Croatian team KK Zadar were said to be interested in signing Giricek, but the move broke down because Giricek's salary demands were too high. Keep it right here, America, for your Gordan Giricek news.
-
Damon Jones
*
-
Damon Jones is more than willing to mentor your youngsters.
-
Jerome Dyson
*
- Dyson is reportedly heading to training camp with the Oklahoma City Thunder. You heard it here first, unless you didn't.
-
Steve Francis
*
- Just to ensure you still haven't forgotten about him,
Steve Francis recently talked about how good he is.
-
Bryce Taylor
- Oregon guard and friend of the site Taylor played in Germany last season with Telekom Baskets Bonn, and averaged 12.5 points per game. He played for the Pacers in summer league, averaging 4.4 points and 3.0 rebounds per game. Taylor is a versatile two-way player, not exceptional in any one facet of the game, but with no discernible weaknesses either. Vanoli Cremona were said to be interested in him, although signing Artur Drozdov last week may have ended that possibility.
-
Thomas Gardner
- Gardner signed with the Grizzlies for training camp last year, but was an early cut. He later signed in Belgium, and scored 100 points in 8 games for the Antwerp Giants. 63 of those points came via the three, which demonstrates Gardner's style on offense. Last year was a bit of a nothing year for him, but with two years of NBA experience under his belt, he is capable of good things.
-
Mo Ager
- Ager went to Spain last year, but was no better there than he was in the NBA. He shot only 28% in 12 games for Cajasol Sevilla before being let go, returning to America to play in the D-League. Joining the Maine Red Claws saw Ager's professional career finally get underway, with averages of 15.6 points, 4.5 rebounds and 3.4 assists in 22 games. But three years after leaving Michigan State, that's all Ager has to his name so far. His career needs a kickstart.
EDIT - Since this was written, Ager has agreed to a deal with the Knicks.
-
DerMarr Johnson
- Johnson hasn't been in the NBA since an abortive stint with the Spurs at the end of the 2007-08 season. He played only 5 games for them, then got done for DUI after the season finished. Since that time, Johnson has been in China, Puerto Rico and Saudi Arabia, avoiding Europe after an unsuccessful stint there in 2007. Johnson is touted as a tall shooter, but he's just not that great of a shooter.
-
Quincy Douby
- Doobs started last year with the Raptors, but got waived before his contract was guaranteed. He then went to Turkey play for Darussafaka, and led the lead in scoring by 4.8ppg more than the guy in second place (Josh Shipp, 18.8ppg). The
Montenegrin international
is an elite scorer at levels of basketball just below the NBA, but in three and a bit years of trying to make that translate to the NBA game, he has not been successful. Nevertheless, he is still on the cusp. Aris (Greece) have been linked to him, but like all Greek teams, they're working to a budget.
-
Cuttino Mobley
- Cuttino
wants to make a comeback
, despite admitting that his heart condition has gotten worse. In light of
what happened to Mikhail Torrance yesterday
, I can't say I want that to happen. Stay safe, Cuttino.
-
Donta Smith
- Former Hawks swingman Smith has somewhat realised his potential, but not in leagues of much calibre. He averaged 21/8/3 in China last season, 17/6/3 in Venezuela, 12/7/3 in Puerto Rico the year before, and 15/5/4 as a star sixth man for the 2009 Australian NBL champion Melbourne South Dragons. And here he is in a Bulgarian slam dunk contest.
Smith still can't shoot threes and never quite turned into
Ron Artest
, as planned. But the most recent player to be drafted directly out of junior college is certainly talented.
-
Coby Karl
- As was expected, Karl was waived by the Nuggets this week so that his contract did not become guaranteed. Having played for both Denver and Cleveland last season, he is a candidate to return to the NBA next season. After all, he's about the same as
Andy Rautins
, and Rautins got a three year contract.
-
Norm Richardson
- Former Bulls and Pacers guard Richardson was just released from German Bundesliga team Bremerhaven, for whom he averaged 2/1 last year. His inclusion on this list is more to do with the fact that I like him.
Kinda looks right, no?
Small forwards
-
Bobby Simmons
*
-
Jawad Williams
*
- Williams, a restricted free agent of the Cavaliers, is expected to return to Cleveland.
-
Marcus Landry
*
-
Michael Finley
*
-
Jeremy Richardson
*
-
Cartier Martin
*
- Martin is a restricted free agent of the Wizards, expected to accept his qualifying offer and return to the team.
-
Damien Wilkins
*
- Wilkins worked out with the Cavaliers, but they signed
Joey Graham
instead.
-
Jarvis Hayes
*
- At one point, Hayes was linked to the Boston Celtics, but they signed
Von Wafer
instead. Hayes could still return to the Nets, who could use one more shooter.
-
Rodney Carney
*
- Unless I've missed it, Carney has not been linked to any team thus far. He's going rather overlooked here; Carney may be offensively awkward, but he's a decent perimeter defender, and better than some wing players already signed ostensibly to be perimeter defensive specialists. (Mentioning no names.)
-
Jerry Stackhouse
*
-
Stephen Graham
*
-
Rodney White
*
-
Devean George
*
- George could still return to Golden State, his knack for making executives love him alive as ever.
-
Ime Udoka
*
-
Steve Novak
*
-
Trenton Hassell
*
-
Sasha Pavlovic
*
-
Joe Alexander
*
- Alexander has been working out with the Timberwolves. The Wolves absolutely, completely, totally and indisptuably don't need another forward, but that isn't necessarily an obstacle. It's also not entirely baseless; Minnesota are the kind of team that needs to air out the retreads and the reclamation projects. There may be nothing to gain, but there's also nothing to lose.
-
Ruben Patterson
*
-
Adam Morrison
*
- Morrison has had workouts with the Bulls, Wizards and Kings, amongst others. But not the Timberwolves.
-
Desmond Mason
*
-
Marcus E. Williams
*
-
Qyntel Woods
*
- As of right now, Woods is staying with Polish team Gydnia, but the right offer could still change that.
-
Florent Pietrus
*
-
Andre Emmett
*
-
Carlos Powell
*
-
Shawne Williams
*
-
Derrick Byars
- Byars would have made the Bulls roster last season, were it not for the financial constraints inflicted by the final year of the repercussions of the
Ben Wallace
disaster. The Bulls need for him is not what it was, now that
Keith Bogans
is on board; Byars is a comparable shooter and defender, is younger and about the same size, but he doesn't have the reputation and the perceived advantage of age that Bogans does. Byars could still make the Bulls roster, but if he doesn't, Vanoli Cremona are said to be interested.
-
Trey Gilder
- Gilder played briefly for the Grizzlies last season, then returned to the D-League and put up an almost identical season to his one in 2008-09. Gilder's certainly athletic enough for the NBA, and has improved on his mistakes over the years; however, rather than continuing to develop an outside shot, Gilder has been using it less than ever. And he also doesn't play defense as well as a man of his athleticism should.
-
Ronald Dupree
- Doop managed his customary training camp gig last season, signing with the Jazz, and will be looking for another. Despite his seemingly never ending career, he's only 29, and still has plenty to give. Dupree's shots from both three point range and six foot range are not significantly better than before, but he's still a strong defensive player and interested rebounder, who contributes some offensively anyway.
-
Deron Washington
- Washington should have made the Pistons roster last year, but didn't, due to
a completely inexplicable turn of events
. He subsequently went to the D-League, where he started out with the L.A. D-Fenders and quickly moved to the Tulsa 66ers. In 48 games for Tulsa, Washington averaged 12.4 points and 4.7 rebound, but shooting only 41% from the field, 29% from three, turning it over 1.9 times per game and fouling 3.5 times. Washington is a tremendous athlete and a decent wing defender, but the offense hasn't gotten very far.
-
Sun Yue
- Yue spent last year playing for the Beijing Aoshen Olympians, the team with whom he played before he was drafted. The Olympians spent the year playing a series of exhibition games, before playing in both the ABA and the WCBL. Have you ever heard of an NBA prospect who was able to develop his NBA flaws while playing in the semi-professional WCBL?
-
Sean Banks
- One time Memphis forward Sean Banks seems to have left the problems of his youth behind him; unfortunately, his career has hit a slight lull. After big seasons in 2006-07 and 2007-08, in both the D-League and Puerto Rico, Banks struggled with injuries last year and missed pretty much all of it. Lesser talented players are currently in the NBA, and more are listed above.
-
Leon Rodgers
- Rodgers, a much travelled shooter, finally turned his permanently astronomical numbers into an NBA gig last year when he went to training camp with the Memphis Grizzlies. He didn't make the team, but another similarly stat heavy season followed; 28.5ppg, 8.5rpg and 3.5apg for Jilin in China's CBA. If you want a 6'8 athlete and shooter, try this one. He's 30 and unproven against higher levels of competition, but nonetheless, he's one to monitor.
-
Walter Sharpe
- After being drafted by Detroit 32nd overall in the 2008 draft - ahead of players like Baha Mootay, Mario Chalmers, Sonny Weems and Goran Dragic - Sharpe played only 15 minutes for the team that drafted him. He was then traded twice, cut by Milwaukee last October, and has not played since. Sharpe was drafted as a weak but hugely athletic 6'9 power forward, with lots of work still to be done. Two years in, and no work has been done.
Do an image search for Marcus Haislip, and try to find a picture of him smiling. This is as close as you get.
Power forwards
-
Melvin Ely
*
-
Louis Amundson
*
- The
Bobcats, Raptors
,
Warriors, Pacers and Hornets are chasing Amundson
, who is probably the best free agent left on the market. Golden State were last in rebounding last season by a very long way; Indiana were second last, and they just traded away their best rebounder. So it makes sense.
-
James Singleton
*
- Even though they renounced him, Singleton may still return to the Wizards.
-
Maceo Baston
*
-
Joe Smith
*
-
Mike Sweetney
*
-
Darius Miles
*
-
Malik Allen
*
-
Keith Brumbaugh
*
-
Jonathan Bender
*
-
Esteban Batista
*
- Batista has until Sunday to opt out of the final two years of his contract with Fuenlebrada.
-
Antoine Walker
*
-
Brian Scalabrine
*
- Scalabrine says
he has "good offers" from overseas
. If I knew, I'd tell you.
-
James Mays
*
-
Chris Hunter
*
-
Mikki Moore
*
-
Ikechukwu Somtochukwu Diogu
*
- As always, Diogu is going overlooked. Forget what you've heard.
Look up the numbers.
They're good numbers. The only one to worry about is the games played number. He does get injured a lot. But that's why you'd pay him the minimum.
-
Walter Herrmann
*
- Herrman has officially left Caja Laboral and
would like a return to the NBA
.
-
Bostjan Nachbar
*
-
Brian Cardinal
*
-
Andre Brown
- NBA journeyman Brown played in China last year, and did his usual things. He's an athletic 6'9 power forward who uses that athleticism to score some points and grab some boards, but who has a wonky jumpshot/foul shot release, and who doesn't like to pass. Brown has played for the Grizzlies and the Sonics, and has had workouts with basically every NBA team there is. A final comeback is unlikely.
-
Marcus Haislip
- Haislip returned to the NBA with the Spurs last year, but could only find garbage time in their deep frontcourt. He asked to be let go midseason, and went and joined Panathinaikos to replace
Jurica Golemac
(who himself was going to make the second installment of this list, until he signed with KK Zadar earlier this week). Jonathan Givony then reported that Haislip was going to join Caja Laboral this summer, but Caja have signed
Pops Mensah-Bonsu
instead. And no team ever needs both Marcus Haislip and Pops Mensah-Bonsu. They're just too similar. If
Lior Eliyahu
leaves, however, Haislip may still go there.
-
Shaun Pruitt
- Former Illinois big man Pruitt made the Warriors training camp roster last year, and subsequently played in Greece and Puerto Rico. He's a strong 6'10 centre, interior defender and incredibly good rebounder, but who is not a good offensive player, and who shoots everything he can find anyway. Pruitt was released by his Puerto Rican team last season for unexplained
"disciplinary problems"
, which doesn't bode well; however, the team brought him back at the very end of the season, so whatever it was, it can't have been too bad.
-
Elmedin Kikanovic
- Kikanovic is a 6'11 Bosnian big man, who averaged 9.5 points in 21 minutes in the Adriatic league last year for Crvena Zvezda, and who went undrafted in the past draft. He's a scorer and an absolute beast off the pick and roll, who didn't get drafted because he can't rebound or do anything on the interior. And the reason he can't do anything on the interior is because he weighs about 200lbs. This would be relatively normal thing for a 22 year old, were it not for the fact that
Kikanovic tested positive for steroids
at the end of last season. How can you be 6'11, 200lbs and on steroids? I don't know. Maybe he was using them wrong.
-
Kevinn Pinkney [sic]
- Former Celtics forward Pinkney was most recently in Israel, where he played for Hapoel Jerusalem as a pseudo-centre. Pinkney is a scorer, able to score on the interior, from mid-range, off the pick and roll, and occasionally from outside. However, despite being athletic for a 6'9 240lber, Pinkney is a disinterested rebounder and defender, grabbing only 3.7 boards per game last year while playing a lot of centre.
-
Elton Brown
- Virginia forward Brown has had NBA looks before, with the Knicks, Bobcats, Bulls and Magic amongst others. Three years ago he was once of the best players in the D-League, averaging as-near-as-is 20/10 for the Colorado 14ers. However, his stock has cooled considerably since then; last year in Germany, Brown averaged only 8/4 for Brose Baskets Bamberg, and apparently completely forgetting how to shoot a foul shot (50%).
Do an image search for Marcus Haislip, and try to find a picture of him smiling. This is as close as you get.
Centres
-
Josh Boone
*
-
Patrick O'Bryant
*
-
Primoz Brezec
*
- Brezec was linked at one point to Unicaja Malaga, but no signing is official.
-
Brian Skinner
*
- The Hawks were mentioned as a possible candidate for Skinner, as for some reason they are determined to build an old cap-strung team with no young core. They're not an old team yet by any means, but there's no real upside there.
-
Kyrylo Fesenko
*
- Nothing is finalised, but Fesenko is expected to return to Utah.
-
Kwame Brown
*
- Bizarrely, Kwame Brown might be the best available centre. Boston were interested in him, but wound up with Shaq instead; outside of that, no one seems to want him.
-
Jake Voskuhl
*
-
Sean Marks
*
- It was expected - and slong since rumoured - that Marks was going to return to his homeland to play for the New Zealand Breakers (who, despite the name, play in Australia's NBL.) However, the Breakers rounded out their roster yesterday by signing former Utah State forward Gary Wilkinson instead, and Marks is therefore left in the lurch.
-
Jackie Butler
*
-
Jared Reiner
*
-
Jarron Collins
*
- With Jason having signed with Atlanta, Jarron will probably die of loneliness. I think that's how it works. Unless I'm confuusing the Collins twins with parakeets.
-
Stromile Swift
*
-
Fabricio Oberto
*
-
Earl Barron
*
- As with J.R. Giddens above, the Knicks have now renounced Earl Barron. This doesn't necessarily mean anything, though. He wasn't likely to return anyway, and even if he did, it was going to be for the minimum. It still can be.
-
Mark Blount
*
-
Francisco Elson
*
- As with Brian Skinner and Josh Boone,
the Hawks are (or were) interested.
Atlanta still doesn't have a third string centre, so presumably all three are still in play.
-
Jerome James
*
-
Etan Thomas
*
- Thomas was
named to Barack Obama's All-Birthday Roster
, ahead of the arguably more talented
Kevin Durant
. That's about it for Etan Thomas news.
-
Didier Ilunga-Mbenga
*
-
Randolph Morris
*
- Based on the above, it doesn't look like Atlanta has any interest in retaining Morris.
-
Michael Ruffin
*
-
Steven Hunter
*
- As far as can be told, Hunter has not retired, neither officially nor unofficially. But he's
started attending broadcatser training
, which hints at future plans.
-
Courtney Sims
*
-
Nikola Vujcic
*
- Vujcic was in talks about a return to Maccabi Tel-Aviv, the place where he enjoyed his best years.
-
Sean Williams
*
- Williams is reportedly close to signing with Israeli team Hapoel Jerusalem. This will be the closest thing Hapoel have had to a centre for a while.
-
Chris Richard
*
-
Peter John Ramos
*
-
David Harrison
*
-
Garret Siler
*
- Siler was linked to the Heat; however, with 15 guaranteed contracts and 2 partially guaranteed ones ahead of him, it now no longer makes sense. Maybe if Miami completes the
Mario Chalmers
/
Dexter Pittman
for
Moody Fernandez
trade, but in light of Aunt Flo's latest message to Rudy, that doesn't now look possible either.
-
Dwayne Jones
- Perhaps inevitably, Jones was waived by the Raptors. He is now by default one of the better players on this list. Jones is a thoroughly awkward offensive player, but he defends around the rim and grabs rebounds like few others. He keeps getting back into the NBA for good reason.
-
John Edwards
- Former Hawks and Pacers centre Edwards is still playing, and just turned 29. He is the same as he ever was; blocks the occasional shot, and hits one footers, but is no scorer, not much of a rebounder, and fouls a ton. His career PER of 6.0 is more than slightly influenced by his career totals of 76 fouls and 48 rebounds. An NBA return is basically impossible. But if Edwards spends another year in the D-League, he'll be spending another year on the American scene. Which may count for something.
-
Kurt Looby
- Looby is a late starter and even later bloomer, who did absolutely nothing in college or the pros until he turned 25. Then, pressed into emergency service by the Rio Grande Valley Vipers, Looby responded with huge rebounding and blocked shot numbers, and is now an established D-League big man presence. Looby is a truly poor offensive player, but his rebounds and blocked shots averages are significant; in 26 games for the Albuquerque Thunderbirds last season, Loobs averaged 6.8 points, 9.0 rebounds and 3.3 blocks in 31 minutes per game. If you want a big man who can catch, pass, make foul shots and layups, then Looby is the worst possible candidate. But as a defensive big man, he has a legitimate chance, and could be a training camp invite somewhere.
-
Arinze Onuaku
- Onuaku is the opposite of Looby. He's an incredibly strong but unathletic 6'9 interior player from Syracuse, who scores at an incredibly high field goal percentage despite barely having the ability to create his own shot. Onuaku is also notorious for being one of the worst free throw shooters you ever saw, hitting only 39% from the line for his college career. If he was bigger, he'd have a chance; if he was more athletic, he'd have a chance; if he was able to post up without constantly being stripped by the Reggie Redding's of this world, he'd have a chance. It would also helped if he rebounded better. But since none of those things are true, it doesn't seem likely that he will ever make the NBA.
(Which begs the question of why I put him here.)
-
Jamal Sampson
- Sampson is 27, has five years of NBA experience, and yet hasn't played in the NBA for the last three years. He was an early starter, athletic and an incredibly good rebounder, with many questions about his offensive game. Those questions still remain. But so does the very good rebounding.
-
Robert Traylor
- Covered in depth
here
, Traylor hasn't had the best time of it lately. But even though he's fallen out of the NBA landscape, he's being incredibly productive in lesser leagues. Traylor was never a particularly good NBA player and only ever a role player, but his career PER of 14.5 testifies that he was always a pretty good one. Maybe he still could be.
-
Ha Seung-Jin
- It seems to be often assumed that Ha is an unathletic clunker. And that doesn't seem right. He's rather slow, of course, as is inevitable for any 7'4 homosapien other than a young
Shawn Bradley
. But unathletic? In relative terms, no, not really.
Ignore the underlying slightly mocking tone of the video, and focus on the agility. For a 7'4 monster of a man, that's pretty good. Ha is back in his native South Korea and starring at a low level of basketball, and there's absolutely no reason to assume an NBA return will ever happen. Yet let's try to at least carve an accurate legacy.