Continuing the whereabouts round-ups of all recent NBA drafts, this is the fifth installment of the series. The non-canonical first four:
1994
,
1995
,
1996
,
1997
.
As always, this is really long. Feel free to skip bits.
First round
- 1st pick:
Chris Webber
(Golden State)
- Webber retired from basketball in March 2008 after an unsuccessful short stint with the Warriors. He now works as an analyst for NBA TV, along with the occasional TNT appearance. Webber's restaurant outside the ARCO Arena in Sacramento
abruptly closed last month
, but he's supposedly writing a book, and he's also active in business, owning both Maktub LLC (which builds things) and Full Bloom Marketing (which markets things). He also
released an album back in 1999
. I would love to know what that's like.
Chris Webber fact; on draft night 1993, Webber's rights were traded by the Magic (who picked first) to the Warriors, in exchange for the rights to Penny Hardaway (picked third), as well as first round draft picks in 1996, 1998 and 2000. That is a HELL of a lot to give up just to move up two places in the draft, and it could have been especially painful considering that the Warriors sucked between 1997 and 2002. However, it could have been worse than it was. I've tried to piece back together what became of those picks, and here's what I've found:
1996: The Warriors traded Webber after only one season to the Bullets in exchange for
Tom Gugliotta
, as well as for three first round picks in the same years as the initial deal (96, 98, 00). However, the 1996 pick that Golden State received from the Bullets was in fact their own - Orlando had traded it to Washington in the summer of 1994 in a salary dump of Scott Skiles. The pick was #11 and was later used by the Warriors on Todd Fuller. (It could have been used on
Kobe
, of course.)
1998: The Warriors dodged another bullet here; they didn't trade their own 1998 pick to the Magic, but traded
A
1998 pick to the Magic. After acquiring the Bullets' first rounder in the aforementioned Gugliotta deal, they sent that one instead. The pick was number 13 overall and was used to take
Keon Clark
. The Warriors own pick - which they mercifully kept - was number 5 overall and was used to draft
Vince Carter
(who they then turned into
Antawn Jamison
).
2000: Orlando got the Warriors own pick here, number 5 overall, and used it on
Mike Miller
.
This trade nearly saw all four of Anfernee Hardaway, Kobe Bryant, Vince Carter and Mike Miller traded for Chris Webber. Chris Webber was damn good, but no one's that good. The Warriors got away with one here, just.
- 2nd pick:
Shawn Bradley
(Philadelphia)
- Bradley retired in 2005 after 8 and a half years with the Mavericks. He now
works in a school
.
As we all already know, Bradley was kind of a bust in the league. He was always good, but never great, and he aged fast. However, pre-Space Jam, Shawn Bradley was a hell of a prospect. Look me in the nostrils and tell me that if there was a 7'6 player in this year's draft that was capable of doing the following, that you wouldn't pick him second overall:
You can't. Because you would.
- 3rd pick:
Penny Hardaway
(Orlando)
- Hardaway last played with the Heat in the early part of the 2007/08 season, back when Pat Riley thought it'd be a good idea to assemble a backcourt of him and
Smush Parker
. He spoke of attempting one more comeback up to and including last summer, but it never came to pass, and it's never now going to. Hardaway wasn't very good in his time with the Heat, due to the old age and all the injuries, and he wouldn't be any better now that he's 38.
In retirement, Hardaway has recently launched
his own tournament
, and he appears at a lot of Memphis Tiger games. He also turns up at a lot of charity events, as well as the opening of
this golf course
. No word on what he does for money these days, but given the amount he earned in his NBA career, there doesn't really need to be anything.
- 4th pick:
Jamal Mashburn
(Dallas)
- Like the top three, Mashburn's good NBA career dribbled to a stop due to injury. Note to all current NBA players; this will happen to you too one of these days. It's a tedious inevitability.
Mashburn played in only 19 games in the 2003-04 season, then missed all of the 2004-05 and 2005-06 campaigns. The Hornets traded him to the Sixers in that time despite his injury, which must have been quite the indignity, and Philly eventually waived him in February 2006. Mashburn now works as a TV analyst for ESPN, something that he's very good at, choosing not to try to force a personality onto the viewers like so many of his peers and being entirely inoffensive in his speech. He also co-owns Ol Memorial Stables - formerly known as Celtic Pride Stables - alongside Rick Pitino and some other people.
- 5th pick:
Isaiah Rider
(Minnesota)
- Isaiah Rider is still playing, and if you don't believe me,
here he is.
Rider had been out of basketball since the Nuggets waived him partway through the 2001-02 season (the reason cited being perpetual lateness), and spent the ensuing 8 years doing very little. He was arrested a lot, smoked a lot of pot, did some coke, and did a three and a half month stretch in prison in 2006 for cocaine possession and evading a police officer. (Is it easier or more difficult to evade the police if you're coked up? The judgement will be gone, but surely so will the pain threshold, which opens up more possibilities for escape? It's hard to say. Someone should do a study.) After getting out, he was arrested three more times in three months and saw three properties foreclosed. And then he started going to church.
He now claims to be drug-free, and is attempting a basketball comeback with the North Texas Fresh of the ABA. Rider recorded 18 points, 7 rebounds and 6 assists on debut, numbers slightly warped by the ABA's style of play (the Fresh score 163 points in the game), albeit decent nonetheless. It was also reported that Rider might have landed a training camp contract with the New Jersey Nets this summer, which, while it would have been an absolute 0% chance of making the roster, would have been something good to put on the CV if ever China became interested. That didn't happen, however, because Isaiah pissed it up,
getting arrested two weeks before camp started
.
The ABA's a great league, by the way.
I love its statistics website.
So contrite.
- 6th pick:
Calbert Cheaney
(Washington Bullets)
- Cheaney last played in the NBA in the 2005-06 season. In the three years hence, he didn't do a whole lot, although he hung around the University of Indiana and Golden State's basketball programs a lot. That inevitably led to a more official role, and Cheaney was hired by the Warriors this summer as a "special assistant."
Would you like to see Calbert Cheaney in a very 90's music video? Of course you would.
Can't say that I see the link between the basketball and the tune.
- 7th pick:
Bobby Hurley
(Sacramento)
- Hurley's NBA career was not lengthy or prodigious, largely due to a car accident that nearly killed him only 6 weeks into his rookie season. He had averaged 7.1 points and 6.1 assists in his first 19 NBA games before the crash, but never reached those numbers again, ending up with career averages of 3.8 points and 3.3 assists in 269 games, shooting 35%.
After giving up the game, Hurley developed a 134-acre breeding and training facility for racehorses in Florida (Devil Eleven Stable), and in 2003 went to work as a scout for the Philadelphia 76ers.
- 8th pick:
Vin Baker
(Milwaukee)
- Vin Baker was still playing up to and including last season. The NBA fell by the wayside back in 2006 when he was released by the Timberwolves after the first six games of the season, but he's signed elsewhere twice since then, both last season. Baker signed with Liaoning in China last November, and then signed with Marinos in Venezuela this June.
Both times, he was released without playing a game due to being out of shape.
Baker's non-basketball life hasn't been going too well, either. In June 2007, the recovering alcoholic was arrested for drink driving after leaving a casino. (He later pleaded guilty to a lesser charge of reckless driving.) In February 2008, his seafood restaurant was foreclosed after racking up roughly $900,000 in unpaid loans. And in June 2008, his home was also foreclosed.
He hasn't been in the headlines for a while, and as they say, no news is good news. So it would be great if he's rectified his problems and straightened out his affairs. But given that the last time we heard from him was when he was deemed to be
an unfit replacement for Horacio Llamas
......well. That's worrisome.
- 9th pick:
Rodney Rogers
(Denver)
- Rogers last played in the NBA in the 2004-05 season. He was traded along with Mashburn from the Hornets to the Sixers, and averaged 6.0 points and 3.7 rebounds with the Sixers in his final 28 games. He never played professional basketball again.
Upon retirement, Rogers started working as a heavy machinery operator in Durham, purely because he liked doing it, and got promoted to supervisor within short order. He was also doing some voluntary coaching for a girl's team, and has established a computer laboratory in a public housing complex. There's something endearingly pure about that, particularly the line from his agent Butch Williams that says "he loves big trucks." It seems almost childlike in its innocence, and that's jarringly beautiful in an industry as seedy and corrupt as the NBA can often be.
Yet that affability just makes it all the more depressing that this happened:
Rogers is paralysed from the neck down after a dirt bike accident. That really, really sucks. Moreso than only two 'reallys' can convey.
What a depressing few entries those were.
- 10th pick:
Lindsey Hunter
(Detroit)
- SPOILER ALERT: Lindsey Hunter is only player in this entire list to still be playing in the NBA. But he shouldn't be. He's been a member of the Bulls for two straight seasons, ostensibly to act as a mentor for young point guard
Derrick Rose
. The idea is that because Rose is a bad shooter and worst defensive player, that Lindsey Hunter will be able to mentor him into improving these skills, as well as helping to develop an understanding of the nuances of the point guard position. However, lost in that dreamlike scenario are a few overlooked facts:
1) Lindsey Hunter stopped being a good defender 4 years ago.
2) Lindsey Hunter stopped being a good shooter 8 years ago.
3) Lindsey Hunter was never a point guard.
At this stage of his career, Lindsey Hunter has literally nothing to give on the court. He can't defend, can't shoot, can't drive, can't run, and can't run an offense. His sole positive attribute of not turning the ball over comes only as a result of never doing anything proactive with the ball. And also because he usually manages to get one last pass off before the 24 second violation is called. Everything he provides is off the court.
The Bulls love point guards like that, though. And so that's why they'll willingly use up one of their 13 roster spots on a player who's best as a player when he's not playing, to a guaranteed contract, placing their jewels firmly in the path of the luxury tax angle grinder purely to retain his services, when there were no other bidders for them. But hey, if he's worth it....
- 11th pick:
Allan Houston
(Detroit)
- Houston was never the compelling protagonist of his own amnesty clause, as was erroneously expected by a large contingent of the mainstream media. This is because he didn't need to be; the Knicks knew that they could get a retirement exemption thing on Houston's salary eventually, and they finally did so in October 2005.
Houston wasn't done, however; he launched two comeback attempts, both with the Knicks, who signed him for training camp in both 2007 and 2008. However, Houston made neither roster, and the comeback attempts appeared to be more in hope than expectation. (If he really wanted to get back in the NBA, he wouldn't have signed with the Knicks; the roster situation was always against him. Loyalties were a big factor.) It was, however, a more noble way to go out than before. Houston is now working for the Knicks as an assistant to team president, Donnie Walsh.
- 12th pick:
George Lynch
(L.A. Lakers)
- Lynch last played in the 2004-05 season, averaging 3.7 points, 4.0 rebounds and 2.0 assists for the Hornets. They waived him as one of the last cuts in 2005 training camp, even though they owed him $3.2 million from a completely unnecessary 1 year extension that they gave him in 2003. Whoops. Lynch became administrative assistant and graduate manager at Southern Methodist University in December 2006, and due to a lack of evidence to the contrary, I'll presume he's still there.
- 13th pick:
Terry Dehere
(L.A. Clippers)
- Dehere played 6 NBA seasons, the best of which was his third. Playing all 82 games but getting only 10 starts, Dehere averaged 12.4 points and 4.3 assists per game, posting a PER of 16.7 and an awesome true shooting percentage of .612%. And that's as a point guard. After falling out of the league in 1999, Dehere spent 1 year in Germany, 18 months out of the game and then three months with the North Charleston Lowgators of the D-League, before retiring in 2002.
Dehere now owns a place called the Sanai Restaurant & Lounge in Jersey City, but
this landed him in trouble recently
. Also in Jersey City, Dehere is the chairman of the Jersey City Community Housing Corporation, and he's also moved into politics, running for an At-Large Council seat at the Jersey City municipal election of 2001 (whatever the hell that means), and also being elected to the Jersey City Board of Education, where he currently serves on the Legal and Affirmative Action Committees and is the Urban Affairs Alternate Delegate. As you can probably tell, Jersey City is his home town. As you can also probably tell, I have no idea what any of that political stuff means.
Terry Dehere fact Terry Dehere's full name is Lennox Dominique Dehere. No idea how you get Terry out of Lennox Dominique, but he's got to be the only person in the world with that name.
- 14th pick:
Scott Haskin
(Indiana)
- Despite being a 14th pick, Scott Haskin's NBA career consisted of 27 games, 186 minutes, 55 points, 55 rebounds and 33 fouls. That was due to injuries, injuries which also prevented him from having a basketball career outside of the NBA. Haskin now sells insurance in Portland, Oregon.
Here's some stuff,
and
here's what I think is his Facebook.
To be honest, there aren't enough Scott Haskin pictures on the internet to make a comparison.
- 15th pick:
Doug Edwards
(Atlanta)
- Edwards played in only 85 NBA games over 3 seasons, averaging 2.4 points and 1.8 rebounds and riddled by injuries throughout. There exists a big gap between 1997 and 2005, a gap in which I can't seem to find any Doug Edwards news. But in 2005, he reappeared at his alma mater Florida State, doing a social sciences degree. And then in September 2008, Edwards was named as the director of student-athlete development at Kansas State University. If you're wondering what that role involves, as I was, then the following quote is taken directly from the school's own website:
Edwards is responsible for a variety of areas including basketball-related matters, handling special projects for the coaching staff and assisting with personnel development and recruiting. In addition, he is involved in monitoring student-athlete's academic development and their degree completion process. He is also influential in the Life Skills program and counseling student-athletes in career planning and goal setting.
Sounds like a glue guy. Does all the little things to help his program win.
- 16th pick:
Rex Walters
(New Jersey)
- Walters managed a much better NBA career than the previous two, sticking in the league from 1993 until 2000. He didn't play a whole lot in that time, and retired with career averages of only 4.6 points and 1.7 rebounds, but the longevity's decent. Walters left the NBA after an unsuccessful training camp stint with the Pacers in 2000, and spent the next two years split between Spain and the ABA before retiring. Since then, Walters has worked his way up the coaching ranks; he started in 2002-03 as an assistant with Blue Valley Northwest High School, then spent two years as an assistant at Valparaiso. In April 2005 he left Valpy to work as an assistant as Florida Atlantic for a year, then spent the next two years as head coach. And then before the start of the 2008 season, Walters was named the head coach of San Francisco.
- 17th pick:
Greg Graham
(Charlotte Hornets)
- Graham was traded to the Sixers for Hersey Hawkins before his rookie season started, and spent two and a half years in Philadelphia. Then he was traded to the Nets in a deal that also included Shawn Bradley (#2 above) and Rex Walters (#16), playing half a season in New Jersey. He then was traded to the Sonics for Vincent Askew and spent a year there, before being traded twice in the 1997 offseason; first to the Nuggets as a part of the deal for Dale Ellis, then to the Cavaliers as a part of the deal for Sherman Douglas. There's some fine shooters in that list, albeit not Askew or Douglas. (Or Bradley.)
Graham then started the 1997/98 season with the Cavaliers, but was waived in December and never returned to the NBA. He spent a year in the CBA and a year in Sweden before retiring. He is now the head coach at Warren County High School in Indiana, which not coincidentally was Graham's own former high school. Before that, he was head coach at the Indiana Alley Cats, a now-defunct team in the now-defunct CBA.
- 18th pick:
Luther Wright
(Utah)
- Rather then tell you Luther Wright's story, I'll link you to two people who have already done it:
Matthew Futterman of the Deseret News
in June 2007, and
Tim Povtak of NBA Fanhouse
last month. Long story short - he's spent a lot of time in mental hospitals and on the streets, took a lot of drugs, and is missing some toes and some teeth. Not good. But he's bouncing back.
- 19th pick:
Acie Earl
(Boston)
- Earl played 193 NBA games over 4 seasons with the Celtics, Raptors and Bucks, recording career averages of 5.1 points, 2.7 rebounds and 1.8 fouls per game. Upon leaving the NBA for good in October 1997, Earl spent a year in France, a year in Australia, a summer in China, another fortnight in Australia, two years in Turkey, a year in Russia, a year split between Turkey and Poland, and a year split between all three of Austria, Serbia and Kosovo. In October 2004 he signed in Canada in a league that folded about 8 minutes after he joined it, then signed with KK Zadar in Croatia for preseason, but did not make the team after tearing his achilles tendon. And then that was that.
After that, Earl did the usual thing for players on these lists and became a coach. He started with the Tijuana Dragons (now defunct) of the ABA, moving for the 2005-06 season to the Rockford Lightning (now defunct) of the CBA (now defunct), then becoming the head coach and VP of basketball operations for the Quad City Riverhawks (now defunct) of the ABA and the PBL, then became the head coach of the Cleveland Majic (now defunct) of the World Basketball Association. While there, he drafted
Chuck Hayes
4th overall in the 2006 WBA Draft. If you need a yardstick for how relevant that drafting is, how's this:
LeBron James
was picked 18th overall in the 2003 USBL draft by the mighty Brevard Blue Ducks. No, I don't know why lowbrow American minor leagues do this either.
Earl now works in real estate for Sellers and Seekers Real Estate Company in Iowa, and is the head coach at Solon High School (NOT defunct).
- 20th pick:
Scott Burrell
(Charlotte Hornets)
- Burrell managed an 8 year NBA career which ended with a 4 game stint with the Hornets in 2000/01. After that, he played in the NBDL, China, the Philippines, the CBA, Spain and Japan, where he last played in the 2005-06 season. Burrell then went to work as an assistant for the Colorado 14ers (now defunct) of the D-League, and has spent the last three years as an assistant coach at Quinnipiac University in Connecticut alongside former UConn assistant Tom Moore. Quinnipiac play in the Northeast Conference. I had to look that up.
More importantly, here's how shiny Scott Burrell's head has gotten:
- 21st pick:
James Robinson
(Portland)
- Robinson played in 205 games over his first three seasons for the Blazers before being traded to Minnesota as a part of the deal for J.R. Rider, spending a year there. He then signed with the Clippers for two seasons, but was released in March 1999, partway through year two. Robinson signed two ten day contracts with the Timberwolves to end that season, and then spent the 1999-00 season with Olympiakos in Greece. He returned to the NBA in October 2000 signing a training camp contract with the Sonics, and although he did not make the team, this led to two ten day contracts with the Magic in January 2001. There followed a season in Russia, a season in Italy and then one more season in Russia, before a six week stint with the Las Vegas Rattlers of the ABA that ended in December 2004. That was Robinson's last stop.
In retirement, Robinson has one of the most awesome mixes of career choices the world has ever known. He's the CEO of a
Casino/Indoor Waterpark Resort in Mississippi that doesn't quite exist yet
, owns a record label called Da Dirty South Records, and he also owns a women's lingerie shop in Las Vegas. How fantastic is that trio?
- 22nd pick:
Chris Mills
(Cleveland)
In his first 4 seasons in the NBA, Mills played 399 games. He played 79 in his rookie year, and then 80 games for each of the the next three seasons. He played 11,063 minutes in that time for an average of 34.7 minutes per game, and scored 4,006 points for an average of 12.6ppg. This all came with the Cavaliers.
After his fourth season concluded, Mills signed a swanky new 7 year, $33.6 million contract with the Boston Celtics in August, who then unusually traded him to the New York Knicks two months later before he ever played a game for them because the incoming Rick Pitino didn't think he would fit in a running game. Mills managed 8 games in the first season of his new contract, but he never played more than 66 games again, and appeared in only 169 games over the last 6 years of his contract, earning $30.6 million over that time. For maths fans, that's $181,065 dollars a game.
Mills was traded by the Knicks to the Warriors after only one season as a part of the
Latrell Sprewell
deal, and it was they who had to put up with paying him all that money just to miss most of the next five seasons due to injury. In the last year of his contract, however, Mills's expiring $6.6 million salary became a valuable commodity, and the Warriors traded him in the 2003 offseason as a part of the Antawn Jamison deal (a deal which they got absolutely creamed on, talent wise). The Mavericks traded him to the Celtics later that offseason as a part of the
Raef LaFrentz
deal, and the Celtics traded him to the Hawks at the deadline as necessary salary filler in the three way
Rasheed Wallace
deal. Mills didn't play that year nor ever again.
In retirement, Mills co-owns a high profile car custom shop called
310 Motoring
, who are sufficiently famous to have their own Wikipedia entry and shoe collection.
Chris Mills fact that you might have already known but which I didn't: when Kentucky attempted to recruit Mills over 20 years ago, a package sent to Mills' father by then-assistant Dwane Casey spilled open in transit, revealing $1,000 illicit dollars that shouldn't have been there. It doesn't get much more fail than that.
Another Chris Mills fact: one day when Mills left his PDA lying around, his then-Warriors rookie teammate
Gilbert Arenas
sent an email to the address of everyone contained on it, pretending to be Mills announcing his homosexuality. For a rookie, that's confidence.
- 23rd pick:
Ervin Johnson
(Seattle)
- Ervin Johnson never professionally played outside of the NBA, because he never had to. Johnson managed a 13 year NBA career between 1993 and 2006 before finally succumbing to the inevitable aged 39.
This is particularly impressive considering that we are talking about a man with marginal basketball talent. I say that with affection, of course, but it's true, as evidenced by how Johnson averaged more fouls than page for each of the last six seasons of his NBA career. That's pretty marginal, and yet he stuck around anyway. Of course, this durability owes a lot to the 7 year contract that he signed in the summer of 1997, onto which was tacked an unnecessary and ambitious two year extension by the Bucks in October 2001 (even though the previous season was the first of the fouls/points dilemma.) Yet Ervin stuck around nonetheless, and ended up appearing in a massive 845 NBA games with 4 teams, retiring with career averages of 4.1 points and 6.1 rebounds per game. (As well as 2.9 fouls.)
Ervin Johnson fact: Ervin Johnson was not drafted until he was almost 26 years old. Indeed, he did not start college until he was nearly 22. Johnson did not play high school basketball and worked in a supermarket for two and a half years before eventually committing to New Orleans in 1989. This might explain the lack of refinement in his offensive skills. But since that didn't hold him back career wise, there ain't nothing wrong with it.
Johnson now works as a community ambassador for the Denver Nuggets, one of his former teams.
- 24th pick:
Sam Cassell
(Houston)
- Cassell's playing career existed up to and including last season, when he spent half of the year on the Celtics inactive list, and then about 8 minutes with the Kings after Boston salary dumped him. He never played in a game with either team. Moving quickly, within about three months of the Kings waiving him, Cassell was named as an assistant on Flip Saunders' new staff at the Washington Wizards.
- 25th pick:
Corie Blount
(Chicago)
- This went badly.
After falling out of the NBA in the 2004 offseason, Blount's only other basketball stint came with a training camp contract with the Lakers in 2006. He never played again, and, seemingly enjoying the good life, he took up another high paying profession; selling dope. How much? This much:
Blount's impressively bow-tied attorney claimed that that amount was all for personal use, yet perhaps unsurprisingly, the judge didn't buy it. (The excuse, nor the stash.) Below is a video of Blount's sentencing, one slightly tarnished by the way the judge whores the camera.
Presumably, Corie is still in prison.
Corie Blount fact: On Christmas Eve 1999, Blount was pulled over for having tinted windows and no front number (license) plate. The police also seized the cash that Blount had on him - an impressive amount of $19,435- and handed it to the DEA, after a K-9 unit smelled "drug residue" on it. Blount claimed that the money came from the sale of a car, and had to sue to get it back. No drugs were found on Blount or in the car, and he was not arrested or charged with anything. But in hindsight, it doesn't look great.
- 26th pick:
Geert Hammink
(Orlando)
- Hammink signed with Cantu in Italy's Serie A soon after being drafted, and returned to the NBA in April to play the last game of his rookie season. He spent the 1994-95 season on the injured list, appearing in only one game, and was finally waived by the Magic after three more games in December 1995. Two and a half years spent with the team......and five games played. Sweet. After a couple of months in the CBA, the Warriors signed Hammink for two ten day contracts later that season, where Hammink appeared in 3 more games and 10 more minutes, but that was the last of his NBA experience. The sum total; 3 seasons, 8 games, 27 minutes, 14 points, 7 rebounds. Career PER of 14.0, though.
After falling out of the NBA, Geert split the next 8 seasons between Germany and Greece, spending a year in Greece, then three years in Germany, then two more years in Greece, and finally two more years in Germany. He retired in 2004 and is now the Vice President and CEO of the massively huge Court Side Agency.
- 27th pick:
Malcolm Mackey
(Phoenix)
- Mackey spent only one year in the NBA, playing 22 games with the Suns after being drafted and being waived in 1994's training camp. He had training camp contracts with the Mavericks in 1997 and the Kings in 1999, but never made it back to the NBA. Outside of the NBA, Malcolm Malik Mackey played in the following places in the following order: CBA, France, Turkey, Spain, CBA, Puerto Rico, Spain, Spain (failed a drugs test at this point), Greece, CBA, Puerto Rico, Italy, France, China, France, France, France, Spain, Poland and Kosovo. His last stint came in the ABA with a team called the Chattanooga Steamers. However, the team ran into financial difficulty and quickly folded. (Shame. They should have moved to Cleveland.)
As of May, Mackey was working as a sales consultant at a General Motors dealership in Georgia. However, given recent events, that might not be the best industry to be in right now. If you want to know what he's doing these days,
here's his Facebook.
Malcolm Mackey went to high school at a place called Brainerd. What a great name for a school.
Second round
- 28th pick:
Lucious Harris
(Dallas)
- Harris' last basketball season was in 2004-05, when the Cavs ambitiously signed him to be the shooter that LeBron needed. They signed him to an elaborate contract that contained incentives based on team performance and Harris's own minutes played, but they then waived him after one season making all of those conditions irrelevant. Harris wound up playing 12 years and 800 games in the NBA, a very impressive amount, but possibly a tad excessive for a scoring role player with a career true shooting percentage of .507% (shooting under that amount in 9 of his 12 seasons).
In the four years hence, I've had a few attempts at finding Lucious Harris, but have struck out swinging on all of them. This one is no exception. He's just not here. If you know something that the internet doesn't, call in.
- 29th pick:
Sherron Mills
(Minnesota)
- Mills never played in the NBA. He didn't make the Timberwolves out of training camp in 1993, and while he went back for another camp stint in 1996, he didn't make it then either. Mills' non-NBA career featured two years in France, one in Italy, two in Turkey and two in Spain, picking up a Turkish passport along the way and going by the Turkish name "Senol Sertan Milli." He broke his leg in August 2000 and never played professionally again, despite being an ACB all-star the previous season.
A Google search for "Sherron Mills, lesbian nurse practitioner" reveals a surprisingly high number of results. So does "Sherron Mills, sperm bank." Best of all is "Sherron Mills, reproductive pioneer." That's the nickname I want.
- 30th pick:
Gheorghe Muresan
(Washington Bullets)
- Muresan played only 30 games in 1999-00, his final NBA season. He was a good player for a while, winning the 1996 Most Improved Player Award along the way, but, as is inevitable for a man of his height, his career was not a very long one. One more season followed in 2000-01, playing 16 games in the French league for Pau Orthez, and then that was that.
Muresan appeared in a couple of exhibitions for the Maryland Nighthawks in March 2006 and March 2007, the latter of which was a shameless attempt to get into the Guinness Book Of Records for being the tallest lineup in history. Muresan, at 7'7 being the joint tallest player in NBA history, was only the second tallest on this occasion behind 7'9 Sun Ming-Ming. (The others: Ayo Adigun (7′1), Deng D'Awol (7') and Barry Mitchell (6′8.))
Finding what Muresan has done in his time outside of basketball is hard to do, but he accompanied Wizards representatives to China this summer as a part of their commemoration of the Bullets' pioneering trip to the country 30 years prior, and he's also playing the bad guy in a film called "Serial Buddies," set to be released next year. He lives in Potomac, Maryland, was formerly head coach of the Romanian national team, and owns a company called "Giant Basketball Academy" which teaches Greco-Roman wrestling to kids. (No, sorry, not Greco-Roman wrestling. Basketball. They teach basketball.)
There follows a Gheorghe Muresan Snickers commercial, under the pretence of being a Gheorghe Muresan Cologne commercial:
- 31st pick:
Evers Burns
(Sacramento)
- Burns played only one season in the NBA, appearing in 22 games for the Kings and recording 55 points with 33 fouls. After the NBA he went to Italy, Greece, the CBA, Spain, Turkey, Australia, Uruguay, Argentina, Poland and the IBL, with his career culminating in late 1999. Burns either is or was an assistant coach at Suitland High School in Maryland.
- 32nd pick:
Alphonso Ford
(Philadelphia)
- Everything I'm about to write it completely true. Indeed, to the best of my knowledge, everything in this entire post is true, save for the bit about Greco-Roman wrestling. However, I wish to stress that this bit in particular is true, because it might not seem like it. It's pretty remarkable stuff.
Alphonso Ford played only 11 games in the NBA. His first team was the Sonics, for whom he played 6 games on two ten day contracts at the end of the 1993/94 season, and, after an unsuccessful training camp stint with the Clippers in 1994, Ford played 5 more games (and 98 minutes) on a ten day contract from the Sixers in March 1995. He never played in the NBA again.
In between those two sets of 10 day contracts, Ford played in the CBA, which at the time was the premier minor league in America. It is like the D-League is today; if you were nearly in the big leagues, and really really REALLY wanted to get there, you sacrificed some money and went there for the exposure instead of going to Europe for the money. As Ford showed in his two seasons with the Tri-City Chinook, it could work; he scored 23 points per game in the first season, and 24 points per game in the second, becoming a CBA All-Star both times. However, after two years of this CBA/NBA dichotomy, Ford abandoned America and went to Europe.
In the 1995/96 season, Ford averaged 24.9ppg, 3.9rpg and 3.3apg for Huesca in Spain's ACB. Nonetheless, Huesca were relegated, and so Ford moved on to Greece where he spent a year with Papagou. Ford signed a two year deal and averaged 24.6 points per game in his first year, but in the 1997 offseason he was diagnosed with leukaemia, forcing him to miss the whole of the 1997-98 season.
The following season, however, Ford returned to action. And he didn't just return to action as a shell of his former self; instead, he came back and absolutely wrecked shit. Ford spent a year with Sporting Athenes, and then signed with Peristeri for two seasons in the 1999 offseason. Once there, he averaged 22.5ppg, 4.1rpg and 2.8apg in his first season, and followed it up with 23.7ppg, 4.2rpg and 3.0apg the following year. The 2000-01 season also saw Ford play in the Euroleague for the first time, where he averaged a whopping 26.0 points, 4.1 rebounds and 2.7 assists per game.
If you understand European basketball, you'll understand how difficult that is to do. For comparison's sake, the current scoring leaders in this year's Euroleague are
Matt Walsh
(23ppg in 4 games), followed by
Linas Kleiza
(18.3ppg in 6 games). Ford averaged his 24.8 points through 20 games, not 6. And while Matt Walsh and Linas Kleiza are both outstanding shooters, neither of them has leukaemia to deal with. Those numbers are freaking enormous, and the context in which they were created makes them other-worldly.
In the 2001-02 season, now a member of Olympiakos, Ford continued to pour it on. He averaged 24.8 points, 4.8 rebounds and 3.2 assists in the Euroleague, as well as 21.6 points, 4.4 rebounds and 3.6 assists. He left Greece after the 2002 season due to budget cuts, and signed with Siena in Italy, where his numbers dropped slightly. Yet he still averaged 19.1ppg in the Italian league and 17.9ppg in the Euroleague. And he also still had leukaemia.
The 2003-04 season was his last, as by this time, Ford's leukaemia was at an advanced stage. Did it slow him down, though? Did it hell. Despite being ravaged by the disease that would eventually kill him, Ford signed with Scavolini Pesaro and averaged 22.2 points per game in the Italian league. Because of him, Scavolini finished in fourth place in SerieA. Because of him, they were runners up in the Italian Cup. And because of him, Scavolini qualified for the Euroleague for only the second time in their history. They owed all that to a man playing with advanced leukaemia.
After making Scavolini's season for them, Ford retired in August 2004. He died less than three weeks later.
- 33rd pick:
Eric Riley
(Dallas)
- Eric Riley was in and out of the NBA between 1993 and 2002. His rights were traded to the Rockets in exchange for those of Popeye Jones, and the Rockets had Riley as a player from October 1993 to December 1994, when they waived him. Riley finished out the 1994-95 season with the Clippers, then spent the 1995-96 season with the Timberwolves. He went to Greece for the 1996-97 season, returned to the NBA with the Mavericks in December 1997, spent the rest of the 1997-98 season there, and signed with the Celtics for the 1998-99 season. Riley didn't play in the NBA after that; he signed two ten day contracts with the Timberwolves in January 2000, yet didn't play in any games, and unsuccessfully went to the Spurs training camp in 2002. He finished with career averages of 3.1 points and 2.6 rebounds in 186 games.
After the NBA, Riley played a bit in the CBA and the ABA, before then moving to Italy for a year. There followed a year in China and then a year in Cyprus, where he finished up in 2003-04. What he does now is unclear - as always, if it's on the internet, then I can probably find it, but if it's not, then I got nothing. But at the very least, he either is or was pursing an M.B.A. at the University of Phoenix, and
he owns this foundation
. Eric Riley
also has a Twitter account
, one which reveals remarkably little about him or his life.
- 34th pick:
Darnell Mee
(Golden State)
- Mee's rights were traded to the Nuggets in exchange for those of Josh Grant (#43 below) and a 1994 second round pick (which became Anthony 'Pig' Miller). He spent almost two years with the Nuggets, appearing in 40 games and totalling 76 points, and his non-NBA career was still alive up until a few short months ago. Mee has spent almost all of the last 14 years in Australia; he spent the 1995-96 season in the CBA, the 1996-97 and 2002-03 campaigns in France, as well as the 2001-02 season in Germany, but the rest of the time has all been spent down under. Mee has also become more of a pass first point guard over time, too, and last year for the Cairns Taipans he averaged 7.9 points, 3.5 rebounds and 3.8 assists per game. Of course, he also shot 36% from the floor and 19% from the three point line, but still.
Mee's numbers have declined over the last few years, which is kind of to be expected since he turns 38 in two months time. He is currently unsigned, which is especially painful as he's now a naturalised Australian citizen (and former national team member), thus signing him would bypass any quotas on foreign players. I can't find anything that says he's officially retired, but, all things considered (the age, the decline, the unemployment, the fact that he's missed so much of the last two seasons), this is probably it.
- 35th pick:
Ed Stokes
(Miami)
- Stokes never signed with the Heat. He spent his first two seasons after being drafted in Greece and Italy, before his rights were traded to the Bullets in the 1995 offseason - along with the rights to Jeff Webster - in exchange for Terrence 'The Monkey' Rencher and Rex Chapman. Stokes joined up with the Bullets in December 1995, but lasted only two weeks, and saw out that season back in Greece. He went to camp with the Nuggets in 1996, but didn't make the team, and then went to Italy, where he finished up the season with Lottomatica Roma and averaged more rebounds (9.9) than points (8.8).
Later, Stokes went to camp with the Sonics in 1996, and after being waived by them he was immediately picked up with the Raptors. It was with Toronto that Stokes played in the only 4 games of his NBA career, recording 4 rebounds, 4 fouls and 3 points in 17 minutes. After being waived in December, Stokes went back to Italy for the year, and then missed most of the next two years due to injury. In 2000-01 he returned to action, signing with Libertad De Sunchales in Argentina (where he ironically replaced Webster), and then moving on to Porto in Portugal. His final season was in 2001-02, where he started in France and ended up in the Italian second division.
Stokes is now a health insurance consultant at Farmers Insurance in Scottsdale, Arizona. Before that, he was the manager at a beauty mall.
- 36th pick:
John Best
(New Jersey)
- Best never played in the NBA. He signed training camp contracts with the Nets in both 1993 and 1995, but was unsuccessful both times. His non-NBA basketball career ran until 2007 and went as follows; France, Spain, Philippines, Puerto Rico, France, Switzerland, Philippines, France, Philippines, Switzerland, Philippines, Philippines, Germany, Germany, Germany, Germany, China, France, France, France. He is now the CEO of an online radio station called
The Best Jams.
- 37th pick:
Nick Van Exel
(L.A. Lakers)
- Van Exel last played in the NBA in the 2005-06 season with the Spurs. He was largely past it by that time, averaging only 5.5 points and 1.9 assists in that season, but his career averages of 14.4 points and 6.6 assists in 880 career games destroy most of the rest of this list. He is now an assistant coach at Texas Southern.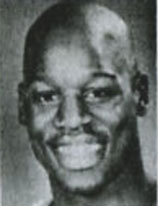 - 38th pick:
Conrad McRae
(Washington Bullets)
- McRae never played in the NBA, although it wasn't for a lack of trying. His rights were traded a couple of months after being drafted to the Minnesota Timberwolves in exchange for those of Tim Burroughs, but as far as I can tell, McRae never signed with them. Over the next six years, he embarked on a European career that featured Turkey, France, Turkey, Italy, Greece and Turkey, before returning to the NBA partway towards the end of the 1998-99 season when he signed a ten day contract with the Nuggets. However, McRae never played a game for the team, and the contract was terminated early after McRae fainted before a game. It was discovered that he had heart arrhythmia.
It was a bad omen. A very, very bad omen. McRae spent the 1999-00 season in Italy, and returned to American to play in summer league for Orlando Magic. He wanted another shot at trying to make the NBA, something which he still hadn't done by this point. However, on July 10th 2000, McRae collapsed with a heart attack while running wind sprints in a Magic practice, and died in the hospital later that day.
He was due to get married three weeks later.
- 39th pick:
Thomas Hill
(Indiana)
- Hill is another that never played in the NBA. He went to camp with the Pacers in 1993, the Kings in 1994 and the Blazers in 1995, but none of them amounted to anything. He spent two seasons in the CBA, then went to Finland for the 1995-96 season where he averaged 31/7/4. After short stints in the USBL and Australia, plus a couple of turns on the Mavericks summer league roster, Hill's playing career ended. He now owns a computer company in Texas, and
here's his Facebook
. Rather pleasingly, he's a Facebook fan of Conrad McRae's tribute page.
Hill is perhaps best known for crying like a girl after
Christian Laettner's
famous 1992 NCAA title winner. I've tried to capture that for you above, but here it is again:
That
, ladies and gentleman, is a cry face.
- 40th pick:
Rich Manning
(Atlanta)
- Like Stokes, it took Manning a while to get to the NBA, but he eventually did. He failed to make the Hawks team out of training camp in 1993, so he spent the year in the CBA, where he did.....very little, to be honest. Another camp tryout with the Jazz in 1994 was unsuccessful, yet better times ensued when Manning signed with the Vancouver Grizzlies in 1995 and made the team. He lasted only until the end of November before he was waived, but the Grizzlies brought him back in January, and this time he saw out the season. They also brought him back for the 1996-97 season, this time keeping him at least until January, and after they waived him the Clippers picked him up for the remainder of the season. Between those two years, Manning appeared in 55 NBA games and had career averages of 3.3 points and 1.7 rebounds per game.
After leaving the NBA in 1997, Manning spent one more year in the CBA, then two years in Turkey, and one year in Lebanon, where he last played in 2001. He is officially impossible to find after that.
- 41st pick:
Anthony Reed
(Chicago)
- Anthony Reed is equally impossible to find, and he didn't have the luxury of playing in the NBA. He had camp stints with the Bulls in 1993 and the Magic in 1994, yet neither worked out. Outside of that, he played in Turkey, Slovenia, Croatia, Italy, Venezuela and the CBA, before finding himself in Japan in 1998 where his career ended.
This 18 year old guy
has the same name, the same hometown and the same face, so I'm guessing he might be Anthony Reed's son. But that's all I got.
- 42nd pick:
Adonis Jordan
(Seattle)
- How could any man with the name Adonis Jordan be bad at basketball?
Jordan played in 10 NBA games in two stints five years apart. He didn't make the Sonics out of his first training camp, but after they waived him, the Nuggets picked him up almost immediately. He only lasted two weeks with the Nuggets before being cut in early December, yet they signed him back up in the new year and he played 6 games with the team. Jordan didn't trouble the NBA again for a few years, going instead to places such as Israel, the CBA, Australia, Korea, Hong Kong and Venezuela, while averaging more than 21ppg/5apg at each of those stops. (This tour included a 39ppg stint during the 1998-99 NBA strike, which is quite an epic number. Then again, he
was
playing in Belarus.)
He re-emerged in the big leagues with the Bucks, who signed him for training camp in January 1999. They eventually waived him, but like the Nuggets before him, they brought him back on a 10 day contract later in the year. In his 10 combined NBA games between these two stints, Jordan recorded 97 minutes, 21 points and 22 assists. After the NBA, Jordan spent a year in Finland, a year in Germany, a year split between France and Belgium, and his final year (2002-03) back in Australia. He is now affiliated with
National Talent Search USA
in ways that I don't quite understand.
Adonis Jordan fact: A Google image search for his name reveals WAY TOO MUCH GAY PORN. How much is too much? Try it and find out.
- 43rd pick:
Josh Grant
(Denver)
- In keeping with the fine tradition of Utah natives that leave college when they're about 42 - a list that includes Gary Wilkinson and
Spencer Nelson
- Josh Grant was 26 years old when drafted. As mentioned above, Grant's rights were traded to the Warriors, for whom he played 53 games in his rookie year, averaging 3.0 points and 1.7 rebounds. They were the only 53 games of his NBA career, and his only NBA contract. Outside of the NBA, Grant started with two years in Spain, then three years in France, a year and a bit in Greece, a bit of a year in France again, before culminating his career in Italy in the 2001-02 season.
Upon retiring, Grant went back to school and earned a Masters in teaching. He then became a history teacher at two different schools, and is now a credit manager for Gonnella Banking Company in Chicago.
- 44th pick:
Alex Holcombe
(Sacramento)
- Holcombe never played in the NBA. He never signed in it, either. He played between 1993 and 2001 in the unusual haunts; in order, Spain, CBA, Puerto Rico, Argentina, CBA, Spain, Belgium, Dominican Republic, Poland, Japan, Poland, IBL, China and Venezuela.
Here's his Facebook.
- 45th pick:
Bryon Russell
(Utah)
- Russell last played in the NBA in the 2005-06 season. The Nuggets re-signed him for the year, but he appeared in only game for them, and was later traded as salary filler in the multi-player
Earl Watson
(etc) trade. Seattle promptly waived him.
Russell has not stopped playing elsewhere, though, splitting his time in the last four years between the ABA, the WCBL and the IBL. If there's a minor league that's not worth a damn, then Bryon Russell will be sure to play in it. This past summer he was with the Los Angeles Lightning of the IBL on a stacked team of ex-NBA residents that also included
Juaquin Hawkins
,
Derrick Murray
,
Fred Vinson
,
Jamal Sampson
,
Adam Parada
, Toby Bailey and
Lamond Murray
. As insignificant minor leagues go, that's some depth right there.
When he's not waiting for the new IBL season to roll around, Russell spends his time
tweeting about the Lakers
and
participating in manipulative pranks.
- 46th pick:
Richard Petruska
(Houston)
- Petruska might be the most famous dual nationalitied Slovakian-Italian 6'10 man called Richard in UCLA's history. He enjoyed a lengthy 22 game NBA career with the Rockets, recording 92 minutes, 53 points, 31 rebounds and 15 turnovers in his only NBA season. After that, Petruska spent 4 years with Varese in Italy, then one year with Galatasaray in Turkey, then two years with Malaga in Spain, then one month with Tau in Spain, and ended up splitting 2002-03 (his final season) between Italy and Spain. He now works in sales for
this lot
. Do you want a link to a Facebook account that you'll never look at again?
Alrighty.
- 47th pick:
Chris Whitney
(San Antonio)
- Whitney last played in the NBA in the 2003-04 season back with the Wizards, appearing in 16 games but shooting only 38% from the field. There were reports that he re-signed with the Wizards in early 2008, but those weren't true. (I think ESPN typoed, and the rest of the internet then copied it.) Whitney finished his career with career averages of 6.5 points and 2.8 assists in 579 games, with 0 All Star appearances and not many MVP awards.
Now in retirement, Whitney and former teammate
Jahidi White
have since gone into business together, starting an employment agency called Staffing Across America, which aims to staff across America. He's also done some TV work Comcast Sportsnet, and is trying to take their staffing business global, with the aim of staffing around the world. Furthermore, Whitney has a Facebook account,
as does everyone.
It's also pretty awesome that the only information that he allows the public to see is "gender; male." As if there was any doubt.
The only other two Whitney's in NBA history were called Hank and Hawkeye. Now
those
are some names.
- 48th pick:
Kevin Thompson
(Portland)
- Thompson's NBA career stats total 14 games, 13 points, 13 rebounds and 11 fouls, all achieved in his only NBA season of 1993-94. His non-NBA career was lengthy and included only high quality stops; Thompson started with three years in Italy, then moved onto two years in Turkey, followed that with two more years in Italy, then one more year in Turkey, and then playing his last years in Spain where he retired in 2008. Thompson was pretty much a consistent double double along the way, and was the Turkish league MVP in 1998, as well as being an Italian league All Star in 1997.
- 49th pick:
Mark Buford
(Phoenix)
- Very, very, very little information exists on the internet about Mark Buford's basketball career. What is known for certain is that he never played in the NBA, and that he played in Italy and Germany in his first two years after being drafted. He also played in Uruguay in the 1998-99 season, and signed with both the Cavs and Suns at some point in 1994. But that's seemingly it. There's a lot of gaps there, and yet nothing to fill them.
Considering how hard it is to find information about his basketball life, it's obviously impossible to find information about his post-basketball life, and I got nothing.
I'm fairly certain that this is his Facebook, though.
Likes Fishville, apparently. Not a good choice.
Mark Buford fact: Mark Buford was Alphonso Ford's teammate (#33 above) at Mississippi Valley State. They got drafted in the same second round together. Yet their professional careers couldn't have been much more different.
- 50th pick:
Marcelo Nicola
(Houston)
- Marcelo Nicola is way easier to find information about, because he became a star. After being drafted, Nicola spent three more years with Pau, then signed with Panathinaikos for a year, only to miss that whole season with injury. He then played with Barcelona for a year before spending the next six seasons at Benetton Treviso in Italy, where he did his best work, winning two league titles and making two All Star games. In 2004-05, Nicola moved to the Ukraine for a year, and then came back to Italy for the following year. He played only one more game in the 2006-07 season before retiring. Nicola is now back with Benetton as an assistant coach, and has been for three years. He also was an assistant coach on this year's Spurs summer league roster for some reason.
Nicola never signed in the NBA, which meant that his draft rights were kept this whole time, although they were traded from the Rockets to the Blazers in 1995 as a part of the deal that sent Clyde Drexler the other way. Now that he's retired, Portland
should
have lost them. But as far as I can tell, they haven't. Any official answer on this dilemma would be welcomed.
The 14th result from a Google image search of Marcelo Nicola's name is bloody hilarious.
- 51st pick:
Spencer Dunkley
(Indiana)
- Like Adonis Jordan, how can you fail as a basketball player with this name? You can't. And Dunkley didn't. Well, not really.
Dunkley never played in the NBA, yet he nonetheless enjoyed a lengthy career outside of it. He started with the USBL, and then went from there. Long list coming up; USBL, Israel, Russia, Belgium, CBA, Spain, France, Italy, Spain, Switzerland, Italy, Poland, Italy, Portugal, Israel, England. He is now the head coach at Appoquinimink High school,
and owns this
.
Dunkley is English, which explains the last stop on that list, and it also explains why he's extremely cool. And you know what else makes Spencer Dunkley extremely cool? He has a son called Slam. Slam Dunkley. It does not get better than that.
- 52nd pick:
Mike Peplowski
(Sacramento)
- Peplowski played in 55 games with the Kings in his rookie season, totalling 667 minutes, 176 points, 169 rebounds and 131 fouls. For per 36 minute fans, that's averages of 9.5/9.1/7.1. He played in 13 games over the next two seasons between the Pistons, the Bullets and the Bucks, two years which were also the last of his NBA career. Peplowski played for Barcelona after that, but his basketball career was not very long due to chronic knee trouble, and he soon retired and moved into finance. From 1998 to 2001, Peplowski was the mortgage sales manager for Independent Bank in South Michigan, then left there to become business manager for WILX TV10. Until recently, Pep was the Chief Operating Officer for the Boji Group, a property management group in Lansing, Michigan. But he left there to set up Sixty North L.L.C, another real estate venture co-owned by Peplowski along with former Bulls draft pick Matt Steigenga.
It doesn't take much Googling to find this man's home address, email address and telephone number. The internet is more than a little bit creepy.
- 53rd pick:
Leonard White
(L.A. Clippers)
- The Clippers waived White out of his first training camp in 1993, so White packed his bags and did the rounds. His lengthy and confusing career went as follows; three years of assorted CBA teams, short stint in France, about 7 minutes in Australia, another 5 years in the CBA, half a year in the Philippines, another year in the CBA, short stints in South Korea and Saudi Arabia, a couple of months in the USBL, another short stint in the Philippines, another season in the CBA, a summer in Venezuela, one last season in the CBA, and a summer in the IBL. That takes us up to summer 2007, which is when Leonard White was last heard of.
Finally.....
- 54th pick:
Byron Wilson
(Phoenix)
- Byron Wilson was a professional basketball player up until this May. He is currently unsigned, but it was only seven short months ago that he was averaging 15.8 points per game in the Argentinian league. In fact, apart from one season in the CBA, one in Spain, one summer in Puerto Rico and one in Venezuela, Wilson has been nowhere but Argentina for the last 14 years. He has won two league titles there, made three All Star games, and is now a naturalised Argentinian citizen. Just goes to show that maybe not all Utah graduates have the same career arc after all.
This will probably be the last one of these posts. This is for a few reasons. Firstly, the earlier you go back, the harder it gets. These lists are only compilable because of the internet age, and so if a guy's info is not on the internet, I can't find it. And the further back we go, the harder it is to find anything on the internet. Secondly, the further back we go, the fewer active players we get. In this list, the only three men still playing professional basketball are Lindsey Hunter, Bryon Russell and Isaiah Rider. (And they probably shouldn't be.) Thirdly, going forward from 1998 onwards is too redundant to be interesting, and most of the players from then on will be covered in the WATN series starting later this month anyway. And fourthly, these takes way way way WAY too long to do.
Most importantly of all, though, there's just too many people with bad stories. In this list, for example, we've had two dead guys, one paraplegic, an alcoholic, a recovering crackhead with some digits missing, a reproduction pioneer, and at least one guy in jail. That's just not fun. That's not what I want to know about. Believe it or not, beneath all these pithy comments and acerbic opinions lies a kind hearted soul who just wants to see the best in people. But what we're seeing instead is multiple stories of hardship, tragedy and epic fail. Some people might like that, but not me.
Current NBA players; start planning for your futures. Now. Because it appears to be quite easy to fail.